As an Internet retailer, your path to larger profits is clear: more orders. How do you acquire more orders? The simple answer is through increased traffic. This traffic building takes time and a lot of it. An eCommerce software can be thought of as a business management system designed for Internet retailers. This will free up your time so that you can build your product lists and work on increasing traffic.
Find out more about the components of an eCommerce software:
What Is eCommerce Software?
eCommerce software is a specialized supply chain management software that lets businesses sell their product or services online. eCommerce software provides the capability to create a web store complete with a shopping cart, shipping options, and payment processing. It also helps you manage inventory, calculate taxes and everything else that may be needed to fulfill orders.
Some distribution software will have eCommerce capabilities built right into it. These distribution ERP software options will sync with your online store to ensure orders received there can be imported into your main business management solution. There are also stand-alone eCommerce solutions, that from the beginning will help you create your store, provide web hosting, and ensure you receive all the proper updates so your website stays afloat.
Normally an eCommerce software will either be a:
Single vendor marketplace
Multi-vendor marketplace
A single vendor environment means your business is the administrator running the store, and the products being sold are your own. In a multi-vendor eCommerce setup, your business invites multiple vendors to sell their products on your platform.
These setups let less established vendors sell their products without having to manage their own store, while your business makes a commission off of the sale. The most obvious example of a multivendor marketplace is Amazon, which lets various vendors sell the same products on their website with varying prices and offers.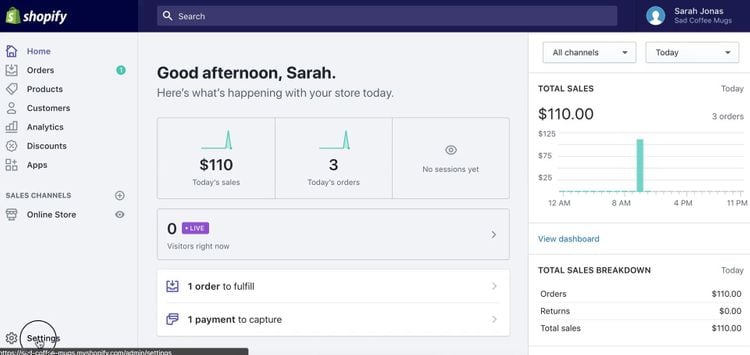 Features of eCommerce Software
Website Builder: Create a branded online web-store customized to your needs. Choose from preloaded themes, select a domain name, create blog posts, and allow access via mobile phones and tablets. Link with your social media accounts.
Shopping Cart: Let customers add products to a cart and checkout. Calculate carrier shipping rates, recover lost sales via abandoned checkout emails, process payments via credit card processing or PayPal, and calculate taxes.
Marketing Tools: Help promote your online store via email marketing search engine optimization (SEO). Manage paid advertisements on Google Adwords. Allow for product reviews and allow customer feedback to promote your products. Provide discounts to customers via loyalty programs and gift cards.
Product Management: Create product listings that accurately detail what you're selling. Organize products by category, type, season or sale. Offer variations of products depending on size, color, materials, and more.
Sales Order Management: Get notifications on new orders, manage priority via an order dashboard, monitor the status to keep customers informed, print shipping labels, process returns, and manage customer subscriptions. Collect payments via a payment gateway.
Inventory Management: Manage the goods being sold via your eCommerce store with a stock control system or warehouse management system (WMS). Simplifies pricing products and helps maintain the most effective stock levels. Lets you know exactly what you have on hand and where to find it.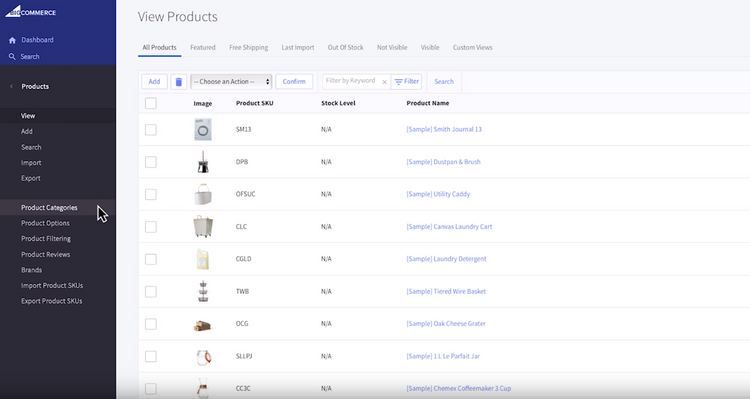 Benefits of eCommerce Software
Ecommerce software can help new online businesses or brick-and-mortar businesses that are moving online. Some businesses may simply be trying to capture a new market share. Others may be trying to create more awareness for their brand. And others may think the ease of running an online store is worth any perceived hassles of opening up a physical retail store.
Whatever route your business plans to take, there are a number of top benefits of eCommerce software:
Manage Your Financials With Integrated Accounting
The major advantage an Internet retailer has over any other type of company is that all of your sales related information is natively digital. Whereas other companies will gather information verbally and then manually enter it into their management system, an Internet retailer receives information in a digital format from the start. This provides an excellent opportunity to automate your processes. The use of disparate, disconnected systems will stand in the way of efficiency.
An integrated accounting system designed for Internet retailers will take orders placed on your website, adjust inventory counts, and use the sales data for accounting purposes. Some accounting systems will have built-in eCommerce modules that will manage your entire web-store. Other packages are able to integrate with the eCommerce software of your choice.
Regardless of the setup, searching for an accounting system designed specifically for Internet retailers will completely eliminate the need for manually entering data. This will in-turn save labor costs and maximize your profitability.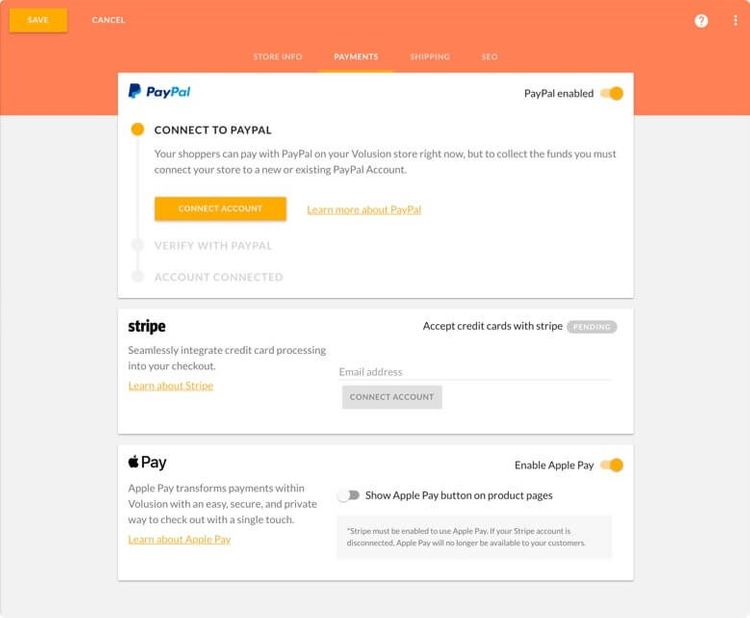 Automate Order Processing
Processing orders is one of the most time-consuming tasks for an Internet retailer. Preparing shipments, adjusting inventory levels, and accounting for payment received. Each step in this process takes several minutes. When this must be done for each individual order, it becomes clear that automating this workflow will save many hours. An eCommerce software provides the means to handle any accounting and ERP-related tasks (such as distribution and inventory) needed.
The last thing your Internet retail company can afford to do is re-enter orders from an eCommerce shopping cart to an inventory package. Why spend hours simply reentering data when an accounting system can perform this automatically? Whether you have a custom-built web-store or are using an eCommerce software package, there are many accounting & inventory systems can integrate with your eCommerce platform.
You have the option of setting up real-time integration or batch order imports. Either method will automatically populate your inventory or accounting package with orders received. The inventory package can then automatically print inventory pick & pack slips, adjust inventory levels, and print a shipping label.
A system with integrated accounting functionality will then automatically book the revenue to the appropriate accounts. This integration will effectively eliminate the majority of the tasks associated with order processing. You will then be freed to spend your time focusing on driving traffic to your sites and creating more business.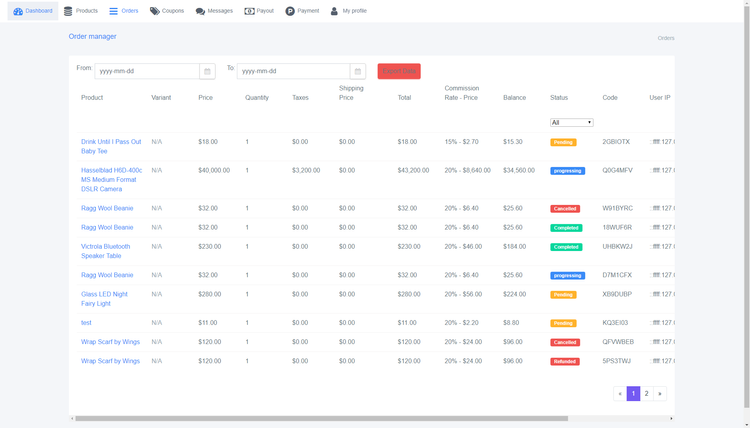 Accurately List Your Current Product Stock
One of the most frequent issues facing Internet retailers is the listing of new products. If you have disconnected eCommerce and inventory management packages you will be required to set up each inventory item twice. Need to update product pricing? Without an integrated solution, this will need to be performed twice.
Finding an accounting system with an inventory application that communicates with your eCommerce system will give you a single point of entry for all items. These systems will allow you to turn products on/off on any number of websites. You will be able to adjust pricing, list new items, and remove items at a single point. No time will be wasted duplicating tasks already performed.
Ensuring inventory availability for your customers can be very difficult without the proper controls in place. An accounting/ERP package that is integrated with your web stores will ensure that you don't accept orders for items that are out of stock. An ERP package will also give you the ability to forecast projected demand based on historical data. This will maximize your profitability by guaranteeing you have items in stock when they are needed.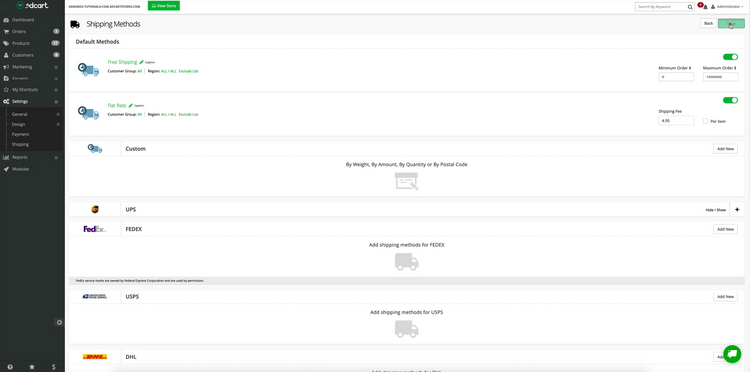 Deployment and Integration Options for eCommerce Software
Having one seamless system from customer-facing eCommerce to back-office accounting will ensure that you don't waste time with tasks that could be automated. This seamless system can be accomplished through a number of setups.
There are fully integrated accounting packages that contain eCommerce functionality. This eCommerce functionality will contain everything from the product listing functionality to the shopping cart. The eCommerce functionality will then integrate with all the other modules in the package.
If you already have an eCommerce application in place there is no need to change systems. Many accounting or inventory systems are capable of communicating with eCommerce applications.
The use of open databases by accounting software will give you the option of setting up real-time integration. Whether you've developed a system from scratch or are using third-party eCommerce software, you will be able to create a seamless solution that will save you time and money.
Link With Your Preferred Online Marketplace
Some eCommerce software works best when you aren't selling on your website. These solutions work for a business that chooses to sell on Amazon, eBay, Etsy, and more.
eBay and Amazon administrative accounts will provide you with the basic tools necessary to list products, keep tabs on your sales, and know what orders need to be fulfilled. For users that are happy with those features, they may want to consider an Amazon accounting software or an eBay accounting software.
For businesses that would prefer to import all sales data from their preferred marketplaces into one centralized location (which is most useful if you sell on more than one), a fully-integrated eCommerce software is more for you. This will let you combine sales from your own online store, eBay, Etsy, Amazon, and any other sales marketplaces.