eCommerce sales are on the rise all over the world. Even one-person operations can now expand their business globally thanks to online marketplaces. Two of the most popular eCommerce platforms for sellers are Shopify and Etsy. Which one is right for your own online store?
Shopify vs Etsy: Should you sell on a website or a marketplace?
The biggest question you should ask yourself is if you would rather sell on your own website or a larger marketplace setting. This is the biggest difference between Shopify and Etsy: Shopify allows you to create your own ecommerce website to sell products; Etsy is an online marketplace where you can post and sell products.
What does this mean? It's simple:
Shopify provides a service which lets you design and build your own eCommerce store with custom domains and branding. You control everything on your platform from how many products are available, category structure, and pricing specials.

Etsy, on the other hand, is a single eCommerce marketplace for individual sellers. The site is well known for hosting creators who specialize in handmade, custom products. The sales process is slightly different from that of Shopify, as all Etsy product listings are hosted on the same platform.
Each platform has unique advantages for different types of sellers. Review some of the core differences between Shopify and Etsy to determine which is best for your growing eCommerce business.
Pricing and Fees
Of course, the first thing you must address with your eCommerce platform is pricing. You don't want to spend more on your online storefront than you can make in sales. Can you afford a huge website with hundreds of product categories? Or do you need to start small and build your way up?
Since Etsy is a marketplace, there is a listing fee for each item you add to the marketplace. Then there are transaction fees for each successful sale. Finally, there is a payment-processing fee. The more products you sell, the more fees you have to pay. There are monthly payment plans for Etsy Plus and Etsy Premium which offer additional features.
Shopify is a subscription based service, so there are monthly fees to maintain your domain. How much you pay depends on your plan:
Basic: $29 per month
Professional: $79 per month
Advanced: $299 per month
Enterprise: $2,000 per month
Your plan determines how much you pay in transaction fees. Shopify also has fees for processing credit card payments. And there are additional costs for certain features, like marketing. Shopify has higher upfront costs to set up your domain and digital storefront. You then have to continually pay to maintain your unique eCommerce URL.
Winner: Tie, as Etsy is ideal for smaller operations; Shopify for larger ones
Website Customization
One of the major differences between Shopify and Etsy is the varying levels of design they offer for your digital storefront and individual product pages.
Shopify lets you build a highly customized website with your own unique domain. For additional fees you can add even more features to your website. A completely customizable website lets you design your own recognizable brand. Of course, having a larger website loaded with tons of extra features can be much harder to manage, especially if you are self-employed.
Etsy itself is only a marketplace. You can customize your product listings and seller page but there's not a lot of room for personalization. The only way to have your own domain format like Shopify is to use Etsy Plus or Etsy Premium. These monthly plans, which cost more, allow for more options but are highly user-friendly.
Winner: Shopify
Etsy has a reputation as a source for antique and handcrafted products. Sellers are known for their creativity and high quality work. As such, the Etsy marketplace is the online equivalent to a craft fair or flea market. Your products will directly compete with the items created by other users. The more unique your products, the more chance you'll have of standing out. And shoppers may stumble upon your products while looking for other goods on the market.
Shopify, on the other hand, sells any and everything across countless sites. Since all of your products are contained to your custom eCommerce site, there's not as much competition from direct competitors. However, this means your platform has to be just as good as any sites offering similar products. Big eCommerce chains can afford to spend far more money on digital marketing efforts, making it much harder for you to get your products seen by potential customers.
Overall, customers and sellers alike tend to have more uniform experiences using Etsy due to its standardized platform.
Winner: Etsy
Market Scope
Having your own store online is just the first step of the world of ecommerce. Next, you have to reach your market. Do you want to allow customers from anywhere in the world? Or would you rather limit yourself to local consumers? How much scalability does your ecommerce site need?
Size-wise, Shopify hosts more businesses than Etsy, each with its own domain name. The website building tools offered by Shopify are totally scalable, so your site can grow with your business.
However, Etsy has more name recognition amongst shoppers who want custom crafts, vintage art, and refurbished goods. Merchants who chose an Etsy shop can reach an incredibly large and niche market of customers instantly.
Both platforms allow for international sales which can increase your potential market. As mentioned above, Etsy customers can shop from multiple stores on one site. This makes it easier to reach new customers abroad who already know the Etsy brand. If you have a store through Shopify, you'll have to market your entire site yourself to reach international shoppers.
Winner: Etsy
Inventory Management
The more products you sell, the more careful you have to be when measuring stock levels. Incorrect inventory counts can leave you empty-handed when new orders come in. If you gain a reputation for being perpetually understocked, you can lose customer trust.
Shopify provides inventory management tools to organize your product stock. You can easily update changes to your inventory. This can then help you schedule production to meet supply and demand.
Etsy, in contrast, does not offer any internal inventory tracking without paying an additional fee for Pattern by Etsy. If you don't want to pay more, it is up to you as the seller to keep tabs on what is or isn't in stock, possibly by using an independent inventory management software.
Winner: Shopify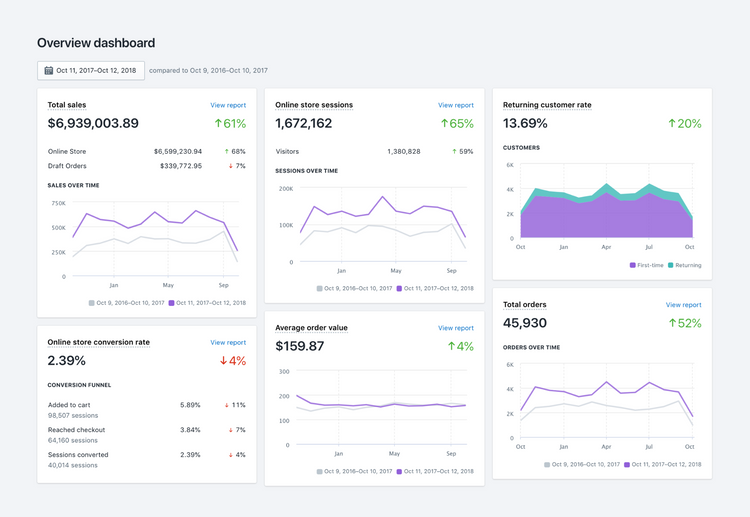 Product Variety
Since Etsy has very strict rules about handmade, antique, and custom products, there are rules and regulations which limit product variety. Items listed must fall into one of the categories or you could have your content removed from the marketplace.
Building a site with Shopify gives you complete control over the products you list. Additionally, you can also offer services on your site. Etsy creators may advertise their commission services on their pages but cannot directly make those transactions through the site.
Winner: Shopify
Add-ons and Extras
Basic Shopify service has different levels of website customization available. There is a library of add-ons and plug-ins to fully personalize your eCommerce store. For example, Shopify includes features for digital marketing and SEO which help you target new customers across the Internet. Advanced Shopify stores can bring in plenty of new business.
As described, there are also many features for improving your Etsy listings or site. Like Shopify, they primarily cost more, either in one-time transactions or monthly fees. Additional features include inventory management and custom web design services.
Other additional features offered by both services include social media management, email marketing, discount codes, Paypal integration, credit card processing, and more.
Winner: Shopify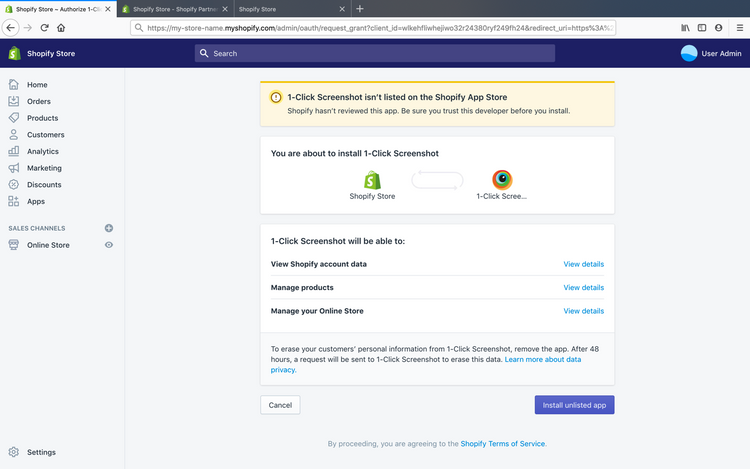 Shopify vs Etsy: Which is the Best Ecommerce Platform?
Overall, whether you use Shopify or Etsy will depend on what you want from your online store. Small businesses hoping to sell a few arts and crafts at a time would benefit most from Etsy. Larger companies hoping to sell a wide variety of mass-produced items would be better suited to set up an eCommerce store with Shopify.
Essentially, you need to determine if your products fall into the category of arts and crafts. If they do, starting with Etsy is likely right for you. If your business expands, you'll likely want the scalability of a Shopify site.
Need help choosing an eCommerce platform? Get free help from one our of our software advisors.