We've identified and ranked the top equipment maintenance software available in the market today. We've ranked our best picks for equipment management software based on factors like key features, value for money, and integration options.
1

eMaint CMMS - Best Overall

Why we chose it: eMaint CMMS is our top choice for optimizing maintenance operations and curtailing expenses. It has a consolidated repository for asset data and information, facilitating efficient work, material flows, and lifecycle tracking.

The cloud-based platform provides end-to-end asset management, from procurement to retirement. Its versatile reporting features help firms assess maintenance efficacy, pinpoint trends, and discover enhancement areas. Equipped with an intuitive interface, eMaint ensures a seamless user experience for all, ranging from maintenance technicians to senior management.

Key features:
Centralized equipment data storage.
Predictive maintenance tools.
Detailed equipment service history and analytics.
2

UpKeep - Most User-Friendly

Why we chose it: UpKeep offers an intuitive interface suitable for everyone, from maintenance technicians to senior executives. It offers preventive maintenance scheduling to reduce equipment failures, real-time asset information for informed decision-making, efficient work order management, and a mobile app for on-the-go access. In essence, Upkeep's comprehensive suite of tools, combined with its user-friendliness and mobility, helps organizations monitor maintenance activities and boost operational efficacy.

Key features:
Digital work order management.
Barcode scanning for quick equipment lookup.
Inventory tracking and automatic reorder alerts.
3

Limble CMMS - Best for Customization

Why we chose it: Limble CMMS offers customization potential through bespoke fields, reports, dashboards, and software integrations. Its adaptability spans various domains, from organizing work orders and preventive maintenance schedules through user-friendly mobile apps to automating checklists and analyzing team productivity.

It provides intuitive asset management suitable for an array of organizational scales and a spare parts inventory feature, streamlining parts management and minimizing guesswork.

Key features:
Real-time equipment monitoring.
Maintenance KPIs and analytics dashboard.
Mobile app for on-the-go management.
4

MaintainX - Best for Mobile Operations

Why we chose it: MaintainX is an equipment maintenance software tailored for mobile-centric operations. As a mobile-first platform, it empowers factory frontline teams with centralized safety procedures, environmental checklists, tool reporting, maintenance guidelines, training checklists, and auditing workflows.

Technicians can access work orders and digitized paper procedures like inspections and safety checklists on the move, receiving real-time insights and thereby facilitating informed decision-making. The software's centralized database streamlines the management of equipment, asset data, and maintenance schedules in mobile operations.

Key features:
Digital checklists and safety protocols.
Photo attachments for work orders.
Real-time chat for team communication.
5

Fiix - Best Cloud-Based Solution

Why we chose it: Fiix is a cloud-based equipment maintenance software, offering a suite of tools designed to optimize maintenance operations. Accessible from any location with an internet connection, it facilitates efficient work order management, allowing organizations to monitor maintenance requests and customize their work order data.

In addition, the software provides preventive maintenance scheduling, paired with comprehensive asset management for small and large organizations. Its cost-effectiveness, stemming from the elimination of pricey hardware installations and its varied pricing plans, adds value for organizations seeking a balanced maintenance management solution.

Key features:
Centralized equipment and parts database.
Maintenance calendar and scheduling.
Third-party integrations for expanded functionality.
6

Hippo CMMS - Best for Interactive Mapping

Why we chose it: Hippo CMMS enables users to upload and integrate facility drawings, plans, and maps. Users can then position equipment and locations within them. These visuals help technicians pinpoint equipment and diagnose potential issues.

The platform's versatility is further underscored by its customization features, including color-coded legends and equipment labels. The real-time updates ensure technicians have continual access to current information about equipment and assets, making Hippo CMMS a valuable tool.

Key features:
Interactive site and floor plans for easy equipment location.
Preventive and scheduled maintenance tools.
Work order management with real-time notifications.
7

MicroMain CMMS - Best Mobile App

Why we chose it: MicroMain's mobile access allows users to create and edit work orders, perform inspections, and track KPIs from any mobile device, enhancing on-the-go operations. Mobile users can record meter readings and track assets, including their maintenance history and performance data. They can access reports and data analytics, aiding in informed decision-making and operational oversight. MicroMain CMMS also includes extensive features like barcode scanning, labor rate tracking, and even offline accessibility.
8

FMX - Strong Facility Management

Why we chose it: FMX centralizes various aspects of facility management, such as technology, maintenance, grounds, transportation, and inventory. The software allows for the creation of diverse request forms, catering to different needs like IT help, general maintenance, and communication requests, which is crucial for effective facility management. FMX enhances communication and prioritization within facility management teams. By allowing the setting up of priorities and managing requests efficiently, it helps in focusing on critical tasks and managing resources effectively.
What Is Equipment Maintenance Software?
Equipment maintenance software is a type of maintenance management software that creates work orders for preventive maintenance tasks and predictive maintenance scheduling. These systems maximize the runtime and lifespan of machinery or equipment by managing maintenance operations in real-time. A properly implemented system will automate all maintenance task management and scheduling while lowering maintenance costs and providing a detailed record of maintenance history.
Sharing many characteristics of CMMS software, equipment maintenance systems will track maintenance activities and the upkeep of the assets. This helps track the associated costs of the work, with the ultimate goal of prolonging the lifespan of an asset at minimal expense. Equipment maintenance functionality is a key component of enterprise asset management software (EAM software), which also tracks the physical movement of assets around your facilities, monitors operating conditions, and keeps records of the financial costs of maintaining the assets.
As it's an equal part of EAM software, equipment maintenance solutions are often considered a subset of asset tracking software as well, due to their similar capabilities. Both options will record general information on company assets (buildings, vehicles, technology, and more) such as the frequency of asset use, issues, ongoing costs, and asset specifications. Both will also include repair history, work orders associated with each asset, images and warranty info, meter readings, and floor plan management.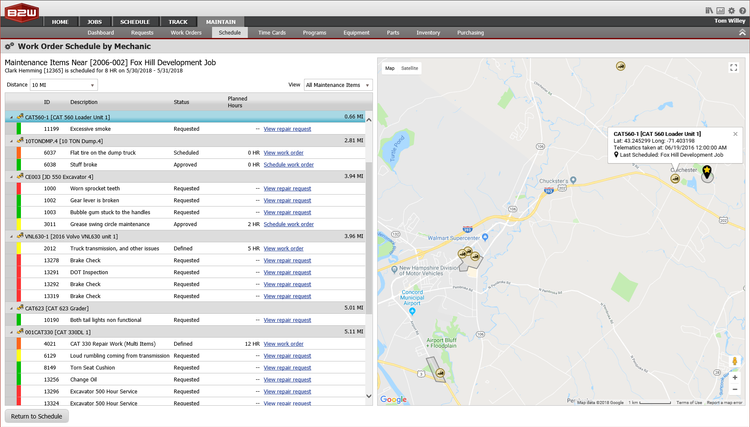 Recommendations for Choosing the Best Equipment Management Software
Follow this methodology when searching for the best equipment maintenance software for your company:
Understand Equipment Management Needs
Inventory Assessment: Analyze the types of equipment you have, including their maintenance needs, usage patterns, and lifecycle stages.
Workflow Evaluation: Understand how equipment is currently managed, from procurement to disposal, including maintenance and repair workflows.
Identify Key Features
Asset Tracking: GPS tracking, barcode or RFID scanning for real-time location and status updates.
Maintenance Scheduling: Automated scheduling of regular maintenance and inspections to prevent equipment failure.
Repair Management: Tracking of repairs, including history, costs, and downtime.
Compliance Tracking: Ensure equipment meets industry standards and regulatory requirements.
Inventory Control: Management of spare parts and supplies needed for equipment maintenance.
Evaluate Cost-Effectiveness
ROI Analysis: Consider how the software will reduce equipment downtime, extend equipment life, and improve operational efficiency.
Long-Term Cost Benefits: Evaluate the long-term savings from preventive maintenance and efficient asset management.
Ensure Compliance and Security
Check that the software helps you comply with regulations specific to your equipment types (like OSHA for safety).
Integrations
Ensure that the software can seamlessly connect with other systems you currently have or plan to use:
ERP Systems: Ensures that equipment-related expenses, like maintenance and procurement costs, are accurately reflected in your financial reports. Synchronizes equipment parts and supplies inventory with your ERP software for real-time visibility and control.
Supply Chain Management Systems: Integrates information about equipment suppliers for easy access to warranty details, service contracts, and procurement processes. Automates the reordering of spare parts based on maintenance schedules and inventory levels.
Internet of Things (IoT) Platforms: Integrates with IoT devices for real-time monitoring of equipment performance, predictive maintenance, and remote diagnostics.
Mobile Device Integration: Ensures that the software can be accessed and updated via mobile devices, which is critical for field technicians and remote operations.
What Types Of Companies Use Equipment Maintenance Software?
Any business looking to cut down on overhead costs can find benefits in using equipment management software. Industries such as manufacturing and construction use expensive equipment on a daily basis. Any downtime that occurs with these machines means your business is not operating at full capacity.
Implementing service routines for your tools and equipment will ensure the performance and productivity of your company is never compromised.
For example:
In the manufacturing industry, equipment maintenance software will help prevent machine downtime through preventative maintenance functions and optimized spare parts inventory for increased machine uptime.
In facilities management, equipment maintenance software can better coordinate actions and responses within maintenance departments to ensure prompt response time. This leaves your facilities available and running at all times
In the hospitality industry, equipment maintenance software helps restaurants and hotels ensure elevators are always operating and equipment such as dishwashing machines can continue running through the busiest parts of the day.
In the aviation industry, aircraft MRO software streamlines the maintenance, engineering, and logistics of airplane fleets, and can be used by maintenance directors, inventory parts managers and flight schedulers and dispatchers.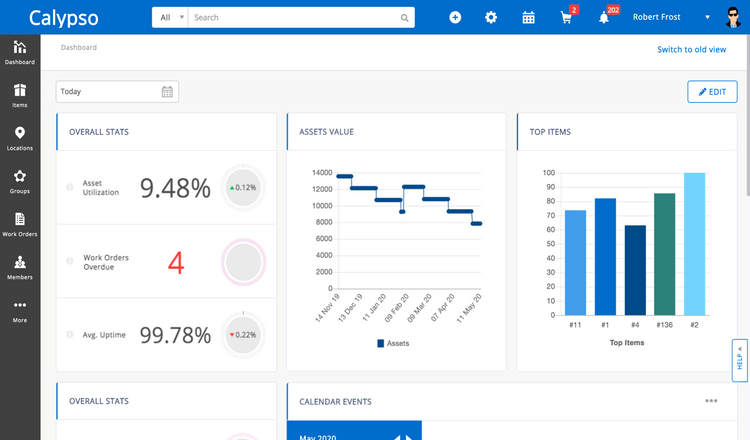 What Are the Key Features of Equipment Management Software?
Asset Management: Monitor the health, risk, and performance of your assets in real-time. Display assets in a hierarchical structure by creating parent groupings and child assets. View the history of maintenance done on specific assets, costs associated with them, and any warranty information. Maintain regulatory compliance with OSHA, EPA, GMP, ISO, and/or the FDA.
Maintenance Request Portal: Allows employees to submit maintenance requests that are sent to management personnel for approval or denial. Ensures all requests are viewed and prioritized based on their urgency.
Work Orders: Create a trackable document identifying what work needs to be done and how it should be accomplished. Helps maintenance managers ensure tasks are being performed in a timely fashion. Includes widgets such as rules-based approval management, scheduling management, change orders, and reporting.
Spare Parts Inventory Management: Maintain stock of vital supplies needed for your repair work. Manage inventory with barcodes or QR codes, reduce parts from inventory when attached to work orders, and restock inventory with integrated purchase order capabilities.
Predictive Maintenance via Condition Monitoring: Scans equipment data for performance trends and uses condition-based monitoring to alert the appropriate staff of any potential issues. Define boundaries of acceptable operation for each asset. Get alerted or have a work order automatically generated when readings fall outside of preferences.
Preventative Maintenance Tasks and Schedules: Schedules routine maintenance tasks to ensure resources can be used by, or at a specific date. Includes assembling needed information, personnel, materials, equipment, and more to ensure the job can be completed on time. It helps reduce the risk of production errors, work injuries, and asset damage. Creates schedules, tracks procedures, sets maintenance routines, balances workloads, and more. Planned maintenance schedules help conduct inspection rounds.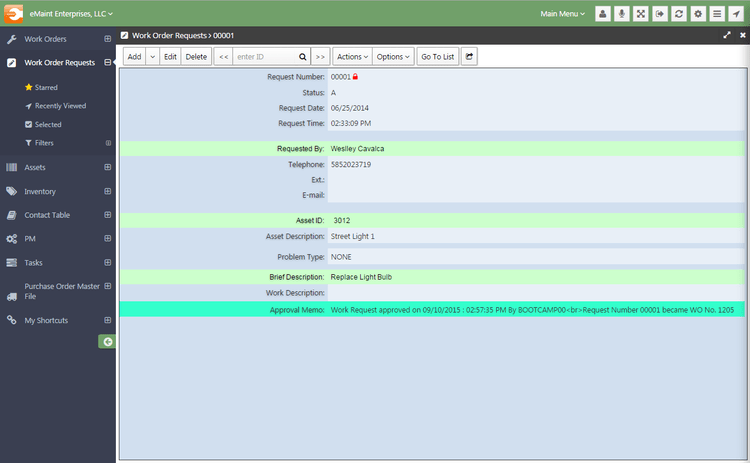 What Are the Benefits of Equipment Maintenance Software?
The technology involved in equipment maintenance systems is constantly changing. Whether using SaaS solutions, smartphones, GPS technology, and more, software providers are always bringing positive impacts to any organization looking to improve their asset management. Some of the top benefits of equipment maintenance software include:
Prolong The Lifecycle Of Your Assets
Simply put, frequent maintenance and fixes to your equipment will prolong their usefulness. Being able to use a piece of machinery for an extended period of time reduces the frequency of which your business needs to replace that equipment, which can lead to substantial savings over-time.
Alternatively, if your equipment is starting to age and isn't as effective as it once was, it can make financial sense to cut ties with the product. A proper lifecycle management inspection with equipment maintenance software can determine if an asset is performing up to par and if it can be replaced. If not, you'll be able to prepare the item for sale, which will cut down on the costs associated with it.
Discontinuing equipment and reselling it (even if just for salvage value) is one undiscovered cost savings path many business owners don't discover until it's too late. Occasionally an equipment maintenance software can provide depreciation tracking, eliminating the need for separate fixed asset management software. Determining depreciating asset value can help identify optimal asset management strategies and enable accurate business tax filing. This will:
Reduce asset costs based on improved planning of asset retirement and "buy vs lease" decisions.
Improve tax planning based on the ability to depreciate assets costs over time
Decrease labor costs for calculating asset depreciation in comparison with manual methods.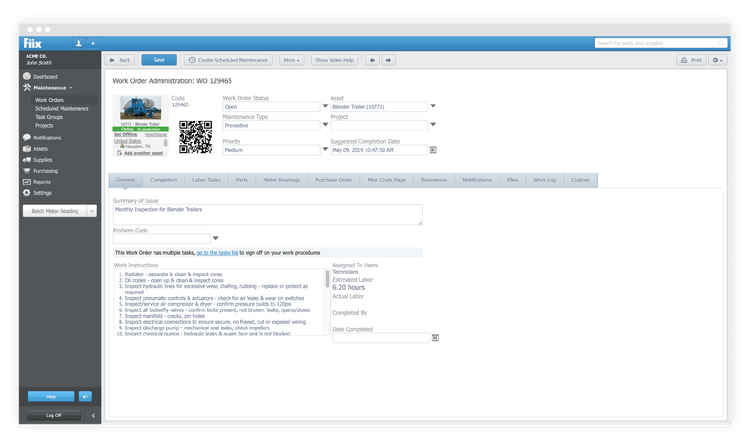 Prevent Major Repairs From Being Necessary
Scheduling routine maintenance tasks to reduce the risk of production errors, work injuries, and asset damage is a key part of preventive maintenance software. This is a key component of an equipment maintenance management systems, as it creates schedules for maintenance before any problems have occurred. This is in contrast to reactive maintenance, where you only conduct maintenance activities on already broken down equipment.
Maintenance issues can get far worse overtime when they go ignored, creating more damage to your equipment. It may be tempting to operate with reactive maintenance philosophies, but this will result in your equipment breaking down at more inconvenient times and possibly requiring costly repairs. Addressing small issues over time will avoid major problems from occurring and be far less expensive over the course of ownership.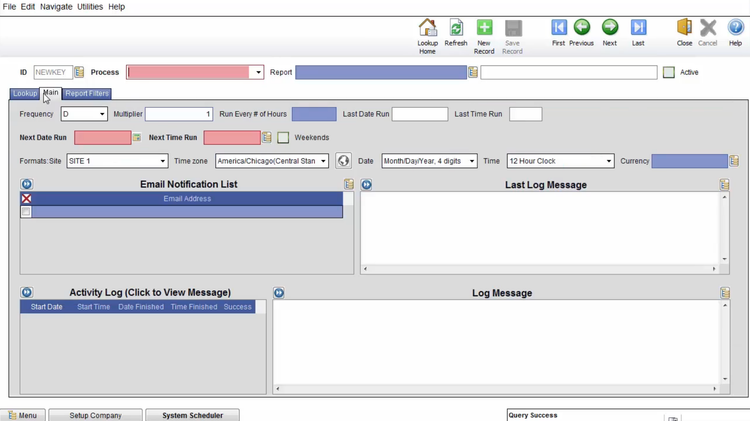 Reduce Maintenance Costs And Save On Future Expenses
As mentioned above, catching errors in equipment early and often will lead to less frequent turnover of assets, as well as save on labor costs involved with performing the maintenance. There can often be a misconception that preventive maintenance costs in the short-term are an unnecessary expense. However, catching small issues will prevent major repairs from occurring.
Increased productivity across your company an often forgotten about benefit. When equipment begins to break down, it may not operate at the speeds intended, This means your staff is spending more time to complete their work, increasing labor costs for the company. This will also result in a drop in production, meaning orders are not completed as quickly as intended, which could result in a loss of business or slower turnaround time.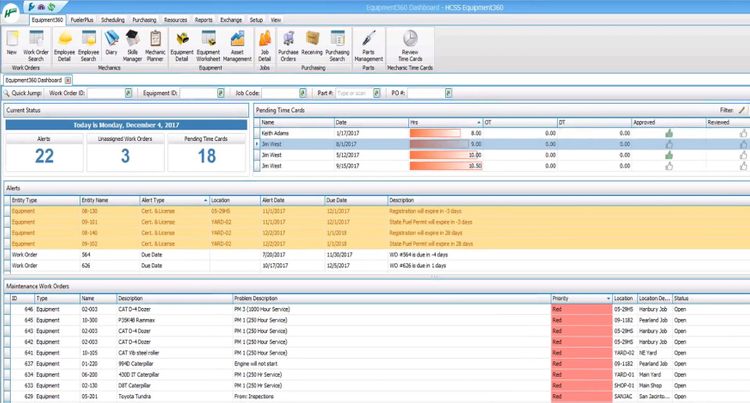 How Much Does Equipment Maintenance Software Cost?
The cost of equipment maintenance software will range from $29 to $70/user/month. This price range will give you an entry-level system for less than 3 users. Common capabilities included in these entry-level options include work order management, preventative maintenance tasks, and asset history reporting. Onboarding costs for these types of systems will vary depending on your provider and the level of services needed, but will usually average between $600 to $2,500 one-time.
Companies that require more advanced capabilities such as maintenance request portals, barcode scanning traceability, KPI dashboards, custom interfaces, and interactive floor plans can expect to spend as high as $400/user/month, with onboarding costs of a few thousand dollars. These mid-level and enterprise type systems can handle a larger amount of users.
A majority of equipment maintenance software is sold as a subscription and is web-based (SaaS). These options provide smartphone mobile device flexibility with the use of mobile apps. There are a few options that can be sold on-premise with only a one-time purchase cost. While still possible with some vendors, most equipment maintenance software is subscription-based and can not be bought outright (meaning you'll need to be comfortable with cloud software).