2015 is off to a fast-start in terms of ERP news. A number of new solutions have been released, existing products have been updated, and key players in the market have undergone significant business changes.
Oracle Financial Services Cloud
On January 13th, Oracle announced the launch of their new Oracle Financial Services Cloud solution. The offering builds on the Oracle cloud applications portfolio, which includes HR, CX, ERP, EPM, SCM, and analytics applications. The new SaaS-based Oracle Financial Services Cloud solution is designed to help financial industry businesses "maintain back-office processes" and "streamline operations," while meeting their "specific needs related to IT security, privacy, compliance, and regulatory requirements."
From a strategy perspective, the launch of Oracle Financials Services Cloud fits in with Oracle's recent efforts to strengthen their overall cloud applications portfolio. Market research firm, Trefis, offered the following analysis after Oracle's latest product launch:
Oracle is widely considered to be a laggard when it comes to cloud adoption. Its competitors like Salesforce, IBM, EMC, and Microsoft were quick to offer cloud-compatibility, but Oracle has jumped on the bandwagon only since 2013. However, the company now seems to be catching up and is bolstering its cloud portfolio through acquisitions as well as new products.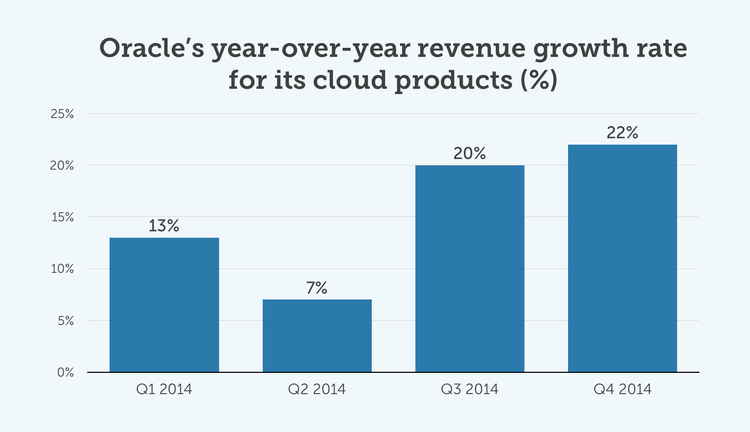 KPI Cloud Analytics for NetSuite
NetSuite continues to aggressively promote their 3rd party application marketplace. Similar to SalesForce's approach in the CRM space, NetSuite offers a software development platform. Access to the platform allows software companies to create and market add-on applications, which function as extensions of the core NetSuite product. There are currently over 300 SuiteApp certified products. January saw the release of another new SuiteApp program.
KPI Partners released KPI Cloud Analytics. The product is a new data visualization offering optimized for retail companies already using NetSuite. KPI Cloud Analytics provides business intelligence functionality to monitor promotion effectiveness, sales and inventory levels, and profitability.
Infor Electronic Data Interchange (EDI) Managed Service
Infor announced the release of their Infor Electronic Data Interchange (EDI) Managed Service. The Infor EDI Managed Service leverages Infor's integration platform, Infor ION, in order to connect with Rocket Software's EDI solution.
The solution is positioned as an alternative to purchasing and maintaining on-premise EDI software. Instead, Infor customers will be able to initiate EDI communication from their on-premise Infor ERP software. Infor Senior Product Manager, Jeff Reingans, noted:
Infor EDI Managed Service is the logical step for manufacturers that seek a faster and more accurate way to process and communicate orders, shipping information and key business data. Investing in a solution that streamlines this process to reduce the cost, time and effort needed to manage EDI transactions is the best way to stay ahead of competitors and ensure business continuity."
Updates to Existing Products
S2K Enterprise ERP
Vormittag Associates Inc. announced the release of a trio of new mobile applications which extend the capabilities of the S2k Enterprise ERP product. S2K Enterprise ERP provides a suite of financial and operations management functionality for product-centric small and mid-sized businesses in the manufacturing, distribution, and retail industries. The new mobile applications allow remote sales or delivery personnel to enact a number of transactional tasks while out of the office.
The recently released mobile applications include S2k Mobile Order Entry, S2K Mobile Route Sales, and S2K Mobile Proof of Delivery. The S2K Mobile Order Entry provides off-site order entry via either an iOS or Android device. The Route Sales app also supports iOS and Android clients, while enabling drivers to track inventory, initiate orders, and print receipts. The Android-based Mobile Proof of Delivery application delivers an array of functions to delivery trucks drivers–including navigation, signature capture, payment collection, and receipt printing.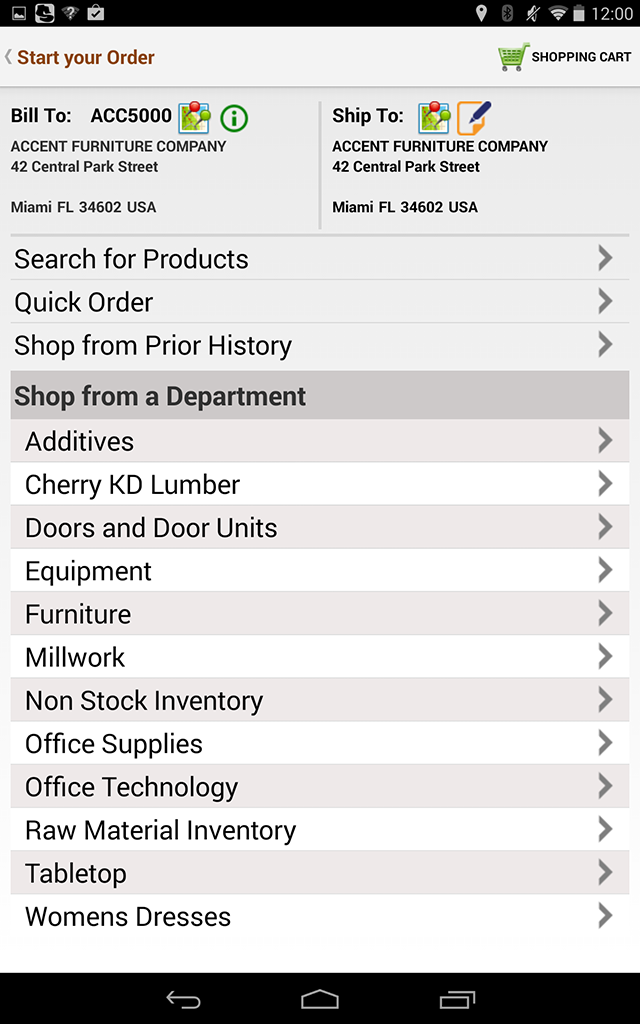 WorkWise RB-ERP
Manufacturers seeking new ERP software may also want to check out the newly released version of RB-ERP from WorkWise. According to WorkWise, version 9.7 of their role-based ERP product includes "over 60 major enhancements for faster performance [and] increased mobility."
A highlight of the release is the expansion of KPI and metrics management capabilities. The reporting improvements include the ability to share data sets with both desktop and mobile based users via graphical presentations. Additionally, a new Engineering WorkBench supplies a bi-directional interface with SolidWorks, a leading CAD application.
Genius Manufacturing ERP
Genius Solutions has updated their flagship Genius Manufacturing ERP program with the latest round of product improvements. Version 7.2 of the product enhances estimating, RFQ creation, manufacturing scheduling, and revenue recognition capabilities. Additionally, the update also includes new shop-floor control features integrating touchscreen technology.
The Genius Manufacturing ERP product is aimed squarely at the needs of small to medium size customer, make-to-order, and engineer-to-order manufacturers. Newly added features for project manufacturing and on-site time and expense tracking provide support for manufacturers with a fabricate-and-install business model.
Other Product Updates
ERP Business Development News
2015 has already included a number of business acquisitions, milestones, and changes in the ERP market:
Microsoft Dynamics Master VAR, SBS Group, strengthened its west coast presence with the recent acquisition of San Diego-based technology consultancy, Radiant Technologies.
Tech news author Ben Kepes reported that FinancialForce has achieved a $50M combined run rate on their FinancialForce Accounting and Financial Force PSA SaaS offerings.
A recent study by Cambridge Retail Advisors (formerly Boston Retail Partners) listed enterprise applications provider Epicor as a market share leader in the POS software segment.
Platinum-level Sage reseller and Exact Software partner, Baesis, announced the addition of a new office and additional staff in Chester, Connecticut. Baesis president, Frank Leonard commented: "We are very excited to now have a presence in Connecticut. We look forward to serving our existing Connecticut customers and adding new customers with our portfolio of products from both Sage and Exact."
Adaptive Insights, a well-known CPM software developer, concluded a 6 month leadership search by hiring Tom Bogan for the previously vacant CEO position. Bogan's resume includes tenures at Rational Software as President and COO. He also currently serves as Chairman of the Board at Citrix.
Dexter + Chaney, Inc. announced a major equity investment, from investment company, Pamlico Capital. Dexter + Chaney is a provider of ERP software for the construction industry. Their flagship product is Spectrum Construction Management. Founder, John Chaney, and President, Norber Orth, will continue to manage Dexter + Chaney in conjunction with Pamlico Capital.
In 2014,

[email protected]

was ranked as the largest Sage Software provider and #10 overall among VARs in Bob Scott's annual Top 100 VAR rankings. This year, [email protected] augmented their product portfolio and has joined on as a certified NetSuite solution provider.
ERP integrator, and software developer, Alternative Technology Solutions added a new product to their portfolio. Alternative announced they've partnered with Klugo to offer their NextService Field Service solution.