Modern companies use ERP software for the tools they need to automate important business processes. Here are 40+ ERP statistics you need to know to fully understand the potential benefits, costs, and drawbacks, based on both internal Software Connect data and top surveys of ERP buyers across the Internet:
General ERP Statistics
Top benefits of ERP, as named by prospective buyers, are: increased collaboration, centralized data, and reduced process time
Top business goals businesses site when seeking ERP: cost savings (46%), better performance metrics (46%), and more efficient transactions (40%)
Top motivations buyers cite when seeking new software include the need for better features (26.5%), a desire to automate existing processes (15.9%), and a brand new system for a new business (14.6%)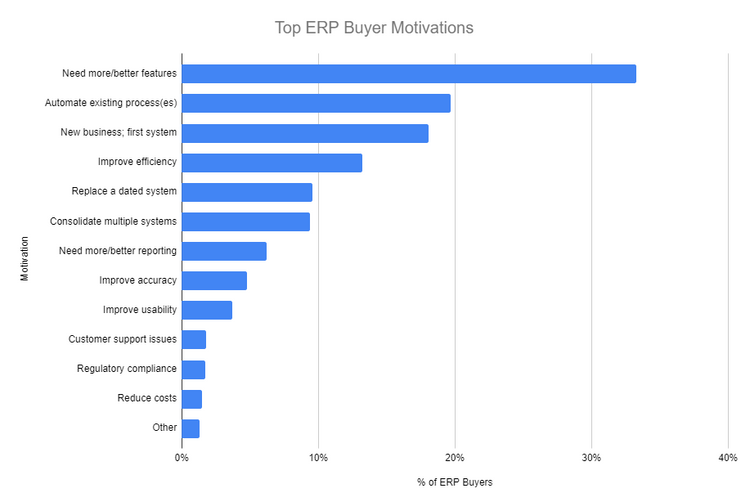 Features, Add-ons, and Customization
Deployment Options
64% of companies seek SaaS ERP while 21% want entirely cloud-based options and 15% want on-premise solutions
The perceived risk of both data loss and security breaches, or a lack of information other deployment options are the main reasons companies avoid cloud-based solutions
Cloud-based ERP interest went from 4% in 2013 to 42% in 2022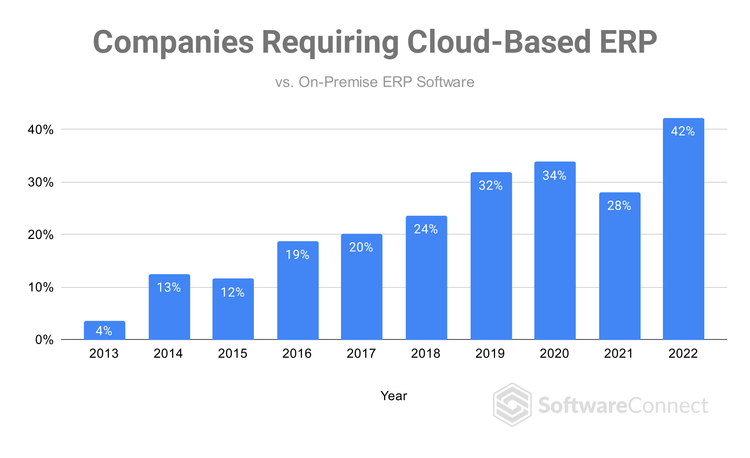 ERP Tech Trends
ERP trends can change drastically from year to year, but here are some of the top predictions:
AI, machine learning, IoT, and cloud-based ERP are all increasing in popularity
Artificial intelligence (AI) is advancing ERP capabilities with greater automation and faster results, with 65% of CIOs predict AI integration into ERP by 2022
iERP (Intelligent ERP) is expect to grow in coming years
Some companies are utilizing two-tiered ERP systems to better balance more specific work, such as implementing a new ERP for financials while maintaining a familiar legacy system for HR purposes
Global ERP Software Market Share
The global ERP market share of 2022 was valued at $50.57 billion in 2021
And according to the current growth rate, the global ERP market could reach $123.4 billion by 2030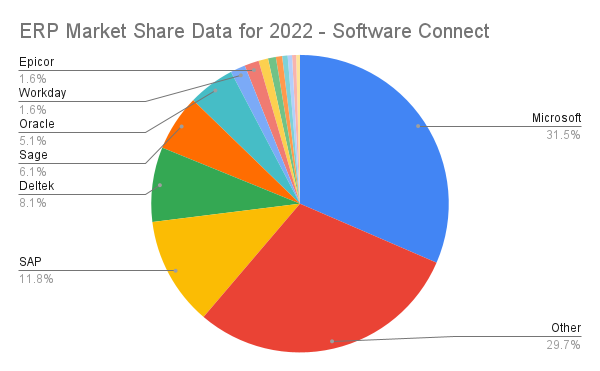 Main Industries Adopting ERP
Market Statistics by Geographic Region
Asia-Pacific is fastest-growing market with expected growth of 9.8% by 2027 (TrueList)
India, China, Japan, and Singapore are seeing most growth over next 5 years, followed by Latin America nations such as Brazil
The Enterprise Resource Planning Market in the US is expected to exceed more than $49.50 billion by 2027
ERP Usage Statistics
ERP users are primarily top decision-makers, though different departments can have more users than others
Company owners and C-suite executives (50.8%) are the most likely to begin the software buying process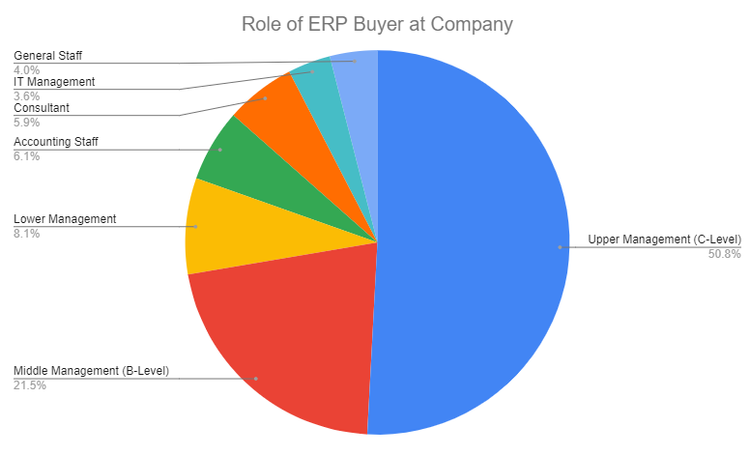 ERP Statistics about Implementation
Implementation is the process of rolling out an ERP at a business. These statistics look at how long it takes and how much it costs.
Implementation Timeline
ERP Costs and Budgeting
The total cost of ownership of an ERP system depends on a wide variety of factors, but can quickly reach hundreds of thousands or millions
84% of users only anticipated spending 2% of annual income on ERP
TCO for large companies ($1+ billion in revenue) is 2-3% of annual revenue
45% of ERP implementations go over budget
Main reason companies go over budget during implementation because of expansion of initial project scope
Subscription ERP plans can be cheaper upfront, but within 8 years the cost is equal to a one-time perpetual license model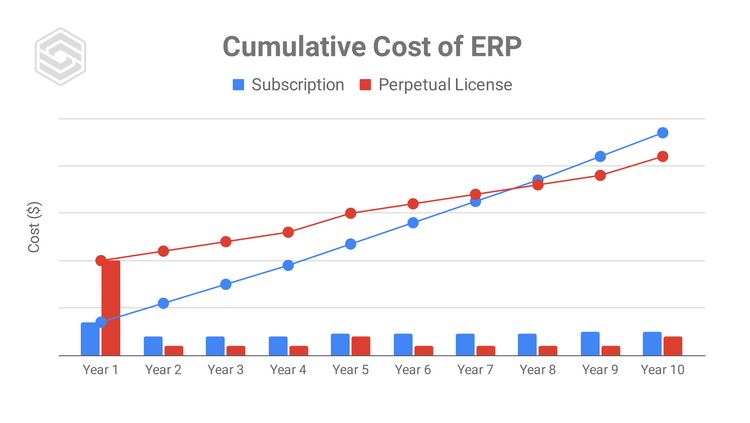 Failure Rates
ERP implementation failure happens, often due to complications with integrating legacy systems or training users. However, the risks of using ERP are often outweighed by the benefits:
Success Stories
Important ERP Statistics Before Buying
When a company has decided on upgrading ERP or adding a new system, there are a few key things to consider:
Best ERP Products
NetSuite, Odoo, Sage Intacct, SYSPRO, Oracle ERP are among the top performing software solutions on the market
Out of these service providers, Microsoft Dynamics forms 29% of the ERP market
6.7% of buyers request demos or pricing information on Sage Intacct, followed by SAP Business One at 5.5% and NetSuite ERP at 5%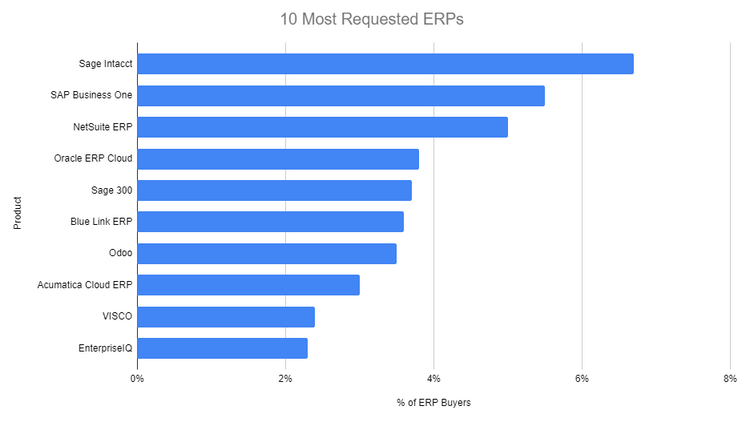 Learn more about some of these top ERP products:
Along with these popular ERP solutions, there are some important starter options:
Popular starter option is QuickBooks, an accounting solution which can cover basic ERP functionality
QuickBooks is the software most often being replaced by an ERP, used by growing businesses which primarily need accounting functionality
Talk to one of our expert software advisors today to find an ERP for your business!
Methodology
The ERP data presented here comes from internal studies by Software Connect and a variety of sources, see the full list below. Data was checked for accuracy at the time of publication. However, some statistics may be based on outdated information, particularly estimates related to market growth during the COVID-19 pandemic.
Data Sources