Microsoft offers a variety of enterprise resource planning systems through its Dynamics ERP software line. These options help optimize your financials and operations in order to help your team make data-driven decisions that improve business performance. With a large variety of ERP solutions available, Microsoft lets you create a personalized approach with business apps for every industry and every functionality need.
Built on Azure and tightly integrated with Office 365 and Microsoft Power Platform, Microsoft Dynamics ERP software will:
Modernize your financial operations, handle your supply chain
Increase manufacturing productivity
Manage online sales via eCommerce
Optimize your workforce through human resource tools
ERP technology from Microsoft will let you use the data it offers to find new business opportunities, customize applications to fit your needs, and overall engage with your customers better.
Almost all Microsoft Dynamics ERP software is available exclusively through Microsoft Dynamics Certified Partners. These "value-added resellers" are in charge of planning, customization, and implementing the solutions for your business. They are also the people who will provide you support services for however long you agree upon. Because of this, choosing the right vendor to work with is equally as important as choosing the right ERP software.
Dynamics AX
Originally known as Axapta, Microsoft Dynamics AX was one of Microsoft's more robust ERP systems catered towards enterprises. After being acquired by Microsoft in 2002, the ERP software went through a number of version changes and upgrades in order to be offered in more than 30 countries and 25 languages.
Today, Dynamics AX has rebranded to Dynamics 365 for Finance and Operations. This change was made to better encapsulate the solution's ability to meet the requirements of any business organization, rather than any one specific industry. Like many ERP systems before it, Dynamics AX had previously had a heavy presence in the manufacturing and distribution industries.
Microsoft Dynamics 365 for Finance and Operations is available in the cloud, on-premises, or through hybrid deployment options. The solution can be personalized to your needs with business apps built on Azure and integrated with Office 365 and Microsoft Power Platform.






Starting Price
$180/user/month
Dynamics CRM
Microsoft Dynamics CRM system has been around since 2003 after an acquisition with iCommunicate that prompted the desire to offer customers basic contact management and email campaign software. At its launch, it was simply known as Microsoft CRM 1.0. By 2005, the solution rebranded under the Dynamics title to reference its inclusion in the Microsoft Dynamics product family.
Today, Microsoft Dynamics CRM has joined the Dynamics 365 product family under the Dynamics 365 Customer Engagement suite–and has broken down into a variety of applications that can be purchased as standalone options:
Dynamics 365 for Customer Service
Dynamics 365 for Marketing
These solutions still handle your customer relationship management in every way desired–such as maintaining customer relationships, tracking sales leads, handling marketing, and more. As part of the 365 family, the solution can easily work alongside the ERP products offered by Microsoft to better integrate bookkeeping, invoicing, and order handling.




Starting Price
$65/user/month
Dynamics GP
Microsoft Dynamics GP is a powerful accounting software and ERP solution that combines financials, inventory, and operations into a unified business management platform for small to mid-sized businesses. The GP stands for Great Plains–the original name of the software. With roots dating back into the 1980s, Great Plains Software was one of the first accounting solutions to allow multiple users and run as 32-bit software.
Microsoft drew interest and acquired the solution in 2001. Microsoft continued to sell the solution under the well-known Great Plains name for many years until it was eventually shortened to just "GP" to mimic the rest of the products in the Dynamics family.
Today, Microsoft Dynamics GP still operates as one of the flagship ERP offerings–providing powerful financial management, inventory, sales, human resources, and business intelligence. The solution can work for almost any industry–providing accounting tools such as bank reconciliation, cash flow management, encumbrance management, fixed assets management, multi-currency, and more.






Starting Price
$65/user/month
Deployment
Cloud or On-Premises
Dynamics NAV
Dynamics NAV originates from Navision, a strong accounting tool that dates back to 1984. After being acquired by Microsoft in 2002, Navision took on the Microsoft name and would eventually shorten to "NAV". In comparison to the other ERP software solutions offered by Microsoft, NAV had more of a focus on the distribution and manufacturing industry. Its core appeal over other options from Microsoft was its customizability. Because of this, the solution was most commonly sold by resellers who sold consulting hours on installations and training how to use the solution for specific purposes.
Today, Dynamics NAV is now Dynamics 365 Business Central. It offers the same functionality as the former Dynamics NAV, and is full-featured whether deployed in the cloud or on-premises. The solution boasts the ability to increase the productivity of your staff and provide detailed business insights. Reporting capabilities can increase financial visibility, boost sales, and improve customer service.
Dynamics 365 Business Central provides both an Essentials or a Premium version. Both include unlimited users, unlimited companies, and extensive customization.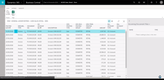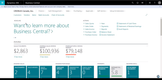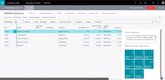 Starting Price
$70/user/month
Deployment
Cloud or On-Premises
Dynamics RMS
Microsoft Dynamics Retail Management System (RMS) is a full-featured POS with powerful inventory management, multi-store capability, and customizable reporting. Dynamics RMS has long been a top choice for small and medium-sized retailers to automate their operations–whether they are a single store or a large retailer with over 100 locations.
As of 2016, Microsoft Dynamics RMS is at the end of the product life cycle, meaning it's reached the end of life with no future planned development. Microsoft will continue to support the latest existing version of RMS through July 2021. After a brief transition into Dynamics 365 for Retail, the solution ultimately transformed into its current state: Dynamics 365 for Commerce.
No matter the name, the software is an omnichannel solution for retailers–offering store management, point of sales, loyalty management, merchandising management, and integration with a variety of mobile apps. This solution will let you manage your retail operations through gift card management, managing promotions, processing returns, and web store integration in order to support online order pick-up in-store or delivery options you may offer.
Dynamics SL
Solomon Software was one of the original big names in the accounting software market in the 1980s. After being acquired by Great Plains (mentioned above), the Solomon product was converted to focus more on midsized businesses that have a need for project accounting. This became Dynamics SL, which can still be commonly referred to as Solomon.
Today, Microsoft Dynamics SL is an ERP solution for mid-sized organizations providing project financial capabilities. The solution is used heavily in industries such as construction, government contracting, and professional services and engineering.
Offering a few different editions and a variety of add-ons, there is a number of Dynamics SL combinations available that can surely work for your business. The "Essentials" edition provides mostly financial related capabilities. Moving up to the "Advanced Management" edition will provide more project management related tasks.





Starting Price
$14.98/user/month
Deployment
Cloud or On-Premises