What Is HVAC Software?
HVAC software is a subset of field service management software used by those in the heating, ventilation, and air conditioning industry. By purchasing an industry-specific software solution, you can be assured you're working with a software provider that understands the needs of your business.
Whatever sort of job your HVAC business is contracted out for, you'll need a field service software that provides functionalities relevant to the HVAC industry by linking financial and operational modules together.
The goal of HVAC service software will be to increase the efficiency of your business and eliminate errors. Purchasing a software solution that was developed with your industry in mind will give you the peace of mind that the developer and/or reseller are experienced in working with companies just like yours.
HVAC software can come in many forms, such as software intended for use by a single contractor, to software that can be referred to as an enterprise system. Office staff and technicians alike can benefit from HVAC service software that provides scheduling and dispatch functionalities and more.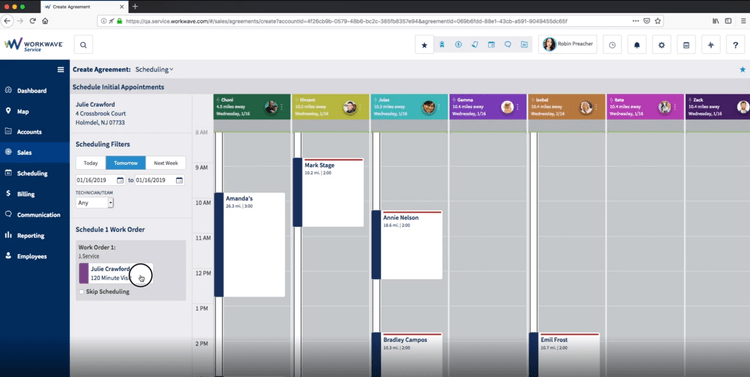 Common Features of HVAC Software
The core of your HVAC software will be organizing your technician's tasks, generating work orders, and providing customer service. Below is a detailed description of the functionalities found in the top HVAC software options:
Accounting: Office staff can store information on payments to vendors (accounts payable), and record invoices and payment arrangements made with customers (accounts receivable). Discover profitable areas of the business (as well as areas in need of improvement) through monitoring the company's financial performance in real-time via reports from the general ledger.
Estimating and Job Costing: Create accurate estimates of equipment, labor, materials, and other costs that contribute to the overall cost of performing the job. Allows a company to analyze the cost of a single or multiple jobs and compare costs across the jobs you perform. Cost reporting will look for trends in profitable opportunities by location, service type, or even specific employees.
Dispatching and Fleet Management: Maps and routes all service calls. Allows for easy sync of scheduling and dispatch to coordinate proper workflow. Mobile integration can allow greater visibility into technician locations and assign jobs based on proximity to customer emergencies. Tracks all vehicles and vehicle inventories to ensure technicians have the appropriate equipment on-site.
Work Order Management: Handles all aspects of coordinating the fieldwork service techs perform. Work order modules will assign labor to specific employees, by knowing which technicians are qualified to handle each job as well as maximizing the amount of labor that can be performed per employee.
Bidding and Proposals: Lets users generate bid and proposal documents to convey the scope, specifics, and quality of work that will be provided. Bids can convert estimates to customer-facing documents.
Warranty Tracking: Track accurate warranty details on all customer accounts to ensure the proper benefits can be allocated to customers and work isn't performed outside dated periods. Software that allows visibility to all staff levels ensures technicians can validate warranties when performing work outside of regular business hours.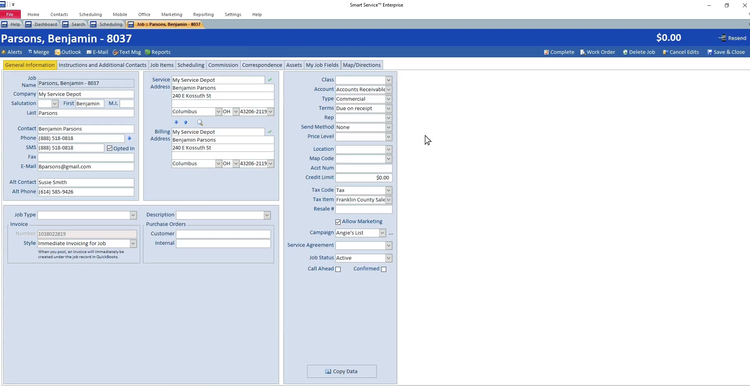 Benefits of Using HVAC Software
Any HVAC business can enhance its productivity through better utilization of resources. This is why implementing HVAC software is so important for HVAC companies. But how does productivity become enhanced? These are some of the top benefits of HVAC software:
Improved Scheduling
The HVAC industry deals with a large number of work orders. Most come into a centralized location (the office), but the information needs to go out to employees in the field (the technicians). Job tracking and scheduling need to be as streamlined as they possibly can.
A quality HVAC software will be able to schedule recurring jobs, establish priority levels to jobs, and show you which technicians are available for dispatch. This allows you to run a location-optimized approach to work orders, rather than allowing your entire team to jump on available appointments. For HVAC businesses that offer planned preventive maintenance work as part of their service agreements, a mass scheduling tool can help automate the HVAC dispatch process and set up appointments in bulk.
HVAC software allows you to input parameters so it can find optimal routes, match technician availability with their current shifts, and show estimated costs. "At-a-glance" schedule views also let you monitor any overlap to avoid overbooking.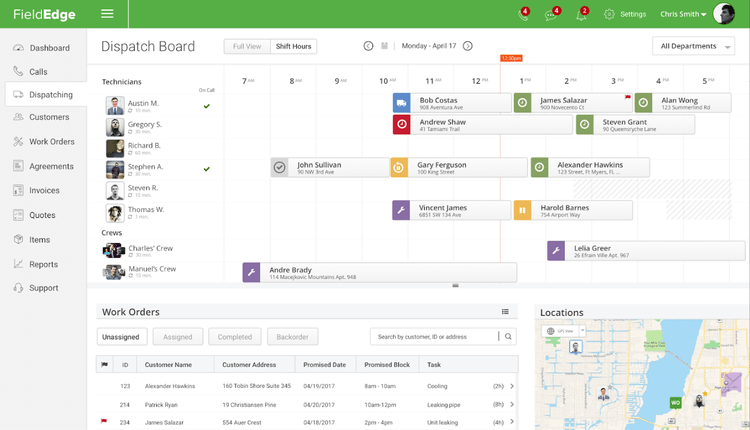 Improve Reliability For Your Customers
Maintenance contracts are one of the most consistent sources of income for HVAC companies. These maintenance agreements usually come as a part of commercial contracts, and businesses need to sign off on any proposed workloads. By being able to consistently hit these maintenance benchmarks as well as stay within any proposed budgetary guidelines will ensure your customer remains an ongoing satisfied customer.
Outside of emergency service calls, planned preventive maintenance, otherwise known as scheduled maintenance, makes up a large portion of a technician's workflow. This proactive approach to maintenance means your technicians are frequently visiting customers to service their HVAC equipment to increase uptime and reduce the need for reactive maintenance. HVAC software helps create a time-based schedule that ensures this type of proactive maintenance occurs at regular intervals.
By building and validating your schedule, you'll be able to determine appropriate times for new installs, routine maintenance, and emergency maintenance. HVAC software should allow you to view your schedule as tasks presented in rows and columns. This should allow for easy shifting of work to account for higher priority jobs–keeping customers satisfied when emergencies occur.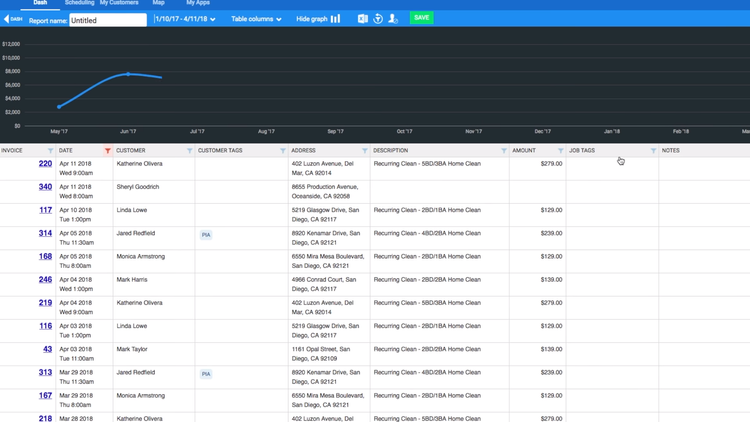 Provide Exemplary Customer Experience
With a large portion of business software being available online, new value-adds have been put into software solutions that benefit the customer, and not only the business. This is provided via a customer portal, which puts functionality into the hands of the customer.
Examples of things the customer can do through a customer portal include viewing work history, requesting service via online booking tools, approving estimates, and paying bills through online payment processing tools. Customers can also edit work orders to ensure timeliness, accuracy, and overall satisfaction.
Another way to improve customer satisfaction with your HVAC software is through accurate and on-time estimates. Providing customers with a printed estimate form is becoming more of a relic of the past. Today, technicians should be able to put together an estimate on the spot and send it to the customer digitally–allowing them to digital sign with an eSignature tool. This lets your team get started on work and repairs at a much faster pace–meaning your customer is less likely to shop around for alternative deals while they wait for you to prepare final figures.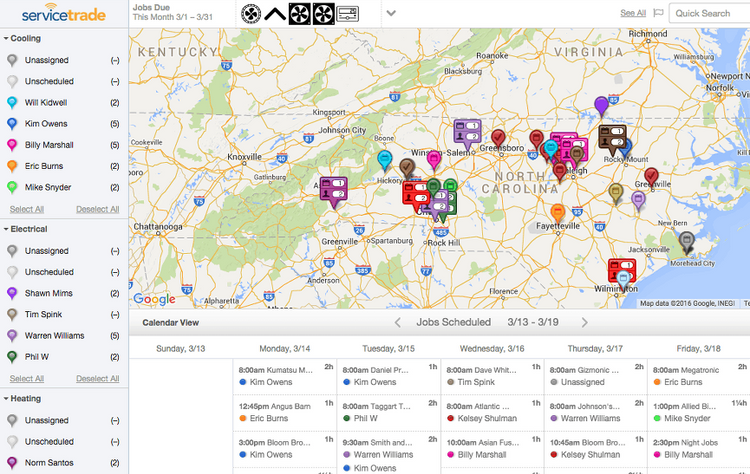 Integrations With Other Software
Larger enterprises will tend to benefit from integrating HVAC service software with other business applications they may already use in their day-to-day operations. It can be hard to move away from existing financial solutions or a CRM that has been helping you make sales for years, and many HVAC software developers understand this–allowing you to integrate their field service applications directly into your exiting business software environment.
Common integrations include:
Accounting software: HVAC solutions typically offer invoicing and billing within the system itself. This data can be linked back into your primary accounting software to ensure accounts payable and accounts receivable processes are up-to-date and uninterrupted.
Customer relationship management (CRM) software: Sales teams use CRM tools for logging customer data such as sales history, contact information, current items owned, service history, and more. By integrating existing CRM applications into your HVAC software, you'll have more insight into your team's sales patterns and aid them in meeting customer expectations as well as upsell opportunities.
Is QuickBooks An HVAC Software?
QuickBooks Online is one of the most used HVAC software for small businesses. Quickbooks software is used by many small HVAC or other service businesses. The industry-neutral solution provides basic financial management at one of the lowest costs available on the market. The most important features needed in an HVAC software that Quickbooks lacks are scheduling and dispatch.
As Quickbooks was designed for bookkeeping, it won't do what an HVAC contractor needs and will require integration with 3rd party add-ons to become a complete HVAC software. This can be accomplished through a variety of add-ons, or one "complete" add-on that covers all the needed functionalities, such as tracking work orders, equipment installation details, service agreements, and maintenance reminders.
The best approach will be figuring out which functionalities you need to be added on to Quickbooks the most, or if the number of functionalities needed can perhaps justify a completely new system. Many solutions may already market themselves as HVAC software compatible with QuickBooks, which simply put, means they offer industry-relevant features but rely on QuickBooks to provide the core accounting.
If your company needs assistance to set up QuickBooks for your HVAC company, getting in touch with a qualified reseller of the software who specializes in the industry will be your best bet.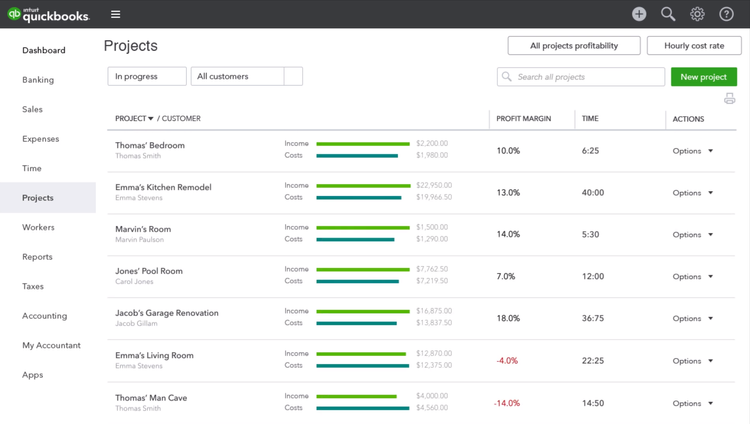 How Much Does HVAC Software Cost?
The cost of HVAC Software will be dependent on the type of business you're operating. Do you have a large client base of commercial businesses? If so, you'll need commercial HVAC software, which will generally carry a higher price tag than someone with a smaller volume who only handles residential clients.
The price of HVAC software will start between $10/month to $40/month depending on the level of functionality and number of uses needed. Subscription-based pricing is common for online or SaaS-type solutions. Some HVAC software can be bought outright and installed locally, meaning you pay a flat one-time cost. Some options may be as low as only a few hundred dollars, while others may be closer to $10,000 for the initial purchase. The differences in cost will depend on who the software is targeted for, as an inexpensive option designed for a 1-man shop won't have the same effectiveness for a business with hundreds of employees.
HVAC businesses that need extra add-ons such as GPS tracking for their fleet, mobile access for everyone in the field, customer portals, and more, will look to spend additionally upfront per month, depending on the agreement with the software provider.
As with any other type of software, as your business grows, so will your need to have a wider functionality depth in your software. As that need grows, the license fee you'll pay for software will grow as well.
Are There Any Free HVAC Software Options Available?
Online resources exist for HVAC companies to get the proper documents they need to manage their business. These tools include break-even calculators, measurement conversions, labor rate calculators, and more.
While you may be hard-pressed to find a truly free software option, many software vendors may provide a free trial of their software options, which can give you as little as 24 hours to as many 30-days of access to the software. Many software demos these days will come in the form of a guided walkthrough with a vendor, who can show you the ins and outs of the software, answer any questions, and hopefully give enough examples to let your company make a decision.
One way to save money on HVAC software is to consider integrating two low-cost options to ensure you are receiving every piece of functionality your business needs.
HVAC companies constantly have workers out in the field, and thus need an HVAC software that can handle complex needs of a mobile business. As a result, they need to choose the best field service management software that are easy to use, have a great mobile app, and offer strong invoicing and technician tracking tools.
Companies in most other industries typically specialize in either service or product sales. HVAC companies handle both. To make things more complex, HVAC companies generally not only do service work but job-oriented contract work.
This contract (warranty work) can amount to a large percentage of your service calls. Proper warranty tracking is necessary to ensure a company is not accumulating costs in an unneeded situation, such as performing work "under warranty" only to find out a customer should have been invoiced. You'll also need to track any work performed stemming from a warranty situation to manage the claim process and tie it in with your billing (accounting).