Implementing Microsoft Dynamics requires six steps:
Review business processes.
Create a project plan.
Assess Microsoft Dynamics 365 for workflow gaps.
Cleanse and migrate data.
Test the system
Train employees.
Deploy and evaluate the system.
Microsoft Dynamics 365 is a suite of apps that help centralize your financials, purchasing, sales, and CRM in one solution. The two main ERP software options are Business Central and Finance and Operations.
Despite their similarities and differences, they follow a similar implementation process.
Steps to Implementing Microsoft Dynamics
Implementing Dynamics 365 apps involves more than just software installation. This roadmap provides an in-depth look into each stage, from understanding your business processes to finally going live. Typically, a Microsoft Dynamics Certified Partner will accompany you through each stage.
Business Process Review: Evaluate current operations and pinpoint any inefficiencies, redundancies, or areas prime for automation. Example: A company discovers during their review that they track inventory manually, leading to frequent stockouts. With the help of their value-added reseller (VAR), they identify how Dynamics 365 can automate this task.
Project Plan: Assemble an interdepartmental team to develop the ERP project plan. Your team will set timelines, assign responsibilities, and define clear KPIs that track implementation progress. Example: A retail business assigns IT, finance, and inventory managers to map out the Dynamics 365 implementation schedule over four months.
Dynamics 365 Assessment: Study Dynamics 365 features in relation to your company's needs. Determine customization needs and which modules and functionalities you require. Example: A small manufacturer with complex machinery must regularly schedule and track maintenance. They opt for Business Central Premium licensing to access the service order management and manufacturing modules.
Data Migration Plan: Inspect the quality of available data and discard outdated data. Move pertinent data to the new system. This is called data cleansing. In addition, ensure future data integrity by establishing compliance guidelines for employees. The quality of input affects the quality of output. Example: An e-commerce enterprise plans to migrate five years of customer purchase history to Dynamics 365. However, they decide to leave behind outdated promotional campaign data.
Testing: Use a replica of the production environment to ensure that Dynamics 365 functions properly, data flows correctly, and all integrations work. Example: A VAR sets up a replica environment for a financial institution. They check that Dynamics 365 can manage their transaction loads and sync with the existing CRM system.
Training: Equip employees to use the new system through e-learning modules or personalized sessions. Your VAR plays an instrumental role in this step, offering training resources or workshops. Example: A VAR launches e-learning modules for the remote workforce of a logistics company. It also hosts in-person workshops for onsite staff to familiarize them with the system.
Deployment and Go Live: Transition to Dynamics 365 as the organization's primary system. Implementation goes live with functionality checks and real-time adjustments as needed. Example: After extensive preparation, a multinational company migrates to Dynamics 365 over a weekend. Their VAR provides dedicated support to tackle post-implementation concerns and challenges.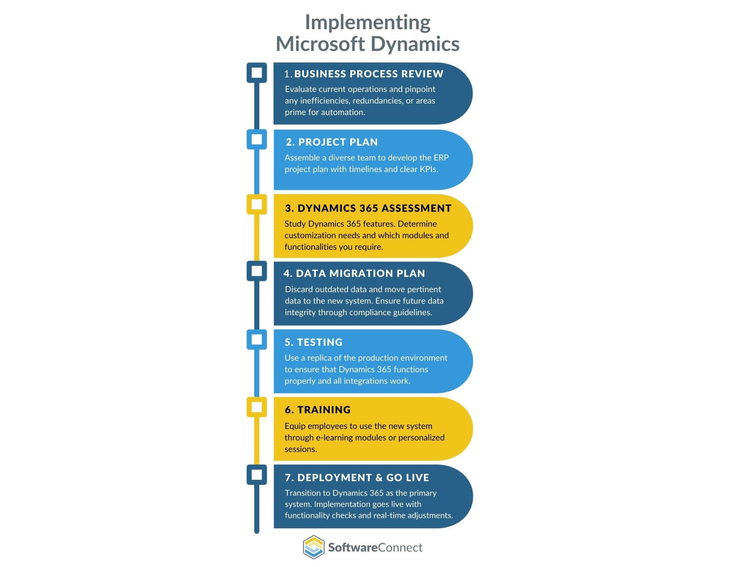 Types of Dynamics ERP
Microsoft Dynamics 365 Finance and Operations
Catering to more complex business requirements, Dynamics 365 Finance and Operations is ideal for companies that require an enterprise-level system. It offers robust financial reporting, end-to-end operations automation, and deep insight into business metrics.






Starting Price
$180/user/month
Microsoft Dynamics 365 Business Central
An all-in-one business management solution for small to mid-sized businesses, Dynamics 365 Business Central integrates core functions such as finance, operations, and customer service.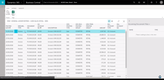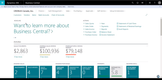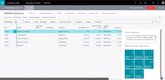 Combined ERP and CRM
Similar interface to MS Word and Outlook
Integrations with Microsoft applications
Not ideal for complex manufacturing needs
May require extensive training
No free version
Price Range: $$$
Starting Price: $70/user/month
Client OS: Web
Deployment: Cloud or On-Premises
What Apps Are Available To Implement in Dynamics?
These separate apps are more specific in their functionalities:
Supply Chain Management: Supports warehouse efficiency, product quality, and integrated IoT technologies to track real-time product movement. Once part of the broader "Finance and Operations" app, Microsoft separated Supply Chain Management for more flexibility.
Sales: Manages customer relationships, forecasts demand and trends, and improves sales productivity.
Marketing: Automates and assists with customer segmentation, lead scoring, and marketing campaigns.
Customer Service: Centralizes customer inquiries, complaints, and feedback, providing a 360-degree view of customer interactions.
Field Service: Manages everything from scheduling to tracking for on-the-ground service operations.
Project Operations: Connects sales, resourcing, project management, and finance teams to help win more deals and accelerate project delivery.
Human Resources: Offers benefits administration, payroll integration, performance feedback, and employee self-service portals.
Commerce: Provides a complete omnichannel solution incorporating e-commerce and in-store retail operations.
What To Expect With Dynamics Implementation
When diving into Dynamics 365 implementation, there are key factors to consider:
Duration: The implementation process is well-structured. While the average ERP implementation spans four to six months, some VARs offer rapid deployment within one to two weeks. This expedited time frame typically applies to simpler implementations with minimal customization and well-prepared data.
Return on Investment (ROI): The benefits of Dynamics 365 become evident relatively quickly. Many companies observe a tangible return on their investment within two years, primarily driven by operational efficiencies and enhanced decision-making.
Cost Structure: The investment in Dynamics 365 goes beyond just the initial implementation. Licensing costs are structured on a per-user basis. Here's a breakdown of Dynamics 365 Business Central's pricing tiers:
Essentials ($70/user/month): This tier encompasses core modules, including finance, sales, and customer service.
Premium ($100/user/month): This tier provides modules like manufacturing and service order management for businesses needing advanced features.
Team Members ($8/user/month): Designed for users requiring limited access, this option suits tasks like data review or timesheet entry.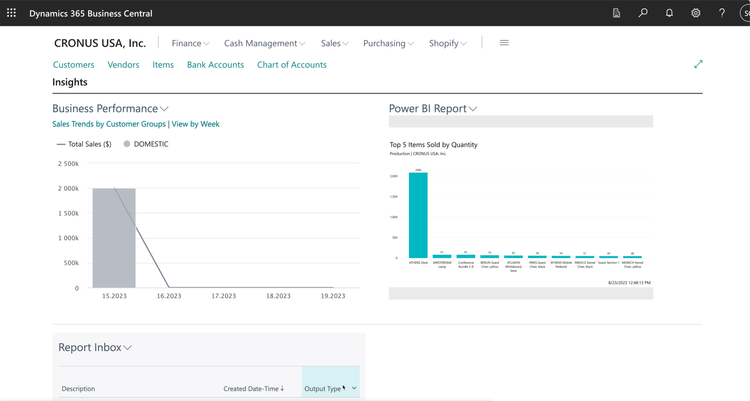 Deployment Methods
Choosing the ideal deployment method depends on the company's specific needs, IT infrastructure, and budget.
On-Premise: The software is installed and managed on the company's servers. This method gives organizations full control over the data for regulatory or data sensitivity reasons. However, it may also require significant IT resources.
Cloud: Dynamics 365 hosted on Microsoft's Azure cloud allows for scalability and anywhere access. It reduces the overhead of managing physical infrastructure, making updates more seamless. Microsoft manages security.
Microsoft vs. VAR Implementation
Whether to engage directly with Microsoft or lean on the expertise of a Microsoft Dynamics Certified Partner is a crucial decision. Both paths have distinct advantages:
Direct with Microsoft:
For multinational corporations, Microsoft may work directly with the organization to determine the scope and pricing of an implementation.
Direct engagements with Microsoft might include strategic discussions about the company's broader digital transformation roadmap, of which Dynamics 365 might be one component.
Partners and VARs:
Most mid-sized businesses and even larger enterprises typically engage with VARs or Microsoft-certified partners for Dynamics 365 implementations.
They can provide a more detailed and customized quote based on the specific needs and nuances of the business, taking into account factors like integrations, custom development, data migration, and user training.
VARs have deep experience in specific industries and regions, which can benefit businesses looking for industry-specific customizations or region-specific adaptations.
They offer added services, including consultation, customization, support, and training, which can be essential for successful implementation.
FAQs
What is Microsoft Dynamics 365 implementation?
Implementation is setting up and integrating the Dynamics 365 suite into a company's operations. It involves determining the business's needs, customizing the software, and transitioning employees and processes to the new system.
How long does it take to implement Microsoft Dynamics 365?
Microsoft Dynamics 365 implementation duration varies based on company size, selected modules, and customizations. Generally, the process can range from a few weeks to over a year for a mid-sized company.
How do I set up Microsoft Dynamics 365?
Setting up Dynamics 365 involves evaluating your company's specific needs, choosing the right modules, and customizing them to fit your processes. Finally, businesses must migrate data, test the system, train staff, and deploy the software.
What are the phases of implementation?
The phases include conducting a procedure review, developing a project plan, assessing the ERP, cleansing and migrating data, testing and training, and finally, rollout and evaluation. Each step requires careful attention to ensure a smooth transition and optimal system performance.