Metal fabrication software is an industry-specific type of manufacturing software unique to the metal and steel fabrication industry. This type of solution helps optimize quotation turnaround times, boosts the quality and speed of delivery, reduces waste, optimizes capacity, and improves throughput for your entire metal fabrication processes.
Metal fabricators have an expectation to produce quality products to exact specifications, synchronize production schedules with customer expectations, and deliver products in a timely fashion. This is all accomplished via key features offered by metal fabrication systems. These functionalities include quoting and estimating, bill of materials (BOM), and production scheduling.
Most importantly, steel fabrication software will help your business compete effectively in the metal fabrication industry through a layer of consistency throughout your manufacturing processes. A fully-integrated metal fabrication ERP software will help you plan, execute, control, streamline, and expand your business by creating a blueprint for your employees during the entire manufacturing process. This blueprint acts as a project management tool that helps improve turnaround times, reduce loss, speed up delivery, and lower production costs.
Whether your manufacturing business is engineer-to-order, make-to-order, or a mixed-mode environment, metal fabrication software will help your job shop reach its optimal potential.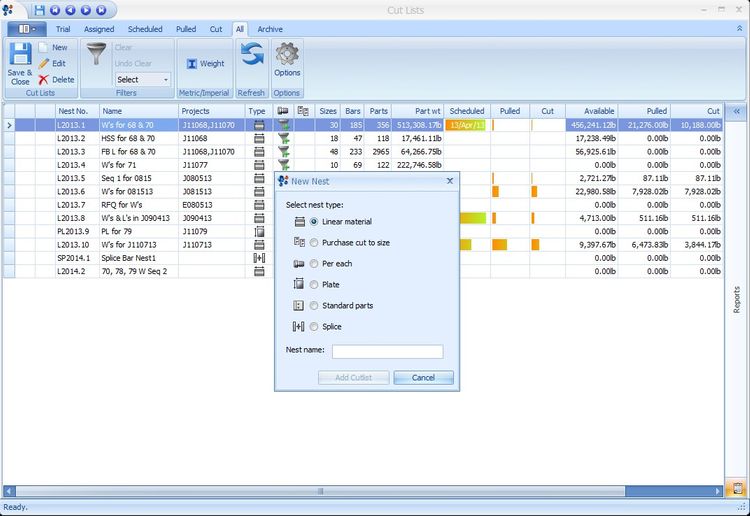 Features of Metal Fabrication Software
Quoting and Estimating: Calculate material, overhead, labor, and other fees to create accurate quotes for interested buyers.
Bill of Materials: Specifies the raw materials, parts, and sub-assemblies needed to manufacture each specific product.
Sales Order Processing: Helps capture, track, and fulfill orders across multiple sales channels via connections with inventory and shipping schedules.
MRP: Helps plan and calculate material requirements, coordinate personnel and machine workloads, and optimally plan purchasing to meet customer demands.
Production Scheduling: Helps plan production on your shop floor by determining the need for materials and capacity in order to complete a manufacturing production order.
Job Costing: Facilitates the assignment of costs to individual cost categories in order to enable improved cost control and job profitability
Product Lifecycle Management: Manage the entire lifecycle of a product from conception through design and manufacture and finally disposal.
Quality Management: Helps analyze risks, sets quality objectives, and helps implement workflows to achieve standards.
Shipping: Help transport your manufactured goods from one place to another.
Accounting: Handles inventory valuation and the cost of goods sold.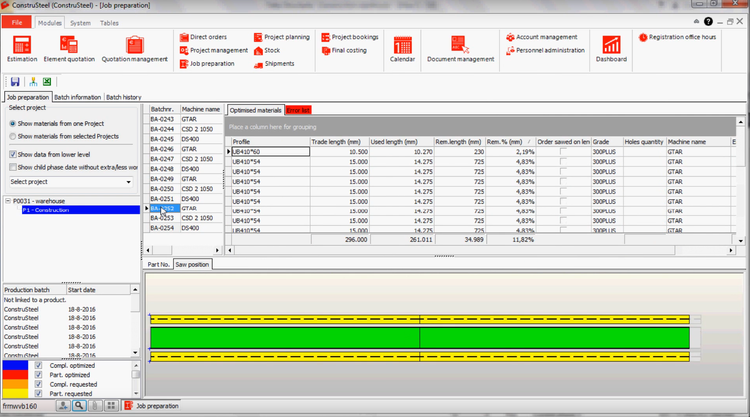 Benefits of Metal Fabrication Software
The top benefits of using metal fabrication software include:
Improved Inventory Management
Inventory control capabilities within your metal fabrication software can track your raw materials in a number of ways:
Stock: The most popular type of inventory tracking found within manufacturing software. Shows how much current stock you have at any one-time. Raw materials are received and issued out on a perpetual basis.
Lot Tracking: Create a batch of products into a distinct or uniform group identified by a shared identification number. Lots are typically created to represent quantities, production variation, or common expiration date. This is useful for tracking different types of aluminum sheets and coil, structural channels, angles, and whatever other types of plates or tubings used at different cuts and weights.
Made-To-Order: Purchase needed parts and materials as needed. Once a sales order is received and a job created, you can order the parts, begin the job upon their arrival, and move on. This limits the number of raw materials stocked in your inventory sitting idle. This is more commonly found in a custom environment that requires unique steel, aluminum, and other items not usually kept in stock.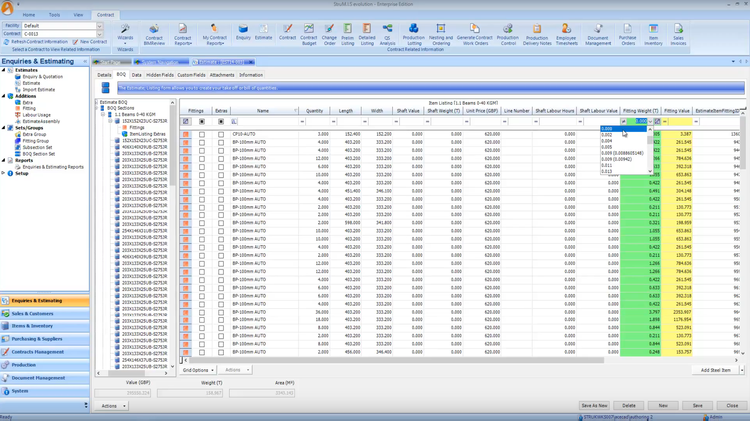 Streamlined Production Planning
Steel fabrication management software can help improve your production planning process, which in turn will lead to faster turnaround times, and ultimately more orders produced. This is a quick way to improve your ROI on the software investment, while also being a great way to keep customers happy and returning for repeat business.
A powerful metal fabrication management software will optimize part routing on the type of cut needed, automate repetitive tasks (such as work orders) that reduce cost/time/errors, and create and edit DSTV files. A metal fabrication system can also help your business implement a lean manufacturing process that can help minimize waste without sacrificing productivity.
Real-time piece tracking will ensure you know what items at what quantity are currently involved in the production process, are still stuck in the planning stage, or if the items have even arrived at your facility yet. Finally, most systems will be able to integrate with any CNC machines needed for the design process that may be needed during production planning.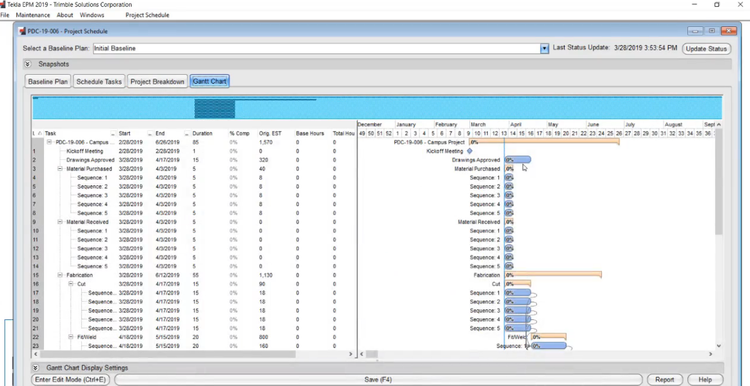 A certain type of metal fabrication software, called metal fabrication design software can be used during the planning stages. These options can create 2D drawings and diagrams, handle computer-aided designs (CAD), and overall provide an electronic method to make parts and modify them. These solutions help with structural steel erection and fabrication, as well as light gauge steel bending and forming.
Another benefit of incorporating design software into your fabrication process is to help you calculate bends and draft very specific features of sheet metal. Good drafting with an integrated bill of materials can help you reshape your metal fabrication manufacturing process through high-quality graphics to catch errors and issues before they occur.
This type of software can sync to your MRP or customer database. You can then import the files that make up the component of the weld or fabrication job. You can assign properties such as material grain, thickness, and quantities. A built-in nesting option can calculate nesting weight. Finally, a PDF quote can be printed or emailed directly to a customer, fully tieing the design process into the management side of things.
Metal Fabrication Software Pricing Guide
The starting cost of metal fabrication software ranges from $49-$200/month/user. A subscription-based pricing model is more commonly found in web or cloud-based software options. These solutions usually have lower setup/implementation fees in exchange for an ongoing subscription rate that is paid monthly or annually.
The cost of purchasing a metal fabrication manufacturing software outright will range between $10,000 to $100,000 depending on the size of your operation, the number of users needed, and the amount of any services needed such as implementation and training. Usually, there are ongoing costs for annual updates or support offered by the software provider.
What Does My Business Need?
Getting the best metal fabrication software for your business will depend largely on the size of your organization and the software budget you're willing to invest in. To determine what level of software you need, you can look at what we recommend based on how large your manufacturing operation is:
Small Manufacturing Businesses
Small businesses have a smaller staff, meaning more people have to take on multiple job roles in order to make sure their metal fabrication services can be uninterrupted. One person in the company may be well versed in welding processes and metals while also having a good sense of incoming sales orders or inventory shortages.
When it comes to software preferences, a small business owner will care about becoming more automated at an affordable price. This will allow them to produce a quality product at a fair price and get better control of their shop. These businesses should focus on a metal fabrication solution that provides a way to communicate with the shop floor and track time spent on different tasks.
This type of shop floor control and routing will be comprehensive enough to show you how productive your operation is and where you can improve. It will also allow your managers to identify bottlenecks and deal with issues before they become problems. Machines can also be used more efficiently, as proper routing means a machine's downtime is kept to a minimum.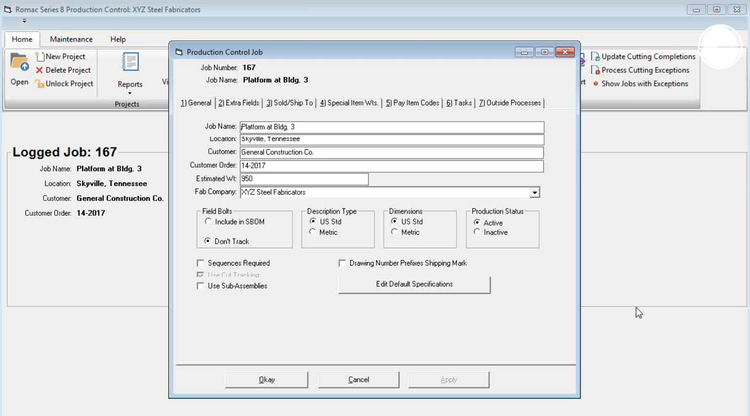 Mid-Sized Fabricators
Smaller businesses can usually get by using an off-the-shelf accounting program such as QuickBooks Online in combination with a production tracking and inventory management tool. A mid-sized business should focus more on integrating all business functions under one option.
Once a manufacturing business grows, it may become more of a specialized shop. Since branching out to different customers and industries is a great way to grow your business, many small businesses take this path once they feel ready. Once your business has been around for a bit, you may have a diverse client base or serve a variety of industries.
Mid-sized manufacturing still needs to care about relationship building with their clients. Routine contact management can help ensure your payables and receivable schedules are not interrupted. Many mid-sized metal fabrication systems can help determine which customers are paying, how quickly they're paying, and where your overall cash flow will be coming from. If payments begin to be held back, it can lead to delays in paying vendors for needed parts and disrupt the flow of your business.
Once a business has integrated its accounting and financial processes into their metal fabrication software, you're left with a complete solution that is easier to audit, easier to manage your employees, and easier to maintain accurate records.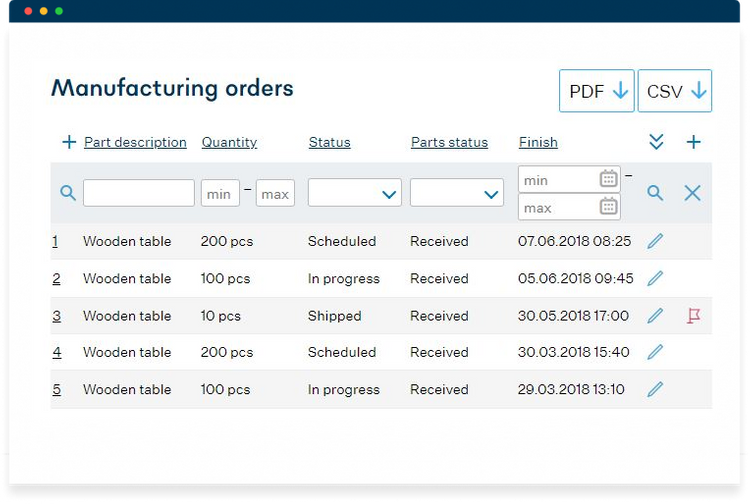 A large fabrication shop will have very complex needs. They may use unique methods such as additive manufacturing or require integrated CAD tools to create 3D models for custom jobs. They may also be taking advantage of some of the latest technologies, such as 3D printing, smart tagging, or automated equipment maintenance.
Fabrication shop software for enterprise-level businesses will need to be fully-integrated ERP systems that are ready to accommodate any number of changes that may come in. This includes a change in due dates and quantities of items received, which can happen when dealing with a larger volume of goods each week.
Larger businesses should look for a solution that will look back at a large number of orders and help you quote more accurately. All detailed routing information and available materials can help determine if a job is appropriate for your business, or what is needed to accomplish the job in decent turnaround time. Order entry capabilities can then handle all release schedules, split deliveries, and complex assemblies.