What Is Multi-Currency Accounting Software?
Multi-currency accounting software is a specific type of accounting software that helps record profits and liabilities in any base currency after being converted from any number of transaction currencies.
These multi-currency accounting systems track exchange rates throughout the day and log the specific rates when transactions take place, when accounting periods end, and when settlements are complete. In addition, they can automatically convert pricing–for sold and purchased goods–from the base currency to the foreign one and vice versa.
And in order to keep ledgers complete, accurate, and compliant, organizations need to log realized and unrealized losses and gains. And they need to do so for multiple rate exchange rates, throughout the entirety of the multi-currency arrangement, which can take place over several months. Whether a small business or a multinational corporation, multi-currency accounting solutions are needed for any organization with an international presence.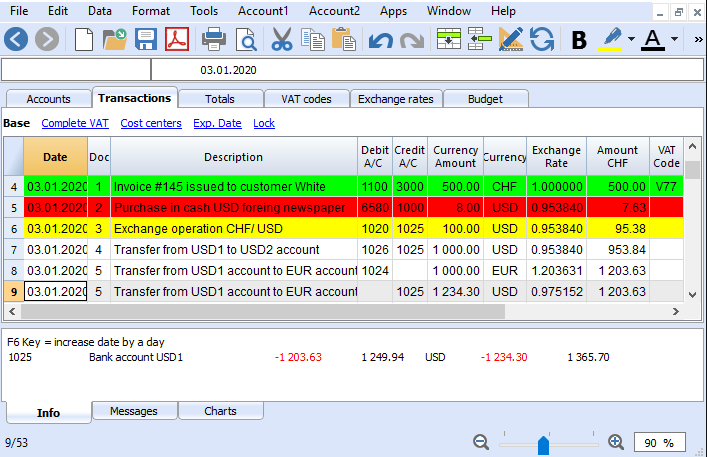 Features of Multi-Currency Accounting Software
Assign Currencies: Assign specific currencies to clients, vendors, bank accounts, credit cards, and more from an exhaustive list of built-in currencies. The assigned currency, based on the third party's domestic currency, will inform how the software handles exchange rates, taxes, rounding regulations, and more.
Exchange Translator: Easily view accounts payable (AP) and accounts receivable (AR) in your domestic, base currency and the foreign, transaction currency. Calculations will automatically be made based on the current or assigned exchanged rate. And you can view the exact exchange rate at any moment.
Rate Exchange Tracker: Record and store the exact times and dates of currency exchange rates. This helps in the auditing process, as each exchange rate calculation can be compared against public exchange rate data.
Transaction Tracker: Record and store the exact times and dates of transactions, accounting period endings, and settlements. This helps in the auditing process, as each ledger entry can be compared against past entries and/or public exchange rate data.
Bank Reconciliation: Bank reconciliations will remain the same when handling the same currency. But foreign currencies must be reconciled in the foreign bank's local currency. Multi-currency accounting software will log the exchange rate at the time of reconciliation, calculate the currency based on that rate, and reconcile with the assigned, foreign currency. And for reference, they will also show the reconciliation amount in the domestic, base currency.
Financial Reporting: Keep a primary set of books for the base currency, but also maintain transaction and account balances in multiple currencies. Perform online inquiries, produce general ledger reports, and create custom reports in the reporting currency.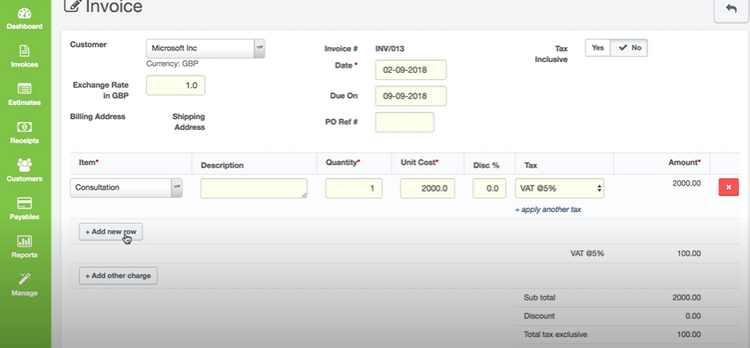 Benefits of Multi-Currency Accounting Software
Multi-currency accounting software automates many time-consuming and error-prone procedures needed for doing international business. Organizations can minimize errors and confusion for themselves and their partners with automatic rate conversion. With automatic converters, you can accept payments and receive bills, and send invoices, quotes and purchase orders, all in the appropriate currency.
The flexibility of multi-currency software lets you generate reports in whatever currency you want, and calculations can either be made automatically or manually. Make bank reconciliation simpler by assigning specific currencies to different bank accounts. And with real-time exchange rate trackers, you can see the exact status of gains, losses, cash flow, and more at any given moment.
Save Time And Reduce Costs
Built-in exchange rate calculators avoid the need to research, calculate, and manually input values from transactions, purchase orders, settlements, and accounting period end dates. And automating the process keeps bookkeeping consistent across all ledgers. It also reduces data entry errors and other human errors.
Most multi-currency accounting software will let you choose whether or not to use the automated or manual exchange rate tools. So if you prefer one method to the other for different kinds of processes, then you can make those changes.
Create An Audit Trail
Organizations will accumulate multiple exchange gains/losses for multiple transactions over multiple timespans. And having automated tools for logging data and making calculations helps keep track of complicated ledgers, AP, AR, and more.
And organizations need a way to unwind all of the changes over time, creating an audit trail of how they got from one value to another. Knowing the time and date of each action, the currencies involved, and the exchange rate at the time are critical to creating an accurate, traceable, reviewable report.
Real-Time View of Financial Position
With multi-currency accounting software, companies are always aware of their current financial position. See how your base currency is valued versus the currency of your international suppliers and clients. View how rates have changed over time to inform current and future decisions.
Primary ledgers are always converted into the base currency for easy, intuitive, accurate viewing. And balance sheets will be generated in the appropriate currency. Organizations can confidently view their cash flows, credits, liabilities, and more in real-time, in their preferred currency.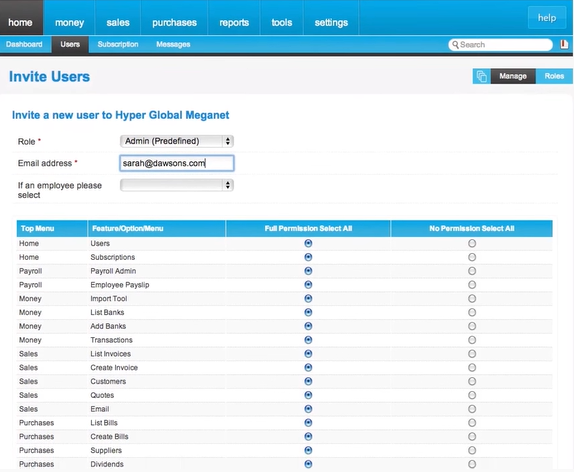 Realized And Unrealized Gain/Loss
Multi-currency accounting solutions must take more into account than operational profits and losses. The value of foreign liabilities and assets change as exchange rates change between the initial transaction, the accounting periods, and the settlement; and they must be accounted for as unrealized or realized gains or losses.
A gain/loss is unrealized until the settlement is complete, when it becomes realized. These gains/losses can take place over multiple months, at multiple exchange rates. And for many companies, these gains/losses take place with multiple vendors, in different currencies, throughout the runs of many contracts. So the ability to automate some of these accounting procedures is extremely useful.
For example, as an importer, the amount of foreign currency you are paid could change from the initial invoice to the actual settlement; and those totals need to be logged as realized and unrealized exchange rate gains/losses.
Gains come from rate changes that add value to you from a transaction, while losses come from rate changes that subtract value for you. And the value of the rate change is also affected by whether you are importing or exporting. For exporters, the value in the domestic currency stays the same, but the amount of foreign currency paid is different. And for importers, the value in the foreign currency stays the same, but the amount of domestic currency paid is different.
| Exchange Status | Import Goods | Export Goods |
| --- | --- | --- |
| Home Currency Weakens | Loss | Gain |
| Home Currency Strengthens | Gain | Loss |
Multi-Currency Accounting Software Pricing And Integration
Most full-suite accounting and ERP software come with some version of a multi-currency accounting software. QuickBooks, Xero, Oracle, and many other online/cloud accounting software have multi-currency accounting tools within some versions of their services. For example, multi-currency tools are available as advanced features of QuickBooks Online, in the Essentials and Plus versions, which start at $40/month and $70/month, respectively. While Xero makes it available in its Established plan, which starts at $60/month. Oracle can offer a quote for multi-currency accounting services upon inquiry.
So within those advanced services, the multi-currency accounting software is not necessarily "free" if it is included as part of a broader accounting software that organizations already use. But it does add useful features and services, at no additional cost. And organizations might have to climb the tiers of service if they need multi-currency tools.
Other full-suite accounting and ERP software offer the ability to integrate multi-currency accounting systems into that existing accounting software. But they do so through a one-time fee, as an ongoing subscription, or both.