What is Multichannel Order Management Software?
Multichannel order management software is a single solution for managing eCommerce orders across multiple online platforms, such as Amazon and eBay. Sometimes shortened to MOM or MOMS, this software automates the fulfillment process, starting with when the order is initially made and continuing until delivery.
Operating as a mixture of multichannel eCommerce and order management solutions, MOM systems offer the best of both. The first focuses on optimizing online retail opportunities while the second coordinates all sales records, whether digital or physical. Together, this software streamlines your eCommerce business operations by consolidating all your online listings so you can expand your market, improve services such as fulfillment, and please customers.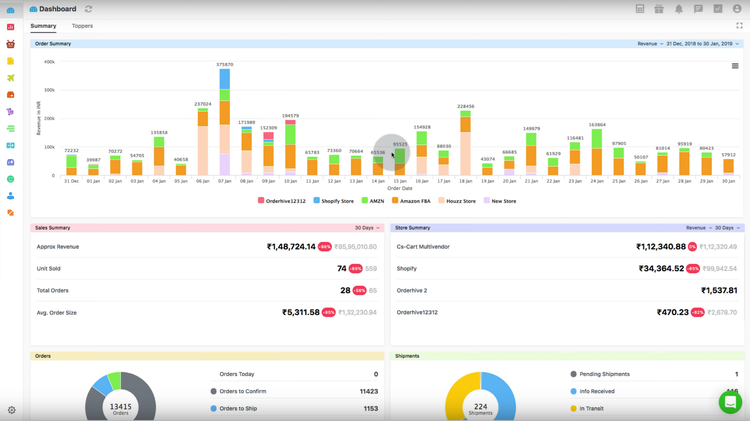 Multichannel Order Management Features
Inventory management: Sync product inventory for real-time updates across every digital marketplace you use
Multichannel advertising: Create a digital ad campaign across multiple channels to sell products on digital marketplaces or social media platforms
Marketplace posting: Easily sell merchandise and services on popular marketplaces like Amazon and eBay
Multichannel orders: Automatically adjust inventory levels after making sales from third-party platforms and begin order fulfillment processes
Bulk order processing: Allow customers to make bulk orders online themselves
Shipping label printing: Generate accurate shipping labels for all sales orders based on customer location, preferred courier, delivery dates, etc.
Courier integration: Coordinate order deliveries between multiple couriers across different sales territories; share shipment updates between couriers and customers
Reporting: Analyze historical data regarding sales, customer demographics, and seasonal trends from every channel and platform you use
Social media analytics: Review how users on different channels are engaging with your product posts, ad campaigns, and social media
General accounting: Track financial transactions with core functionalities such as general ledger (GL), accounts payable (AP), and accounts receivable (AR)
Best Multichannel Order Management Software Benefits
Multichannel order management software provides many benefits to eCommerce and traditional brick-and-mortar stores. Here are just a few:
Expand Your Sales Platform
The greatest benefit of multichannel order management software is the ability to expand your sales market to anywhere in the world, as long as there's internet access. Multichannel order management systems let you sell through third-party Internet retailers like Amazon, eBay, Shopify, WooCommerce, and more. Create multichannel listings for your products to handle pricing information from one dashboard. Edit pricing, images, and product information across every marketplace with ease.
By allowing sales across multiple third-party channels, you can let these eCommerce behemoths do part of the work for you. As long as you provide accurate product information, many of these online retailers will automatically categorize your sales post, improving the odds of the right customers finding your merchandise. And with MOMS, you can keep your inventory accurately updated as sales are made across every channel, preventing shortages and out-of-stock situations.
Popular channels include:
Whichever of these platforms you prefer, multichannel order management solutions will keep listings accurate and consistent across each channel.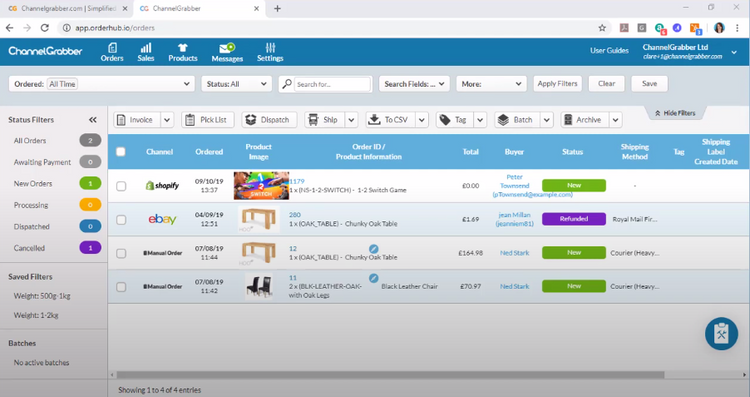 Accurately Fulfill Orders
Balancing orders across multiple platforms can easily lead to fulfillment mistakes. Mixing up an order from Amazon with one from eBay can lead to delayed shipments and unhappy customers. These costly errors can be avoided with the use of multichannel order management systems. This software can coordinate inventory between various online platforms to ensure correct fulfillment measures are taken.
Multichannel order management systems include tools for generating shipping labels as well, perfect for expediting the delivery process. A faster turnaround time on orders can improve customer satisfaction and increase good reviews left online. And features like courier integration allow you to alternate between different delivery services based on what's best for the customer and your bottom line.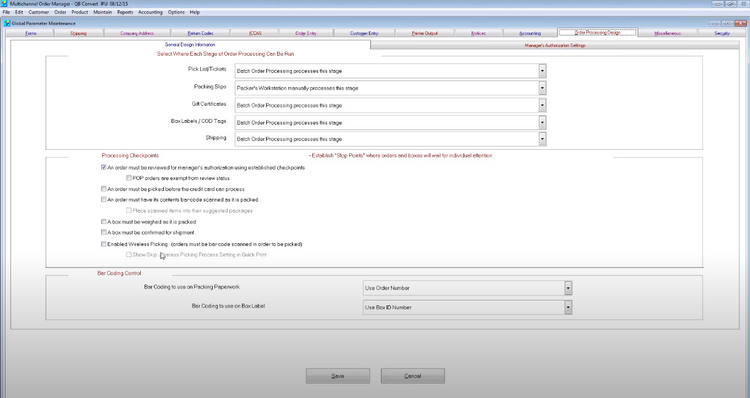 Advertise Based on Channel Demographics
Social media platforms cater to different demographics. Knowing which one hosts your potential customers is vital to creating an online presence for your eCommerce business. Multichannel order management systems can show how different users are engaging with your ad campaigns based on platform and demographic. With this software, you may be able to identify new sales trends you can use to your advantage.
These new trends can help you bring in new customers to your business. Both brick-and-mortar storefronts and solely online sellers can increase sales through well-researched advertising. And social media sharing lets current customers market your products through positive reviews and word-of-mouth.
Maintain Precise Stock Levels
It happens at every store with an eCommerce website: a customer comes in looking for a product they saw online which is no longer in stock. Inaccuracies between the website listing and the actual inventory can lead to frustration from customers and your staff alike. For customers, they leave empty-handed or waiting on a backorder. For you, shortages from overselling can lead to problems along the rest of your supply chain as you try to catch up. Fortunately, multichannel order management software helps eliminate these problems by using inventory management tools to measure stock across every channel.
Multichannel listings can be updated from one place thanks to a MOM system. If a sale is coming up, you can adjust the main listing without having to long into dozens of different platforms first.
Multichannel Order Management Software Pricing
The price of multichannel order management software usually depends on several key factors. First, your total available inventory. The more products and services you have to offer, the more a comprehensive solution will likely cost. Next, there are the platforms and marketplaces you intend to utilize. As with products, the more sales channels you want the higher your total costs may be.
The starting price for subscription-based software per user is often as low as $49 per month. Other SaaS solutions may reach up to $495 per month or $12,800 per year. There may be additional costs for setup fees, implementation and any available training.