What is Pest Control Software?
Pest control software assists with scheduling, billing and invoicing, dispatching, and work order management. The software also tracks on-hand inventory of chemicals, rodent traps, bait, and other materials. It's also important to monitor pesticide usage to ensure you're compliant with local and federal government regulations. Pest control software can track the type of pesticide being used, as well as the amount of pesticide applied during a job.
General field service management software designed for lawn care and landscaping companies can also cater to the pest control industry, as they assist with scheduling, billing, estimating, and work order management. However, pest control management software specifically is necessary for addressing all your pest control business needs.
Key Features of Pest Control Software
| Feature | Description |
| --- | --- |
| Chemical or Pesticide Usage Tracking | Keep track of the amount of pesticide or chemicals used for each job. Measure dosage and maintain ingredient lists to remain compliant with government standards. |
| Work Order Management | Assign pest control teams to specific tasks. Use automation tools to track the progress of all tasks. |
| Estimating | Generate accurate price quotes for customers before work begins based on set pricing practices, such as area covered and estimated chemical usage. |
| Billing & Invoicing | Create and send bills to customers automatically upon completion of the job to increase profitability. Customers can pay online with a credit card or bank account transfer. One time payments or recurring payments can be set up. |
| Dispatching | Send technicians out to job sites for regular jobs as well as last minute and emergency pest issues. |
| Scheduling | Schedule jobs according to the availability of your team. Set up one-time appointments and recurring, regularly scheduled treatments for pest prevention. |
| Route Optimization | Routing prepares the best routes to each jobsite to reduce travel time and vehicle wear and tear. |
| Inventory Management | Track the amount of on-hand materials, equipment, and chemicals used for pest control services. |
| Customer Management (CRM) | Store customer information including address and contact info, service history, and billing information. |
Best Pest Control Software Benefits
Implementing a pest control software specifically for your business can provide many long-term benefits. Streamline your operations with the following functionality:
Chemical and Pesticide Tracking
One of the first challenges of any pest control operation is the use of heavily regulated pesticides. Compliance standards can change based on city, state, or country. Manually keeping track of what is or isn't allowed can be time consuming for business owners who just want to get the job done.
While other service companies can get away with general business management solutions, pest control companies need industry-specific software to handle pesticide usage with real-time tracking. Pest control software can track the types and amounts of materials and chemicals you use. This helps ensure you're following government regulations for pesticide application. For example, the Federal Insecticide, Fungicide, and Rodenticide Act (FIFRA) regulates pesticide use and distribution. Having records of EPA approved pesticide use can provide an audit trail in the event you ever need to prove you've followed proper guidelines.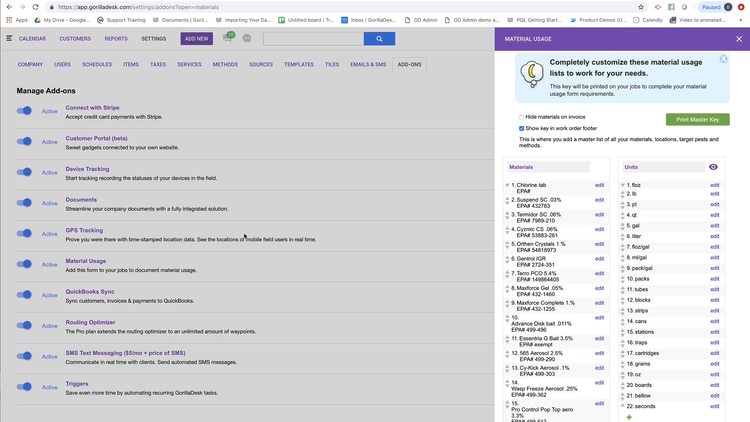 Job Scheduling with Pest Control Software
Scheduling appointments can take a lot of time. Calling customers, coordinating calendars, and reviewing which techs are working can all make arranging appointments an incredible hassle. Fortunately, software facilitates the scheduling of pest control services. Arrange everything from regular preventative services to one-time infestation eradication.
Depending on the type or severity of a rodent or pest infestation, multiple visits might be required. The pest control software will help you keep track of those follow-up appointments. Further, scheduling software sets appointment reminders automatically, so technicians and customers receive timely notifications informing them of scheduled work in advance.
Pest control software shows a customizable map of scheduled customer locations. This allows you to optimize driving routes to reach more customers in less time. And GPS tracking features mean your field technicians won't have to spend so much time traveling between properties.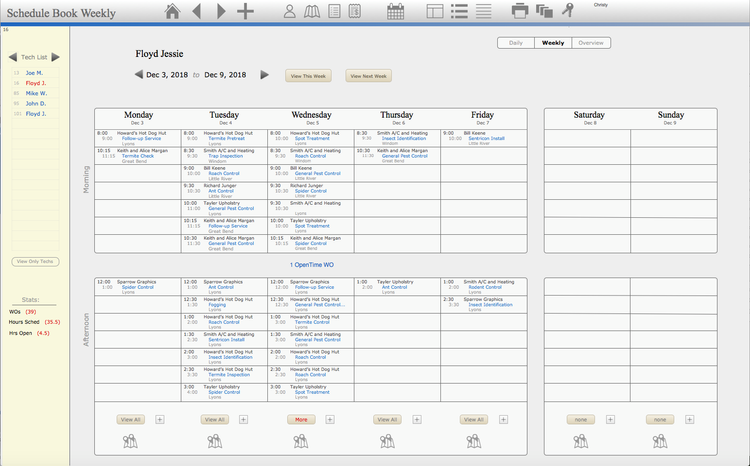 A Better Customer Experience
Clear communication is key when offering any sort of field service, especially if you're going to be working directly at someone else's residential property. Whether they're getting rodents removed or having termites exterminated, customers want to know what's happening at their home. Basic CRM modules included with pest control software improve how your business communicates with these customers. Mobile access on Android and iOS devices allows field technicians to use messaging tools from anywhere, keeping clients informed of progress in real-time.
Keeping customers happy can provide additional benefits to your business. For instance, paperless contact streamlines the invoice and billing process so customers aren't left waiting days or weeks to know how much they're going to pay for services. Faster payments mean you can improve your job management, marking accounts paid and jobs done.
Free Pest Control Software and Pricing Options
Many pest control companies are understandably concerned about software pricing and the impact the costs will have on their business operations. Free pest control software are incredibly popular for this reason, as they offer ease of use and include very basic features including scheduling tools and invoicing. Some solutions have limited CRM functionality to store contact info and service histories. Software solutions with online payments will charge for each transaction. Free pest control software is intended for use as a short-term trial, not a long-term solution.
Examples of free pest control software include:
ServBasic: ServBasic is advertised as a free pest control software. It handles scheduling, billing and payment processing, and customer management. However, ServBasic is only free for the first year and only allows you to store information for up to 200 customers. When you hit one year or 200 customer accounts, the price starts at $44 per month.
ReachOut: ReachOut is a field service business software that advertises to pest control companies. A free plan is available with limited features and a maximum of 3 users, making this ideal for small businesses. Some features include CRM, dispatching, scheduling, billing and invoicing, and inventory management. A paid subscription is required for QuickBooks or Xero integration. The Premium plan starts at $90 per month for 3 users.
Free pest control business software has limited capabilities compared to paid versions, which fortunately start as low as $19 per month and offer far more features along with upgrades, maintenance, and integration options to incorporate separate inventory management, project scheduling, or accounting software. Other pest control management plans are available for a one-time perpetual license fee, lowering future costs. Mobile app functionality can increase the costs as well, though some options are only available as apps for Android and iOS mobile devices.