What is Pest Control Software?
Pest control software assists with scheduling, billing and invoicing, dispatching, and work order management. The software also tracks on-hand inventory of chemicals, rodent traps, bait, and other materials. It's also important to track pesticide usage to ensure you're meeting government regulations. Pest control software will keep track of the type of pesticide, as well as the amount of pesticide applied.
General field service software also caters to the pest control industry. Field service solutions also assist with scheduling, billing, estimating, and work order management. Industry-specific features like pesticide tracking won't be as common in a general field service solution.
Features of Pest Control Software
| Feature | Description |
| --- | --- |
| Chemical Tracking | Keep track of the amount of pesticide or chemicals used for each job. |
| Work Order Management | Assign pest control teams to specific tasks. Track the progress of all tasks. |
| Invoicing | Create and send bills to customers automatically upon completion of the job. Customers can pay online with a credit card or bank account transfer. One time payments or recurring payments can be set up. |
| Dispatching | Send technicians out to job sites for regular jobs as well as last minute and emergency pest issues. |
| Scheduling | Schedule jobs according to the availability of your team. Set up one-time appointments and recurring, regularly scheduled treatments for pest prevention. |
| Inventory Management | Track the amount of on-hand materials, equipment, and chemicals used for pest control services. |
| Customer Management | Store customer information including address and contact info, service history, and billing information. |
Chemical Tracking with Pest Control Software
Pest control software tracks the types and amounts of materials and chemicals you use. This helps ensure you're meeting government regulations for pesticide application. For example, the Federal Insecticide, Fungicide, and Rodenticide Act (FIFRA) regulates pesticide use and distribution. Having records of EPA approved pesticide use will help ensure you're following proper guidelines.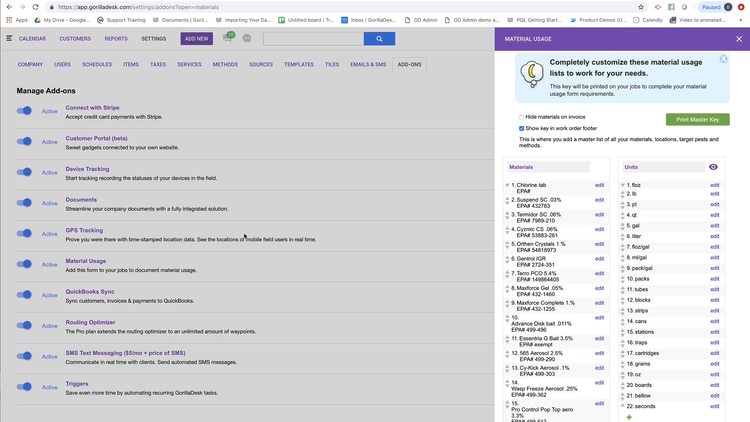 Scheduling with Pest Control Software
Software facilitates scheduling pest control services. Manage everything from regular preventative services to one-time infestation eradication. Depending on the type or severity of a rodent or pest infestation, multiple visits might be required. The pest control software will help you keep track of those follow-up appointments. The software also automates appointment reminders, so technicians and customers don't forget about it.
Pest control software shows a map of scheduled customer locations. This allows you to optimize driving routes to reach more customers in less time. Your field technicians won't have to spend so much time traveling between properties.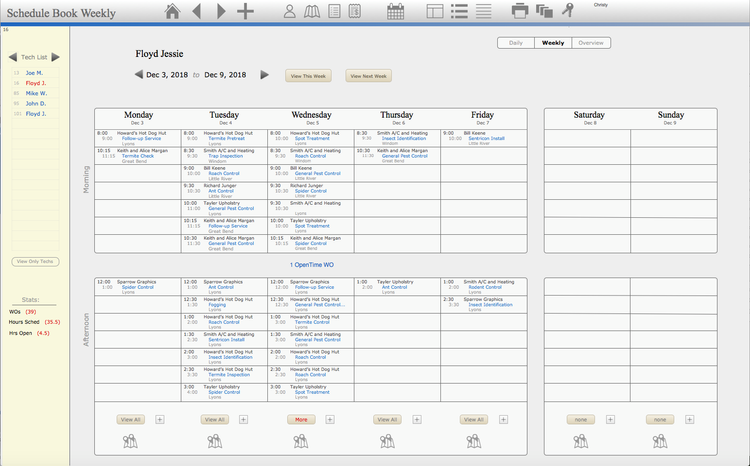 Free Pest Control Software
Free pest control business software has limited capabilities compared to paid versions. Free software includes very basic features including scheduling tools and invoicing. Some solutions have limited CRM functionality to store contact info and service histories. Solutions with online payments will charge for each transaction. Free pest control software is intended for use as a short-term trial, not a long-term solution.
Examples of free pest control software include:
ServBasic: ServBasic is advertised as a free pest control software. It handles scheduling, billing and payment processing, and customer management. However, ServBasic is only free for the first year and only allows you to store information for up to 200 customers. When you hit one year or 200 customers, the price starts at $44/month.
ReachOut: ReachOut is a field service business software that advertises to pest control companies. A free plan is available that has limited features and limits you to 3 users. Some features include CRM, dispatching, scheduling, billing and invoicing, and inventory management. A subscription is required for QuickBooks or Xero integration. The Premium plan starts at $90/month for 3 users.