What is Printing and Packaging ERP software?
Printing and packaging ERP software is a packaging specific manufacturing software with industry-specific features such as lot traceability, part labeling, and production planning and monitoring. Any business involved in both the manufacturing and distribution of boxes, bottles, containers, and packs can benefit from the advanced features this specific enterprise resource planning (ERP) software provides--including serial traceability, UPC labeling, pack-outs, document control, and bill of materials (BOM) specific for dies and inks involved in your packaging processes.
Packaging businesses have special requirements when it comes to product configuration and order registration. Whether dealing with paper, corrugated packaging, or folding cartons, all flexible packaging environments will benefit from the order entry, price/margin management, and master data management and compliance offered by packaging manufacturing software. Likewise, packaging distributors can benefit from the same business processes offered from an ERP system for the printing and packaging industry.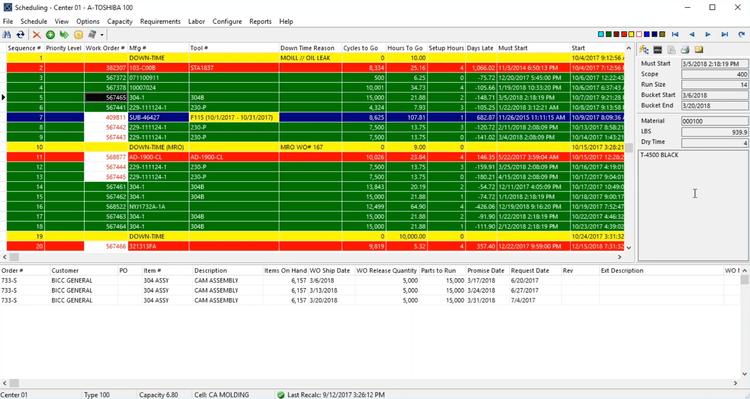 Printing and Packaging ERP Software Functionality
Bill of Materials: Specify the raw materials, parts, and sub-assemblies needed to manufacture each specific packaging product. Provides precise instructions on what is needed for each manufacturing job. Takes information from order entry systems, inventory control, and master production schedule modules. Handles your dyes and inks to meet the unique needs of packaging production operations.
Inventory Management: Keep track of all information about the items that your company builds, buys, stores, or sells. Simplifies pricing products and helps maintain the most effective stock levels. Includes lot and serial traceability.
Material Requirements Planning (MRP): Handle production planning, scheduling, and inventory control during a manufacturing planning process. Calculate material requirements, coordinate personnel and machine workloads, and optimally plan purchasing to meet customer demands. Identify capacity constraints and maintain optimal stock holdings in a multi-warehouse environment.
Quoting and Estimating: Generate quotes based on the costs for materials, labor, overhead, and more. Sometimes referred to as cost estimating, this analyzes past estimates and win rates and customize efficiency rates, scrap percentages, and other variables.
Purchasing: Issue orders for services and products by tracking all key order info, including the vendor, purchase quantities, item or service purchased, delivery timeframes, payment terms, and costs. Access exact real-time stock quantities, movement history, seasonal trends, and supplier lead times.
Accounting: Track revenues and expenses. Includes modules such as accounts payable, accounts receivable, a general ledger, and payroll for employee compensation.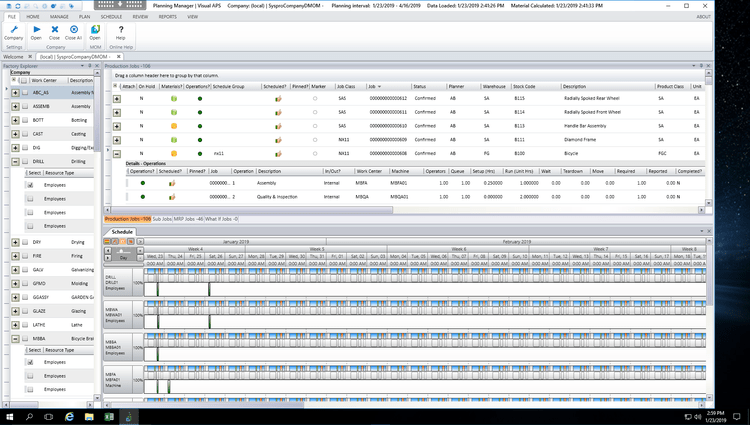 Benefits of Printing and Packaging ERP Software
Users of printing and packaging ERP software will be able to take advantage of customer relationship management (CRM), production management, reporting, and more. But how do these functionalities apply to real-world situations? Below are some of the top benefits of printing and packaging ERP software:
One Fully Integrated Solution
A centralized, comprehensive manufacturing ERP software solution for the printing and packaging industry is necessary for the modern business environment. By enabling collaboration and eliminating the need to re-enter data into systems, packaging ERP software provides a means for better financial tracking and forecasting. Comprehensive analytics allow businesses to improve insight and productivity by delivering reliable data in real-time.
By enabling sales the ability to access information about product availability, lead times, order schedules, and purchasing, sales employees are better able to manage the delivery of products and services to customers. Packaging ERP software will also maximize economies of scale, highest machine allocation, and supply control.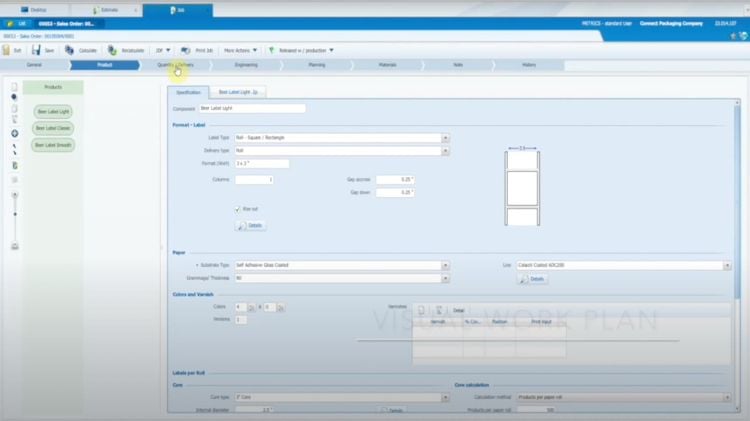 Meet Every Type of Print Specifications
The world of packaging includes folding boxes, printing labels, and using different materials such as flexible packaging or corrugated boxes. Finishing processes include laminating, perforating, embossing, and gluing. Beyond that, there are process stages such as cutting and confectioning. As such, it's best for those within the printing industry to have an all-in-one, end-to-end solution catering to the needs of every type of printing scenario.
Given the range of finishes, materials, processes, and even dyes and colors that may be involved, creating the perfect print specification or quote on the first try can be complex. A product configurator within printing and packaging software will allow you to upload all costings for your catalog--letting you create streamlined quotes and invoices. This data is also saved for future access which can speed up repeat orders.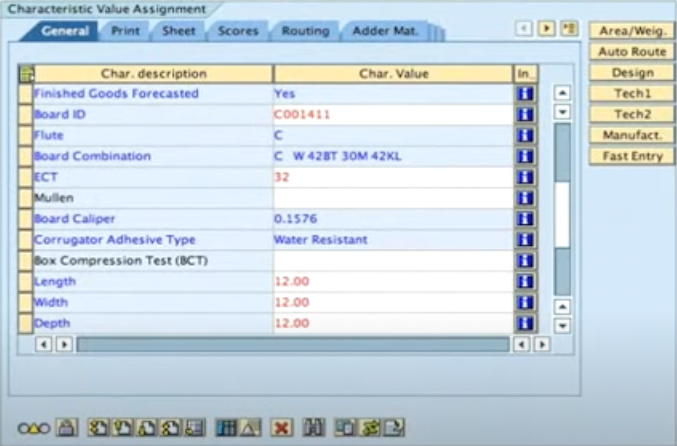 Designed Exclusively for Packaging and Labeling
A printing and packaging ERP software is just that--designed specifically for your business. Rather than purchasing an industry-neutral solution and paying extra for customizations that will work for your business, many software vendors specialize in providing out-of-box solutions that will meet your needs immediately. This type of specialized vendor will help your business benefit from a development, implementation, training, and support team that knows the ins and outs of your industry.
When using software specific to the printing and packaging industry, you'll be using a solution that understands your unique specifications, workflows, and standards that go into label converting and manufacturing packages. Companies that produce labels, folding cartons, and bendable packaging have different needs than a standard manufacturer and will want to implement a software system that thousands of printing plants use.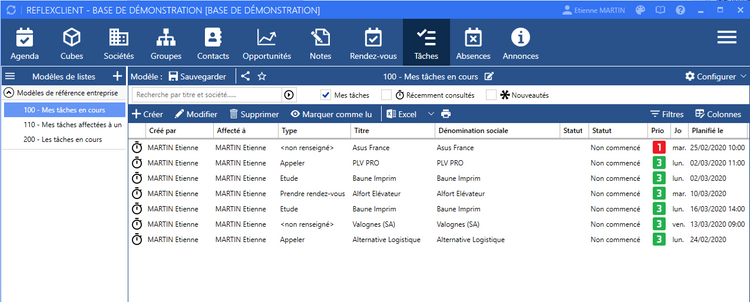 Optimize the Profitability of Your Operations through Business Intelligence
Integrate your entire workflow, through new job acquisitions, estimating, CAD and prepress, scheduling, production, shipping, and accounting. The software eliminates unnecessary touchpoints all while collecting data from every corner of the company. This will help lower costs and improve efficiency.
Data collected can be used in business intelligence (BI) modules, which will provide your decision-makers with enterprise-wide visibility. As your data come to life you can identify trends and simplify complex decisions to drive your business forward. Due to the uniqueness of the industry and the roadmap that your customers usually find themselves on during an order process, your customers will feel more comfortable when you can better understand their needs. This can all be accomplished through smart plant optimization software.
Business intelligence will also consolidate transaction data and present it in an easy-to-use manner--letting your managers and decision-makers quickly report and analyze on broad enterprise-wide details or down to a specific criterion you've selected. "What-if" scenarios can let you understand the pros and cons of potentially raising your prices, switching suppliers, and more.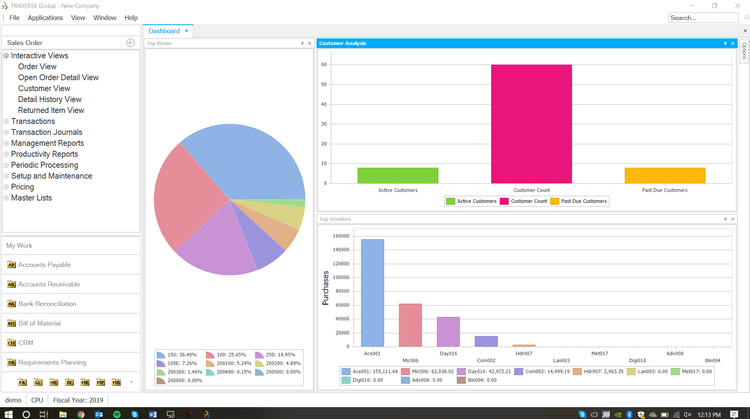 Find Inventory Easier and Don't Fall Behind on Orders
An outdated or manual system will slow down your inventory process--meaning your employees may be walking down aisles looking for what they need. Inventory that isn't properly noted in your stock will create callback problems, as well as slow down your customer's orders.
Being able to access up to date inventory data gives you the information at your fingertips customized for your industry. At every point your job will hit in packaging will be tracked, and each part, unit, or material that is involved will be properly recorded with ERP software for packaging manufacturers.
When items are running low, your procurement team will be notified--allowing them to handle any reorders. New contracts and scheduling agreements can be set up and taken care of if needed. Finally, call-off contracts can be used to facilitate bulk orders that will help improve the long term supply of the same type of goods from a supplier you trust--ensuring you will never be without the inventory you require to fulfill orders.