Designing a brand new product takes more than drawing a few basic illustrations and building a prototype. Everyone involved in the production, from designers to clients, needs to be on the same page at all times to avoid mistakes with the finished product. Configuration is just one of the valuable steps of the computer-aided design (CAD) process meant to assist producers with perfecting their new product designs, communicating with clients, and providing estimated quotes for customers.
What is Product Configurator Software?
Product configurator software automates the creation of quotes and makes it easy to share advanced visualizations during the pre-production process. Often included as part of "configure, price, quote" (CPQ) software, configurator solutions focus on the "configure" aspect of production, such as 2D drawings and 3D models. However, it still includes several pricing and quoting capabilities related to the pre-production process.
By using configurator software, you can automate many of the steps required to start manufacturing a new product. Keep your entire development team, clients, and customers informed for product changes from the initial design phase to the final assembly.
Features of Configurator Software
Product visualization: Gain a real-time visualization of potential features on products in development
2D drawings and 3D modeling: Draw product designs in 2D or 3D animation
3D digital asset management: Generate and reuse 3D design assets for future product development
Approval process controls: Ensure no production begins without total approval from all involved parties
Bill of materials and cost calculations: Determine the price of potential products based on materials, labor, and other factors
Inventory management: Keep track of all available materials necessary for production and finished assets
Analysis: Perform detailed analysis of production processes, materials, and equipment to better understand logistics like cost, scheduling, and manufacturing constraints
Best Product Configurator Software Benefits
There are many benefits to using a product configurator software:
Better Communicate with Customers
Product configuration is primarily divided into two types: custom designs based on specific client requests and products being made for general customers. In the case of the latter, the design process depends only on those already at your company. For the former, the design process is a lot harder since it requires constant communication with the client. One of the hardest parts of pre-production is showing those customers what the finished product will look like.
2D and 3D visualization tools let you share product designs with customers in real time. Instead of holding time-wasting meetings, simply send a link to clients so they can review product changes as they happen. Approval process controls then let your customers determine what is needed for the product to move into full production.
If you don't already have a client lined up, visualization tools help you share your product vision with potential investors before wasting resources on the creation of a prototype. Or if you operate an eCommerce website, you can let customers customize their own complex product before purchasing, offering everything from different dimensions to various colors.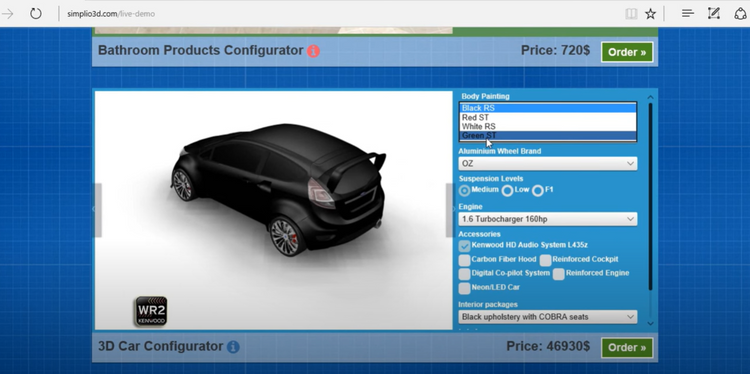 Create Cost-Saving Designs
Another benefit of product configurator software is the many tools available for designing new products. In particular, traditional 2D drawings provide the first overview of a product's possible dimensions and shape. Next, 3D modeling can demonstrate scale and functionality thanks to malleable assets. It's easy to go back to the drawing board with digital designs in order to make cost-saving adjustments.
By using 2D drawings and 3D modeling simultaneously, you can find areas for improvement faster than ever before. A 3-dimensional angle on a CAD may reveal a fault not visible in a 2D blueprint. Or there may be better ways to add automation to the assembly process.
Set an Accurate Budget
As mentioned above, the design process is when you can find cost-saving measures before going into production. Having comprehensive drawings and models can help your team locate areas for improvement. In turn, these can lead to great cost savings as you reduce the amount of raw materials necessary or streamline the assembly process.
Using configurator software, determine your complete bill of materials before production begins so you can correctly calculate the total budget. Find if there are cheaper resources available, or if a different supplier may offer a better deal on bulk materials before assembly begins.
Determine a Production Schedule
In addition to setting a budget, you need to know your production timeline before work can begin. Configurator software can help you develop a potential production schedule by finding improvements in the design process. For example, having an accurate bill of materials can show when you need to reorder specific raw materials to avoid delays in production.
Third Party Software Integration Options
The development of products often involves multiple departments at a business. For starters, you need to account for budget, labor, manufacturing, and shipping. As a result, configurator software is often compatible with many other types of software, such as:
Product lifecycle management (PLM)
eCommerce solutions
By integrating with third party software, you can streamline your production processes. For example, 2D drawings and 3D models can be used by your marketing team to demonstrate the appearance of the finished product to the client or potential investors before a prototype is available.