What is Architecture Project Management Software?
Architecture project management software assists with managing workflow and helping firms complete projects on-time. This software allows you to view and manage project schedules, tasks, budgets, customer contact information, contracts, and more. Having all the information in one place allows project managers to find important documents and other project-related info faster.
The software also provides change order tracking. Changes to the project can be requested and approved or denied. If changes are made, updates to the project budget and completion time estimates will be made automatically.
Architecture project management software also features document management capabilities. This allows team members to upload and collaborate on important documents related to the project including contracts, drawings, specifications, bidding requirements, and more. The software will allow users to edit or view the documents depending on their preset user permissions. This prevents unauthorized users from changing or viewing documents they shouldn't have access to.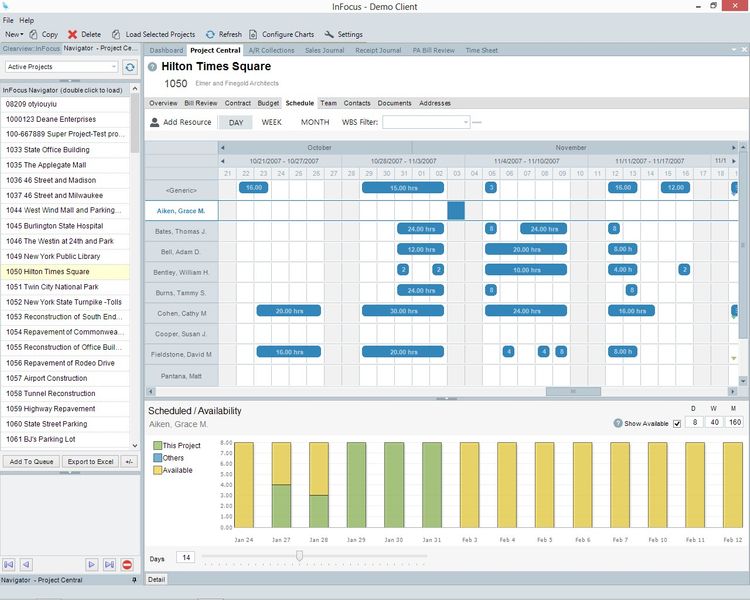 Features of Architecture Project Management Software
| Feature | Description |
| --- | --- |
| Time Tracking | Record billable and non-billable hours worked on a project. |
| Document Management | Upload and store project documents including drawings, contracts, bid proposals, and more. |
| Task Management | Create tasks for each project along with detailed instructions and due dates for the task. |
| Resource Management | Assign labor to each project based on employee availability and qualifications. |
| Project Accounting | Track costs, budget, expenses, and income on a project-level. Automate billing and invoicing. |
| Customer Relationship Management | Manage customer contact data and payment details for past and present clients, and marketing for prospective and existing clients. |
Time Tracking in Architecture Project Management Software
Time tracking functionality allows architects to record billable and non-billable time spent on a project. The system allows architects to set a time when work begins, allowing the exact amount spent on the project to be recorded. Employees won't have to go back and log time, so they don't under or overestimate how long they spend on a project. This ensures your firm gets paid for all work completed.
The architecture project management system will create invoices based on the number of billable hours put towards the project. The invoices can be sent to the client automatically upon approval.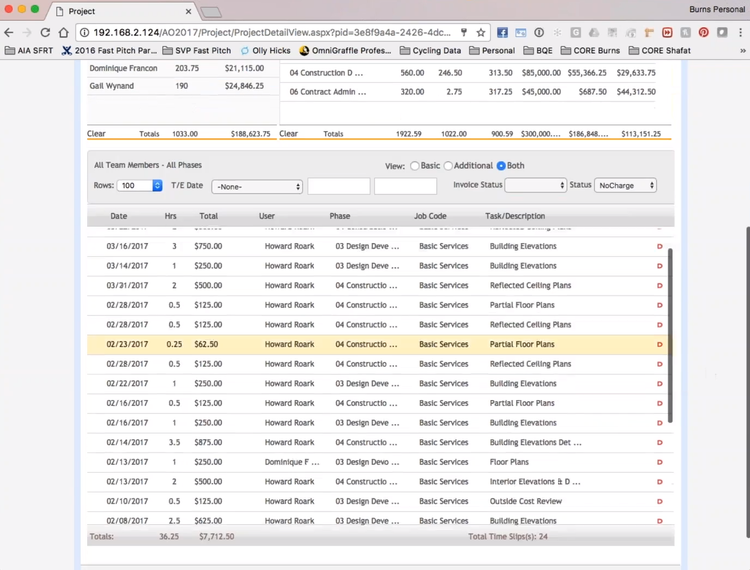 Resource Management with Architecture Project Management Systems
Resource management tools in architecture project management software help firms assign the appropriate team members to projects they're qualified to work on. The system will keep track of each employee's schedule and any relevant certifications. Knowing each employee's availability prevents overbooking and scheduling conflicts. Architecture project management systems have a calendar view that allows you to see project and employee schedules on a daily, weekly, monthly, or yearly basis.
Multi-location architecture firms can also track where each employee is located. This allows you to schedule projects for employees from the right location.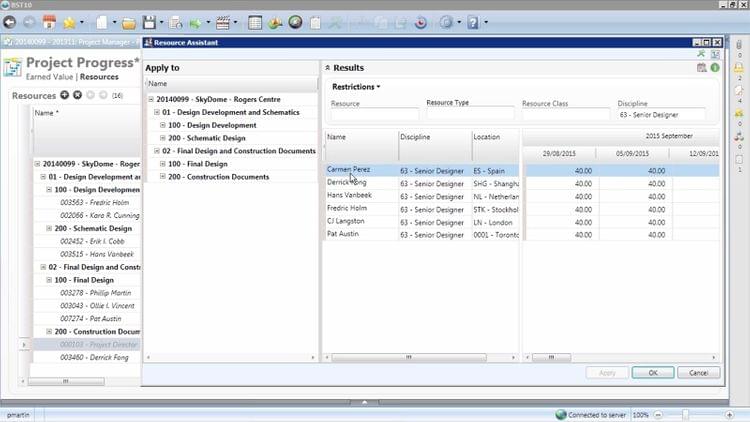 Project Accounting for Architectural Firms
Architecture project management software helps firms manage income and expenses for each project. The system will track budgets, actual vs. estimated costs, and employee timesheets on a project level. This helps firms stay on budget and figure out where improvements need to be made to maintain project profitability.
Many architecture project management systems integrate with full-featured accounting software like QuickBooks Online and Xero. This allows you to streamline financial management processes across your entire business. For example, you can run detailed financial reports that give you a clear picture of where your finances are. Reports can be run on total income and expenses, unpaid invoices, WIP balances, billable vs. non-billable hours, and more.
Dedicated industry-specific architecture accounting software also links with many architecture project management solutions. These accounting solutions come with features that architects need like time and billing and customer relationship management. This allows architecture firms to get paid for their work and manage customers.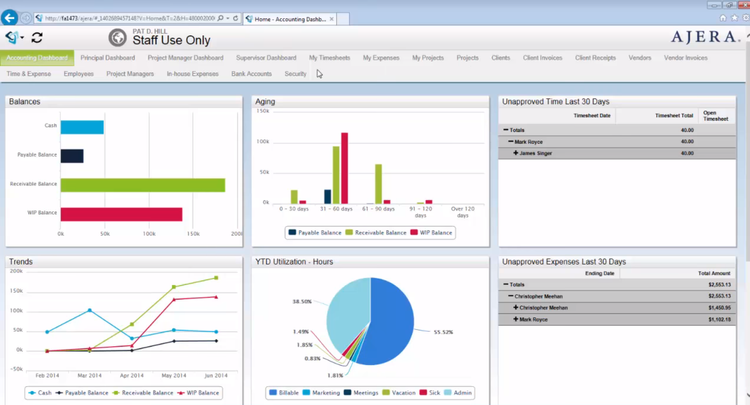 Free Architecture Project Management Software
Free architecture project management solutions on the market are going to be generic and won't include features that most architecture firms look for like time management. There are industry-specific project management solutions that offer free demos for a limited time. However, these demos are meant to be a test drive before purchasing the full system.
Many free solutions put a limit on the number of projects you can manage or users you can have. Some popular free project management software solutions include:
1

Wimi

Wimi has a free plan that allows access to all features for 3 users and management for up to 8 projects. Wimi is advertised as a project management solution for architects in addition to other businesses like consulting firms, creative teams, and accountants.

The paid plans allow you to add an unlimited number of projects. If you only need access to content sharing and document management, the Drive Plan starts at $9/user/month. The Team Plan starts at $15/user/month and gives you access to all project management tools in Wimi. The Enterprise Plan provides access to the Customer Success Program features in Wimi including a private API, user training and onboarding, data migration, and more – this plan starts at $18/month/user.
2

Asana

Asana's free plan helps individuals and small start-up teams with project management. This solution includes task management, calendars, board and list views, and collaboration tools for up to 15 team members. The paid plans start at $9.99/month/user and are meant for teams that need help with project planning. These plans add on more project management tools like portfolios, custom fields and templates, and advanced reporting.

The free version of Basecamp limits you to 3 projects and 20 users. This plan is meant for freelancers, personal projects, and light use. The paid plan starts at $99/month and is meant for businesses that need to track projects. Architecture firms have access to project templates, team collaboration tools, and more. Firms can also set up client access that allows clients to see the status of tasks or project documents.