Software exists to help with almost every aspect of running a business, so it's no surprise that there are an equal amount of tools available for nonprofits, and thus, faith-based organizations such as churches.
Finding out what motivates church accounting software buyers is very useful information for not just the companies that sell the software, but also companies that are in the market for the solution. Finding our common motivations can help paint things into an easier light for you to make decisions. If you feel you are in the same boat as a different church who is shopping for software, perhaps it's time you looked at doing so as well.
This guide will offer information on the following topics:
What is Church Accounting Software?
Church accounting software provides basic accounting to track income and expenses (or since churches typically don't have any income, "money in" and "money out"). Money moving throughout the accounting books from a church usually come from donors, fundraising activities, or grants/funds received from a variety of sources.
While some churches could be considered as "for profit" (and thus have income), for the sake of this discussion, we'll go with the more common discussion of churches being classified as a nonprofit entity. Given this clarification, you can understand why church accounting software would offer similar functionalities as traditional nonprofit software, such as donor management and fundraising. So why the distinction?
One important difference in how software may (or should) be operated from a church compared to a standard nonprofit organization is tracking member contributions and attendance. While almost all nonprofit organizations will have some form of membership, churches will regularly set up group meetings such as Sunday School, Bible studies, confirmation classes, or other services that need to be tracked separately from the general fund.
If one were to poll many of the most successful churches in an area, they would likely learn that these churches have taken advantage of all tools and resources at their disposal to get where they are. So what benefits are being utilized within church management software?
Features of Church Accounting Software
While each software solution will be different, these are some of the most commonly found features in a church accounting software solution:
Accounting: Covers things such as accounts payable (AP), accounts receivable (AR) and a general ledger (GL). Given the nonprofit status of most churches, the AR functionality will usually work in unison (or be replaced) with a donor management, fundraising, or fund accounting functionality.
Payroll: Manages employee compensation: wage calculation, ACH deposits, check printing, and compensation tax reports
Donor management and fundraising: Know how much each member has given on a weekly, monthly, quarterly or annual basis and provide annual giving statements to the members for tax reporting purposes. Solicit donations with targeted campaigns. Create campaigns that to encourage smaller donors to contribute more.
Membership tracking: Manage information on your members such as attendance, frequency of gifts, personal information such as address, volunteer details, interested, activities, and more. Analyze trends to see when attendance is increasing/decreasing.
Benefits of Church Accounting Software
The best kind of church organization has taken advantage of two things: knowledge, and efficiency. While recording information via paper spreadsheets may be cost-effective, is not the most efficient way of your time. Having to go back through records in different file cabinets or different offices is slow and cumbersome. The key is finding the right balance.
Organize Your Member Contributions and Attendance
A majority of church income comes from member contributions, so tracking member contributions is a needed function to give you insight into how much each member has given on a weekly, monthly, quarterly, or annual basis. Now only does this allow you to give annual giving statements to members for tax reporting purposes, but it also helps keep your financial reporting as clean as possible.
Having more advanced reporting on who is giving, and when, can help you solicit donations with targeted campaigns. Larger donors can be targeted for capital campaigns, or even encouraged to have the church listed as a beneficiary when they are creating their estate plans. Smaller donors can be worked to contribute more frequently based on numerous small events or projects the church may be working on.
Get A Better Grasp At Finances With Church Accounting
Accounting will work as accounting should. So what features make it exclusive to managing a church organization?
One ability that may go overlooked is the ability to print accounts payable and payroll checks in a self-mailer format. Mailings may seem like a thing of the past with the prevalence of emails and online newsletters, but sometimes an old-fashioned mailer sent to a members home is a great reminder of their past gifts and an easy way to encourage them to keep giving. It is especially beneficial for the technology-averse crowd.
Nonprofits should look for a solution with the intent of saving time. Online training is a great tool for self-paced learning, which is beneficial when you have a part-time staff composed of volunteers.
Will A Generic Accounting Software Work For My Church?
The question may get asked by someone in the organization: "Why purchase a solution geared toward religious organizations? Can't a generic (and likely less-expensive) software found on the shelves of a retail store meet my needs?" Simply put, those solutions are not designed for not-for-profit organizations, let alone churches.
The most simple way to describe it is that nonprofits and churches alike are pursuing a mission rather than profits, which changes the landscape of how you record your accounting. Things are no longer looking to be recorded as profit and loss in a nonprofit setting, since (as the name implies) there is no profit.
Churches and nonprofits stand to lose benefits when they purchase an accounting program that is not designed specifically for them. Instead of having the freedom of movement, they are forced to operate within the restrictions of general accounting principles.
Nonprofits, in particular, have to worry about fund accounting, which is the management of resources that have been designated for specific uses. This means that a generic accounting system won't be able to create a trial balance by the fund or provide the necessary reports or checks/balances to ensure resources are being allocated as needed.
Typically in a nonprofit, a fund will be in the form of a grant that was awarded to them by the government. The nonprofit will need to prove to the government that the money was spent for it's intended purpose and not on other areas of need. Funds can also come in the form of large donations, where the donor has asked that the money from the donation be put towards something specific.
For example, a church may receive a large donation from one of its members. The donor indicates that 100% of the donation must be used on their pipe organ restoration project that they've recently started. However, a sudden rainstorm causes some flooding in the church's basement, and they need to pay a contractor to fix some water damage. Not only is it unethical to use the donated funds towards this new problem, but it will cause reporting issues when the church is trying to show in their accounting ledger where the money to pay this contractor came from.
Best Church Accounting Software For Mac
Finding a true Mac church accounting software can be difficult, as the options are limited. Instead, companies will ask that you use their online church accounting software which can be ran from a web-browser and thus work on both Windows and Mac devices. However, for those looking for an offline, locally installed church management solution, we've found a few that will work for you:
This software is a complete church management system that is available to work on both Windows and Mac O/S. The primary church related functions include managing members and volunteers, managing donors and contributions, running child check-in & security, maintaining sacrament tracking, and more.
It is also available as a web based church management software with mobile accessibility.
Price: All versions of Servant Keeper start at a one-time cost of $299.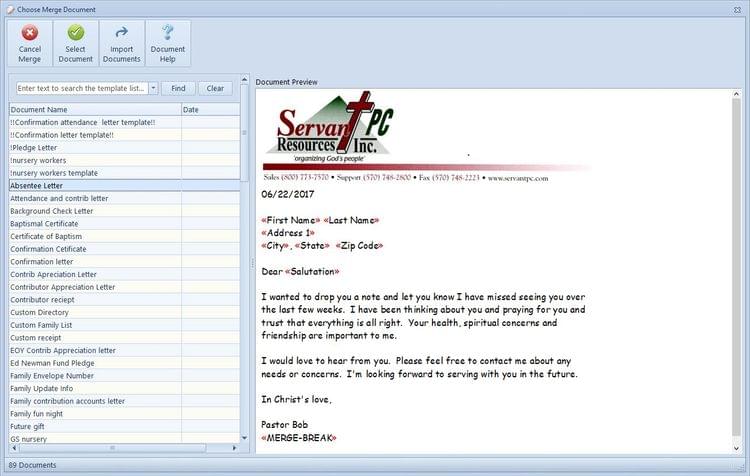 As the name implies, this software is more limited in functionality compared to many church management solutions, as it's focus is on scheduling. Ministry Scheduler Pro was developed for church organizations to better improve their schedules.
From collecting availability, creating schedules, sharing with volunteers, and setting reminders via text and email, this software will improve your church volunteer process and ensure no program or event is left short-handed.
Ministry Scheduler Pro has desktop versions available on both Mac and Windows. They also have an online version available.
Price: Plus Edition (desktop) starts at $400/one-time plus $31/month for maintenance.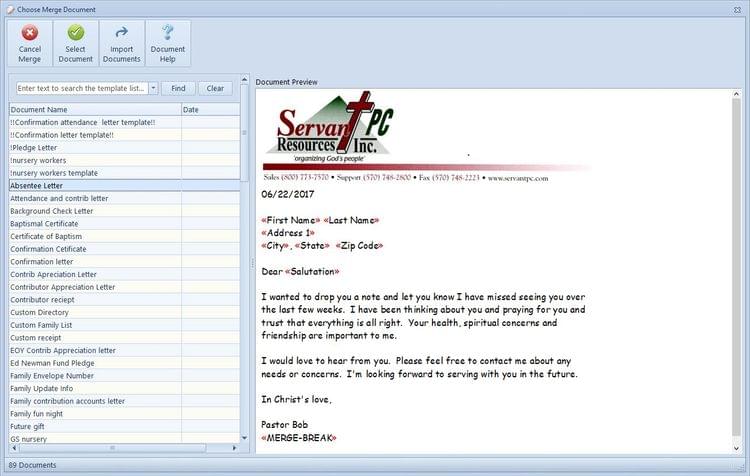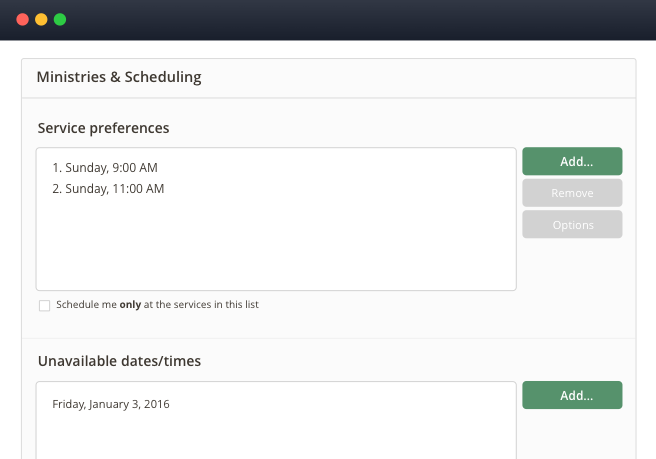 Free Church Accounting Software
Many church contribution software systems may offer free trials of their solutions, which can be easy ways to test out if a software is worth the investment. Some church tithing software may actually have a completely free version you can use, but often they will come with restrictions, such as only allowing you to record a certain amount of data before you are asked to pay to continue forward. However, these free trials are great for the church that's on a budget, and wanting to really make sure they don't buy something that won't be of much use. When speaking to a church accounting software provider, make sure you ask what sort of free trial they have available.
Bitrix24 is a business management software that provides a number of functionalities that surround around communications, tasks and projects, CRM, contact management, and website creation. Keep in mind that this solution is an industry-neutral solution and was not developed with churches in mind. However, that does not stop plenty of churches and congregation from using it as their top free church acounting software solution.
Bitrix24 provides social tools for engaging your congregation, like social network, user groups, polling, media gallery, shared calendars, video conferencing and more. It can also help you manage your church board by organizing your structure, and keeping a church directory.
Price: Free version for up to 12 users. Paid versions start at $69/month.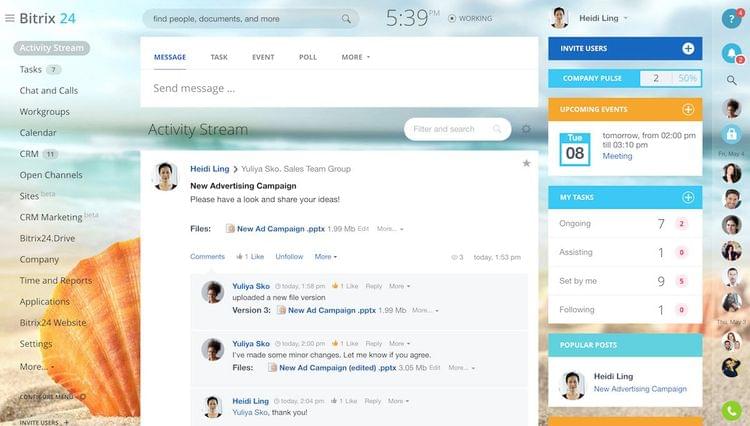 CahabaWorks is a free to use church management system from CahabaCreek Software. This solution was developed with churches in mind, and provides contributions management, fund accounting, payroll and more. It also has the ability to accept online payments and donations from your members.
The free version of CahabaWorks is intended for use by small churches and does have a limited feature set, as well as only giving access to 1 computer.
Price: Limited free version available. Standard version starts at $350/one-time.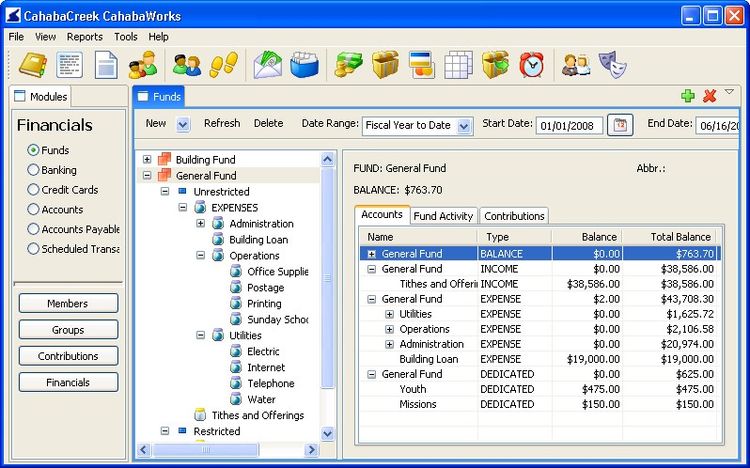 Why You Need Church Accounting Software
As recent as 2018, the primary motivation churches are looking for new software is to replace an older system. A similar report that dove into the buying trends of companies purchasing fund accounting software (which, as mentioned before, is a software primarily used by nonprofits) found that they too had the same primary motivation.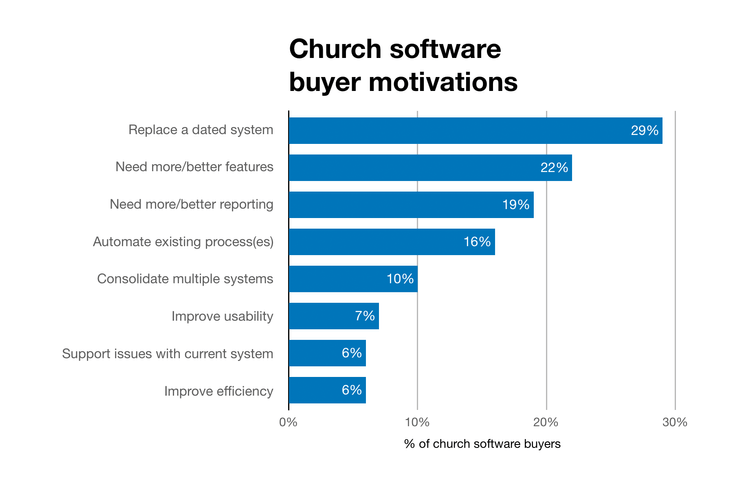 Why are churches coming from older systems? Common sense may tell you that churches will tend to postpone technology purchases compared to other organizations or small businesses due to budget constraints. Many organizations just don't have money in the budget to upgrade their technology every year, and a complete volunteer-ran ministry may need to develop the attitude of "if it ain't broke, don't fix it". This mindset may lead to churches hanging on to the same software for years, surpassing many recommended updates from developers.
An alternative scenario is a church that has the means (usually the funding) and the motivation to pursue a new software solution. However, they need to ensure that they have the resources available to train their staff. Some churches, especially smaller churches, may have many unpaid staff members who will need to utilize the software, and training them on their own schedule can prove to be time-consuming and costly.
While a solution that was developed specifically for the church is recommended, you may find success using solutions found in these related software categories.
Nonprofit Accounting Software contains industry-specific functionality developed to meet the accounting needs of the nonprofit sector.
Fund Accounting Software is designed to enable improved allocation management of resources which have been designated for specific uses.
Fundraising Software and donor management software applications allow for tracking the acquisition of donor contributions and for facilitating related communication and data management tasks.