What is Concrete Estimating Software?
Concrete estimating software is designed to help concrete contractors determine costs related to concrete jobs. Like general construction estimating software, each estimate is generated by automatically calculating labor, materials, and equipment costs. These internal quotes can then be turned into professionally polished bids for submission. Accurate estimates keep the entire concrete project on schedule and on budget.
Concrete and paving jobs include:
Building foundations and footings
Precast flooring
Support columns and roofing features
Roads, driveways, and parking lots
Sidewalks, curbs. and gutters
Slab-on grades
Pre-built features
As a takeoff software, the estimating process depends on CAD drawings, blueprints, and schematics to understand every aspect of a concrete job. Determine how many materials, like rebar, are necessary to complete a project. Or use square footage to determine the total volume of the pour. Then build out a project timeline to ensure enough workers are available when scheduling labor.
Concrete Estimating Software Features
Digital takeoff: Gain dimensional information about a jobsite, such as area measurements in cubic feet or poundage, along with other job details to accurately order materials, equipment, and labor; compatible with on-screen takeoff formats like vector PDFs, TIFFs, AutoCAD files
Labor cost forecasting: Predict how many labor hours are required for estimating payroll and ensuring enough workers are available on the schedule
Material and equipment estimating: Calculate material costs based on base rate costs along with prices for the purchase or rental of specific job equipment
Proposal templates: Transfer data from internal job cost estimates into custom templates to develop customer-facing quotes and proposals
Digital data management: After winning a bid, use digital plans in order to make real-time updates and revisions throughout the project and keep clients informed of any changes
Document management and sharing: Place copies of past or current job estimates into a digital system for easy reference; store client communications for future reference
Historical data storage and reporting: Create a library of historical reference data based on past experience in order to better calculate future estimates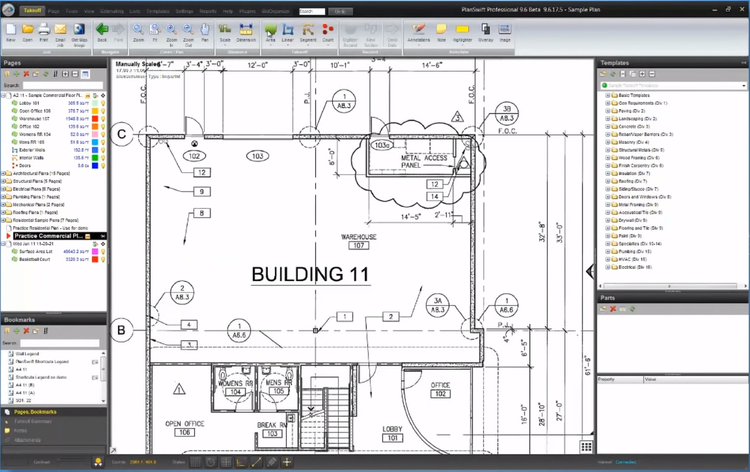 Best Concrete Estimating Software Benefits
There are many benefits to using an automated concrete takeoff software in your business:
Accurate Cost Estimates
Construction estimates used to be done completely by hand. Measurements had to be done at the job site, then turned into physical blueprints for takeoff. Yet with all that prep work, there was no guarantee the proposal would turn into a real project. There are a lot of other drawbacks to calculating cost estimates manually. A single wrong measurement can impact the entire project, raising the price or leading to unstable results.
After hand calculations, basic programs like Microsoft Excel allowed for streamlined estimations to be made with formulas. However, human error still causes mistakes to happen, especially on big projects with a lot of variables. All of these factors can lead to the actual cost for the project being significantly higher than first predicted.
User-friendly digital takeoff tools keep measurements accurate and allow for precise calculations. Further, you can anticipate potential obstacles during the estimating process to prevent hidden costs later. Detailed what-if scenarios can show what the highest potential budget is compared to project estimates, allowing you to measure risk before accepting a job.
Adjust Material Costs
Construction costs can change for a variety of reasons. One main factor is the materials necessary for completing a job, such as concrete mix, rebar, or other reinforcements. For example, the cost of rebar can fluctuate depending on a variety of production factors. As a result, an initial estimate may be wrong due to changing costs beyond your control. An up-to-date material database can show the latest costs in real-time and even identify potential price trends based on historical data.
Digital, quantity takeoff makes it easier than ever to accurately estimate how many materials are necessary for a concrete job. On larger worksites, GPS data can be used to show area perimeters and their measurements to use when making advanced calculations. Go into a project knowing exactly how much rebar or fill is needed.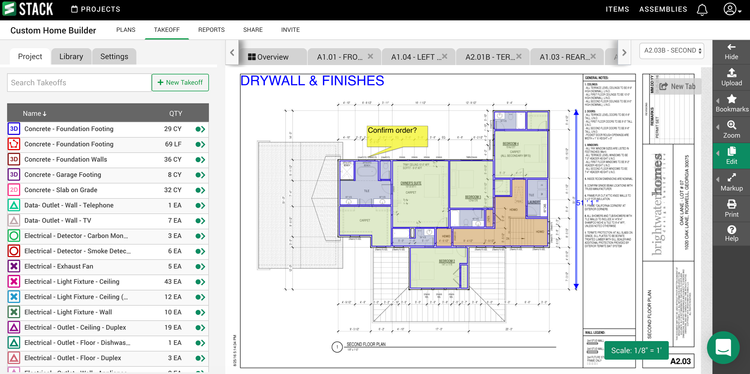 Standardize the Bidding Process
Concrete estimates are necessary not just to establish a budget, but win a competitive bid in the first place. The construction industry has no standardized way of creating official estimates, so it is up to each concrete contractor to make their own system. Some create multi-page proposals, others give in-person presentations. Whatever your method, you should keep it consistent.
Fortunately, customizable templates allow you to generate personalized proposals to each potential customer. From installing a foundation footing for new home builders to designing a bridge for a civil engineering project, an estimating solution can ensure your bids are designed for the specific needs of each client. For instance, estimating software has tools to convert measurements from imperial to metric (or vice versa) depending on where a job is located in order to avoid confusion when discussing prices with a potential client.
Need to work with subcontractors? Share your quotes with them easily by using communication tools provided by concrete cost estimating software. Internally, these accurate price estimates keep long-term costs down.
Increase Bid and Job Opportunities
Every project begins with a proposal. You can't win a project unless you've submitted a bid. As described above, the traditional bidding process can take anywhere from days to weeks to complete. The bigger the job, the longer it'll take. By standardizing the process, you can actually streamline your bid opportunities by getting more estimates done. In turn, this can lead to more jobs overall for your construction company.
For instance, you can create multiple bids simultaneously by using concrete estimating software. Once submitted, you can start looking for more projects to bid on. And since estimates can be completed in minutes instead of hours, you can complete dozens in a single day. The earlier you provide a quote, the sooner you may hear back from clients, letting you better plan your potential job schedule.
Gain Customer and Client Trust
Accurate estimates on construction projects have another major benefit: customer satisfaction. An inaccurate estimate can lead to higher project costs, leaving clients unhappy. And the time needed to make new calculations can delay work. Through accurate estimates, projects can be completed on time, under budget, or both.
Project management tools further prove your professionalism on the job. Digital plan management keeps communication between contractors and clients completely clear, from the initial proposal to the final invoice.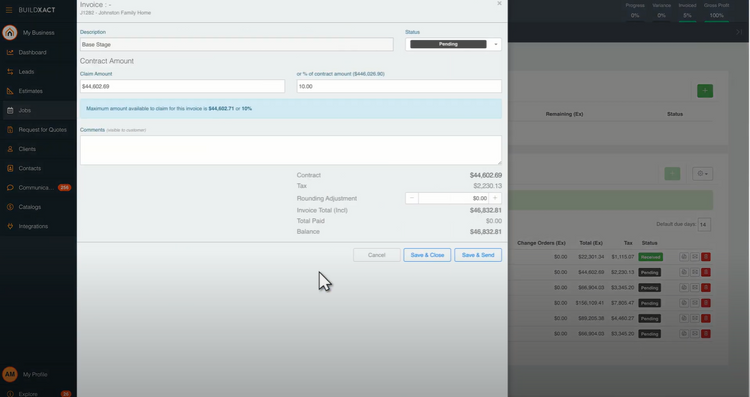 Stay Safe and Compliant
Concrete contractors and civil engineering depend on accurate measurements when making calculations to avoid structural failure on projects. Since concrete literally forms the foundations of so many different types of construction projects, being safe is of vital importance.
For example, concrete is involved in a lot of civil engineering construction jobs like:
Support columns
Roads and highways
Bridges and tunnels
It's also necessary for foundations and basements in all modern building construction. It's no surprise that multiple government agencies and international organizations have strict rules and regulations when it comes to the creation of concrete foundations. Plan your estimates based on safety considerations in order to stay compliant throughout the project.
Concrete Estimating Software Pricing
Concrete estimating software can fit any budget. The total costs of concrete estimating software averages between $45 per month and $300 per month, depending on whether it's an on-premise solution or cloud-based SaaS. There are also one-time perpetual licenses available for a set number of users or computers instead of a monthly subscription.
Software costs may increase to accommodate in-person or virtual training classes, regular upgrades, or real-time IT support services. If you are a general contractor, it may be more cost-effective to consider an all-in-one general contracting software which offers other services related to contracting work.