What is a Convenience Store POS System?
Convenience store point of sale systems help small business owners manage store operations with features like payment processing, inventory management, and reporting. Any retail POS system should streamline your back office operations, allowing you to issue refunds, conduct inventory control, and even handle customer relationship management (CRM).
Many convenience store owners require retail point of sale systems which blend the operational requirements of liquor stores and grocery stores. For instance, you'll need to have age verification functionality at checkout for restricted alcohol, tobacco, and lottery ticket sales. POS software makes it easier to streamline these disparate business processes into a single user-friendly solution. And c-stores with gas stations need to consider solutions with specialized add-ons like integrated pump control and pay-at-the-pump functionality.
Features of Convenience Store POS Systems
Popular features usually included in c-store point of sale systems include:
Payment processing
Inventory management
Customer relationship management
Employee management
Reporting and analytics
Payment Processing
Convenience store POS systems allow you to process payments from any method including check, credit cards, EBT, and gift cards. The Payment Card Industry Data Security Standard (PCI DSS) encourages businesses to integrate POS solutions with EMV chip card readers to reduce fraud risk. If your card reader is not EMV compliant, it'll be your store that loses money for fraudulent transactions, not the bank or financial institution. Newer convenience store point of sale software will allow EMV transactions.
When choosing the right solution, keep in mind the POS hardware requirements vendors might have. Most solutions integrate with existing hardware while a few vendors will require purchasing their hardware. POS hardware to consider to assist with collecting payments include credit card terminals and cash drawers.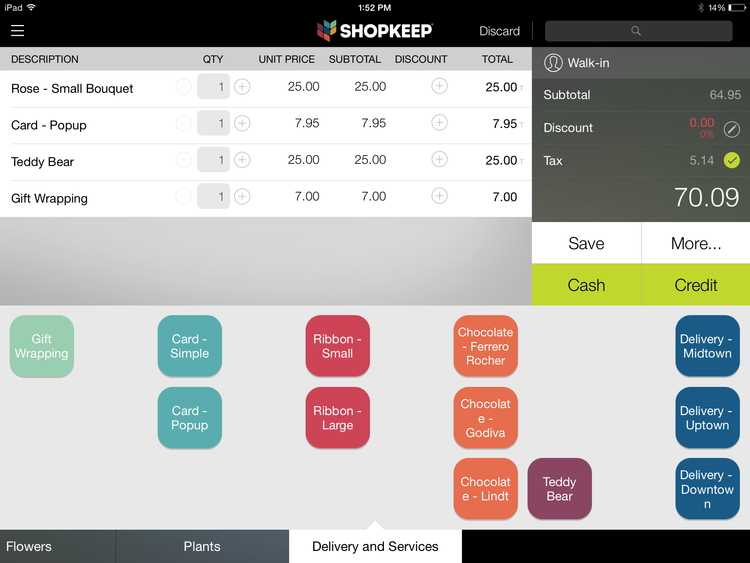 Inventory Management
POS systems automatically update your inventory counts when an item is sold. When your inventory starts running low, the system will notify you to reorder more. The system can also automatically create purchase orders when inventory levels reach a certain threshold.
Some POS software vendors sell handheld barcode scanners and label printers to assist with inventory tracking and finding price information.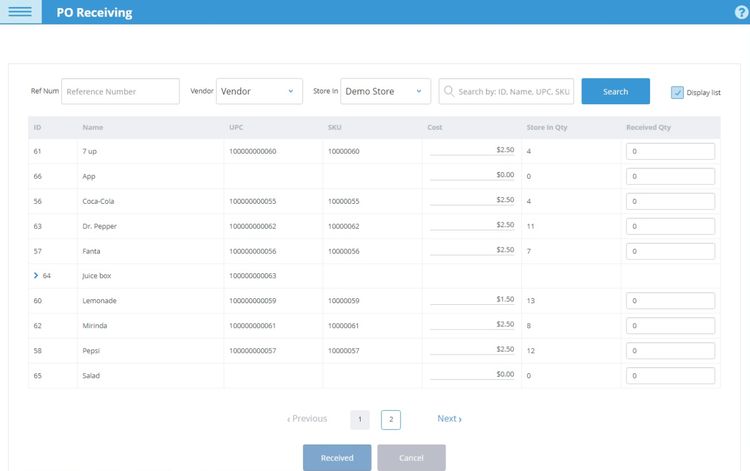 Customer Relationship Management (CRM)
A convenience store point of sale system will assure customers are the right age for restricted purchases like alcohol, tobacco, or lottery tickets. The software will automatically prompt you to scan an ID or enter a date of birth to prevent minors from buying these items. POS systems can be localized to ensure you're meeting local and state laws for restricted item sales. The solution will automatically deny sales of restricted items by time or day of the week depending on local regulations.
Convenience store POS systems also integrate with loyalty programs to incentivize customers to keep coming back. Customer loyalty programs can be customized to offer free items or a discount on products with a set number of purchases. Information from the loyalty program is kept within a database to store contact information, email addresses, and purchase history for targeted marketing campaigns. And there are ways to provide customer support when necessary.
Employee Management
The best convenience store POS systems assist with staff management. Time tracking functionality allows employees to clock in and out, ensuring they're at work on-time and not skipping shifts. The system will also allow you to look into an employee's performance and compare sales data with money in the cash register to prevent theft. User permissions can be set so only certain employees like store managers can void items or authorize discounts.
Reporting
Reporting functionality in convenience store POS systems provide real-time sales reports to help you evaluate your revenue to make better business decisions and improve your profit margins. For example, being able to see what items are bringing in the most ROI can help you plan the store layout. You can then place top-performing products in eye-catching spots to increase impulse buys.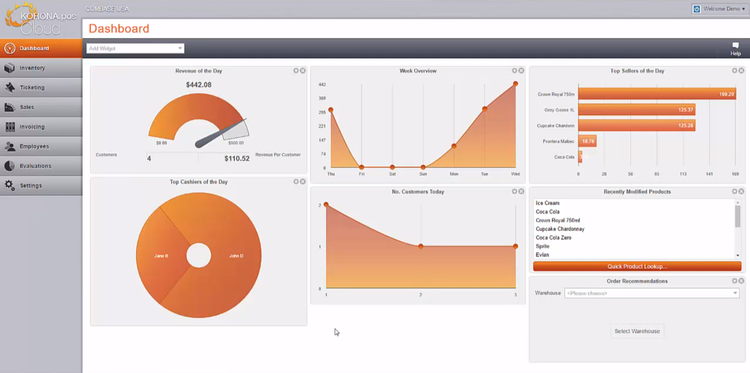 Gas Station POS Systems
Convenience stores with gas stations need a point of sale solution with fuel management capabilities to monitor contactless sales, control pump operations and automatically adjust pricing as gas prices fluctuate.
First, gas station POS systems let customers pay at the pump with debit or credit cards with a card reader or opt to pay inside. A receipt printer integrated with the POS system will allow customers to get their receipt right at the pump, entirely contactless. Customers can also pay for additional items alongside their fuel at the cash register.
POS solutions tailored to gas stations allow you to control the fuel pump from the system. When customers prepay for a certain amount of gas, the pump will automatically shut off when it reaches the preset limit. In case of emergency, the pump can be shut off remotely through the POS system. Your POS software will also automatically shut the pump off when tank gauge readings reach a certain level to prevent customers from overfilling their vehicles.
Finally, it's no secret gas prices fluctuate regularly. An automated POS system will make it easy to update prices for all fuel types across multi-store locations. Customizable prices can be scheduled to change at a particular time of day or day of the week to better protect your bottom line.
Convenience Store POS System Pricing
Convenience store POS software pricing varies depending on several factors, mostly total users, integration options, and implementation preferences. Some c-stores need a complete system of both software and hardware. Monthly fees for SaaS plans begin at $29 per month while others are up to $1,600 per month. One-time perpetual license fees average about $2,000 which includes ongoing support.
Mobile apps for smartphones and tablets might be included with the cost or for an additional fee. For example, being able to swipe credit cards with an Apple iPad or Android device can expedite checkout processes during busy times. Some software can also integrate with popular accounting solutions such as QuickBooks.