Shipping yards are one of the most important parts of the global supply chain. These yards may serve cargo ships, freight trains, trucks, or a combination of transportation methods. Each hub is where new goods arrive from manufacturers before getting sent on to retailers all over the world.
Using our review methodology, here's our picks for the best yard management software:
1

YardTrac Pro - Best Overall

Why We Chose It: YardTrac Pro, a cloud-based solution compatible with both iOS and Android, provides real-time, automated data capture and reporting. A notable feature is its graphic display of the entire yard facility, including trailer location and status, which enhances overall visibility and control. It also allows asset locations across multiple yards and maintains records of trailer registration, inspection, management, and event history​.

YardTrac has an easy-to-use interface, which helps in managing everything from loading dock activities to billing and payment processing. And a wide variety of user permissions make the software adaptable to different organizational needs​.
2

GoRamp - Best for Transportation Management

Why We Chose It: GoRamp, a transportation management and dock scheduling software, is another solution for streamlining logistics operations at shipping yard facilities. The Dock Scheduling module helps it stand out by optimizing warehouse workflow and controlling loading and unloading.

The SaaS cost of GoRamp starts at $250 per month. Total pricing depends on the quantities of orders or warehouse loading docks. While there is no free version, a free trial is available for users to test out.
3

FourKites - Best for Supply Chain Visibility

Why We Chose It: FourKites is a full service supply chain management and visibility platform that has advanced features and capabilities including yard management. It assists shipping businesses of various sizes in managing warehousing, yard management, procurement, OTIF compliance, sustainability, and more.

The FourKites platform includes several advanced features like appointment scheduling, document management, network visibility, freight tracking, and workflow automation. These optional features, combined with predictive capabilities like ETA prediction through weather and traffic analysis, make FourKites a powerful tool for yard management.
4

YardView - Top Pick

Why We Chose It: YardView is another of our top YMS picks. Its cloud-based nature ensures real-time visibility into yard activities from any device at any time, making it a flexible solution for modern logistics needs. Users on-the-go gain full visibility into asset location, trailer contents, gate and dock management, and driver move coordination.

YardView's subscription pricing model includes unlimited users and transactions, even offering access to carriers, customers, and other partners. And implementation is notably quick, averaging four weeks or less.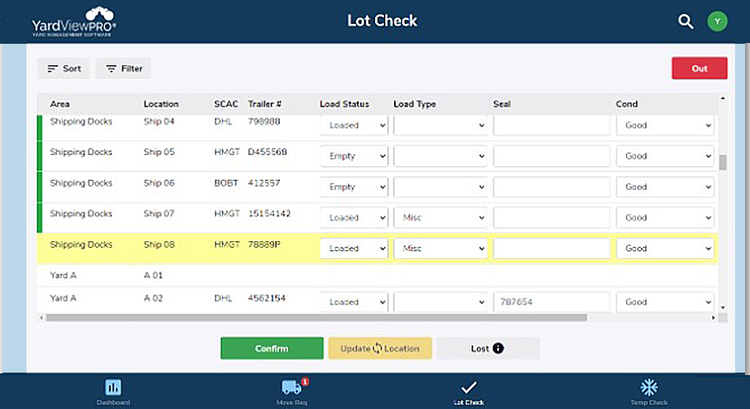 5

Samsara - Best for Fleet Management

Why We Chose It: Samsara advanced tracking, safety features, and driver management tools make it a strong candidate for businesses looking for a comprehensive yard management solution. These features are particularly beneficial for large fleets, as they streamline maintenance management and enhance operational efficiency. Samsara's strong focus on driver safety includes various tools for tracking driver performance and encouraging safer driving habits.

Beyond driver safety and performance, Samsara offers shipment tracking capabilities with a 30-second refresh rate, detailed fleet reports, and the ability to optimize routes automatically. And the fuel management capabilities, including reports on fuel usage and idling time, help in optimizing fuel consumption and reducing operational costs.
6

Luminate by Blue Yonder - Best for Supply Chain Planning

Why We Chose It: Luminate by BlueYonder includes tools for yard management as part of a larger supply chain planning platform. Some of these features are on-demand fulfillment and forecasting for more accurate inventory management.

The Luminate platform uses both artificial intelligence and machine learning to improve predictions and prevent disruptions to the supply chain.
What is Yard Management Software?
Yard management software is a scheduling and inventory management solution suite for the shipping industry. This type of software helps yards automate and optimize the flow of inbound and outbound assets. And real-time visibility lets users monitor and audit shipping loads to meet compliance regulations.
Yard management systems (YMS) have several similarities to transportation management software (TMS) as it provides logistics for vessels, trucks, and other modes of distribution. A YMS goes further to provide complete control of incoming and outgoing inventory. Whether you operate a full port of entry or a single shipping yard, you can benefit from yard management software.
Yard Management Software Functionality
Dock Scheduling Logistics: Make a timeline for inbound and outbound vessels to prevent delays.
Manifest Management: Keep important documents like cargo manifests in one easy-to-access location.
Transportation Logistics: Manage all inventory transportation in and out of your yard. May include some fleet management tools.
Shipping Load Auditing: Meet operation compliance by monitoring and auditing cargo as it arrives at your yard.
Traceability: Use barcodes or RFID systems to track products in warehouses, trucks, or vessels.
Inbound and Outbound Coordinating: Ensure every inbound vessel or vehicle knows where to go. Give clearance for trucks to leave and ensure moored vessels know when they can make way.
Weather Reports: Get the latest weather conditions to keep yard operations safe and predict possible delays.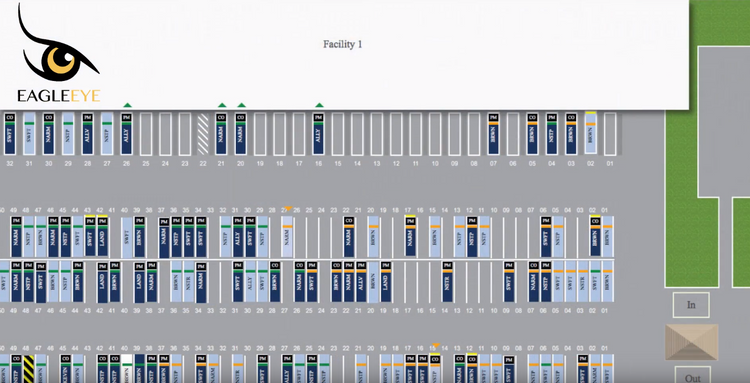 Benefits of Yard Management
There are many benefits to using yard management software, including:
Delivery and Distribution Coordination
Working in a shipping yard means dealing with a lot of different levels along the supply chain. You have to maintain clear communication with individual ship captains, local suppliers, delivery drivers, and your own team of dock workers. If you don't keep everyone on the same page, you could end up with late or missing shipments.
Scheduling tools make it easier to create a timeline for arriving and departing cargo. If there is a sudden delay, you can generate an updated timeline and find ways to make up for lost time. For example, if stormy weather causes ships to arrive late, you can quickly edit the schedule to accommodate incoming vessels. Or if a truck has a flat tire, you can account for that too.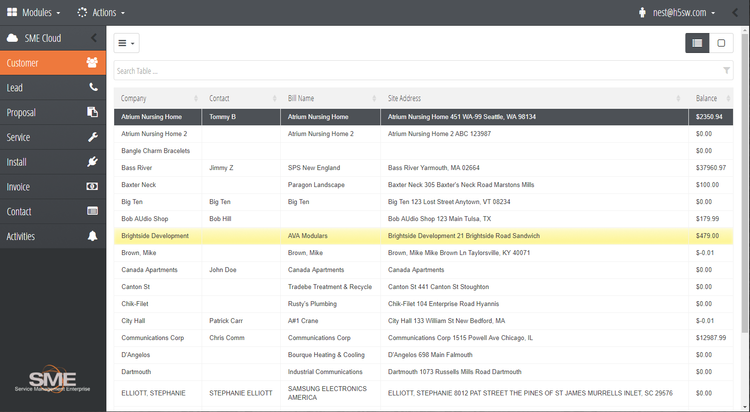 Warehouse Management Integration
Many ports are surrounded by warehouses to store cargo before it is distributed to its final destination. You need to make sure any onsite warehouses are not operating overcapacity. Otherwise, your entire port operation could be in violation of safety protocol. Warehouse management programs help you balance incoming inventory against what is being distributed.
A full warehouse is more than just a safety concern - it's a lost opportunity to accept more inventory. If you operate wharf warehouses, you can use inventory optimization solutions to increase warehouse capacity and take on more shipments.
Faster Transportation with Cheaper Fuel Costs
Shipping is incredibly expensive due to rising fuel costs for both cargo carriers and trucks. Transportation management lets you control all inbound and outbound freight logistics at your yard. Plan optimized routes for truckers in order to cut down on mileage and save on fuel. And use in-depth analysis to find cost-effective ways to consolidate shipping loads.
Automated Asset Flow
Even small wharves can bring in thousands of assets a day. If you're relying on handmade spreadsheets to keep shipments in order, you're putting your entire yard at risk for errors. You don't want to find out your warehouse is at full capacity after accepting a new shipment. An automated system can do all the work for you to reduce mistakes.
Another benefit of automated flow is scalability. Track individual trailers or entire intermodal containers from one dashboard. Graphical yard view tools let you see your entire yard with an eagle-eye view. Know where trucks are or which berths are available in real-time.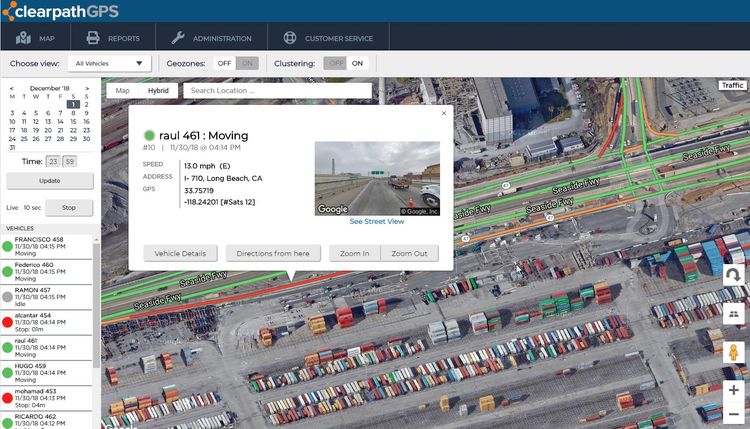 Auditing for Shipping Compliance
As an industry based around importing and exporting goods, cargo ports have to follow U.S. Custom and Border Protection regulations. You'll need to ensure your cargo manifests and inventory levels are accurate in case of a CBP inspection.
In addition to CBP requirements, the shipping industry has to deal with union rules, OSHA regulations, and occasionally maritime law. Document management modules organize and protect all your important records digitally.
Mobile Weather Apps
Bad weather can mean a bad day on the wharf. Severe storms can prevent inbound vessels from arriving and delay moored ships from leaving. Even strong winds on an otherwise fair-weather day can put a stop to crane operations necessary for loading and unloading cargo. These weather delays can add up to thousands of dollars in lost fuel costs and missed deadlines. Weather tracking modules within your yard management software can provide real-time updates on possible weather problems.
How Much Does Yard Management Software Cost?
Yard management software pricing depends on whether the solution is based on users, vehicles, or facilities. Pricing for users begins at $23 per month. Per vehicle costs begin at $20 per month. And there are solutions starting at $199 per month for multiple facilities. This does not include fees for implementation and training.
Perpetual use licenses for one-time software downloads begins at $100 per user. Other software suites cost $20,000 for a one-time download for as many users as you want.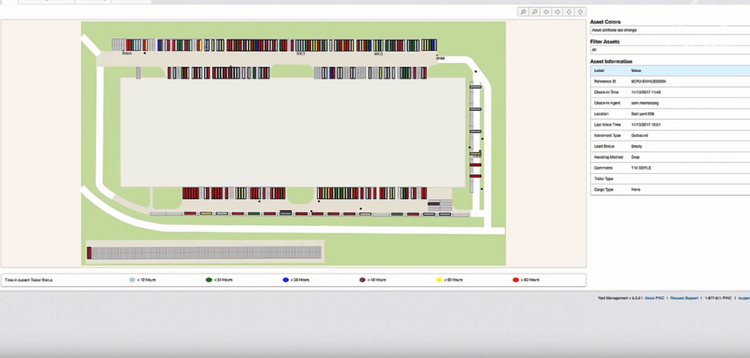 Common Yard Management Problems
Yards face a lot of difficult issues, especially if they work with more than one mode of distribution:
Broken Down Trucks
It's an unavoidable rule of the road: vehicles break down. Tires go flat, engines fail, and accidents happen. Fleet management software can help you stay ahead of maintenance to prevent possible breakdowns in the future.
Too Many Inbound or Moored Vessels
Ships may need to stay moored for a few days in order to refuel and take on new cargo. Unfortunately, that means you're no longer able to accept inbound ships until a berth becomes available.
For example, imagine a large dry bulk carrier and a slightly smaller reefer ship are scheduled to arrive at the same time. Yet you only have one general berth available because moored vessels. Can you turn away ships with perishable goods? With a scheduling application you won't have to. Add in real-time data to estimate which outbound ship is due to leave next so you can get another berth ready.
Weather Delays
The shipping industry is dependent on favorable weather conditions. A big storm could delay vessels for days, leading to multiple cargo ships arriving all at once. Soaring temperatures could cause reefer ships to expedite their shipping schedule. A mobile weather app can keep you informed of daily and long-term weather forecasts so you can prepare for any changes in shipping patterns.
Cargo Examinations by US Customs
Another major headache for port operations is delays from US Customs inspections. CBP has hundreds of laws meant to protect national and international legal trade. One way they do this is through cargo examinations. While this is meant to ensure cargo manifests are accurate, they can also cause delays if the CBP agent takes a long time to finish their inspection.
Yard management software lets you keep records on cargo manifests. You can use your documentation to help speed up examinations.