High profile product recalls have hit everything from cars to cribs. No product is immune from the possibility of a recall and wholesale distributors in every market niche carry a percentage of the risk exposure.
What are the risks related to product recalls?
Consumer safety endangerment
Direct costs involved in actively notifying consumers and recalling goods
A disruption to business continuity
Increased probability of civil lawsuits
Financial penalties and fines
Damage to customer trust and brand image
Even, criminal prosecution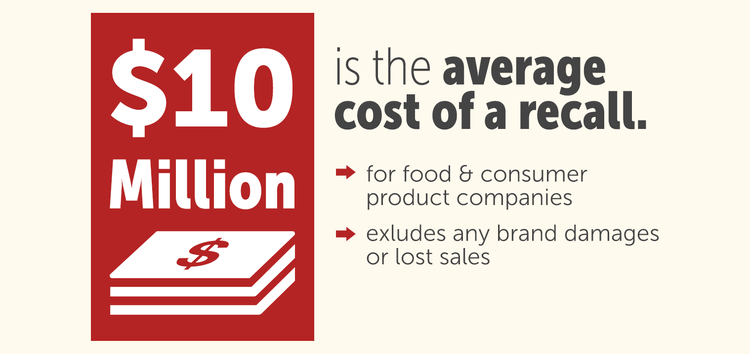 The Peanut Corporation of America case provides a startling worse-case-scenario example of a tragically mishandled recall. After a number of tests in 2007 revealed the presence of salmonella contamination in the company's peanut products, the Peanut Corporation of America failed to actively recall affected products and continued to ship contaminated food. The company was subjected to financial penalties, was banned from bidding on government contracts, had criminal charges brought against its owner, and ultimately declared bankruptcy in 2009. The human costs were even greater as over 600 people fell ill with food-poisoning and 9 individuals lost their lives.
The vast majority of product recalls are far less extreme than the Peanut Corporation of America example. But the numbers remain alarming:
Since the inception of the National Highway Traffic Safety Administration in 1966, 299 million vehicles have been recalled Source: ConsumerProtection.USLegal.com
The Consumer Product Safety Commission estimates that $700B in annual costs result from deaths, injuries, and property damage attributable to faulty products Source: HowStuffWorks.com
Stericycle, a company which reports on recalls as part of its "brand protection services," identified that the FDA–just one of the 6 federal agencies involved in managing product recalls–enforced over 1,000 food recalls in 2012 Source: "Stericylce ExpertRECALL Quarterly Recall Index"
While manufacturers are often most closely associated with product recalls, distributors are not immune from recall responsibilities. In fact, in the case of court-mandated recalls, it's the responsibility of distributors to alert customers and participate in the collection of recalled products. Recent US legal findings have determined that distributors in certain circumstances will have to bear the final financial burden for the recall: "In cases where the manufacturer is out of business, in bankruptcy, or is located in a foreign country, the US-based wholesaler-distributor may become the responsible party. Source: Wholesaler-Distributors and Retailers May Be Liable for Product Recall
One of the most indispensible tools available to distributors to help mitigate the costs and risks associated with product recalls is effective business management software. I recently connected with Samantha Hornby from Blue Link Associates, the company which develops BlueLink Elite–a popular enterprise software product for the distribution industry–to find out more about how the right software tools can help wholesalers better manage product recalls.
What Are the Ramifications for a Distributor if Recall Instructions Are Not Properly Acted On?
Samantha: If distributors don't have the proper processes and systems in place for handling a recall, there can be very serious ramifications. Distributors can be charged with paying a large fine, exposed to multiple lawsuits and, in the worst case scenario, shut down for good.
Product recalls are serious business and need to be acted on as soon as possible. If the supply chain cannot quickly act on a recall, the potential of illness, injury or even death increases. In today's world, a product can be shipped across the country or around the world in the same day. If any link in the supply chain cannot manage a recall, the chain is broken and it becomes difficult to track those products from that point. If every link in the supply chain (manufacturer, vendor, distributor, etc.) is able to track products one back and one forward, performing a recall will be quicker and may even potentially prevent illnesses, injuries, and deaths.
What Inventory Management and Order Tracking Software Functionality Is Necessary to Successfully Manage a Recall?
Samantha: In order to successfully manage a product recall, businesses should invest in a full inventory and accounting ERP system complete with lot tracking capabilities. Lot tracking software allows products to be tracking by lot or batch number along the entire supply chain – from manufacturer through supplier to the end consumer, tracking the movement of product one back and one forward. More specifically, lot tracking software is used to keep track of which vendors sent specific lots (or shipments) and when and then which customers received specific lots and when as well.
When evaluating different systems, software buyers should be cognizant of the following important features:
Internal and external lot number tracking
The ability to pre-assign lot numbers based on expiry dates
Proactive management of, and alerts for, expiry dates
Auto-generated lot numbers
Printing of lot (or batch) information on packing slips, invoices etc.
Lot tracking reports to see products and associated lot/batch numbers and expirations
Recall reports to see which customers were shipped what lot controlled products and when – along with the customer's contact information
A screenshot of a sample recall report in Blue Link Elite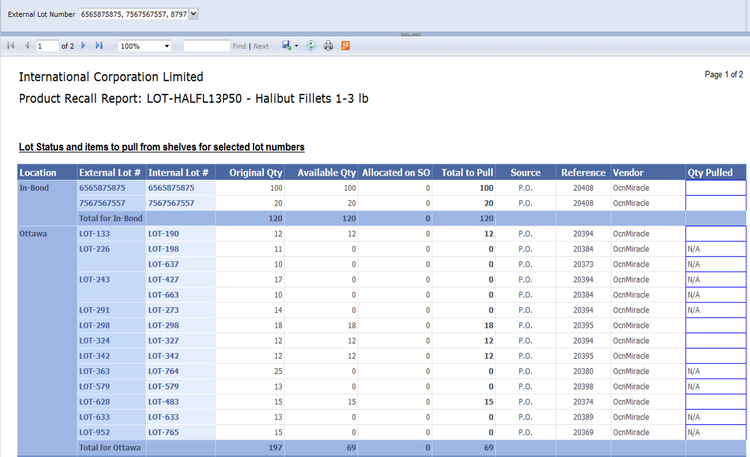 In order to be effective, lot tracking must be implemented alongside various processes for managing recalls. The best way to minimize the negative impacts of a recall are to introduce processes that reduce the time it takes to recall the items – this includes managing strong relationships with your supply chain partners, and properly training employees. Reducing your inventory management paper trail with software will eliminate human errors associated with this type of manual process such as loss of papers and incorrect information.
What's the Role of CRM Software During Product Recalls?
Samantha: A CRM system with up-to-date customer and vendor information will allow users to quickly notify a large volume of customers/vendors in the case of a product recall. This information should be provided as part of a Recall Report so that during a recall there is no need to find individual customer information. Reacting in a quick and professional way, and having recall processes in place will help minimize the damage to your company's reputation. If your vendors and customers believe you have taken the appropriate steps to properly handle a recall honestly and responsibly, they are more likely to continue working with your company in the future.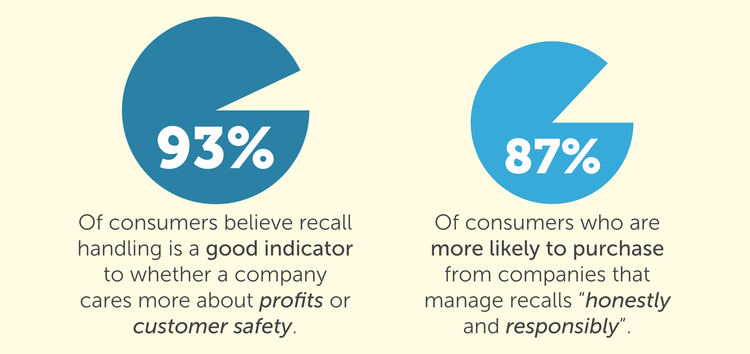 How Can Distributors Track Recall Costs and Improve Cost Recovery?
Samantha: A proper lot tracking system will be able to report on any recalled product to provide accurate cost and sale information. This will make it easier to account for the loss of revenue in the case of a recall and ensure the amount of recovered costs from other supply chain partners is accurate.
Without proper lot tracking functionality, a business might have to recall all product that was shipped within a period of time as there would be no way to determine which lot numbers were shipped to specific customers – drastically increasing the costs of a recall. With a proper system, only the actual recalled product will need to be recalled resulting in lower overall costs. Your vendor may not reimburse you for recalled products that were not actually affected.
Inventory lot inquiry reports provide traceability via flexible filters (like product code).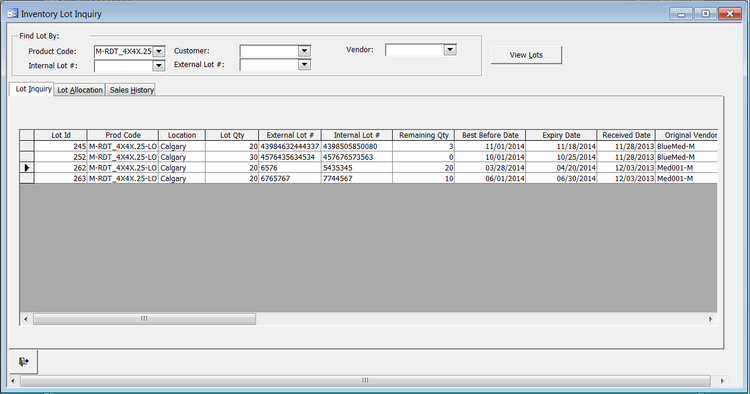 How Can Distributors Stay Up to Speed on Recalls?
Samantha: Many government regulated websites, especially in the food and pharmaceutical industry, provide up-to-date information on product recalls with the option of subscribing to automated email notifications. [Editor's note: Recalls.gov aggregates government recall notifications and is a good "one-stop-shop" worth checking out.] Most manufacturers also pay close attention to the aforementioned sites and it is often the manufacturer who will send out the recall request to their customers.
To find out more about how you can use software to manage product recalls and other distribution industry challenges, make sure to check out the always excellent blog from BlueLink Associates and follow BlueLink on Twitter at @BlueLinkERP.