What is Track and Trace Software?
Track and trace software provides companies, particularly manufacturers, with real-time product distribution and logistics updates through the use of technology like radio-frequency identification (RFID) and barcoding. This type of supply chain software is primarily used for one of two reasons: determining the location of merchandise or equipment, and confirming the arrival of shipped packages.
The history of tracking items through production has been well-documented, as logistics depends upon knowing where inventory is and was. Outdated traceability methods relied on pen and paper, then manually updated spreadsheets. Today, track and trace software creates a single, paperless platform where all logistic data can be reviewed and analyzed in real-time. Businesses can always know where their merchandise is going or where their equipment has been.
Features of Track and Trace Software
Inventory management: Tracks all information about items you build, buy, store, or sell
RFID, QR code, and barcode tracking: Various methods of automated tracking based on scanning technology
Visual trace graphing: Gain a visualized overview of where products are and where they have been; create custom links between tasks such as parent-child, bi-directional, and peer-to-peer
Warehouse management system (WMS): Coordinate inventory movement and employee actions throughout a warehouse or distribution center
Recall management: Create specified workflows for directing recalls or stock withdrawals
Historical data analysis: Review past inventory data to identify trends and areas for improvement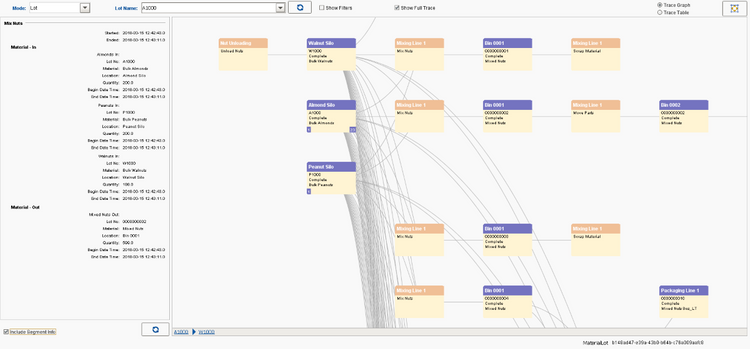 Best Track and Trace Software Benefits
Businesses which utilize track and trace software can enjoy some amazing benefits, including:
More Accurate Inventory
First, track and trace software helps businesses keep tabs on their various property, from merchandise intended for sale to field equipment. This inventory traceability can assist manufacturers, suppliers, and distributors in understanding how their products are moving along the supply chain. The adoption of tracking technology like barcode or QR code scanners greatly increases the visibility of inventory.
Additionally, track and trace software provides paperless tracking, further streamlining the entire traceability process. And apps compatible with mobile devices allow access to traceability records from anywhere in the world.
Better Anticipate Customer Demands
Knowing your inventory levels in real-time has another advantage: anticipating and planning for customer demand. Reviewing historical track and trace data is one way to gain valuable insight into future buying decisions, leading to more accurate manufacturing requests when it's time to restock.
Real-time tracking also helps customers to follow their own orders as they await delivery. The more accurate the information, the happier consumers will be. And a satisfied customer is more likely to make another purchase with your company, write a positive review, or recommend your products by word-of-mouth.
Compliance with Local Safety Laws
Certain products cannot be shipped except under strict safety and traceability regulations. For example, pharmaceuticals and explosive materials are both tightly controlled to avoid possible accidents. Since different localities have their own safety regulations, it's important to track different compliance requirements based on where you do business.
An increase in inventory visibility provided by tracking and tracing tools saves significant time and money when dealing with local and international safety organizations. For instance, a delivery driver can use their mobile device to access track and trace software on the go to prove compliance with traceability regulations while dealing with different government entities.
Easier Recall Management
In the event of a recall, every affected product needs to be accounted for to prevent possible injury or accidents amongst the public. Track and trace solutions make managing product recalls easier by containing records of all products which your company handled. This data can act as proof of compliance and help your company avoid the common risks of product recalls:
Consumer safety endangerment
Disruption to business continuity
Financial penalties and fines
Civil lawsuits
Criminal charges prosecution
Track and Trace by Industry
Several industries depend on track and trace solutions to control their supply chain:
Manufacturers: As part of manufacturing execution systems (MES), manufacturers can review where any product is during the manufacturing process
Distributors and repackagers: Since distributors are focused on moving merchandise en masse, it's important to always know where items came from, where they are, and where they are going to avoid costly delivery errors
Food service: Food traceability measures have to be compliant with requirements set by the Hazard Analysis and Critical Control Points (HACCP) and the Food Safety Modernization Act (FMSA)
Pharmacies: Pharmaceutical distribution processes must be compliant with the U.S. Drug Supply Chain Security Act (DSCSA), Drug Enforcement Agency (DEA), and Food and Drug Administration (FDA), which requires detailed traceability measures for the transport and sale of all medications and controlled substances
Dispensaries: Like pharmacies, dispensaries face strict regulations for distribution and need accurate track and trace methods to show compliance with all local safety requirements
It's not surprising the industries which most rely on tracking and tracing technology are those facing the strictest health and safety regulations. However, track and trace tools can benefit all types of industries by streamlining inventory control and improving customer relationships.
Track and Trace vs Seed to Sale
Since track and trace solutions are on the rise amongst dispensaries, it's no wonder there has been some confusion between this and seed-to-sale software. Both increase manufacturing and supply chain compliance. Of course, the greatest difference between the two is how track and track software is designed for multiple industries while seed-to-sale is almost exclusive to cannabis cultivation.