What is Veterinary Practice Management Software?
Veterinary practice management software includes the tools necessary to streamline administrative and medical work at animal healthcare centers of all sizes. Like general medical practice management systems, these solutions handle billing and invoicing functions, appointment scheduling, and storage or electronic health records (EHR) for patients. However, there are a few key differences for practice management at veterinary clinics.
For starters, there's the very simple fact that all patient communication has to be done by human owners rather than the animal patients themselves. As a result, traditional medical practice management solutions are not ideal for veterinary practices since those systems often conflate the patient with who is responsible for communication and payments. Vet PLM better addresses this unusual issue.
Another of the big challenges for veterinary practices and animal hospitals is staying in contact before and after appointments. Fortunately, veterinary practice management software includes valuable tools to streamline customer communication, such as automated appointment reminders or payment processing follow-ups.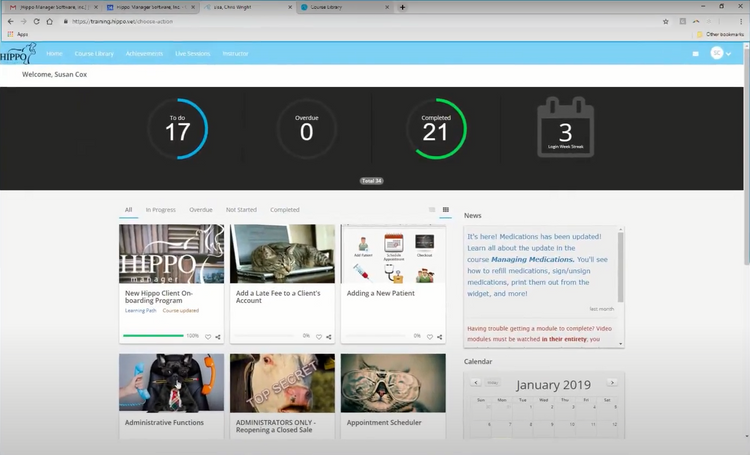 Key Features of Veterinary Practice Management Software
Appointment scheduling: Use an online calendar to sync and schedule patient appointments via a patient portal; and assign specific veterinarians or exam rooms to each appointment to guarantee full shift coverage
Appointment reminders: Use client communication tools to send out appointment reminders to prevent no-shows
Patient management: Collect and store up-to-date patient history, applicable third-party referrals, and relevant diagnostic information for use in future vet appointments
Electronic health records (EHR): Also called electronic medical records (EMR), electronic data sets contain templates for recording patient information, such as charts of medical and treatment histories, diagnoses, medications, immunizations, allergies, and lab results
Microchipping: Provide pet microchipping services and maintain access to online databases for identifying chipped animals
Telemedicine: Offer remote clinical care by connecting patients and their owners to veterinarians through real-time video conferencing
Boarding reservations: If your veterinary clinic offers animal boarding, manage reservations and keep tabs on past and current pet guests
Medical billing: Automatically generate and send payment invoices to pet patients and their owners based on services rendered; provide basic point-of-sale (POS) for additional petcare merchandise; offer credit card processing for faster payments
Claim management: For patients with pet insurance or specialty health plans, manage those claims through the correct payment process
Revenue cycle management (RCM): Automate and streamline claims management, invoice payment processing, and other revenue streams of your healthcare organization
Accounting: Balance budgets from paid invoices against the outgoing cost of supplies and services
Inventory management: Track all supply levels for your clinic to ensure no shortages
Reporting: Compile basic reports on appointments, inventory, and other useful details about your veterinary clinic such as customer satisfaction surveys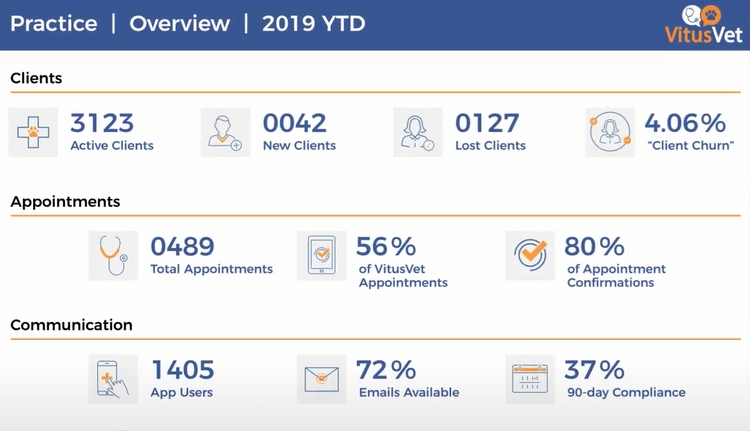 Best Veterinary Practice Management Software Benefits
Utilizing software at veterinary clinics can lead to a lot of long-term benefits. Start optimizing your workflow by better managing your practice.
Streamline Online Schedule
Online appointment calendars allow your customers to schedule appointments whenever they want. Automated text messaging and emails can send reminders to pet owners to confirm the appointment time. And send timely follow-ups if they fail to respond.
This improved customer communication can provide your staff with more time to focus on what really matters: helping patients. Scheduling online cuts down on time your workers would have otherwise spent on the phone, manually flipping through a calendar to see what availability there was for new appointments.
If an animal at your veterinary hospital has a long-term treatment plan, use the online calendar to schedule their weekly, monthly, or annual appointments in advance to prevent missed treatment. Notifications or patient reminders keep owners on top of their pet's upcoming appointments.
Digital Records for Secure Storage
Accurate patient records are just as important for animal patients as they are for human ones. Since pets themselves cannot verbalize their relevant medical history before an appointment, your clinic or practice needs to have detailed records available. To further complicate matters, pet owners sometimes forget or misplace important documentation for their animal companions. Fortunately, paperless patient records can be retrieved or copied in real-time whenever necessary. Double-check vaccination records or medication history before proceeding with an appointment.
Animal patients cannot be responsible for their own paperwork. With digital EHR, you can store multiple copies of treatment history, medications, and diagnostics on-premise or on a secure, cloud-hosted server for retrieval anytime, anywhere.
Enhance Telemedicine Services
There has been a substantial increase in veterinary telemedicine, especially in the wake of COVID-19. User-friendly systems can be used by any member of staff at your veterinary clinic, even those who aren't particularly tech-savvy. Wellness checks performed with video conferencing allows vet practices to keep up with follow-up appointments. While you won't be able to perform X-rays remotely, you can still check-in on animals to see how they are improving after surgery or if they are responding to new medication.
Payment processing is also easier with a single software application. Faster turnaround times on invoicing can lead to greater operating profitability. Send out automated payment reminders to customers who are paying in installments or have insured payment plans.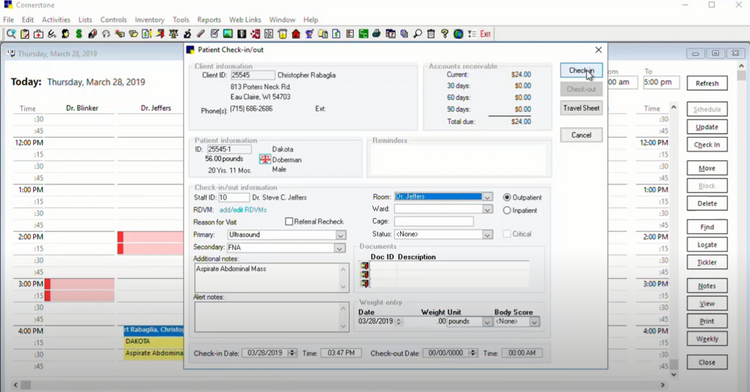 Veterinary Practice Management Software Pricing
The cost of veterinary practice management solutions will vary depending on several factors. Fortunately, there are options for budgets of every size. The price mostly depends on the functionality necessary. For instance, if your animal hospital also boards pets, you'll want those features. Certain software integrations are available to provide extra functionality at an additional cost.
Next, consider whether you want a locally hosted or cloud-based solution. Some software costs $3,000 to $10,000 upfront for on-premise installation. Cloud-based options can range from $99 per month to $150 per month. Some SaaS products also charge per user, increasing the potential costs based on the size of your practice. Others are priced based on the number of facilities managed with unlimited users, being $250 to $399 per month.
Finally, consider whether you want compatible mobile apps for handheld devices. With tablets and smartphones, you can bring EHR charts with you into exam rooms or to on-site patient visits.
Veterinary Practice Management Solutions by Specialty
Of course, price can also depend on what services you offer. Are you an emergency veterinarian at an animal hospital? You'll have different priorities when seeking software. For instance, equine veterinary practice management software addresses some of the more specific issues encountered when working with horses. Many equine practices have traveling veterinarians who go directly to client stables to perform their examinations, requiring them to use software applications on mobile devices.
Accredited zoos, aquariums, and wildlife rehabilitation centers can also utilize veterinary practice management software to coordinate animal wellness appointments. Freelance veterinary professionals who work with different animal welfare organizations can also benefit from mobile apps which allow them to upload animal EHR on-the-go.