What Is Clinic Management Software?
Clinic management software is an integrated set of tools that manage all aspects of running a medical clinic in real-time, such as operations, financials, and administrative tasks. Known as a type of hospital management software, these systems provide medical practices, medical clinics, and hospitals with patient care management tools required to perform the day-to-day tasks of healthcare organizations.
A clinic management system will provide many of the same tools as a medical practice management software, including patient appointment scheduling via online booking, charting medical records, and billing and invoicing both patients and insurance companies all in one convenient platform. These tools also help with outpatient management and speed up services offered by the clinic, including procedures, issuing medicines, x-ray work, lab work, and more.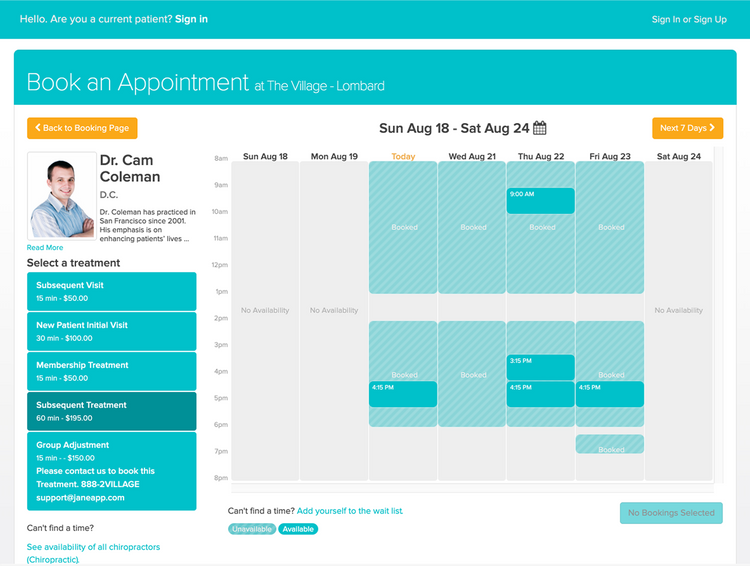 Features of Clinic Management Software
Medical Billing: Generate claims electronically, track active claims, record common billing codes, send reminders for collections, set up recurring payments, post payments to patient superbills, and post-payment details to your HIPAA compliant accounting software or accounts receivable ledger.
Electronic Health Records (EHR): Track, store, and access patient files electronically. Includes a charting module that records, updates, and archives crucial patient data that includes immunizations, former diagnoses, current prescriptions or active medicines, lab test results, and more.
Appointment Scheduling: Schedule appointments between patient and doctor based on their availability. Send out appointment reminders to patients to avoid no-shows. View upcoming appointments in an easy to read calendar view and filter by an individual health practitioner.
Patient Intake/Registration: Ensure the validity and eligibility of the patient and their insurance. Confirm insurance eligibility and coverage and adjust any information to reflect changes in coverage. Create customizable forms for patients to fill out upon arriving for their appointment or online. Collect demographic and insurance eligibility information and have all response flow into any encounter notes.
Telemedicine: Provides remote clinical care by connecting patients and doctors in real-time via the use of video conferencing and the internet.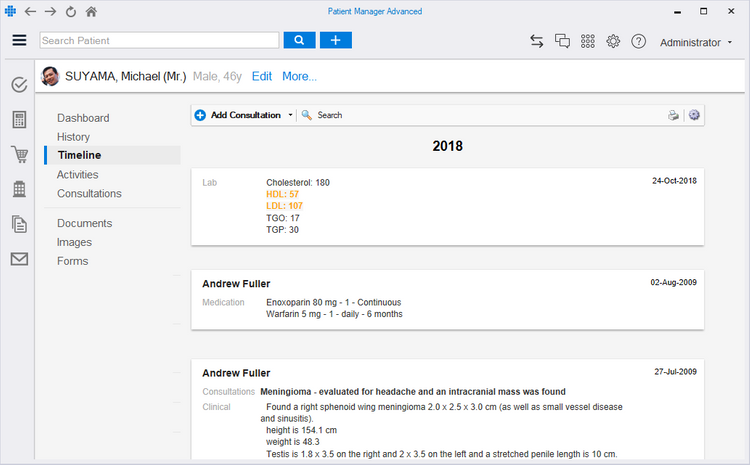 Benefits of Clinic Management Software
Some of the top benefits a clinic management system can provide your medical practice includes:
Fully Integrate All Aspects Of Your Clinical Setting
Clinics that use disparate systems can easily experience double-entry headaches or with certain departments not receiving necessary updates. For example, a clinic using a stand-alone medical scheduling software may create an appointment for a patient. If that software had a patient fill out patient intake forms ahead of time, those forms need to make their way to the clinic's electronic medical records software (EMR). Failure to do so may mean the doctor does not have critical answers to questions and may ask the rooming medical assistant to gather the needed info.
A fully integrated clinic software will allow doctors from all departments to coordinate with one another by sharing health records such as current medications they are prescribed. This can help asses a patient's condition far better.
Using a cloud-based clinic management software will let you access the capabilities from anywhere at any time. When accessing sensitive medical information from outside the workplace, the appeal of cloud clinic management software may not be immediately seen. However, hospital administrators will grant permissions to doctors and managers who may need to pull up medical records from home when a patient contacts them after hours.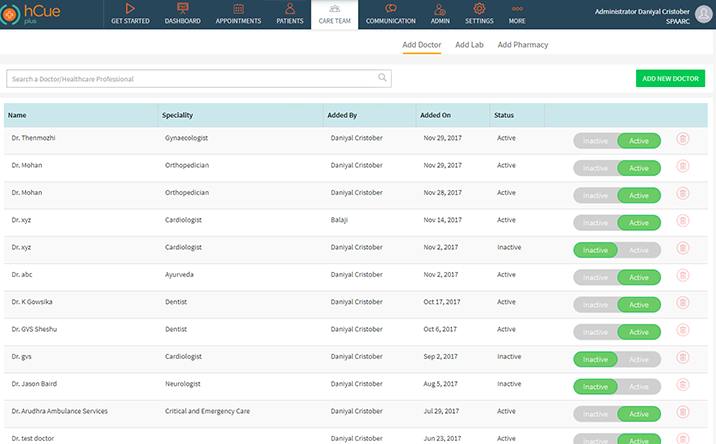 Improve Pharmacy Management with Electronic Prescriptions
Many clinics will manage their own pharmacy, which requires overseeing drug distribution and managing the medical inventory involved with controlled substances. Managing a pharmacy will require handling point of sale (POS) transactions for ringing up a patient and collecting any payments, billing insurance companies, and deducting items from your available stock count.
Pharmacy management can also include the need to track medication by lot, barcodes, RFID, or serial numbers for quality assurance and product recalls. Clinic pharmacy employees can be alerted as to when medication batches are set to expire and ensure stock is managed appropriately. This will help your clinical pharmacy stay on top of new and recurring orders for medical materials. The clinic management software will even let your pharmacy specify the stock count level to signal its time to reorder products and set automated notifications for out-of-stock and low stock situations.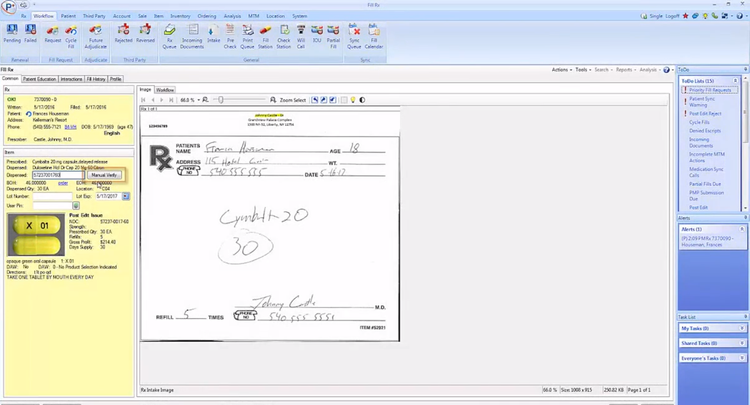 Improve Claims Management and Medical Billing
Most medical billing capabilities in clinic management software will use a revenue cycle management process to automate payment processing. RCM helps automate and streamline claims management, payment processing, and the overall revenue process of your healthcare organization in real-time.
Revenue cycle management is more of a process that helps ensure you follow the proper steps during the medical billing process. A clinic management system with a built-in RCM process will handle those before visit tasks such as insurance eligibility verification, during visit assignments such as collecting co-pays, and the after-visit responsibilities of claim submissions and denial management.
Billing features within clinic software options will also submit claims of billable fees to insurance companies, check the validity of claims, track all unpaid claims, and determine when claims need to be statused based on payer payment patterns.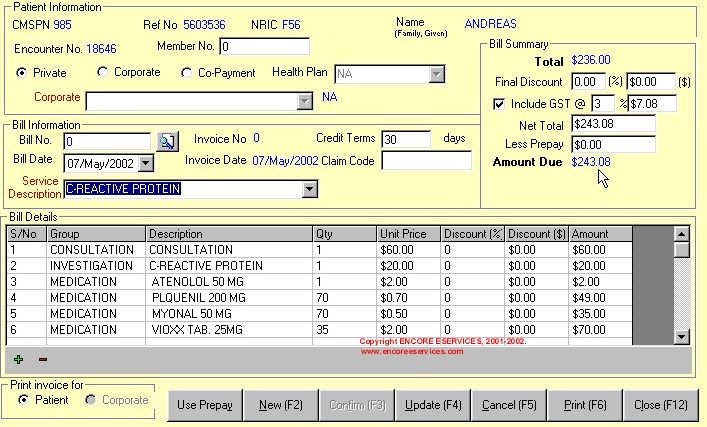 Provide Timely Care And Save On Costs Through Telemedicine Capabilities
When patients visit a clinical office, they have a level of expectation to receive prompt care, rather than spending the majority of their time filling out intake forms about their medical histories. Patients look to check-in and check-out as quickly as they can, rather than worry about back-office administrative tasks that your staff are required to handle.
Dealing with a larger number of patients, larger clinics will experience bottlenecks in their patient scheduling, and waiting rooms may become crowded if the proper patient background information is not gathered ahead of time. Luckily, most, if not all, clinic management solutions offer patients the ability to complete patient intake forms online from the comfort of their home.
Clinic management systems will increase patient engagement by making patients feel like they have more control over the information they are providing. Since a clinic employee will not need to handle the input of this information, this means that employees can be freed up for other tasks, potentially increasing the efficiency of the medical office.
A way to save time even further is through the use of telehealth practices, which can increase access to care for all types of patients. Telemedicine software helps overcome geographical barriers or physical limitations of high-risk patients such as the sick and elderly. It can also help underserved communities that lack public transportation or are too far away from a healthcare facility.
Since medicare reimburses telemedicine services at the same rate as the comparable in-person medical service, there is no concern about any reduction in revenue for these types of meetings. Since these appointments require less setup (no rooming of a patient), they can be turned over in a quick timespan than in-person meetings, and theoretically increase the number of patients that can be seen in a given day. Telemedicine software also cuts back on needless visits and eliminates transportation expenses for regular checkups.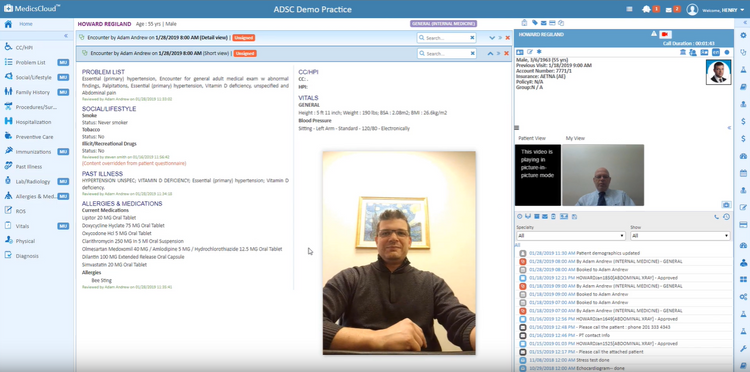 Clinic Management Software Pricing Guide
The cost of clinic management solutions will vary depending on the size of your hospital, clinic, or medical practice. This will largely be determined by the number of patients you see, the number of users that require concurrent access, and the level of included services such as support and hosting.
Smaller clinical offices that only need 1-3 users can expect to spend anywhere from $13/month to $160/month. This subscription-based pricing model is becoming more prevalent as many software providers start actively selling cloud-based solutions. These require less of an upfront investment by allowing for lower monthly payments.
For a locally installed software, a small clinical business can expect to spend anywhere from $350 to $11,000 for upfront purchase. Services such as implementation and training will generally cost extra.
Whichever route you take, the costs begin to increase rapidly when you begin to expand your need for users and start to require more storage space for the number of patient records needed.
Current Trends With Clinic Management Software
In times of national emergency, such as the coronavirus (COVID-19) pandemic, telemedicine capabilities help save lives by limiting face-to-face meetings to only the most essential. The flood of telehealth patients is driven by the health care system's effort to reserve hospitals and other health care facilities for people seriously ill. Health care facilities can easily become overwhelmed by the volume of response from patients seeking care for suspected symptoms (an increase as much as 50% each week). Many patients with non-life threatening symptoms will be asked to schedule telemedicine appointments.
Automating workflow management via SMS alerts: In today's age, many medical practices tend to shy away from fax or paper workflow systems if they are in need of an instant response. A more automated system that can streamline bookings and automate reminders can help ensure patients are aware of upcoming appointments and avoiding no-shows. As recent as 2017, the Behavioral Economics Team of Austrailian Government found timely SMS reminders allowed for canceled payments to be restored in 10.5 minutes. It also saved 240 hours of staff time every 2 weeks by automating the payment reminder process.