What Is Home Health Care Software?
Home health care software connects patient care services, billing, and administrative processes across a unified platform. The specific type of electronic health records software is primarily used by registered nurses, physical therapists, home health aides, and social workers that provide in-home health care services for adults and seniors.
There are a variety of home health software options that handle both clinical and non-clinical applications. Home health care agencies can use this software as a subset of medical practice management software that is traditionally reserved for inpatient clinics or doctors' offices. This type of home care software provides everything from administration tools, billing, and medical record keeping. Some solutions will only provide a single application, such as electronic visit verification (EVV), which is used to verify healthcare visits and prevent patients from being neglected.
A home health care system will ensure your agency collects specific data known as Outcome and Assessment Information Set (OASIS). This data helps your business stay compliant with requirements set forth by Medicare and Medicaid.
Home health software can be thought of as a specific type of patient management software intended for use by home care agencies. Home health care software provides an integrated set of tools that handle day-to-day operations and processes. This can include medical appointment scheduling, coordinating meetings between clients and caregivers, and health record-keeping and electronic visit verification.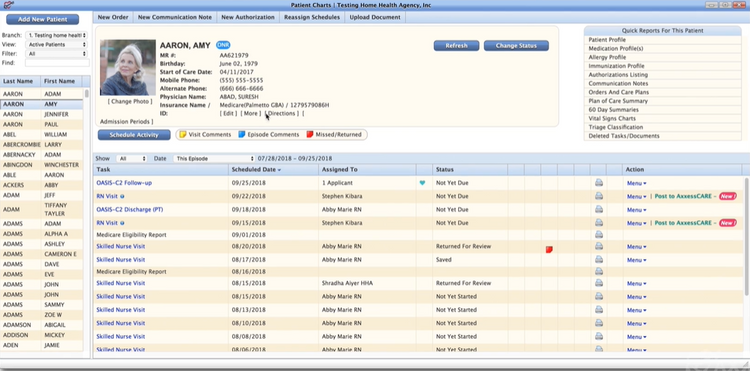 Features of Home Health Care Software
Point-Of-Care Charting: Enables field staff to document at the patient's bedside via mobile devices such as iPad or Android tablets or phones. Electronic clinical charting lets you track, store, and access patient files electronically. Records, updates, and archives crucial patient data that includes immunizations, former diagnoses, current prescriptions or active medicines, lab test results, and more.
Medical Scheduling: Schedule appointments between patient and doctor/nurse based on their availability. Send out appointment reminders to patients to avoid no-shows. View upcoming appointments in an easy to read calendar view and filter by an individual health practitioner. Schedule telemedicine appointments if the patient is unable to physically come in.
Medical Billing: Generate claims electronically, track active claims, record common billing codes, send reminders for collections, set up recurring payments, post payments to patient superbills, and post payment details to your HIPAA compliant accounting software or accounts receivable ledger. Send invoices directly to insurance companies or Medicare for collections and improve the revenue cycle management of your billing practices.
Clinical Documentation: Record necessary information required by the new Medicare Conditions of Participation (CoP). includes assessment, evaluation, care plans and visit notes for the six disciplines covered (skilled nursing, physical therapy, occupational therapy, speech-language pathology, home health aide services, and medical social worker).
Regulatory Compliance Checks: Create evidence-based protocols and best practice workflows. Options with cloud-based connections can adjust accordingly with changing regulations in real-time. Includes SOC, ROC, and recertification.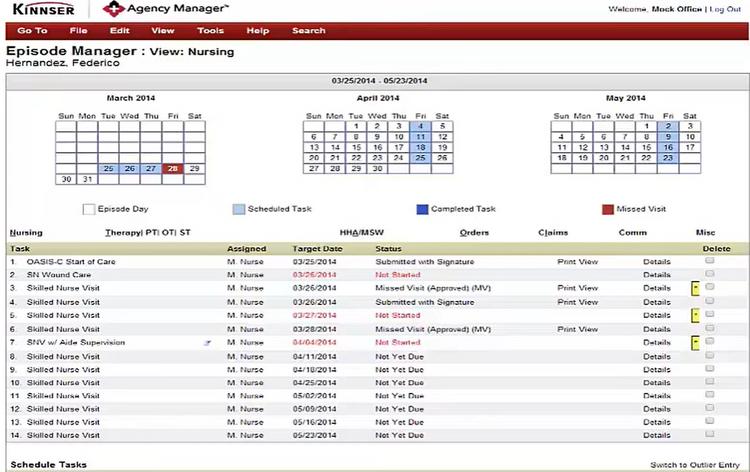 Benefits of Home Health Care Software
Some of the top benefits of home health care software include:
Document Accurately At The Point Of Care
Electronic clinical charting at the point of care is here to stay. This means home health agencies and long-term care facilities are equipped with mobile devices such as tablets and smartphones. Nurses and other staff members have the ability to note what is necessary during the charting process. This data then becomes readily available to others within your organization.
Being able to handle point of care charting can save your staff time and headaches. Electronic methods of gathering data will save time on documenting via manual methods. Previously, an employee may have had to gather information out in the field, and then return to the office in order to key that data into a primary EHR software. Point of care capabilities have cut out unnecessary double-entry, which means employees have more time to complete other tasks.
Likewise, eliminating the need to record data twice should help avoid any errors in redundant tasks. This can be caused by fatigue, by an employee relaying incorrect information to a staff member dedicating to keying in data, and more. Safeguards can be installed in point of care systems to provide checkboxes and reminders of missing information before finalizing a document.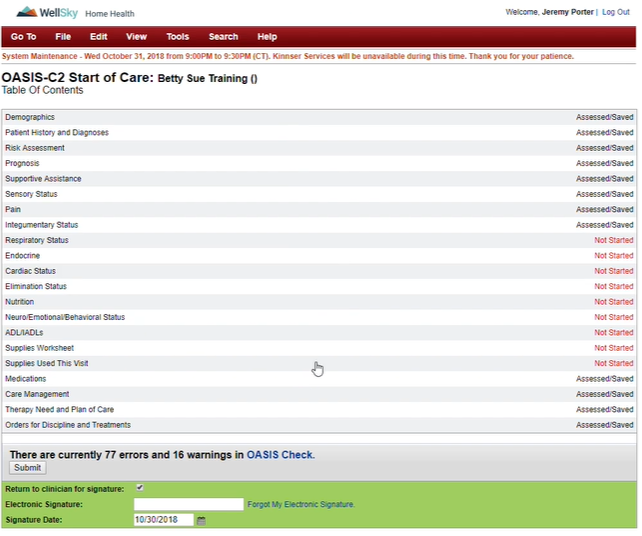 Stay Compliant with CMS Requirements
The CMS (Centers for Medicare and Medicaid Services) will set forth all regulations and guidance a home health care business needs to adhere to. A qualified home health software will offer comprehensive OASIS assessments to help thoroughly assess patients while staying compliant with Medicare guidelines. OASIS (Outcome and Assessment Information Set) is the patient-specific, standardized assessment used in Medicare home health care to plan care, determine reimbursement, and measure quality.
An OASIS assessment provided by a home care software includes Medicare M00 questions found on the home health patient tracking sheet. These questions gather information such as care time point, patient demographics, patient history and diagnoses, living arrangements, sensory status, integumentary status, respiratory status, and neuro/emotional/behavioral status.
Most home care software can still assist non-Medicare and non-Medicaid home care agencies by performing Non-OASIS assessments which are faster to complete.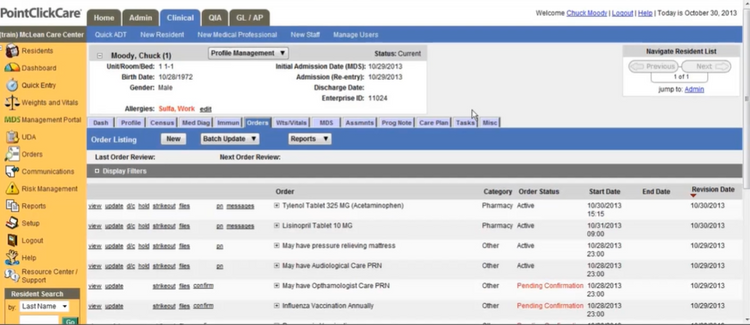 Streamline Workflows and Increase Margins
Home health care software provides advanced analytics and optimization tools intended to deliver better care for your patients at a lower cost. For example, real-time updates can keep employees notified in real-time to changes made to their work schedule. This can help better prepare them for certain visits and get background information on what their day is about to include.
Meanwhile, your administrative staff can closely monitor attendance to see what staff members are assigned certain home visits, who has checked in or checked out on time or had a late visit occurrence, and more.
Finally, some home health solutions will even offer route optimization capabilities. For a staff member who is assigned a number of home visits in a specific day, they may wonder what the faster method of getting to each appointment to avoid late visits. Route engines built into the home care system will optimize travel for your caregivers, which leads to less time on the road, and more time in the day for visits.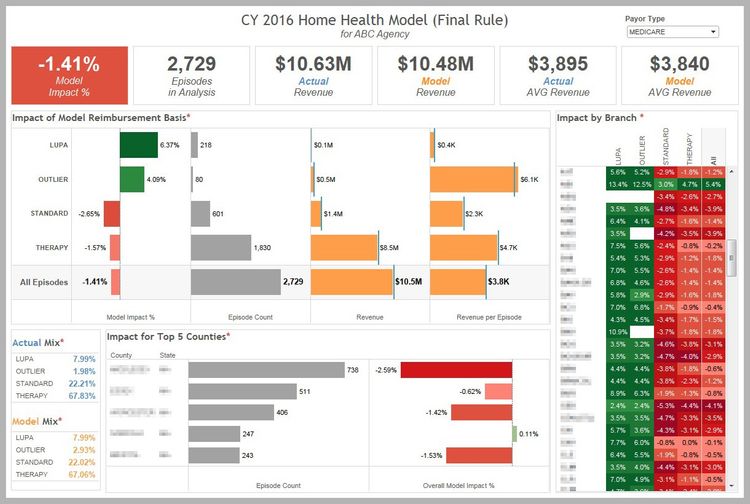 Home Health Care Software Pain Points
High implementation costs: While some home care solutions may advertise a low monthly rate for using their services, it's important to understand the true cost of ownership. Electronic charting can not be cost-prohibitive given the importance of the (and, at times, life-saving) data being collected. In addition to the ongoing cost of the software (such as a SaaS subscription cost for cloud-based systems), you need to take into account implementation and training, hardware costs (such as the tablets for point-of-care documentation), and connectivity costs.
Integration Issues: Many home health systems can provide fully-integrated systems to handle managing your home care operation. However, many may require connections to external systems such as EHR software or clinic management software. Some instruments used as point-of-care terminals (POCT) may not be interfaceable or may require unique docking stations or middleware in order to upload and/or transfer data.