Benefits are an important part of your company's compensation package. For human resource (HR) personnel, managing different benefit packages for each employee can be incredibly time consuming. Fortunately, software can streamline the process so companies can offer more complex and competitive benefits packages to their employees.
What is Benefits Administration Software?
Benefits administration software allows small businesses, brokers, agencies, and HR departments to manage all employee benefits for their company's full- and part-time employees, freelancers, and third-party contractors. In this situation, employee benefits may refer to special compensation and financial bonuses or insurance plans for healthcare, vision, or dental coverage.
Traditional benefit administration used to involve lots of spreadsheets and manually tracking employee performance. Sometimes covered by full-service HR software, benefits administration solutions are typically used by companies with multiple or customizable employee benefit packages. Self-service portals allow employees themselves to modify their benefit plans to fit their needs, freeing up your HR department to streamline other business processes.
Features of Benefits Administration Software
Dashboard: Create a custom dashboard for administrators, HR teams, or small business owners to manage all employee benefits
Self-service employee portal: Allow employees to access their own benefits packages and make changes through desktop or mobile apps
Talent management: Attract and develop new hires while motivating and retaining existing talent by offering ideal compensation deals
Performance management: Evaluate employee performance to ensure individuals and teams are aligned with organizational goals necessary to meet benefit requirements
Time tracking: Track employee work on select projects in real-time along with attendance and absences
Performance reward and/or discipline programs: Recognize employees who perform well while developing systems for handling employees who are struggling or not contributing to the bottom line
Reporting: Generate user-friendly reports on real-time employee engagement, performance, and other factors; measure the impact of applicable benefits on worker productivity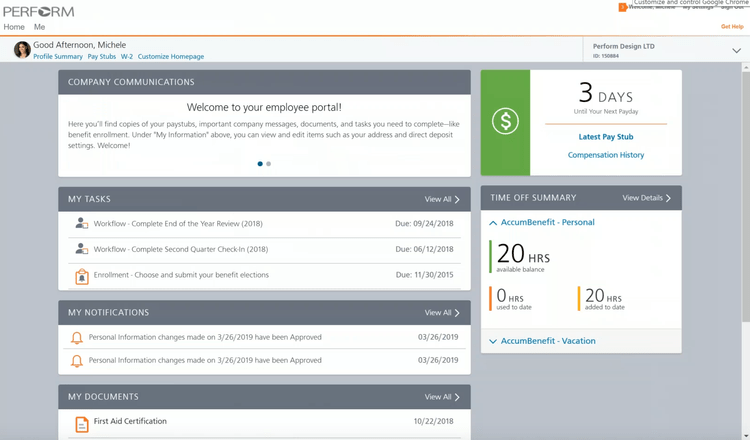 Best Benefits Administration Software Benefits
An independent benefits administration software provides many benefits to your company and employees alike. Improve your business or agency with:
Customizable Employee Benefits
Benefits packages are not one size fits all. Some employees prefer assets like stock options while others want more intangible benefits like paid vacation. The more benefits your company offers, the happier your employees will be. Yet without benefits administration software to manage them all, it can take entire HR teams to check employee enrollment and eligibility requirements. By utilizing a software system, a single benefits administrator for a small business can organize multiple benefit plans with ease.
Some of the most common benefits offered by companies include:
Paid time off (PTO)
Vacation or flex time
Paid or unpaid leave policies
Sabbaticals
Stock options
Any form of time off is generally considered a benefit, whether it's paid or not. Just letting new hires know they will have the option of taking extended vacations or family leave without endangering their career prospects can be vastly reassuring during the onboarding process.
Insurance options generally cover:
Health insurance
Dental insurance
Vision insurance
Disability insurance
Life insurance
User-friendly software makes it easier to manage different health plans from a variety of insurance carriers. These might range from full healthcare coverage to shared Flexible Spending Accounts (FAS). Select which options are most affordable for your company and best for your employees.
Healthcare is a very important part of benefits packages, especially since US-based companies of a certain size are required to at least offer insurance plans according to the Affordable Care Act (ACA). And if an employee's eligibility changes, you can use this software to get them started applying for COBRA coverage instead during open enrollment. Other countries often have their own healthcare plans and enrollment requirements which can be managed through benefits administration software.
Other popular options are:
Retirement plans (401(k))
Tuition reimbursement and student-loan repayment
Continuing education classes
Childcare service or special school enrollment rates
Travel compensation
Parking, commuter benefits, and fuel reimbursement
Relocation and housing stipends
Fitness programs and stipends
The exact benefits enrollment offered by your company will greatly depend on your industry and ideal workforce. For example, if your company wants to recruit the best talent and holds interviews with candidates from all over the country, relocation funding can help you make a successful deal. Software combined with applicant tracking tools can even show which prospects are willing to relocate or what other benefits they prefer, giving you an upper-hand when it's time to make an offer.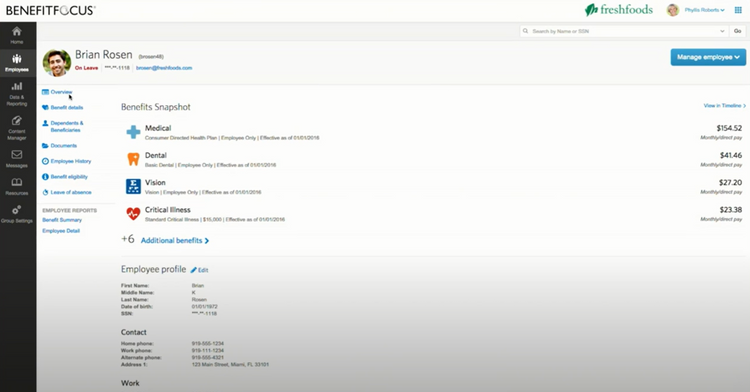 Local and Federal Compliance
Benefits administration solutions are also valuable for companies by providing compliance guidelines for local, federal, and international employment regulations. Depending on where your company is located, you may be required by government agencies to offer certain benefits, like parental leave, healthcare, or overtime compensation. In the US, this can vary from state to state and there are obvious variations between different countries. Benefits administration software helps you manage compliance wherever your work is located.
Software automation helps benefits administrators keep up-to-date with the latest, changing regulations. For instance, many companies update their healthcare plans based on potential savings or new coverage requirements for employees. Benefits administration software helps you maintain ACA compliance when pricing out and selecting new health insurance.
Recruit and Retain Better Employees
Additionally, competitive benefit packages can draw in better employees to your business. For starters, you can reach a wider pool of candidates by clearly stating your existing benefits, like healthcare, on a job posting. Next, you can adapt your benefits to match new hire demands. Imagine a high-quality candidate mentions a desire for health insurance and paid family leave during their interview, something your company currently does not offer. Instead of losing them to another company, you can adapt your benefits plan to match their wants. By accommodating customizable benefits, you can secure the right candidate as your next new hire.
The same methodology applies to retaining your current employees. If you have multiple commuters who spend a lot of time on the road, you can offer them the ability to select fuel reimbursement as a benefit instead of paying for all of them to relocate. Otherwise, those employees may want to leave the company if they realize they are losing money driving into work every day. A benefits administrator or HR team with software can identify what current employees want most to stay satisfied with their current job. And these custom rewards programs can be developed in real-time to offer additional incentive to your best employees when encouragement is needed most.
Finally, self-service portals allow employees to manage their benefits themselves. If someone wants to modify their insurance, such as adding a new dependent to their plan, they can access the information without needing to meet with the HR department. Cloud-based benefits platforms with employee self-service features can give users access through desktop or mobile devices, wherever they are working.
Benefits Program Software Integration Options
Benefits administration functionality is often included with full-service HR software. Other popular integrations for better managing and rewarding your employees include:
All of these solutions can improve how you or your agency serves employees with the benefits they want and need. If you prefer to use one benefits administration system, there are some software packages which include add-ons which cover these services. Find the right combination of software for your HR operations or stick with a standalone benefits administration package to save money.