What is Contract Management Software?
Contract management software, also known as contract lifecycle management (CLM) software, manages the creation, negotiation, signing, and renewal of legally-binding contracts, usually in a work project environment. This tool keeps track of a variety of activities that have a cost implication, which automates administration, ensures compliance, monitors risk, and helps trigger alerts to keep your business operating smoothly.
Many contract management systems offer a central repository to store all contact info–and advanced search tools allow all employees to quickly access the documents they need. Known as a specific type of document management software, contract management solutions can be used by any team that provides work on a contract basis, such as procurement, financial teams, sales teams, and more.
These solutions draft contracts with pre-determined and customizable templates. Submitted contracts sent back to your organization can easily be recorded via optical character recognition (OCR) software capabilities–streamlining your data collection processes. These tools can also help provide insight into your contract data by creating custom reports on work patterns, renewal times, and cycle times. This data can be linked with your CRM software to better improve customer relations.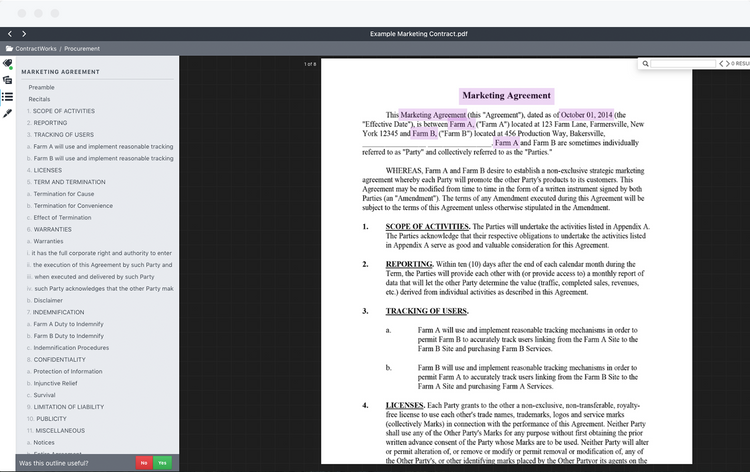 Features of Contract Management Software
Contract Creation and Templates: Draft and edit contracts with all required fields and clauses. Use pre-approved languages and templates that let non-legal professionals easily cover their bases. Sign contracts electronically through e-signature capabilities.
Contract Repository: Store contracts for the purpose of indexing, analyzing, and linking relevant documents to key contracts. Create a snapshot of the most important contract details.
Optical Character Recognition (OCR) and Advanced Search: Convert scanned images of text and documents into editable text formats. Usually converts PDF files into DOC files. Search your repository for specific wordings through search tools that can pick up what your scanned documents are referencing.
Alerts and Alert Rules: Get notified of renewals, pending obligations, provisions made to contracts, or adjustments to terms and conditions. Set up alerts based on any date field captured in the contract.
Reporting and Dashboards: Sort through all your contract data and create custom reports via columns you can filter and sort. Discover insights on work patterns such as renewal times, when obligations are met, and contract cycle times.
Approval Management: Create a contract approval process during the negotiation and review process. Handled through user selection and a routing order to improve approval workflows. Get updates when a contract moves along the workflow. Require electronic signatures at various points. Monitor redlining and collaboration via comments and chat.
Workflow Management: Tracks real-time progress throughout a contract lifecycle, assigns tasks to specific employees, and clearly describes project requirements within the system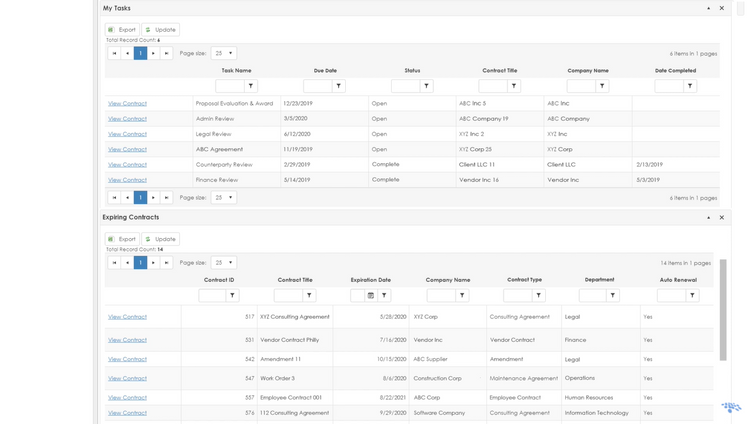 Benefits of Contract Management Software
The best contract management software will completely automated your contract process through automated workflows, expediting the contract review process via shortened approval times, and improve your preparation in the event of audits. Some of the top benefits include:
Reduce Risk and Ensure Contract Compliance
The biggest benefit a contract management system will provide your business is covering your bases surrounding contract terms, conditions, controls, and policies. Increasing contract compliance will encourage repeat business as well as standardize your processes when it comes to buying and selling, or performing your work duties for a client.
For example, when bringing on a new supplier, you'll need to take them through an onboarding process to verify their credentials and certifications. Doing so can help better identify which suppliers to use in various scenarios, and who may pose the highest risk of interruptions to your business–such as through regulatory violations, delays in shipments, and more.
Putting a compliance framework in place will also allow for better accountability from putting out a request, creating a contract, and having it approved. This is accomplished by securely storing the terms of the contract so they can not be altered or deleted at a later point. If a business you are doing business with can perform as stated in the terms and conditions, this should demonstrate their willingness to be compliant, and thus be someone you want to continue entering into contracts with.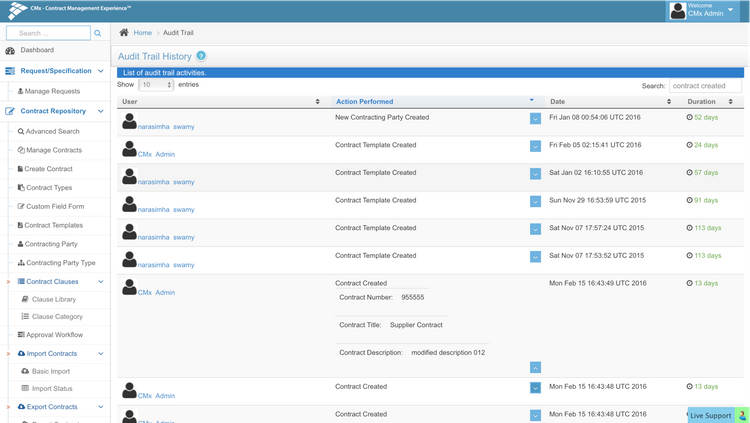 Improve Your Document Management
Contracts at their most basic level are documents, and contract management software can be thought of as a specific type of document management software. These solutions digitally receive, maintain, and archive contracts, and allow for the storage, sharing, indexing, and versioning of a variety of types and templates. If the two types of software are one and the same, then how does contract management software improve your document management?
A contract management software with strong document management capabilities will manage storage in the event of disasters through back-ups on varying servers or different locations. This means you do not need to outsource the storage of your contracts or use manual methods such as file cabinets. A contract management solution can be thought of as an extension of a document management software–letting you not only scan documents but also import new contacts from info received from the contract via OCR technology. Version control will also let you know which employees have been accessing and editing your documents.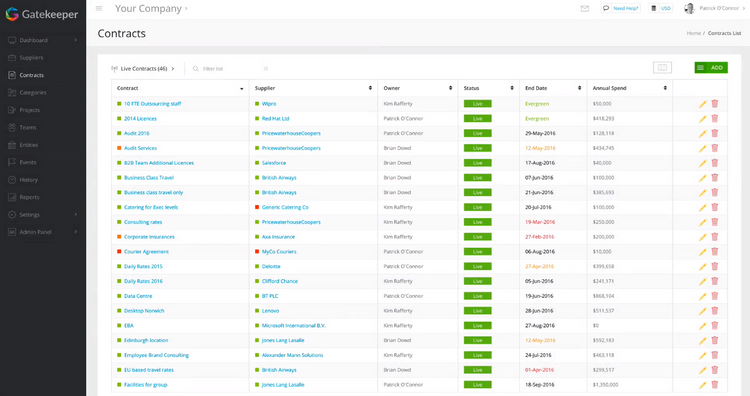 Lower Costs and Increase Accessibility
How does an additional software system that costs money help your organization lower operating costs in the long-run? Like any software purchase, you need to focus on the return on investment (ROI) the software can offer you. When it comes to signing contracts, your business can face penalties for payment errors or failures to stay compliant. A contract management software will help your business discover any opportunities to avoid shortcomings through contract administration.
This can be accomplished through improved automation in your contract lifecycle management process. By creating a workflow that your software can perform on it's own, you're freeing up resources (in the form of paid staff) to handle other tasks important to your business–reducing your overall costs spent on contract administration.
Increasing automation will also avoid common errors made in a manual contract review environment. With a centralized contract repository, finding misplaced contracts, utilizing smart search tools, or finding old negotiation details from former employee files is quicker than ever.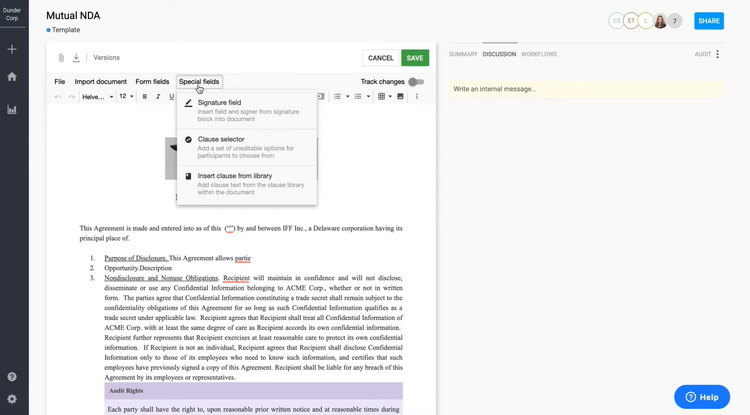 Types of Contract Management Software
There are a variety of contract management software options available for your type of business, including:
Small Business Contract Management Software
Small businesses and freelancers may want to cover their work offerings through signed agreements with their clients. However, they may think that a complete contract management software isn't for them. This may be due to cost concerns, or the belief that they don't have enough contracts to justify the purchase of the software. And they would be partially right.
Many business management software options may have a minor contract management functionality built into it. When creating a sales order, for example, you may be able to create specific terms that you can email to a client and have them sign off on. For small businesses looking for a feature-rich system (such as those best used by large entities), they may be better off looking into solutions that are more refined in the services they offer. Some small business options will address certain issues in the contract management process, at a much more manageable price tag than a complete contract management software.
Enterprise Contract Management Software
As opposed to the small business variety, enterprise contract management software offers a complete option that covers the entirety of an organization's commitments into a single unified system. These options offer the benefit of maximizing your companies financial performance, running routine risk audits to identify missed clauses and compliance with regulations, standardization across all contracts through templates and clause libraries, and real-time collaboration for a spread-out workforce.
An enterprise contract management system is typically used by medium to large-sized businesses that have multiple divisions and/or stringent compliance standards. These businesses may also do business in multiple countries–making compliance with regulations more important than ever.
Contract Lifecycle Management Software
While some software developers may market themselves as a "contract lifecycle management software", you can be rest assured you are receiving the same type of offerings as a contract management software. Both options will allow you to control, coordinate, and streamline all stages of the contract lifecycle. This in turn will optimize your contract performance.
The addition of "lifecycle" to the name is more commonly found in enterprise systems. These types of solutions like to consider themselves as a solution that offers more than what a baseline contract management software offers. CFO's and other top-level users can look for these options to optimize their procurement cycles and increase sales by more accurately forecasting revenue and improving compliance.
Contract Management Software for Healthcare
Healthcare contract management software–or medical industry contract management software–are specifically designed to be used in hospitals and health offices. These industry-specific options handle all of the complex regulations the healthcare industry faces–such as HIPAA, HITECH, and the False Claims and Joint Commission).
Common agreement types covered by healthcare contract management physician employment agreements, nondisclosure agreements, insurance and bond information, managed care agreements, and more. In addition, this specific tool will manage physician recruitment contracts, physician employment contracts, and medical directorship arrangements.
Pricing of Contract Management Software
The cost of contract management software starts at $59/user/month and can range as high as $775/month. The pricing model of contract management systems is dependent on the number of users requiring access, the number of contracts you'll be creating and storing in the software, and the type of package required.
A simple solution for drafting and creating contract templates will be on the lower scale, while a complete enterprise contract management solution will fall on the higher end. Some software may advertise itself as $XX/user/month but have a minimum user requirement–raising the effective monthly payment.