What is Plumbing Estimating Software?
Plumbing estimating software is made for plumbers and contractors who need to accurately and efficiently estimate the costs of pipe replacement, repairs, or parts upgrades for plumbing projects. A type of construction estimating and takeoff software, plumbing proposal products make it easy to calculate billable rates for specific projects based on the latest material, labor, and equipment costs. This software also assists with takeoff, job costing, and report generating.
Like most plumbing software, these estimating solutions tackle the specific issues which commonly face plumbers and not other areas of general contracting. As mentioned, each estimate considers labor, material, and equipment costs based on available on-screen takeoff data. This information then makes it possible to predict how much piping and fittings are necessary, how long a project should take, or how many additional laborers are needed to complete the job on time.
Additionally, estimating software can facilitate client or customer change orders made after a project has already begun by quickly adjusting the original estimate. Estimating software can be used by both residential and commercial plumbing businesses, along with limited contracting services.
Note: "Mechanical estimating software" is sometimes used interchangeably with "plumbing estimating software", especially if the software includes features for estimating HVAC and ductwork services.
Plumbing Estimating Software Features
Screen takeoff: Gain access to dimensional information extracted from digital plans and blueprints to auto-count piping, fittings, valves, and assemblies which can be converted into a list of required plumbing materials to determine the associated costs for those materials during the estimating process
Job costing database: Calculate material, equipment, and labor costs based on defined material base rates and quantity requirements stored in an automatically updating database
Estimate templates: Build customized templates for calculating costs on remodeling projects
Quote and bid management: Calculate plumbing project costs before pricing bids or offering customers official quotes for services
Change order management: Facilitate customer requests for sudden changes to agreed upon remodeling projects, schedules, or materials
Customer relationship management (CRM): Manage business-customer relationships from the initial bid through to additional remodeling projects
Document management: Store digital copies of important documents, such as past bids, quotes, and estimates,in one easily accessible system
Reporting and analytics: Analyze past plumbing projects to identify areas of improvement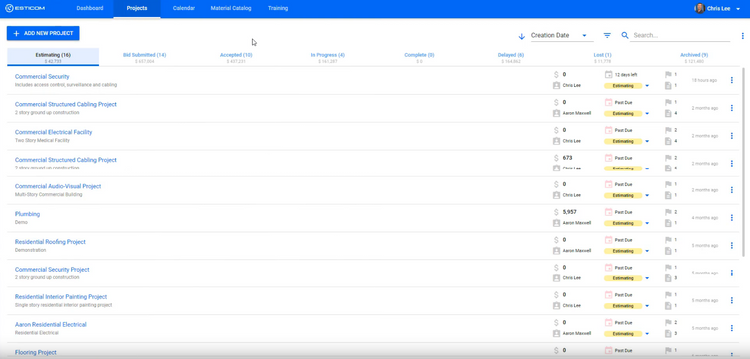 Best Plumbing Estimating Software Benefits
Plumbing estimating software can provide many unique advantages to your plumbing business. Learn all about the difference estimating software can make when quoting projects:
Better Quotes with Accurate Estimates
Plumbing jobs can range from a few dollars for new parts to thousands for major repairs, depending on the scale of the work. As a result, it's vital to have a specific estimating software capable of addressing the specific concerns of the industry to avoid under- or overpricing jobs. Software automates the estimating system and reduces the possibility of human error from making manual calculations on the fly.
Software keeps pricing information in one centralized cost database. No more handwritten notebooks filled with outdated manufacturer info - only the latest numbers being updated in real-time. And on-screen takeoff provides digital copies of blueprints which can measure how many materials are necessary. With these features, plumbing contractors can easily insert the cost information into a custom template to create a presentable, customer-facing quote.
Reduce Overall Costs
Many customers in need of plumbing expect free estimates before any work begins. By utilizing automated software, plumbers and general contractors can create accurate estimates faster than ever before. Cloud-based estimating software with compatible mobile apps on smartphones and tablets even allow quotes to be made instantly on the spot. This functionality is particularly useful for plumbers who specialize in emergency services or repairs where time is of the essence.
For example, a burst pipe is an undeniably urgent matter. Yet there is still a requirement for service businesses to provide the customer with an idea of costs before any repairs can begin. Streamline quote generation from plumbing estimating software can let you get to work faster by providing the latest material pricing for a replacement pipe along with other job management costs.
Accurate estimates don't just help customers - they help your entire project management process. After all, certified plumbers cover a whole range of services. By utilizing estimating software, you can handle quotes for all types of plumbing requests, such as:
Pipe repair or replacement
Fittings repair or replacement
Main line leaks
Clog clearing and pipe draining
Water heater installation, replacement, and maintenance
Sump pump maintenance
Sewer and septic repairs
Greywater system installation
Some of these services cost significantly more than others to perform. Utilizing user-friendly software to make customizable estimates can reveal which jobs offer the highest profitability and which have an ROI not worth your time. In this way, estimates can lower overall operating costs on future plumbing and construction projects.
Improved Customer Service
No one wants to overpay for plumbing. In fact, many people put off basic plumbing maintenance for fear of the cost. Yet there aren't a lot of options when something goes wrong and repairs are urgently needed. Some plumbing contractors take advantage of this, charging exorbitant prices from customers who can't wait for a better offer. Most licensed plumbers, fortunately, prefer to use automated estimating programs to charge their customers fair prices, even in emergency situations.
Additionally, quick quotes provide the opportunity for improving service by showing customers what they could save by ordering different parts or keeping up with maintenance. For instance, you can show a potential customer how much new pipes would cost based on what material they choose.
Quick turnarounds on estimates for services can lead to long-term customer loyalty. For many homeowners and property managers, plumbing work requires exact scheduling to avoid shutting off water during peak usage hours. Your potential customers will gain an idea of how long services will take when they get quotes quickly. By using estimating software with CRM tools to offer better customer support, you can increase your chances of being contacted again for more plumbing work in the future. And followup with the customer, such as asking if they're satisfied with your work, can provide an opening towards additional services when they arise.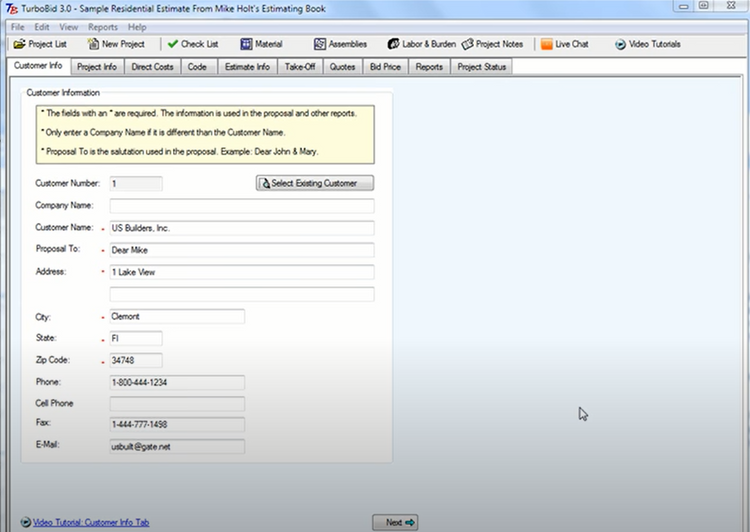 Plumbing Estimating Software Pricing
Estimating software pricing for plumbing depends on whether you want an on-premise or cloud-based solution. The on-premise products generally charge a one-time perpetual license fee while the cloud-hosted software is charged as a monthly SaaS. Each version includes varying degrees of updates, maintenance, and real-time IT support, though some may come at an additional cost. For instance, mobile apps accessible through iPhone or Android devices may cost more to install.
SaaS price options range from $19 per month up to $225 per month, with most priced per user. One-time perpetual license fees goes from $279 to $1,445 for a set amount of users. The best software options are designed to fit every budget and business sizes, from individually licensed plumbers to PHCC certified plumbing companies. Several options are able to integrate with general contracting or plumbing software for additional functionality, such as invoicing, work order management, or basic accounting.