It's not enough to simply carry the products that customers want. Especially in competitive markets, success demands more. The stiffer the price competition, the more important each opportunity for operational efficiency becomes. And the less wiggle room remains when it comes to meeting customer expectations.
These are the same basic business laws which have always determined the winners and losers, of course. It's just that each year the pressure notches up a bit more. The good news for online distributors and retailers, however, is that as the competitive pressures have increased, so too have the capabilities of management software tools.
Red Stag Fulfillment is a company who has made it their business to put technology to work to improve their order fulfillment capabilities. Literally. Red Stag is a third party order provisioning company that's developed their own internal management technology platform to enable their world-class fulfillment services.
Powered by an order management suite that supports over 50 e-commerce shopping carts, Red Stag has built an operational architecture that helps ensure client orders are flawlessly entered, picked, packed, and shipped.
An Interview with Jake Rheude of Red Stag Fulfillment
In order to understand better how Red Stag uses technology to improve their fulfillment services, keep tabs on their most important KPIs, and optimize warehouse operations, I spoke with their Director of Business Development, Jake Rheude.
Who Is RedStag and How Did It Come to Be So Invested in Answering the Question of What It Takes to Provide Top-Notch Order Fulfillment?
Why are we so invested in this mission? The answer is simple; we've been in the shoes of our e-commerce clients before.

Like so many businesses, Red Stag Fulfillment (RSF) was born out of a need experienced by our sister e-commerce company. They launched in 2008 with a great web development team, a strong marketing plan, a growing customer support staff, and an ever developing product procurement strategy. The decision was made to outsource fulfillment because the operations of the warehouse are so different from the core operations of a successful online retailer.

That being said, our order fulfillment partners consistently became the main bottleneck to the e-commerce business growth. The first two providers simply couldn't scale with our growth. The third provider proved to be the most devastating to us: Over a 20 month period, they lost over $200,000 worth of inventory. Pallets of product would arrive at their warehouse, but never made it into the live inventory count and therefore we were never able to sell them. Obviously losing such a high dollar amount of inventory is harmful to the business but the true incurred losses were actually significantly higher. Much of this inventory was strategically procured in anticipation of a bubble, holiday sales, or in conjunction with our marketing team who would create demand for particular products. If we spent weeks or even months advertising a sale and creating this demand, only to have the inventory never actually be able to be sold, then in such a scenario we were literally generating demand in order to drive customers to our competitors websites in order to fill that demand.

The fulfillment company ended up falling 6 weeks behind during the Christmas season in 2012. So orders placed in mid-November were not delivered to customers in time for Christmas. As you can imagine, this left some very unhappy customers. Once again, the fulfillment provider's lack of competence only directed the customers that we had worked so hard to gain to our competitors in the space. On Christmas Day 2012 the e-commerce team actually drove to the warehouse and helped for three days on the warehouse floor trying to get the backlog of orders through the system. It was during this time that we realized there is a severe lack of culture and general buying in from the warehouse staff. The incentive for everyone from management to the pickers and packers themselves was just to process as many orders as possible. There was no emphasis on accuracy.

At the time, (2012) Amazon prime was just becoming a prominent service level. Our goal was to compete with the service level through our e-commerce store, yet the CEO of this fulfillment company actually told us, "Amazon is an anomaly, they're not making a profit, and they'll be gone in a year or two&" We knew this was not the case.

Following this experience, Red Stag was launched in the beginning of 2013 as our attempt to build the world-class fulfillment provider that we couldn't seem to find.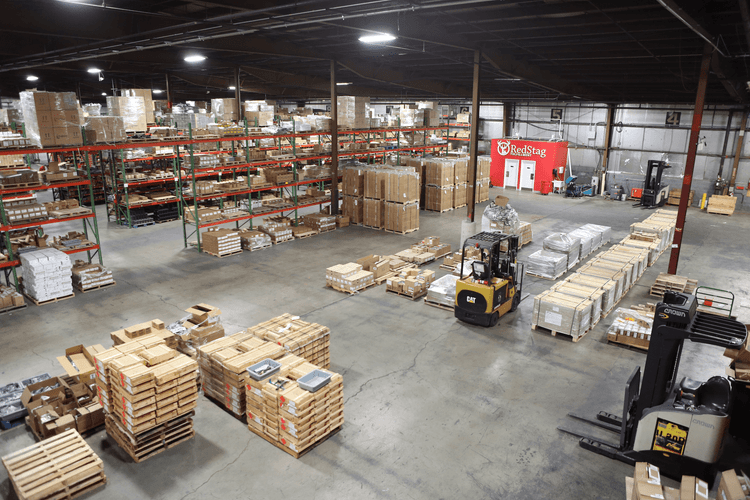 Can You Describe the Challenges Associated With Creating a Unified Technology Platform to Cover Tasks Ranging From Order Entry, Receiving, Picking, Packing, Transferring, Kitting, and Shipping?
Data is all managed through API connections. Our system pulls data from 50+ Shopping cart platforms, each time an order is placed, which initiates the picking and packing processes.

One competitive advantage we have is we offer a 5pm cutoff time. This means, all orders placed on your website before 5:00:00pm EST, we guarantee will be shipping the same day after being accurately picked. To do this at scale, our technology must allow for optimal picking speeds. Our system will take the inbound orders and batches them, (in 12 order quantities) in order to generate the shortest picking routes possible. This means a picker may only walk half the picking route, or skip over entire isles, depending on the location of requested products. This algorithm has significantly decreased the number of steps taken per pick, which is one of our internal KPI's.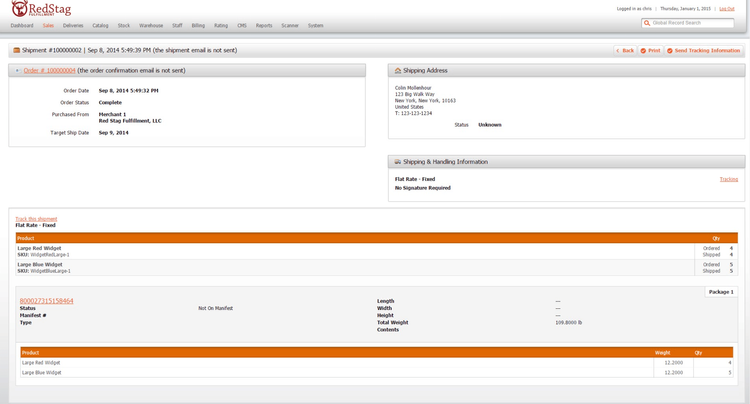 What Are the Most Important KPIs for Measuring Fulfillment Success?
On-time and accurately fulfilled orders, this is our main KPI. It's a combination of the number of orders we pick accurately and the number of orders processed on time. It does no good if in order is processed on time but contains the wrong combination of products ordered. Similarly it does no good if you pick the correct combination of products but that parcel doesn't ship in the expected time allotted. RSF has a 99.9997% accuracy rating of both measures combined.

Amazon (for obvious reasons) does not want the public to know how many mis-picks occur or other errors. We wrote a blog post HERE about one report that attempted to outline the cost of these types of errors. Our belief is that an error/mis-pick costs far more than $20-$30 per occurrence as it's related to customer value, brand perception, etc.
How Do You Quantify the Impact That Improvements in Order Fulfillment Can Have on the Bottom Line of a Business?
This is hard to do it times. Obviously loss or damage of inventory can be easily quantified based on the value of the inventory. What's less quantifiable are the total value measures such as a customer who receives the wrong combination of products and therefore has to create a ticket with e-commerce company, or call their customer service line, so that they can place a second order and wait three or four days for the new order to arrive. That's when you start having to take into account the lifetime value of that customer, if they choose not to shop on that e-commerce website anymore because of this poor experience, how much potential revenue is loss from that single interaction? Furthermore, what if the customer takes to social media expressing their lack of satisfaction with the order process? How many people they can influence and a buying decision because of picker in a warehouse picked the wrong items?
What Kind of Benefits Can Be Gained From Optimizing Where Products Are Physically Located to Improve the Efficiency of Warehouse Operations? What Are the Core Principles That Are Most Central to Your Company's Warehouse Optimization Efforts?
At Red Stag, we use an algorithm that batches picking of orders based on the location of inventory within the warehouse to ensure that our pickers are consistently making the shortest and most optimized picking routes possible.

To expand on the answer above, the algorithm uses its knowledge of where each unique SKU is located, as well as the quantity of how many SKU's are located at a specific pickable shelf space. This second part is critical: Say we have 3 pickable shelf spaces all containing the same SKU, #488. If pickable self-location A has 4 - #488's, pickable shelf location B = 7 - #488's, and pickable shelf location C = 15- #488's, an order for 6 units of SKU #488 will route the picker to the closer location between location B or location C, regardless of how close location A is because location A would not be able to fulfill the quantity ordered. Lots of fulfillment companies spend a ton of time managing the volumetric space utilized within the warehouse. And while this certainly is important, we find that we can provide a greater value to customers optimizing the amount of time required to pick and order.
What New Technologies Is Red Stag Looking to Further Integrate Into Its Own Order Fulfillment Processes in the Future?
Our primary focus for technical development is the software dashboard our clients interact with. For example, this year we introduced a new customer service portal to help expedite customer inquiries. Ultimately though, all of our new feature developments stem from the recommendations and the desires of our existing customer base.