What is Warehouse Order Picking Software?
Warehouse order picking software expedites and optimizes the product selection process for distributors along the multi-echelon supply chain. Combining warehouse management tools with inventory control and order fulfillment, this standalone software finds, selects, and prepares products for shipping to retailers or directly to consumers.
Sometimes just referred to as an order or picking solution, this distribution software is specifically designed for use in warehouse settings. It accounts for common factors along the supply chain, such as the increasing switch over from traditional static picking methods to automated storage and retrieval systems (ASRS). By using a warehouse order picking software, you can adapt your distribution system to fit modern needs.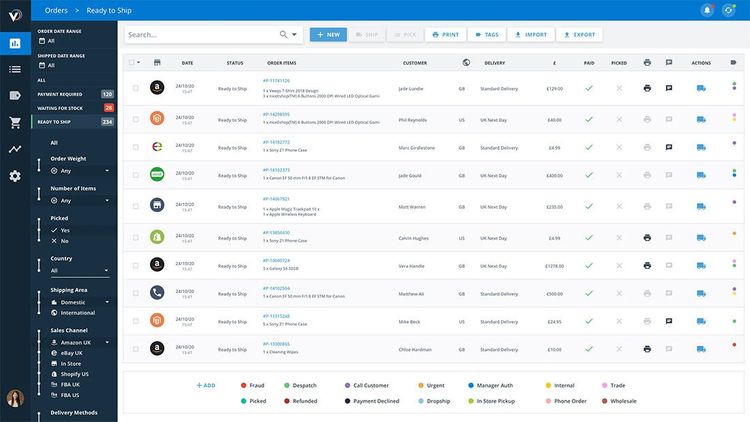 Features of Warehouse Order Picking Software
Inventory management and control: Track products stored at your warehouse in real-time to maintain an accurate stock count
Order management: Receive, track, and fulfill all inbound orders across multiple sales channels
Barcode tracking: Track item and lot movement throughout the warehouse via barcodes marked with UPCs and serial numbers
Warehouse management: Create an efficient warehouse picking method to maximize fulfillment speed while optimizing storage space
Automated pick lists: Send pick lists to warehouse pickers that contain customer info, date and time of order, order number, product location, product SKU, and a description or photo of the item
Automated notifications: Set custom alarms and notifications for low stock counts in order to restock goods in a timely manner
Shipping label creation: Print out carrier-compliant shipping labels detailing origin, weight, shipping class, and tracking numbers or barcode details along with destination and return address
Shipment tracking: Track all shipments and push tracking details to customers
Best Warehouse Order Picking Software Benefits
By optimizing the order picking process, warehouse order picking software helps traditional and eCommerce distributors in a variety of ways:
Create an Organized Warehouse Environment
Misplacing products in a warehouse can lead to lost revenue and unfulfilled orders. Between product racks and staging areas, it's easy for one item to wind up mixed with the wrong order. Know where products are at all times through tracking tools like barcodes and radio frequency ID (RFID) offered by an order picking system.
Analyzing picking patterns can reveal internal bottlenecks which slow down the entire process. In some warehouses, it may increase productivity to limit travel through certain areas by making one-way picking paths. This can decrease retrieval time while increasing potential storage space.
Easy Integration with Picking Systems
More than ever before, warehouses are turning to automated, robotic picking systems to speed up product retrieval and order fulfillment. Warehouse order picking software is compatible with multiple styles of picking methods. Some of these methods include:
Order-based picking or discrete order picking: Picks are only performed for a single order at a time, selecting each item and immediately preparing it for delivery
Cluster picking: Picks are made between multiple orders simultaneously to reduce trips to different pick locations
Batch picking: Picks are not performed until there are multiple orders for similar products made which can be fulfilled together
Wave picking: Similar to batch-picking, except performed based on timing throughout the day
Zone picking: The warehouse is divided into zones, with pickers operating based on which zone each product is located in
Each method has its own advantages and drawbacks. For instance, batch-picking is useful for continually retrieving products which are popular sellers. However, larger facilities may benefit from cluster picking in order to cut down on time repeatedly moving between different areas of the warehouse.
Incorporate Automated Storage and Retrieval Systems (ASRS)
By utilizing a warehouse order picking software, you can incorporate an automated storage and retrieval system (ASRS) into your warehouse processes as well. ASRS uses everything from robotic arms to self-driving vehicles to fully automate as much of the picking process as possible. With order picking software, ASRS can be combined with the above mentioned picking methods to best fit your warehouse needs.
For example, if you prefer batch-picking, lift trucks may be necessary in order to move multiple orders at one. Order picking software can automate the process of directing the trucks where they need to be to retrieve each product as efficiently as possible. Or optimize the route personnel take when retrieving individual items for order-based picking for faster overall fulfillment.
Fewer Delivery Mistakes
Shipping errors can be costly in several ways. First, the wrong order going to a retailer or consumer requires a lengthy returns process. Second, repeated delivery mistakes can lead to reduced trust from previously loyal customers. Finally, the wear and tear of making extra shipments to correct errors can take a toll on your fleet.
Warehouse order picking software assists with deliveries to prevent these errors from occurring in the first place. Automated picking processes ensure the right products are collected for each order. Then, custom shipping labels and barcodes accompany the outgoing order through its warehouse journey, from collection to delivery.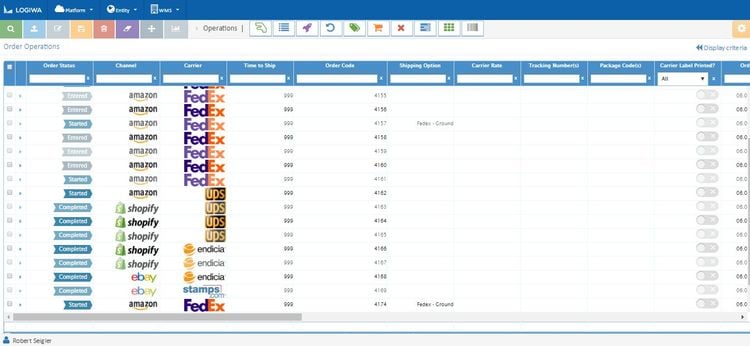 A Streamlined Supply Chain
Getting all of these different elements working together can balance the entire multi-echelon supply chain. Using warehouse order picking software to automate your distribution can streamline operations for everyone. Knowing your current inventory means you can keep manufacturers informed of when you are low on stock. In turn, you can let retailers know when to expect shipments.
If your warehouse works with third-party logistics (3PL), an order picking system can be beneficial for everyone by keeping everyone on the same page. Additionally, you won't need to hire additional labor when utilizing a seamless, automated system for picking orders.
Software and Hardware for Order Picking
Warehouse order picking software is just one element of optimizing your distribution system. Both software and hardware components need to work together to ensure your warehouse operates as efficiently as possible. Physical components for warehouse picking automation systems include:
Handheld or hands-free barcode scanners
Voice-picking headsets
Mobile devices
Open- and closed-sided shelving
Horizontal and vertical carousels
Automatic guided vehicles (AGVs) and autonomous mobile robots (AMRs)
Vertical Lift Modules (VLMs)
Robotic shuttles
Pallet racks and jacks
Lift trucks
Utilizing automatic and autonomous vehicles can also reduce employee injuries, particularly if your warehouse stores products which are large, heavy, or awkwardly-shaped. Robotic arms can do the heavy lifting, letting personnel stay out of harm's way. Integrating order picking software with your existing hardware can make your warehouse safe and efficient.