Accounting practice management software should have features for client and project management, time tracking, billing and invoicing, workflow automation, document management, reporting, and integration with other relevant software applications, while also providing a user-friendly interface and secure, reliable access.
To help you find the best accounting practice management solution, we've conducted research on a wide range of products to put together a collection of our best Accounting Practice Management software.
1

BigTime - Best Overall

BigTime is a cloud-based practice management software designed for professional service firms. It offers features such as time and expense tracking, project management, resource management, budgeting and forecasting, billing and invoicing, reporting and analytics, and integrations with accounting systems.

Mobile access allows users to track time, manage expenses, and access project information on the go. Overall, BigTime streamlines operations, improves project efficiency, and enables accurate billing and financial management for professional service firms.







What We Like
Multiple pausable time trackers
User-friendly interface
Integration tools for time management, accounting, reporting, and project billables
Overview
Price Range: $$
Starting Price: $10/user/month
Client OS: Windows, macOS, iOS, Android, Web
Deployment: Cloud or On-Premises
2

Canopy - Also Great

Canopy is a cloud-based practice management and tax resolution software designed for accounting firms and tax professionals. Canopy boasts a wide range of features starting with client management, document management, workflow, time and billing, payments, and insights. It also includes document review, payment processing, transcript retrieval, tax resolution assistance, and notice management. The practice management module enables automated client onboarding, facilitates secure file exchange, and effectively tracks client communications.

With Canopy's iOS and Android mobile app, clients can process payments, view invoices, securely share files, and electronically sign documents. This software seamlessly integrates with other programs like QuickBooks Online.




What We Like
Tax resolution assistance
Continuing updates and improvements
Intuitive interface
Overview
Price Range: $$
Starting Price: $89/month
Client OS: Web
Deployment: Cloud Hosted
3

Xero Practice Manager - Best for Small and Midsize Companies

Xero Practice Manager is a cloud-based practice management software designed for accounting and bookkeeping firms. It offers features such as client management, time and task tracking, job and project management, document management, billing and invoicing, reporting and analytics, and seamless integration with Xero Accounting.

Small and midsize companies benefit from streamlined workflows, improved collaboration, accurate time tracking and billing, better project management, and access to actionable insights for informed decision-making. It helps optimize resource allocation, reduce administrative burden, and increase productivity and profitability for accounting and bookkeeping firms.



What We Like
Integration with Xero accounting
Highly configurable
Custom reports
Overview
Price Range: $$
Starting Price: $149/month
Client OS: Web
Deployment: Cloud Hosted
---
What is Accounting Practice Management Software?
Accounting practice management software helps accounting professionals, CPAs, and bookkeepers with task and project management, workflow automation, and collaboration with their team and clients. This is accomplished through real-time employee time-tracking, task management, work-in-progress billing, CRM features, and more. In short, the software records, translates, and interprets data into actionable steps–telling you who has done what work, when, and how often, as well as what deadlines have been met and what tasks are overdue.
Accounting practice management software automates repetitive tasks for both sole accountants and large firms, enhancing client experiences and reducing time spent on data entry.
Traditional time and billing software, a mainstay in professional services like accounting, is now part of accounting practice management, offering more tools for workflow management, client communication, and financial service delivery.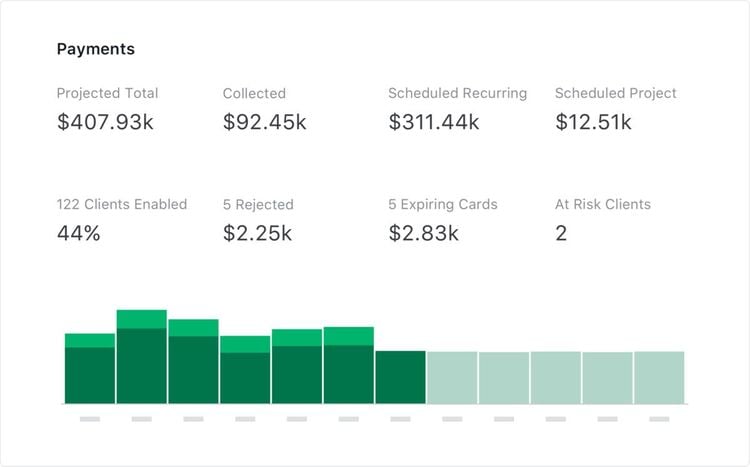 Features of Accounting Practice Management Software
Proposals: Draft proposals that include your service offerings and pricing. Include proposal options to allow clients to select their preferred pricing options. Generate contracts and engagement letters to accompany proposals. Allow clients to enter payment details and digitally sign contracts completely online.
Payments: Manage the billing process between you and your clients. Create flexible billing payment terms as laid out in your contracts. Allow payments via multiple channels such as debit, ACH, and credit cards. Integrate with your accounting software to reconcile your books.
Recurring Billing: Manage automated payments in real-time for goods and services your business provides. Adjust recurring billing days to ensure constant cash flow.
Client Management: Store details of your client relationships, such as contact info, communications, contracts, proposals sent, invoices sent, payments received, outstanding payments, and more.
Engagement Letters: Create written agreements that describe the business relationship between the client and the company, including the scope of the agreement, the terms, and the associated costs. Set expectations on both sides of the agreement.
Reports and Dashboards: Create dashboards or visual representations of key performance indicators (KPIs) from multiple data sources to help forecast your revenue. Help monitor current operations (business performance), provide tactical ways to achieve business goals, and analyze situations, employees, departments, and more, to determine how to better the health of your organization.
Benefits of Accounting Practice Management Software
Some of the top benefits provided by accounting practice management systems include:
Eliminate Manual Processes and Enhance Your Efficiency
59% of a financial department's resources are spent on managing transaction-intensive processes. And 95% of that effort is spent on transactions that already match, instead of problem entries. In short, manual processes are bogging down your financial department.
Implementing automation into your accounting practice management will eliminate repetitive tasks such as manual billing and manual reconciliation. This increased efficiency through workflow management will also eliminate the need for paperwork–turning your office into a digital space that can freely send documents back and forth without the need to wait on paper copies.
Efficiency is also enhanced when the accounting practice management system is streamlining 3 key areas:
Highlighting upcoming work, such as client tasks, deadlines, and overall workloads
Service overviews that show what needs to be done for each client
Job tasks for clients are divided into manageable portions for staff, enabling task distribution among team members…
Every minute your staff can save through automation offered by accounting practice management solutions is crucial, as it means your staff has more time to focus on working on, rather than in, your business. Even if the time savings are minuscule (such as saving time writing an email, following up with a phone call, or having to create a gameplan around a minor issue), accounting practice management software will help make your business more efficient.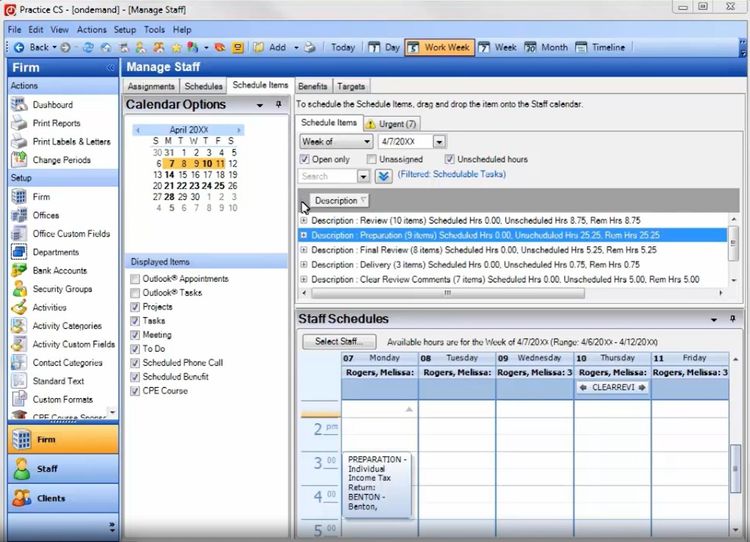 Improve Client Services and Improve Your Team
Effective management of your accounting practice results in improved services, such as meeting deadlines and better client communication, fostering repeat business and steady cash flow.
Accounting practice management software enhances team efficiency, resulting in higher service quality. The time saved through automation allows accountants to offer higher-value services like forecasting, advisory services, and budget assistance.
A healthier business leads to satisfied clients, a better-performing team, and thus an increase in revenue. How is this possible? Clients may be more likely to refer leads to you, or your business may be able to spend more time marketing their services–hopefully both!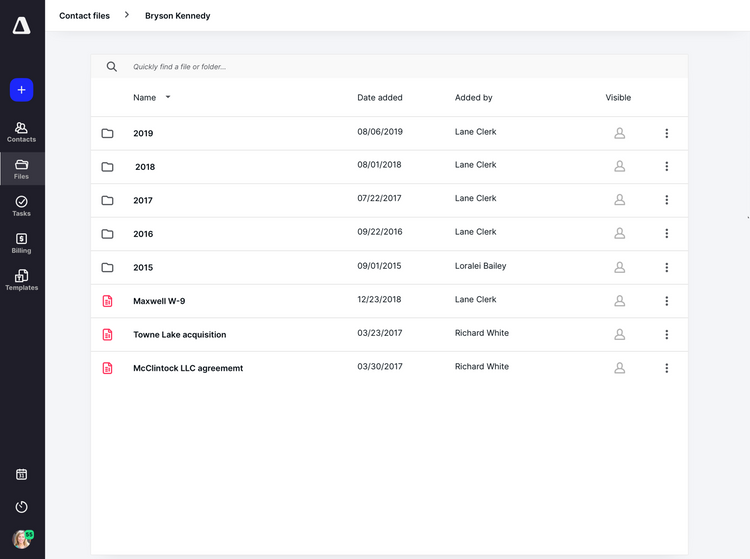 Provide Scalability To Your Firm
As businesses aim to grow, they naturally start small and gradually acquire more clients. This expansion often necessitates hiring more employees or finding larger workspaces to handle increased workloads.
The right software maximizes business potential without extra hiring, by redirecting staff from administrative tasks and data entry to client-centric work. This improves efficiency and can help attract larger, more profitable clients, thus increasing profit.
How does an accounting practice management software accomplish this? The first step is by identifying the mistakes your business makes. Accounting practice management software identifies business inefficiencies, spotlighting wasteful time use across departments or employees. It aids improvement by providing key performance indicators through reporting tools, offering actionable insights on profitability, revenue cycles, costs, and productivity.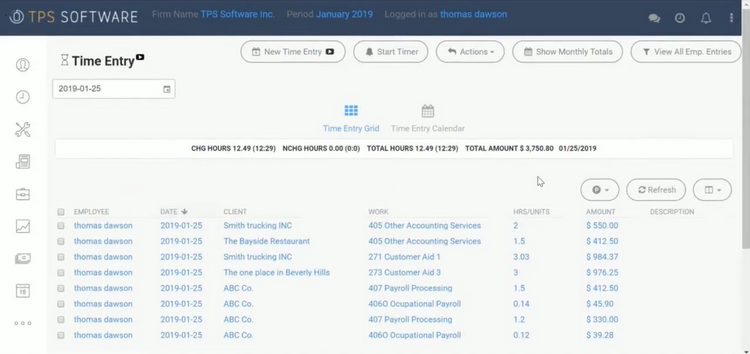 Integrate With Your Accounting Software
Practice management software for your accounting firm is intended to manage the day-to-day operations of your practice–managing both your employees and the work being done for clients. The work being performed for clients is financial services–usually provided through your firm's accounting software. Examples of some of the most used accounting software by accountants include Xero, QuickBooks Online, and NetSuite.
The right accounting practice management software will be able to integrate with your accounting software for a variety of reasons. For example, tasks completed for a client in your accounting software can automatically be marked as done in the practice management tool.
This means your staff can quickly proceed to the next task without using a separate program to mark tasks as completed. This demonstrates how accounting practice management software can reduce manual data entry and accelerate account reconciliation through automatic sync and data integration.
The right software will also be able to import and export files to keep all of your data up to date (such as bills, invoices, and payments).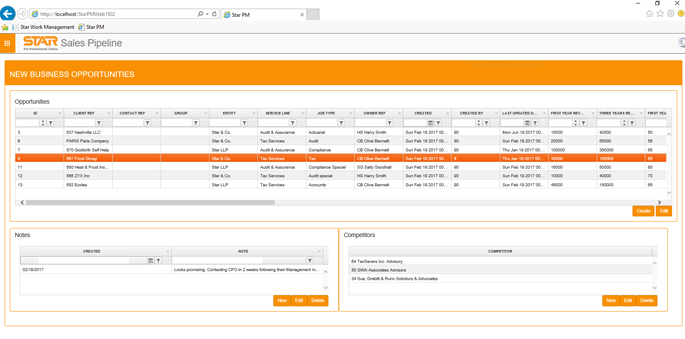 Target Market of Accounting Practice Management Software
Bookkeepers: Whether working individually or as part of an organization, bookkeepers handle ledger accounts, record transactions, and maintain up-to-date accounts. Given their varied daily tasks, they would greatly benefit from the task management features of accounting practice management software to ensure all duties are covered.
Accountants/CPAs: Accountants and CPAs maintain and interpret financial records for both individual clients and larger businesses.These professionals would benefit from the reporting features of accounting practice management software, which ensure the accuracy and legal compliance of financial documents.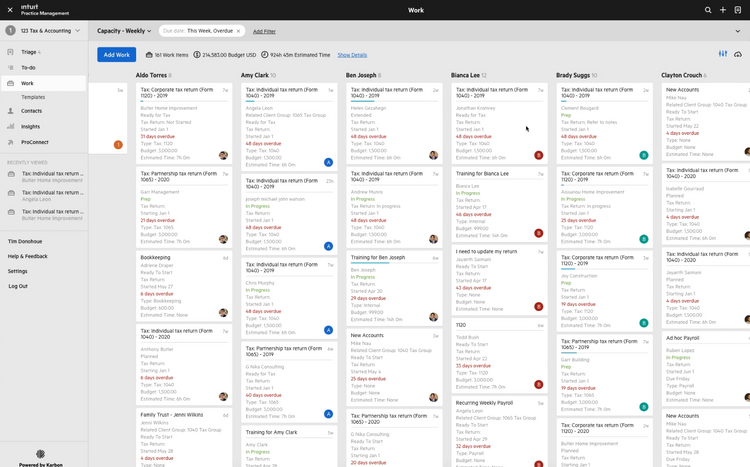 What Type Of Buyer Are You?
The type of accounting practice management software you choose may depend on your business size, as options are often marketed based on the typical size of the firms they support.
Small Accounting Firm
Typically, a small firm seeking a practice management tool has outgrown the use of time slips and spreadsheets. Even though they might still use time slips and spreadsheets, these firms may seek the organization that accounting practice management software can provide.
Small accounting practices may not require the complexity of enterprise-level software or bear the same costs. They should focus on core needs like time and billing, project and task management, or software usability. Sometimes, user-friendly software with an intuitive client portal is enough to meet client needs.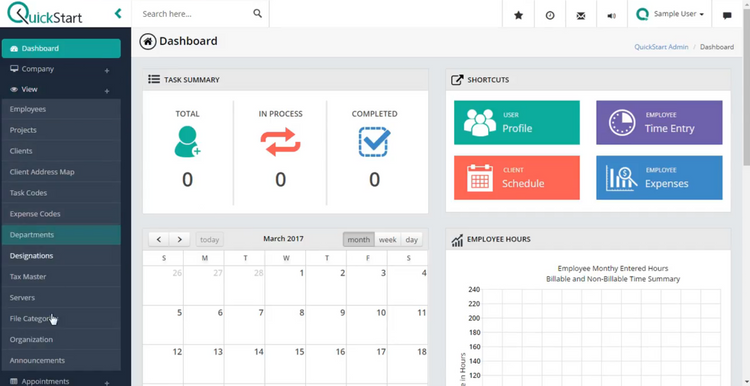 Mid-Sized Accounting Firm
Mid-sized accounting firms may want an enterprise-class tool offering power and flexibility without a hefty price tag. They might prefer online, subscription-based software to minimize upfront costs and allow for easy adjustments, scaling up or down as their needs evolve.
Examples of tools desired by these mid-sized companies include billing and tasking, workflow management, and easy time tracking in online timesheets–whether through desktop or mobile devices.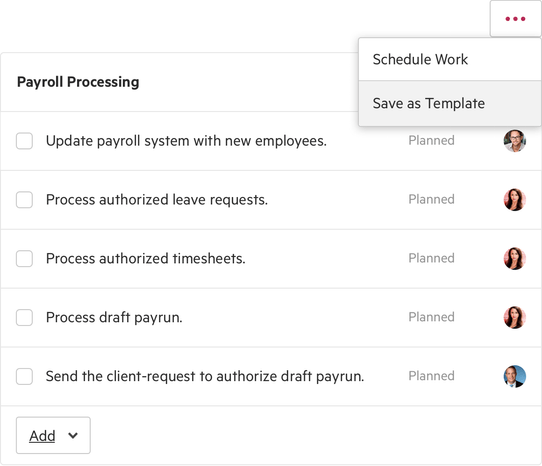 Large Accounting Practice
Larger accounting firms may need software with user access and permissions control to manage information accessibility based on staff roles. For instance, while a bookkeeper may not require access to employee productivity reports, such details could be reserved for upper management.
Team members may benefit from collaboration tools that centralize all client and team communication. Checkpoints can be implemented in the communication chain to review content before it's sent to clients, preventing the spread of misinformation.
A larger accounting practice might prefer locally hosted software to keep data in-house, possibly due to client stipulations regarding financial data management. These on-premises solutions typically require an outright purchase with a larger upfront cost.