In a perfect world, construction billing would be correct, quick, and easy. Not the terms that come to mind when you think of your process? Construction accounting is undeniably complicated and unwieldy, yet you need it to ensure your construction business gets paid accurately and on time. Fortunately, by learning about the best construction billing methods, you can improve your cash flow processes:
Construction Billing Methods
The top three construction billing methods are: advanced, progress, and arrears.
Advanced Billing
Advanced billing occurs before a project begins. While advanced payment is most often made as a single lump sum, it can be broken up into smaller installments. Construction companies often use advanced billing to protect themselves from unforeseen expenses which might arise during the project.
Upfront payment provides several advantages to contractors, since they know they will have the necessary funds before a project begins. However, if there are any unanticipated expenses, they can be left covering the costs themselves since the client has already paid.
Progress Billing
This billing process occurs alongside the project, either based on a payment schedule (ie. weekly, monthly) or project milestones. There are a number of reasons why your company may want to bill based on progress, including more direct funding of project costs, such as equipment, labor, and subcontractors during work-in-progress.
Most contractors prefer using this method when dealing with large, long-term projects in order to ensure some form of payment is regularly received. You gain some protection against clients who may pay late or not at all.
Since this payment method depends on a project's progress, it is also beneficial to clients who can make their payments as they see changes progress at the job site. They can enjoy greater flexibility by breaking up lump sum payments into more manageable, periodic payments over the course of the project. However, this billing method is impacted the most by late payments, as contractors can stop construction jobs until the funds are received.
Arrears Billing
Arrears billing occurs after completion of a project and, like advanced billing, is often collected as a lump sum payment. Construction contracts will indicate what counts as "completion", as this may vary based on the project type.
This method offers contractors the ability to adapt job costs as the project progresses. Invoice markup can indicate exactly why more payment is expected at any point, such as the scope of work increases since the start of the project or increased material costs.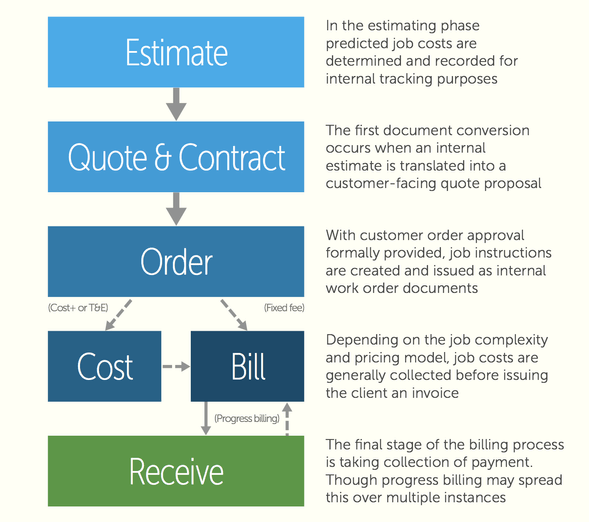 Why is Construction Billing so Complicated?
The crux of the problem when it comes to construction billing is the complexity of the process which is highly specialized. For instance, a certain project's cost might be determined by fixed price, time and material, unit price, and the tax rate. Some contractors treat each of these as separate billing methods, though they are largely categorized as job cost factors under each of the main three payment methods.
Once payment is received, general contractors can release the lien waiver to the client proving payment has been made. Without clear payment terms, there can be disputes between the client and construction company over who is responsible for covering all costs. For instance, the total amount of payment might cover anticipated costs but not unexpected delays. A clear contract can show clients exactly what they may or may not owe in the event of changes to the project timeline.
Job Costing
Accurate job costing is a must when dealing with construction billing. Before a project begins, you need to have a clear idea of what labor, equipment, and material costs you'll encounter along the way.
Other important factors to consider with your billing process include:

Construction billing should cover all of the above.
Which Method is Best?
The method you use will largely depend on the scale of your projects. Both arrears and advanced billing methods are preferred for short-term construction projects since there is a shorter turnaround between completion and payment. Progress billing is usually reserved for larger projects which will need a regular influx of cash to cover all expenses.
Other than the scope of the project, the billing method largely depends on your preferences. For example, a cost-plus contract would indicate both expenses and potential profits. With the progress billing or arrears methods, contractors can measure changes in their profit margins as the project continues.
Fortunately, each method can handle a variety of different payment types, including: traditional check, credit cards, electronic fund transfers, and online payments. Even cash can be accepted, though for legal reasons there are usually limitations on how much can be given and in what context.
There are also financial regulations to consider when selecting a billing method. For instance, the American Institute of Architects (AIA) created a standardized methodology of progress billing. Construction accounting software which conforms to AIA billing standards include two key forms: G-702 and G-703.
Construction Billing Software
If you are struggling with your construction billing processes, you're facing a significant issue that's driving up costs and hurting your ability to satisfy customers. Software can automate your billing process, from the initial estimate and job costing to the final invoicing and payment collection. Invoice templates allow you to send professional, customized bills to clients with clear cost details and payment due dates.
But the good news is that once you've tackled your billing practices with the right construction software, you've acquired a major competitive advantage–especially when you consider the general reluctance among your industry peers to strategically invest in IT. Software makes it possible meet critical business objectives:
Save administrative time
Reduce errors
Decrease AR cycle time
Eliminate scheduling delays
Coordinate better resource access
Improve communication with customers and subcontractors
Provide more accurate job estimating.
Take control of your construction billing cycle with the right construction accounting software and reap the business benefits that come with automation with a number of different functional modules: