Job cost software helps contractors determine costs on projects so they can better predict profitability. They include estimating, time tracking, and subcontractor costing functionality. Our team has compared the top job costing solutions available to help businesses find the right solution for their needs:
1

Knowify

Knowify is a cloud-hosted job costing and project management designed for both residential and commercial contractors. Whether you are a general contractor or specialized subcontractor, you can bring your construction business to the next level with real time data on all of your jobs. Industry leading bi-directional sync with QuickBooks for your accounting needs.
2

Procore

Procore is is your complete construction project management solution. This cloud-based product contains a variety of features to assist with scheduling, job costing, invoicing, and contract management.

The Job Cost module allows you to view job cost summary data and compare them against committed costs for each project. You are also able to drill down into the specific details of each transaction to audit even the smallest line items.
3

Corecon v8

Corecon v8 is a powerful, user-friendly cloud-based software suite with the tools you need to manage construction projects from preconstruction through closeout. Job costing is one of the main features contractors look for in software. Corecon handles project related financials, i.e. subcontracts, change orders, AIA invoicing, and budget tracking. Bid analysis tools are available to analyze vendor pricing side by side, and the team-based software allows multiple users to work on an estimate simultaneously.
4

JobTread

JobTread end-to-end construction management software provides everything your team needs from initial estimating to final project completion. Features include everything from customer relationship management to budgeting and invoicing.

JobTread serves small to mid-size construction companies throughout the US and internationally, whether they are homebuilders, remodelers, or general contractors. Annual subscription pricing for JobTread starts at $129 per month for the first user and $18 per additional user.
5

Buildertrend

Buildertrend is a construction management software designed to connect teams, improve efficiency, and increase profits for construction companies. This cutting-edge, cloud-based solution includes tools for Estimating, Scheduling, Change Orders, Client Communication, and Document Management, covering everything you need during the construction process. Bid management features help you reduce costs and accurately price out projects.
What Is Job Cost Software?
Job cost software facilitates the assignment of costs to individual cost categories in order to enable improved cost control and job profitability. Sometimes offered as part of construction management software, these solutions feature tools for streamlining equipment, material, subcontractor, and labor costing processes.
Primarily used by manufacturing and construction companies, job costing software can accurately report real-time costs of any particular project to better manage cash flow, invoicing, and expenses. Many solutions also integrate with inventory management and accounting platforms to create comprehensive systems to help businesses carry out work as efficiently and precisely as possible.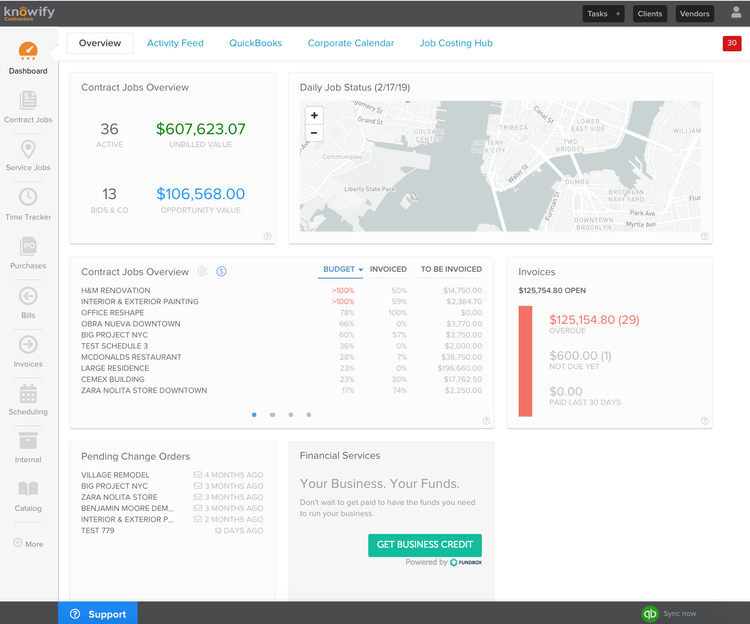 Job Costing Software Features
Job costing software is an essential tool for any construction business to track, assess, and carry out work with an understanding of ongoing costs. To achieve this, the key features of a standalone job costing software include:
| Feature | Functionality |
| --- | --- |
| Job estimates | Forecasts potential job costs based on historical data on previous projects, balanced alongside other pricing factors |
| Labor costing | Uses attendance and time tracking to calculate costs associated with employee labor on specific jobs |
| Equipment costing | Determines the assignment of equipment rental or acquisition costs to specific jobs; manages complex situations such as split job cost or direct/indirect cost divisions |
| Material costing | Tracks expenditures on supplies and other materials used in the execution of job work |
| Subcontractor costing | Provides an overview of costs incurred through hiring subcontracted service providers on construction projects |
| Time tracking | Ensures labor costs are accurate entered into timesheets of workers to reflect their time onsite and on the job |
| Customizable cost categories | Builds customizable cost categories with more granular specification of cost types than what can be provided through predefined cost categories |
| Job phase tracking | Divides jobs into different phases enables another reporting dimension useful to improving visibility of actual costs on more complex jobs |
| PO and customer payment tracking | Offers better visibility into accounts receivable by reconciling customer purchase orders and payments based on incurred job costs |
| Inter-job profitability/expense reports | Compares the potential profitability of jobs to determine which ones to pursue; use templates to create streamlined bids |
Best Job Costing Software Benefits
The obvious benefit of job costing software is to let construction companies accurately and completely track the financial progress of any job. However, there are several more advantages to implementing software to automate your job costing:
Improve price setting based on historical data: Modules analyze the cost of labor, equipment, materials, and subcontractors to determine the best possible prices for job estimates, ensuring organizations aren't leaving money on the table by undercharging for work in progress (WIP). Companies can adapt to projection forecasting on the fly to stay on budget.
Reduce workflow inefficiencies: Job costing software can help uncover inefficiencies in the execution of job work, identifying unprofitable jobs or unexpected problems that could contribute to a delay or work stoppage. Tools to help manage and understand these efficiencies can improve each job's process and increase overall job profitability.
Lower administrative costs: Rather than relying on manual data entry processes or a patchwork of spreadsheets, job costing software can automatically put costs and estimates into one streamlined interface, reducing the need for additional administrative work. Data can be imported from multiple locations or through software integrations, making it easier to estimate the price of jobs and calculate payroll expenses.
Target profitable jobs: While it may be tempting to pursue the largest jobs possible, bigger doesn't always mean better. Construction estimating can help determine the profitability of any job based on size and type, helping you take advantage of your best capabilities.
Better estimates: By understanding the true cost of labor, materials, and time, job costing software makes it easy to provide customers with accurate estimates which reflect the true cost of work.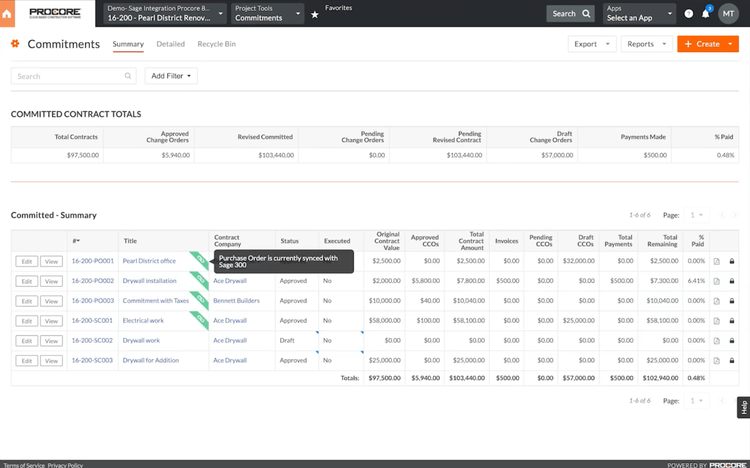 What Does Your Business Need?
Businesses across the construction industry choose job costing software to better anticipate their project costs, reducing unplanned spending. However, you need to select the right construction job costing software for your specific business to benefit the most.
Accurate estimates and job costing may be accounted for in very different ways, so choosing for your business may come down to its size and scope:
Small businesses may prefer standalone job costing software that allows them to move away from QuickBooks or a general construction management software for a more comprehensive job costing solution.
Medium businesses should consider a comprehensive job costing software package that enables better cost tracking of complex projects through automation.
Large businesses may be best equipped with job costing software that fully integrates with additional construction-related solutions, such as project management software, inventory management software, and construction accounting software.
Further, specialized construction companies often select a solution based on what modules are offered to fit their particular needs. For instance, the costs associated with a plumbing job are very different from that of an HVAC project. Some software suites add-on modules to address these industry-related differences.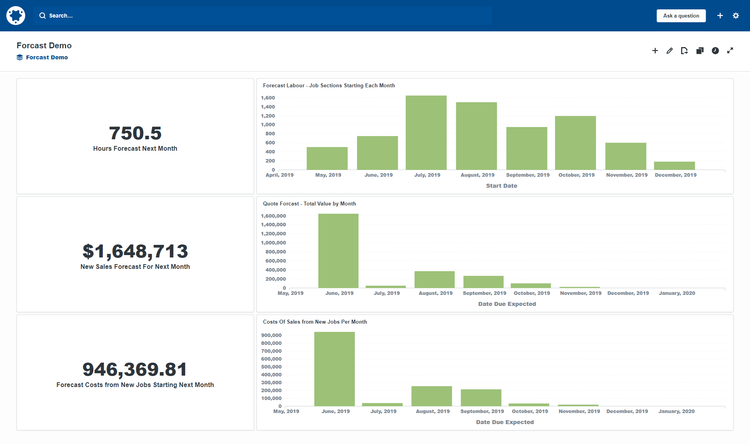 Latest Trends in Job Costing Software
Here are some market trends job costing software developers are currently taking advantage of:
Enhanced business intelligence (BI) capabilities: Software that takes full advantage of data analytics offers greater insights into job costing with more accuracy and better forecasting capabilities. As tools like artificial intelligence and machine learning become more prominent in the marketplace, expect these enhanced capabilities to grow even further with time.
Cloud-based software: Many vendors have begun offering cloud-based versions of their job costing software, making it easier to access information from any web browser instead of being tied to an on-premise solution. There are even mobile apps, accessible on iOS and Android devices, to allow further freedom.
Integrating legacy software solutions: As previously mentioned, some businesses currently use an all-in-one ERP, project management, or construction management software solution rather than a standalone job costing software tool. Many vendors now offer multiple ways to integrate standalone job cost software with existing systems.