What is Construction Accounting Software?
Construction accounting software provides core accounting modules along with a job costing, construction reports, and specialized construction billing. These systems will track the financial data of every construction project you complete in real-time, while also monitoring your expenses (like the cost of materials and labor) and revenue, as well as invoicing and payroll.
Construction accounting is unique since every project you work on will have unique revenue and costs associated with it. Having a construction accounting solution instead of a general accounting system will help you evaluate ROI at a job-level. Construction companies and contractors need to use a job cost structure with multiple layers to track the costs involved with their jobs (labor, materials, subcontractors, and more).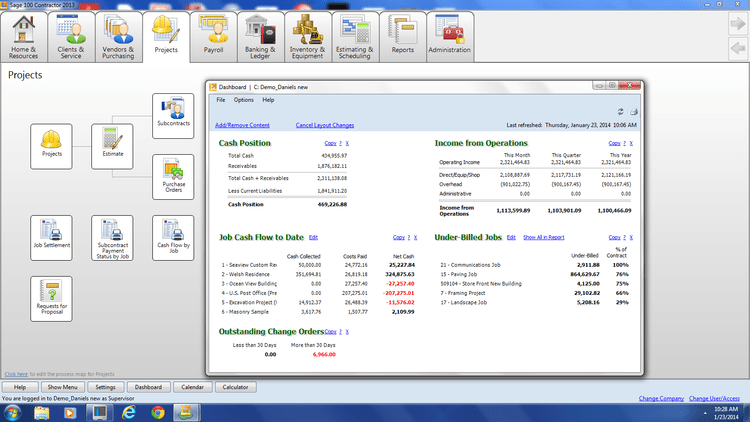 Features of Construction Accounting Software
A few of the core features in construction accounting software include:
| Feature | Description |
| --- | --- |
| Job Costing | Assign costs to labor, equipment, materials, and subcontractors associated with each project. |
| Payroll | Manage wage calculation, direct deposit, and tax management for subcontractors and employees assigned to the project. Manage all types of construction payroll including Certified, Union, and Non-Union. |
| General Ledger (GL) | Tracks all information related to income and expenses of the company. Creates balance sheets and income statements. Maintains all details to track profitability and help make financial decisions. |
| Accounts Payable (AP) | Manage expenses from labor, equipment rentals, and materials. Maintains cash flow to ensure your bills are paid on time. |
| Accounts Receivable (AR) | Stores details on customers and integrates into the general ledger. Includes construction billing and invoicing such as AIA, time and material, and progress billing. |
| Financial Reporting | Create custom reports to visualize where your time and money is being spent for each project. Analyze expenses and net profit to see where improvements can be made to increase ROI. |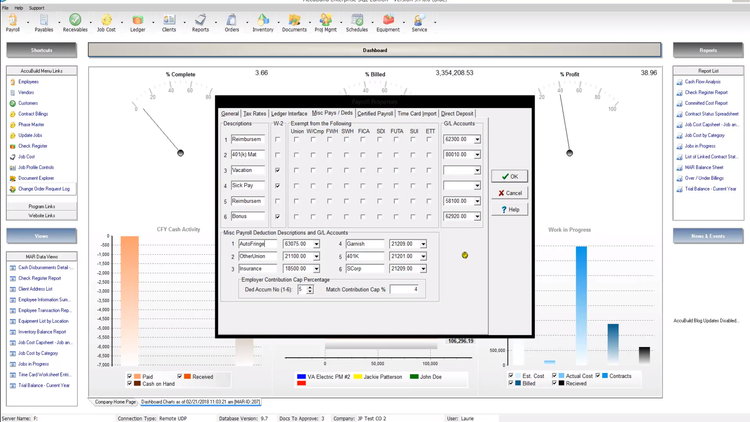 Benefits of Construction Accounting Software
Construction businesses that use manual methods to handle their accounting are at a huge competitive disadvantage to their competitors. Alternatively, construction businesses that use the wrong construction accounting software, or use multiple systems that all handle unique features, may struggle with integration issues or waste time on double-entry tasks.
Whatever your pain points may be, you'll want to explore these benefits of construction accounting software to find out if an upgrade is for you.
Better Job Costing
The biggest benefit of job cost accounting software is comparing estimated vs actual costs. This will let you monitor your financial performance in a job in real-time. Only a software developed with the construction industry in mind will be able to handle both small and large jobs for your construction business.
In our September 2017 Construction Technology Trends report, we found that job costing was the 2nd most desired feature in a construction software, with 72% of buyers saying it was a necessary to be included in their ideal solution.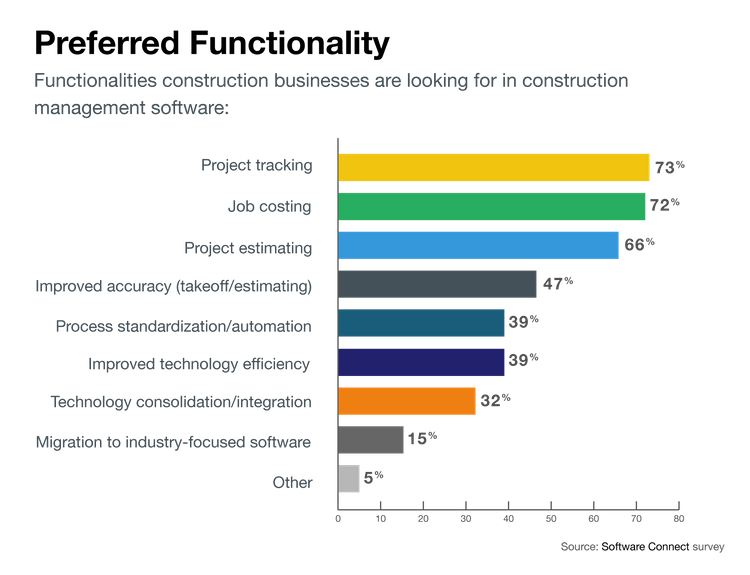 More Profitable Projects
Detailed records of every financial movement your company makes is the first step to increasing revenue. Quality construction accounting software will be able to monitor every piece of income or expense accumulated during a construction project.
Common factors improved include time tracking, material costs, change orders, and details on work a subcontractor has performed. With better insight into these pieces of information, you'll have a more complete view of not only your financials, but also your operational plans and expectations. If a project is not performing up to standards, you can find out before you affect profits or incur a loss.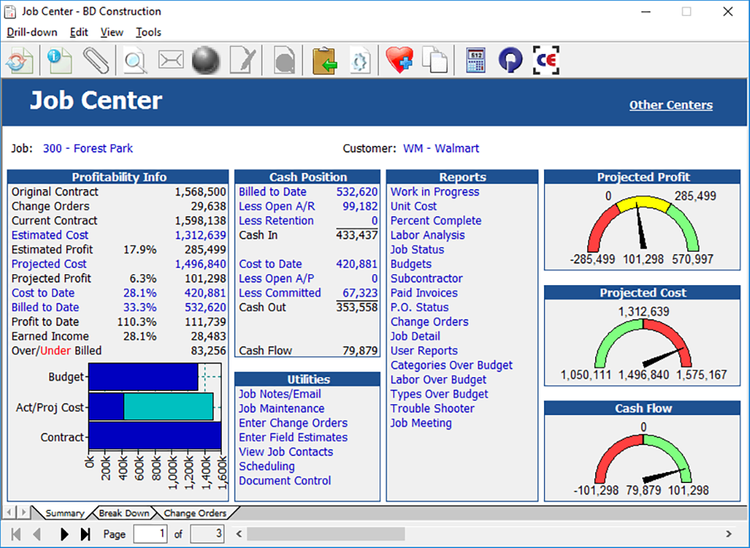 Improve Reporting
Construction accounting software can provide financial reporting that give you better insight into your operations. These reports can help facilitate better managerial decision making and let you monitor the performance of your business on a continuous basis.
Some of the most requested reporting options within construction accounting software includes consolidated financial statements, budget vs actual margins on jobs, cash and working capital status, and profitability by customer.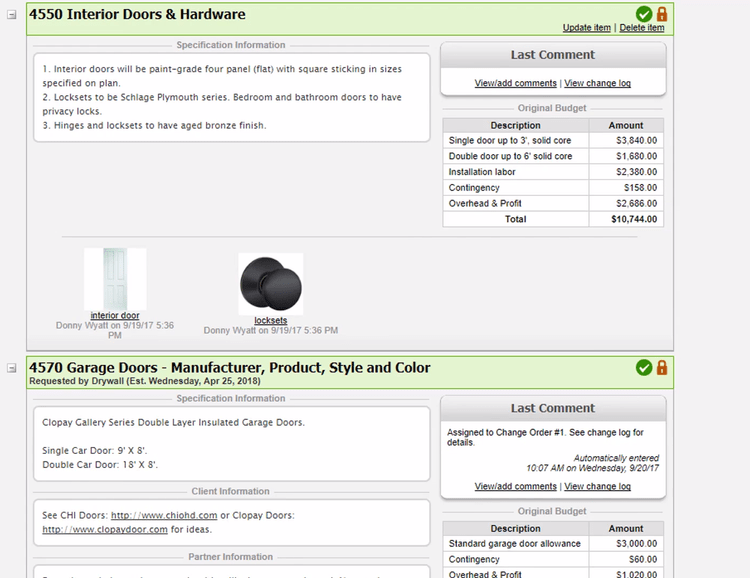 Construction Management Software or Construction Accounting Software?
What is the difference between construction management software and construction accounting software?
A construction management software will have more of a focus on non-accounting features such as estimating, scheduling, and project management.
A construction accounting solution will focus more on reporting, financial statements, and job costing.
A construction management software may sometimes lack a traditional accounting setup of accounts payable, accounts receivable, and a general ledger. This will require you to use a secondary solution for accounting.
A construction accounting solution can sometimes be defined as an accounting solution designed to be used by a construction company. This will include the AP, AR, and GL features, along with job costing.
Rather than having two standalone solutions that work together, all-in-one tools will provide the benefits of both. In fact, a large percentage of construction management software options will include accounting as either a core, or optional feature. Likewise, a solution may be marketed as a construction accounting software, but will include non-accounting features such as estimating, scheduling, and project management.
Job Costing With Construction Accounting Software
Job cost software facilitates the assignment of costs to individual cost categories to improve the ability of project oriented businesses to analyze cost control efforts and the profitability of individual jobs. Job costing is often thought of as the heart of a construction accounting software.
Job costing will primarily aid in dividing costs into main categories such as labor, materials, equipment, subcontractors, and any other custom fields needed. Job costing will also let you record costs on jobs worked and compared estimated vs actual costs.
A large benefit of using job costing with construction accounting software is estimating future jobs more effectively. This will let you set a profitable price point for contract work. You can also get more granular breakdowns of your cost categories. This will let your job managers find out which phases of project work could benefit from increased cost control attention.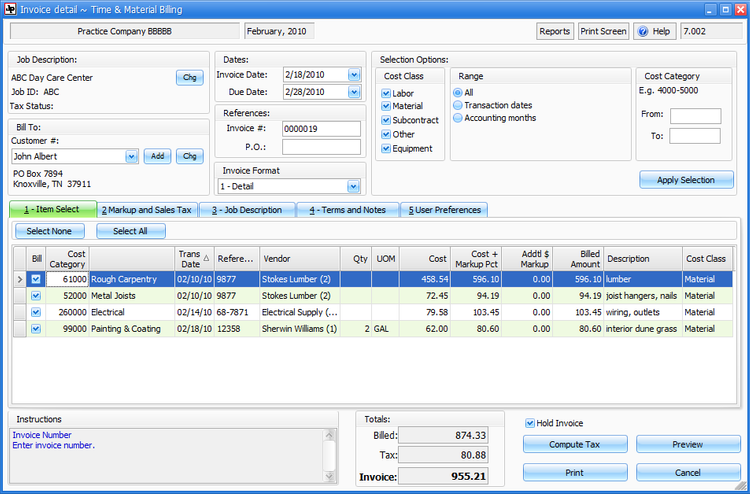 What Software Does Your Construction Business Need?
Small Contractors: Job costing will be the most important feature to help you manage your basic construction accounting. Most entry-level accounting solutions should offer some sort of costing functionality. A small contractor may be able to survive using an industry-neutral software such as QuickBooks or Xero, but may find themselves limited. It's important to weigh the benefits of cost-savings in software to not having the ability to categorize costs and analyze what jobs are profitable.
Mid-Sized Construction Business: Growing construction businesses should desire a more in-depth estimating tool and some level of bid management. They will also need to have an industry-specific tool and won't be able to survive using manual methods or a generic option like QuickBooks or Peachtree. These specialized options will also have vendors who specialize in implementing their software into construction environments.
Large Construction Business: Larger construction enterprises may specialize in a specific field and need specialized software to meet their needs (such as a large commercial real-estate developer, or a civil contractor). They may also have multiple entities with a need for many end-users. These enterprise level organizations should look into a fully-integrated construction ERP solution that provides every accounting and management tool necessary to run their day-to-day operations.
Is QuickBooks a Construction Accounting Software?
QuickBooks can be used as a construction accounting software given the availability of invoicing, job costing, and reporting features. You can monitor spend and make for each job, upload photos of receipts, and tag hours and expenses to jobs. Optional payroll features let you manage your contractors and save time on 1099s, W-9s, and tax ID inputs.
Construction companies looking to use QuickBooks for construction accounting will need to choose a version that includes QuickBooks Projects, which includes the job costing feature. This feature is only available to QuickBooks Online Plus and Online Advanced customers.
A few users of QuickBooks explained why they use QuickBooks in a construction environment:
I use it for client invoices, change orders etc… keeping track of subs costs on each job, overages on jobs for materials. It is a powerful tool that used properly will help your business with paper trails. kevjob, ContractorTalk.com
You are pretty much breaking things down into categories and then into sub categories. So if you want to know how much you spent on subcontractors… … [or] want to know how much you spent on subcontractors for job A, Job B, and Job C, you can. fast fred, ContractorTalk.com
Pricing for QuickBooks Online Plus will start at $35/month for the first 3-months. After the introductory rate, the software continues at $70/month. This includes up to 5 users. If needed, payroll will cost an additional $18/month + $4/employee/month.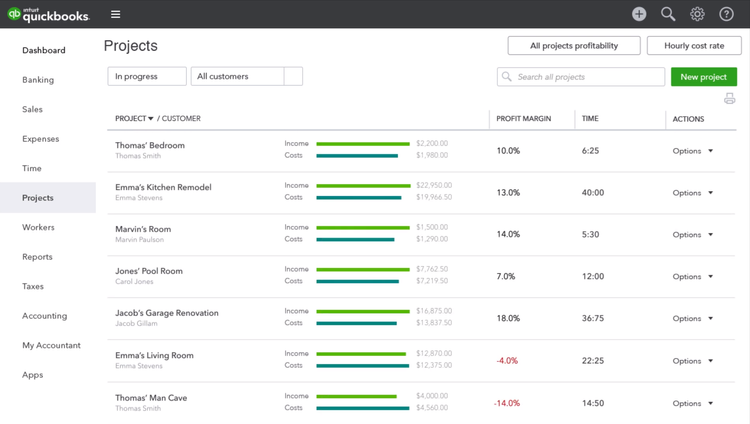 Best QuickBooks Alternatives For Construction Accounting
While QuickBooks may work for some businesses, others will want to review alternatives, or explore options that offer features QuickBooks doesn't. Our 2015 QuickBooks Alternatives study surveyed over 4,000 cases of QuickBooks users searching for replacements.
Common functionality requirements for contractors replacing QuickBooks included better job costing, project management, equipment management, bid management, and field service management.