Construction accounting software packages provide financial accounting designed specifically with contractors in mind. Features included usually include project accounting, job costing, and specialized progress billing. To help you find the best solution, we've conducted research and put together a collection of our best picks for construction accounting software.
1

Vista by Viewpoint - Best Overall

Vista by Viewpoint is a fully integrated construction ERP software with a strong accounting tool. The main accounting features include construction-specific payroll such as union and certified reports, a general ledger, and accounts payable and accounts receivable. The cloud-based is highly scalable, as it lets you purchase the project accounting applications on its own, then add features such as project management and estimating as needed.

Vista by Viewpoint Video Overview

Why We Like It: This construction ERP solution is scalable, highly configurable, and fully integrated to manage your operations, improve your productivity, and enable better decision-making. Since the solution seamlessly integrates project management, accounting, and operations into one, Vista by Viewpoint is one of the most complete construction accounting solutions available.
2

Sage 100 Contractor - Best Runner-Up

Sage 100 Contractor is a popular choice for small to mid-size contractors looking to streamline their accounting processes. The integrated solution automates estimating, scheduling, project management, equipment management, and payroll tasks.

Sage 100 Contractor Video Overview

Why We Like It: Many users of Sage 50c (previously Peachtree) have switched to Sage 100 Contractor due to its industry focus and ability to provide improved job costing and estimating. Sage 100 Contractor also has a large network of dedicated providers who specialize in implementing the software into specific facets of contracting, such as plumbing, electrical work, and more.
3

Procore - Best for Enterprises

Procore is a complete construction management software designed to combine project scheduling and job logging with accounting financials–leaving your business with nothing left to be desired. Unlike a normal accounting system built for the back office, Procore Financials was created with project managers in mind–allowing them to make changes in real-time.

Procore Video Overview

Why We Like It: The solution works on all mobile devices, allowing employees in the field to manage change and purchase orders from anywhere. Project executives back at the office can then create financial forecasts with the real-time data from the field. Project managers can look at where they are in terms of project costs all without leaving the worksite.

To better manage the large user base of enterprise-level operations, Procore includes unlimited users for all plans–meaning the price is determined per company depending on the products needed and amount of construction you do.
4

Premier - Best for Project Management

Premier Construction Software (formerly Jonas Premier) is a cloud construction software for general contractors, design builders, home builders, and real estate developers. The job costing feature helps find unprofitable jobs, match payments to invoices, drill down to the documents of each job, create accurate reports with real-time costs, and automate the calculation of payroll expenses.

Premier Construction Software Video Overview

Why We Like It: Job costing capabilities in Premier Construction Software aid in dividing costs into main categories such as labor, materials, equipment, subcontractors, and any other custom fields needed. The job costing lets you record costs on jobs worked and compare estimated vs actual costs. Using these capabilities, Premier Construction Software can increase customer service and billing cycle times through the use of real-time data.
5

ZipBooks - Best for Small Businesses

ZipBooks is a forever free accounting software that can be used in any industry. For the construction industry, the solution stands out over other free accounting solutions (such as Wave) due to the ability to handle project accounting. The ease-of-use includes drag-and-drop expenses into cost categories, invoicing, transaction views, balance sheets, and reports.

ZipBooks Video Overview

Why We Like It: ZipBooks can be accessed anywhere you have a web-browser. If you're on the job site, you can pull up the needed details from your phone or mobile device. The free version of ZipBooks includes unlimited customized invoicing, advanced financial reporting, and can accept digital payments via Square or PayPal. The paid version of ZipBooks adds-on recurring invoicing, time tracking, multiple bank account connections, and up to 5 users.
6

Buildertrend - Best for Mid-size

Buildertrend's financial tools features help you manage the lifecycle of your project finances–organized in one location. This includes capabilities such as purchase orders, change orders, time clock, online payments, lien waivers, and integrations with outside tools.

Buildertrend Video Overview

Why We Like It: Buildertrend allows you to generate line-item invoices from your estimate, change order, or customer selection sheet. You can also create, compare, and send bids and notify subcontractors via email or text. Accepted bids are rolled into contracts. Invoices can be paid online via check or credit card–allowing you to be paid faster.

To better control project financials, Buildertrend allows you to manage labor costs, billing, POs, and everything else that may be included within a project budget. Purchase orders that need to be created in the field can be signed off by subcontractors before being sent to management for approval.
What is Construction Accounting Software?
Construction accounting software performs a type of project accounting specifically developed for construction projects. These solutions track the financial data in real-time, while also monitoring expenses (like the cost of materials and labor). Use software to streamline your revenue reports, as well as invoicing and payroll processes, to stay on top of your company's finances.
Some unique functionality offered by construction accounting software modules include:
Job costing: Track and report transactions specific to each job.
Contracts and Subcontracts: Determine when to officially record income and expenses on a project based on details set out in the contract.
Specialized Billing: Invoice clients based on retainage, fixed price, time and material, unit price, and progress billing.
Construction accounting is more complex than general accounting when it comes to sales, cost of goods sold, expenses, and breakeven. These industry-specific software can provide the tools you need to automate the process.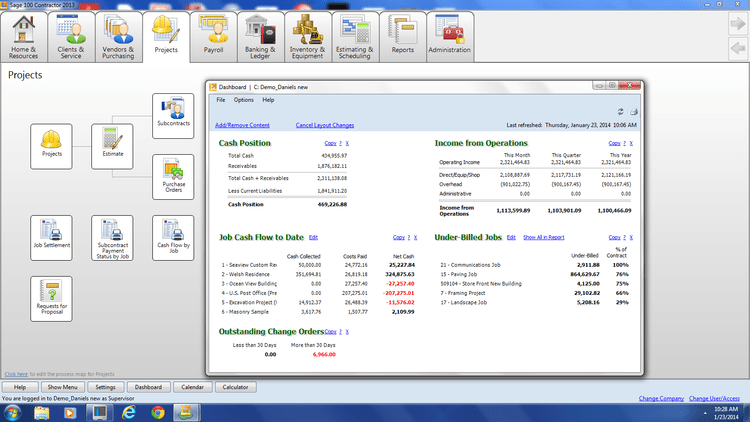 Key Features of Construction Accounting Software
When shopping for construction accounting software, your business should focus on the solutions with these key features:
| | Feature | Functionality |
| --- | --- | --- |
| Job Costing | Assign costs to labor, equipment, materials, and subcontractors associated with each construction project. | |
| General Ledger (GL) | Track bookkeeping information related to income and expenses. Creates balance sheets and income statements. Maintains all details to track profitability and help make financial decisions. | |
| Accounts Payable (AP) | Manage expenses from labor, equipment rentals, and materials. Maintain cash flow to ensure your bills are paid on time. | |
| Accounts Receivable (AR) | Store details on customers and integrate it into the general ledger. Includes construction billing and invoicing such as AIA, time and material, and progress billing. | |
| Financial Reporting | Create custom financial reports to visualize where your time and money is being spent for each project. Analyze expenses and net profit to see where improvements can be made to increase ROI. | |
| Payroll | Manage timecards, wage calculation, direct deposit, and tax management for subcontractors and employees assigned to the project. Manage all types of construction payroll including Certified, Union, and Non-Union. | |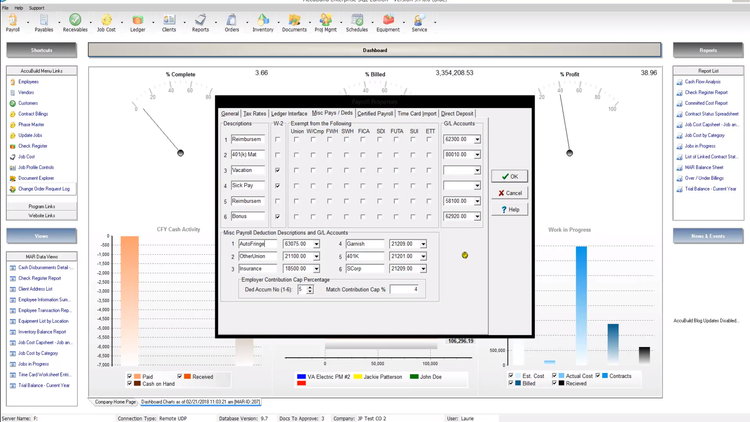 The Best Construction Accounting Software Benefits
Construction businesses that use manual methods to handle their accounting are at a huge competitive disadvantage against those using software, as filling out spreadsheets can take hours away from your other business tasks. Alternatively, construction businesses that use the wrong construction accounting software may struggle with integration issues or waste time on repetitive data entry tasks.
Whatever your day-to-day pain points may be, explore the benefits of construction accounting software to find out how an upgrade can help you:
Improve Job Costing
In construction accounting, job costing supplements the company's general ledger. Tracking labor, equipment, material, and subcontractor costs is useful to both project managers (to ensure projects stay below budget) and financial managers (who attend to the big picture of the company's financial health). Software lets you monitor financial performance in real-time.
How many construction companies need job costing? Our Construction Technology Trends report found that job costing was the second most desired feature in construction software, with 72% of buyers saying it was necessary to be included in their ideal solution.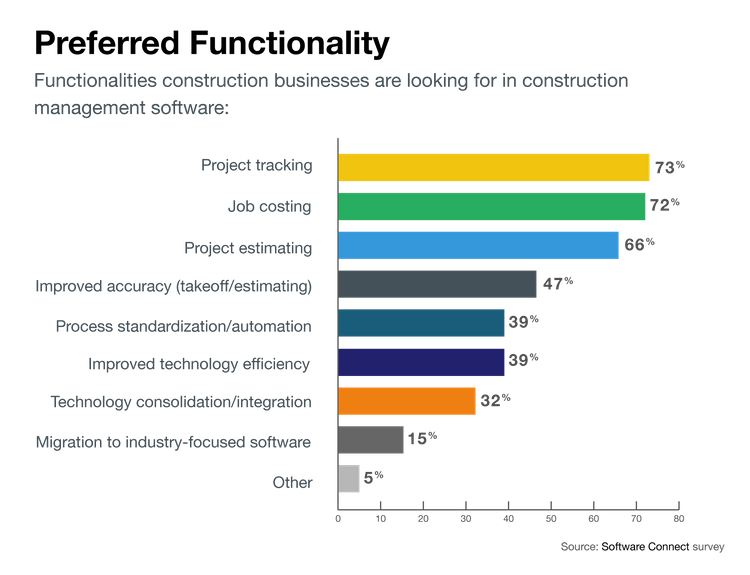 More Profitable Projects
By understanding your costs associated with completing each project, such as job costs and overhead, you can better determine which new jobs are likely to be most profitable. Keep costs down and finish the project under budget and within a specified amount of time by tracking all costs and billing them appropriately.
Better record keeping via time tracking, material costs, change orders, and subcontractor contracts can also lead to a better ROI. Better insight provides a more complete view of operational plans and expectations. If a project is not performing up to standards, you can find out in real-time before it affects profits or incurs a loss.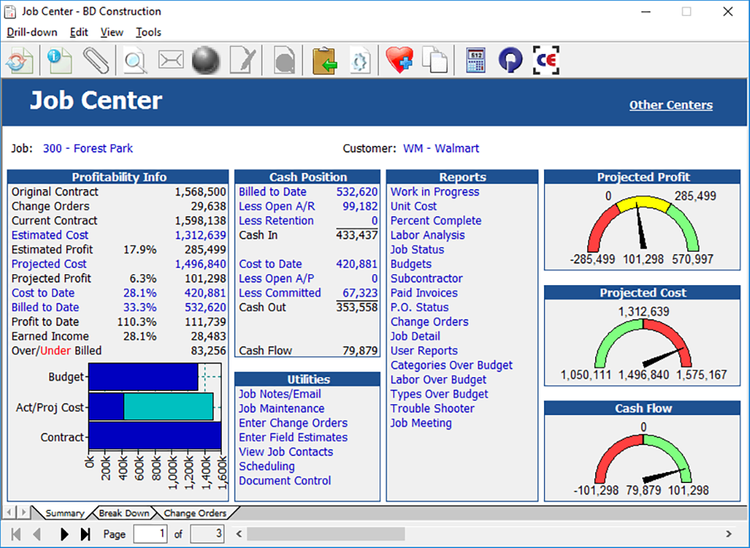 Accurate FInancial Reporting
Construction accounting software can provide financial reporting that gives you better insight into your operations. These accurate reports can help facilitate better decision-making and let you monitor the performance of your business continuously. Since cost overruns do happen in the construction industry, work in progress reports (WIP) track past work against a profit analysis schedule, providing real-time insight into estimated earnings against current billings.
Other reporting options within construction accounting software include consolidated financial statements, budget vs actual price margins on jobs, cash and working capital status, and profitability by customer.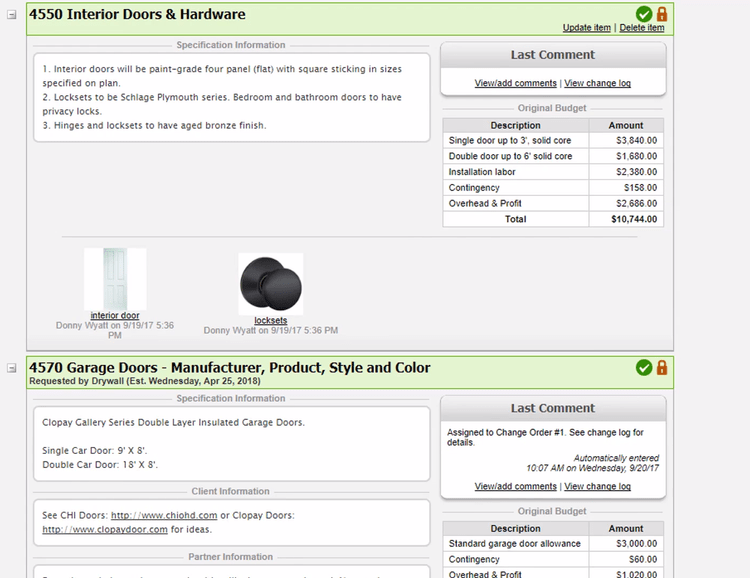 Construction Accounting vs. General Accounting Software
Here are some answers to frequently asked questions about construction accounting software:
What is the difference between generic accounting software and construction accounting software?
General accounting software is usually developed to be used by multiple industry types, and therefore doesn't offer the features unique to any one industry. The functionality is built around a general ledger and allows you to track your income, assets, expenses and liabilities.
A construction accounting software will have the same features of a general accounting software but then include industry-specific modules for construction.
What is the difference between construction management software and construction accounting software?
A construction management software will have more of a focus on non-accounting features such as estimating, scheduling, and project management. A construction management software may sometimes lack a traditional accounting setup of accounts payable, accounts receivable, and a general ledger. This will require you to integrate with a secondary solution for accounting.
A construction accounting solution will focus more on reporting, financial statements, and job costing. This can sometimes be defined as any accounting solution designed to be used by a construction company. This will include the AP, AR, and GL features, along with job costing and progress billing capabilities.
What Software Does Your Construction Business Need?
Depending on the size of your business or the types of projects being handled, you may look towards more advanced solutions.
Small Businesses: Job costing will be the most important feature to help you manage your basic construction accounting. A small contractor may be able to survive using industry-neutral software such as QuickBooks or Xero, but it's important to weigh the benefits of cost-savings in software to not having the ability to categorize costs and analyze what jobs are profitable.
Mid-Sized Construction Firms: Growing construction businesses should look for more in-depth estimating tools and some level of bid management in software. They also need to have an industry-specific tool and won't be able to survive using manual methods.
Large Construction Companies: Enterprise-level companies may specialize in a specific field and need specialized software to meet their needs (such as a large commercial real-estate developer, or a civil contractor). They may also have multiple entities with a need for many end-users. These enterprise-level organizations should look into a fully-integrated construction ERP solution that provides every accounting and management tool necessary to run their day-to-day operations.
Construction Accounting Pricing
Construction accounting software pricing depends on several factors, such as the size of your business, how many total users you have, and what modules you want included. Subscription costs for cloud-based platforms average between $10 and $400 per month. Some plans charge per user, starting at $50 per month and going up to $200.
Free construction accounting software is available, though is usually only offered as part of a trial or demo. Truly free options may be limited to small businesses with limited users and functionality.
Is QuickBooks a Construction Accounting Software Alternative?
QuickBooks can be used as a construction accounting software given the availability of invoicing, job costing, and reporting features. Construction companies looking to use QuickBooks for construction accounting will need to choose a version that includes QuickBooks Projects, which includes the job costing feature. This feature is only available to QuickBooks Online Plus and Online Advanced customers and starts at $70 per month.
While this software may work for some businesses, our QuickBooks Alternatives study surveyed over 4,000 cases of QuickBooks users searching for construction accounting replacements. Most cited a need for better job costing, project management, equipment management, bid management, and field service management.