What is Electrical Contractor Software?
Electrical contractor software is a field service management solution for electricians including wiremen, lineworkers, and other qualified electrical technicians. Applications range from project scheduling modules to payroll management systems. Get real-time updates on projects, organize work orders, and generate accurate job estimates by using electrical contractor solutions.
Electrical workers are in a unique situation: some of their work comes directly from property owners while other times they are subcontracted by a construction company. Whether you work in electrical construction or as a repair technician in homes, an all-in-one electrical contractor software can help you streamline your business.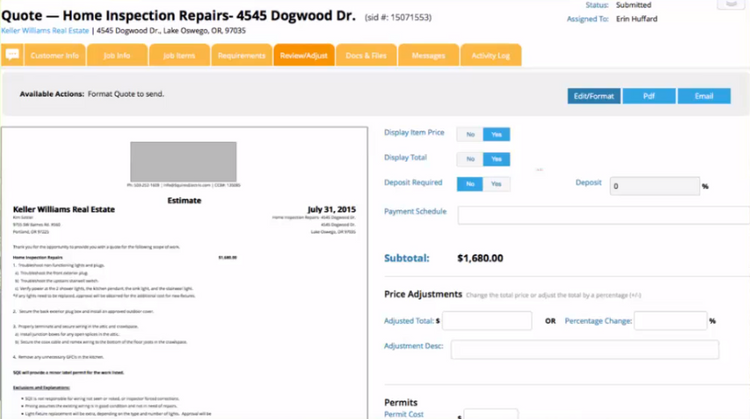 Electrical Contractor Software Features
Project Scheduling: Update your project schedule based on the general contractor and your own work schedule.
Project Estimating: Create accurate estimates for each project you bid on. Include labor costs, equipment usage, and other factors in your estimate.
Construction Accounting: Use a general ledger to follow internal finances like income, purchase orders, payroll, and job expenses.
Payroll: Accurately track employee hours for wage calculation and tax management. Automate check printing or direct deposit. Follow IBEW union pension and reciprocity rules if necessary.
Bid Proposal Generator: Bid for big contracts using a set format for internal consistency. Then customize each bid before submission.
Document Storage: Organize and store important documents like invoices, maintenance contracts, work orders, change orders, timesheets, and bid proposals in one easy to access location.
Mobile Field Service: Collect and report on data from the field like labor time, material usage, and equipment.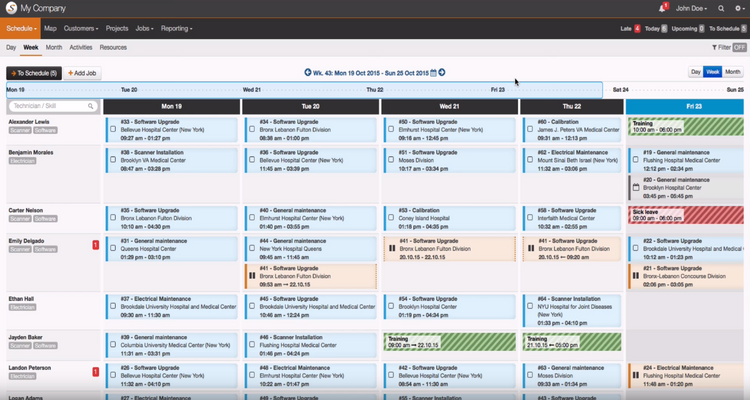 Best Electrical Contractor Software Benefits
Electrical contractor software makes your business easier to manage:
Streamlined Project Scheduling and Dispatching
As an electrician, your job schedule depends upon other people. You can't get started at a new build site until other contractors are done with their work. Unfortunately, that can make it hard to create a schedule for you and your team. And if you don't know the schedule for your current project, it's hard to take on new work without risking overlaps.
Electrical contractor software includes scheduling applications to make creating and updating project timelines simple. With an organized, visual timeline you can avoid conflicts and take on more work between projects.
If you regularly work on multiple sites at once, coordinate between different teams and locations with ease thanks to dispatching solutions. You can update the entire team about job details so everyone knows what to expect and when to show up.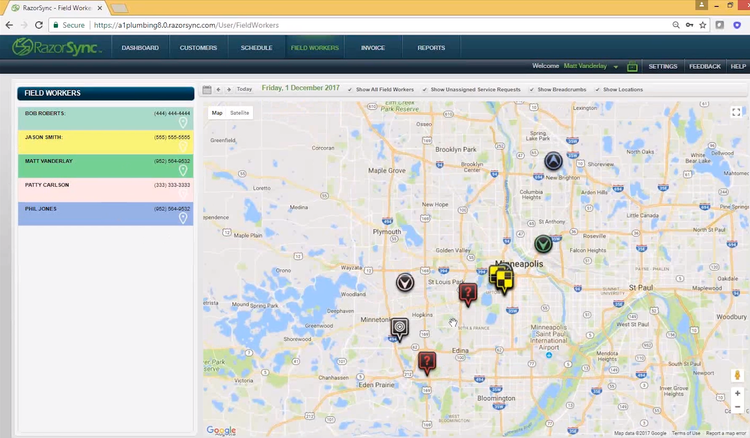 Organized Work Orders and Invoices
Working as an electrical contractor can mean a lot of paperwork. If you're spending all your time on project management you're missing out on time you could be working. Electrical contractor software saves paperwork like work orders and project invoices for you. You can stay focused on your business needs while your important papers are kept organized online.
Accurate Estimates and Bid Proposals
When you bid on a big construction project, calculate potential costs using an estimating solution. These solutions use labor costs, material costs, equipment costs, and even subcontractor costs to create an accurate cost estimate.
Once you have an estimation, you can know whether or not it's worth bidding on a specific job. Avoid costly mistakes and missed opportunities for your electrical business by using an estimating application.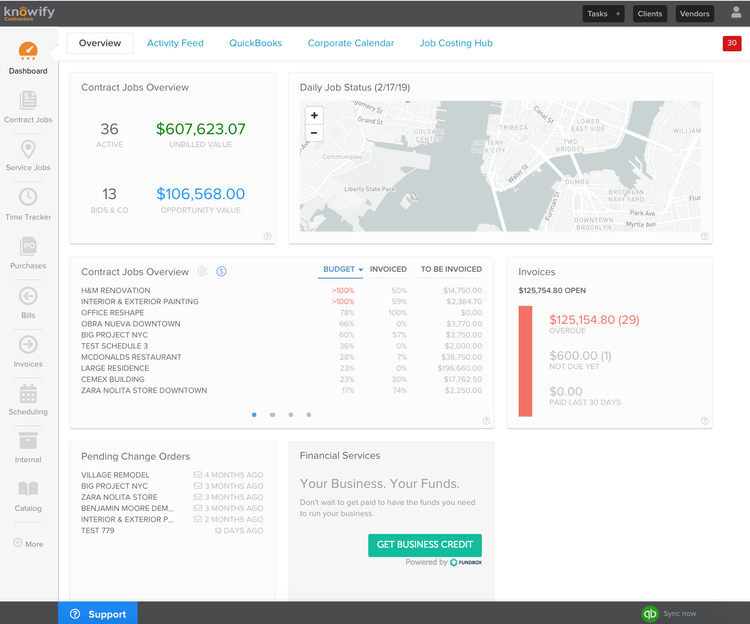 Easier Payroll Management
Managing payroll for electrical technicians can be a hassle. And if you subcontract out on big projects, you have to figure out the intricacies of paying temporary or contract workers. Payroll applications streamline the entire process, including tax management! Some solutions include QuickBooks integration. With a payroll specific solution you can choose to pay employees through check printing or direct deposit.
If you are a member of the International Brotherhood of Electrical Workers (IBEW) or hire workers who are part of the union, you'll need to make sure your payroll accounts for pension and reciprocity rules.
Better Contractor and Client Communication
As an electrician, you can go from working with a general contractor on a new construction site one day to repairing blown fuses in a family home the next. Chances are you don't communicate with subcontractors the same way you do with individual clients. Manage all your communications in one application so you can provide timely responses.
The contractor business can be unforgiving. A missed deadline can lead to lost time and wages. If you're working on a big project with multiple subcontracting teams, you'll need a communication system to stay up-to-date on construction progress. Project management solutions keep all your documents together so you can see project progress at a glance.
Mobile Apps for Easy Access Anywhere
Being on the job site means spending a lot of time away from the office. As a field service business, you'll often encounter problems when away onsite. If you have an urgent invoicing issue, don't worry! Cloud-hosted field service management software lets you access everything you need from a mobile device. No need to drop everything and get back to the office, just grab your phone and go.
Mobile device compatibility makes dispatching easy too. If you need more workers in the field, just use the software to contact your crew.
Do you offer emergency or same day electrical repairs? You can now take service calls anywhere and get back to clients faster when all your data is at your fingertips. Instead of rushing back to the office, you can find out what they need, check your mobile schedule, and arrange for a team member to go all from one device. You can do all that wherever you have Internet access.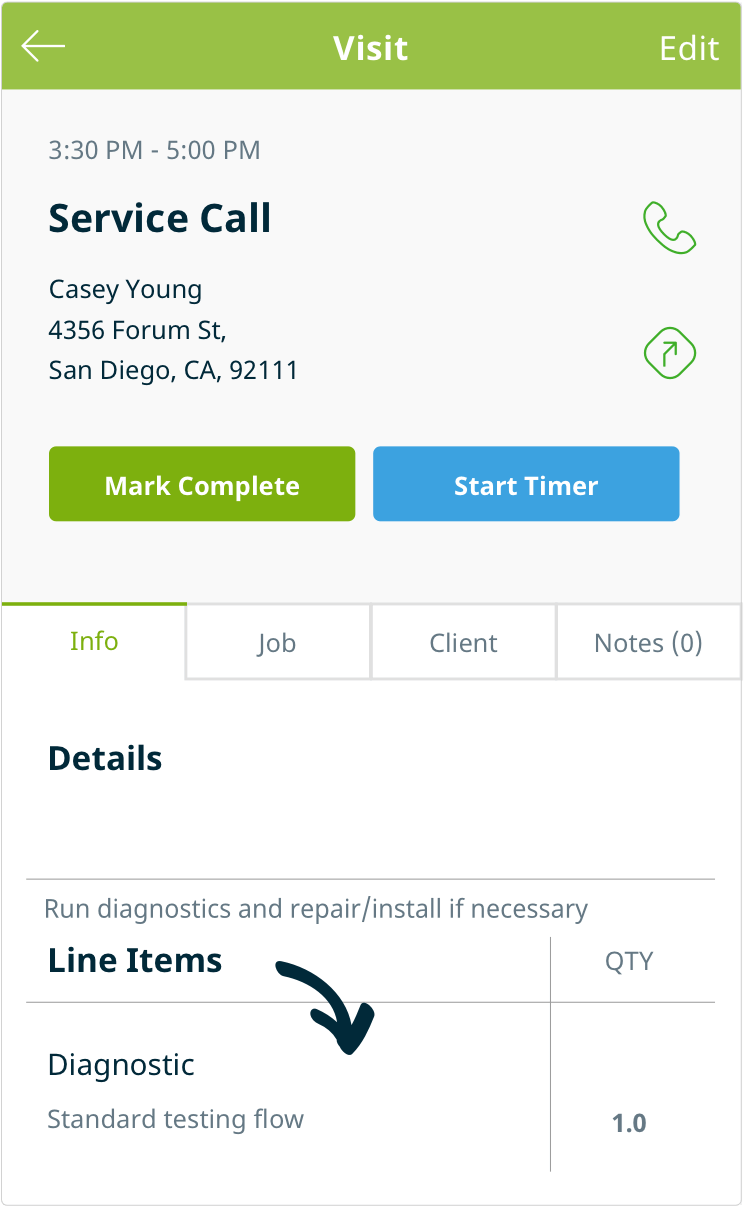 Electrical Contractor Software Pricing
As an independent contractor, you need affordable software. Fortunately, there are a wide range of affordable solutions available. Subscription rates for electrical contractor software starts at $7 per month on a per user basis for single-application solutions. More expensive plans with ERP-suite functionality reach $169 per month per user. Setup fees, training, and implementation will add to the initial costs.
Perpetual license fees begin at $3,000. All the time you once wasted manually going over invoices, estimates, and payroll forms can now be spent working.