What is Electrical Contractor Software?
Electrical contractor software is a field service management solution for electricians and other qualified electrical technicians. Applications range from project scheduling modules to payroll management systems. Get real-time updates on projects, organize work orders, and generate accurate estimates by using electrical contractor software.
Electrical workers are in a unique situation: some of their work comes directly from property owners while other times they are subcontracted by a construction company. Many electricians accept both types of work, which means they need to address both in their back-office processes. Whether you work in electrical construction or as a repair technician in homes, an all-in-one electrician software can help you streamline your business practices so you can focus more on the electrical work you do in the field and less on the tedious paperwork.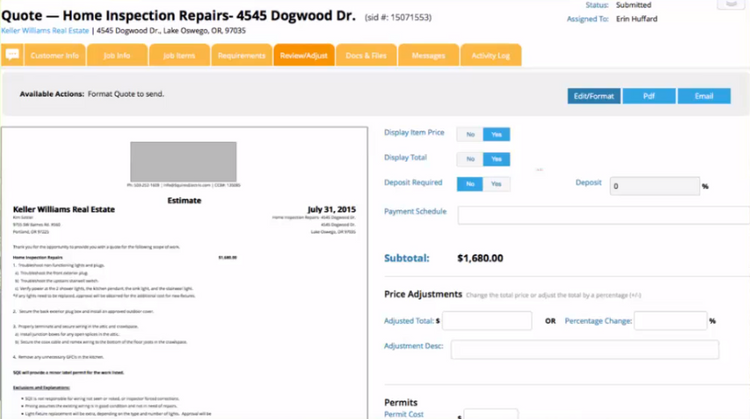 Key Features of Electrical Contractor Software
Project Scheduling: Update your project schedule based on customer requests, general contractor requirements, or your own work schedule.
Job Costing: Create accurate estimates for each project you bid on. Consider labor costs, material takeoffs, equipment usage, and other factors in your job costing.
Construction Accounting: Calculate internal company finances like income, purchase orders, payroll, and job expenses.
Time Tracking: Accurately track employee hours for wage calculation and tax management.
Payroll: Automate check printing or direct deposit. Follow IBEW union pension and reciprocity rules if necessary.
Bid Generator: Use custom templates to bid on big electrical contracts using a set format for internal consistency.
Document Storage: Organize and store important documents like invoices, customer information, maintenance contracts, work orders, change orders, timesheets, and bid proposals in one easy to access location.
Customer Management: Keep detailed records on your existing and new customers in order to maximize job opportunities. Send invoices and accept customer payment as well, including from credit cards.
Mobile Field Service: Collect and report on data from the field like labor time, material usage, and equipment. Communicate with onsite workers via mobile notifications.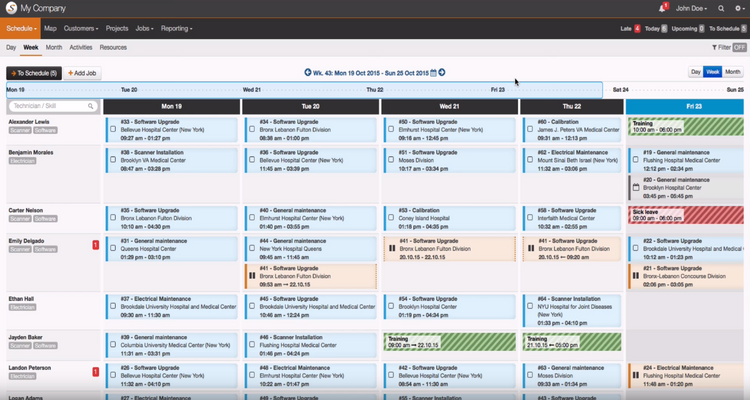 Best Electrical Contractor Software Benefits
Electrical contractor software makes your business easier to manage in several ways:
Streamline Project Scheduling and Dispatching
As an electrician, your schedule depends upon other people. Whether it's the client themselves or other contractors, your work window depends on their availability. Unfortunately, that can make it hard to create a consistent schedule for you and your team. And if you don't know the schedule for your current project in advance, it's hard to take on new work orders without risking overlaps.
Fortunately, electrical contractor software includes scheduling applications to make creating and updating project timelines simple. Drag-and-drop tools help you avoid scheduling conflicts to take on more work or make adjustments whenever availability changes. These calendars can then be shared with the team so everyone sees the correct schedule. Without scheduling software, you don't have to fix overlaps yourself.
If you regularly work on multiple sites at once, coordinate between different teams and locations with ease thanks to dispatching modules. You can update the entire team about critical job details so everyone knows what to expect, where to be, and when to show up.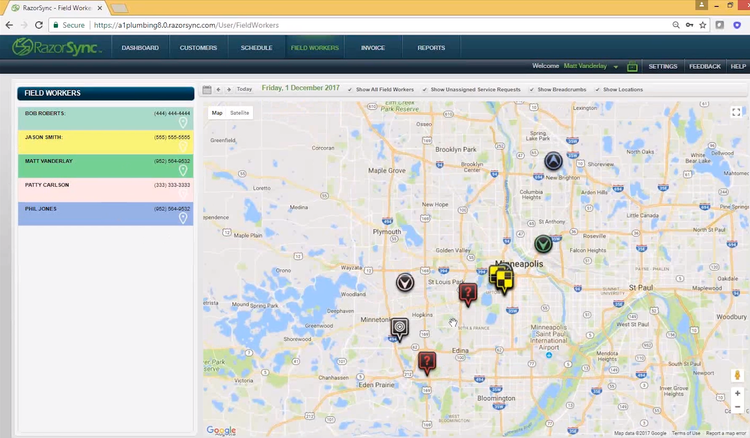 Organize Work Orders and Make Accurate Estimates
Working as an electrical contractor can mean a lot of paperwork. If you're spending all your time on project management you're missing out on time you could be working. Electrical contractor software saves paperwork like work orders and project invoices for you. You can stay focused on your business needs while your important papers are kept organized online.
Electrical estimating can take time which takes away from actual electrical work. If you want to save time and money when you bid on a big construction project, calculate potential costs using an estimating module provided by electrical contracting software. These solutions use material takeoffs, equipment costs, and even subcontractor costs to create an accurate cost estimate you can develop into a professional looking bid for your clients and customers.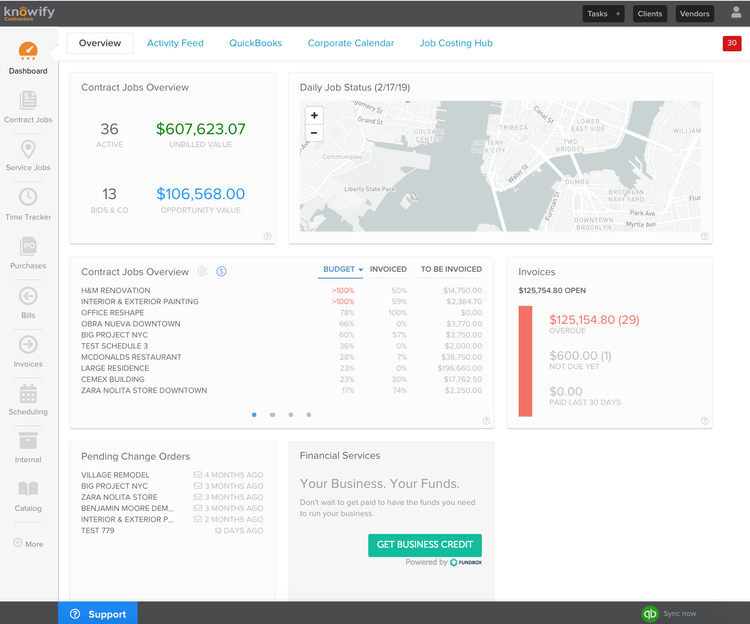 Ease Payroll Management
Managing payroll for electrical technicians can be a hassle. And if you subcontract out on big projects, you have to figure out the intricacies of paying temporary or contract workers. Payroll applications streamline the entire process, including tax management! Some solutions include QuickBooks integration. With a payroll specific solution you can choose to pay employees through check printing or direct deposit.
If you are a member of the International Brotherhood of Electrical Workers (IBEW) or hire workers who are part of the union, you'll need to make sure your payroll accounts for pension and reciprocity rules. General accounting software may not be able to address these needs the way an industry-specific solution can.
Improve Contractor and Client Communication
As an electrician, you can go from working with a general contractor on a new construction site one day to repairing blown fuses in a family home the next. Chances are you don't communicate with subcontractors the same way you do with individual clients. While some contractors resort to using different phone numbers to keep customers separate, you can instead manage all your communications in one application so you can provide timely responses to everyone.
Miscommunication in the contractor business can be unforgiving. A missed service appointment can lead to lost time and wages, in addition to a negative customer satisfaction. If you're working on a big project with multiple subcontracting teams, you'll need a communication system to stay up-to-date on construction progress. Project management solutions keep all your documents together so you can see project progress at a glance.
Mobile Apps for Easy Access Anywhere
Being on the job site means spending a lot of time away from the office. As a field service business, you'll often encounter problems when away onsite. If you have an urgent invoicing issue, don't worry! Cloud-based field service management software lets you access everything you need from a mobile device. No need to drop everything and get back to the office, just grab your phone and go!
Mobile device compatibility with cloud-based electrician software makes dispatching easy too. If you need more workers in the field, just use the software to contact your techs instantly. Apps allow for increased availability on both smartphones and tablets, whether they are iOS or Android.
Do you offer emergency home services? Cloud-based electrical contractor software lets you take service calls anywhere and get back to clients faster. Instead of rushing back to the office to get to a desktop, you can find out what they need, check your shared schedule, and arrange for a team member to go all from one mobile device, as long as you have Internet access.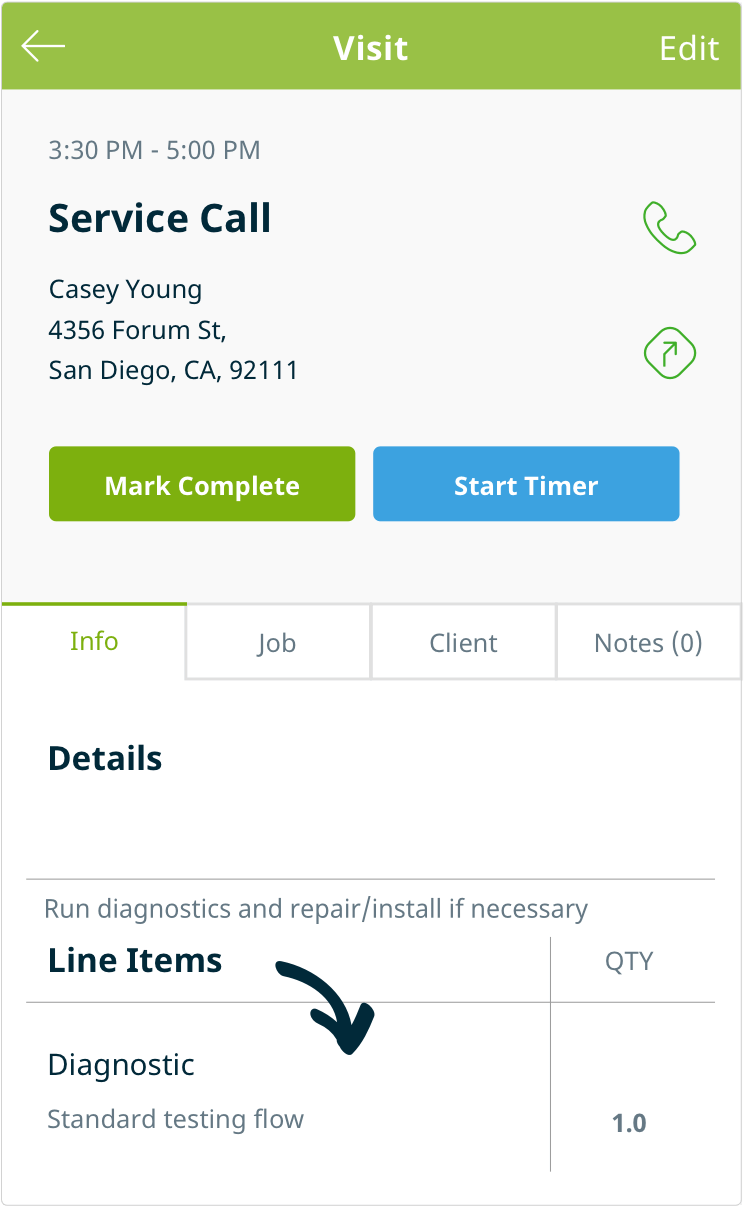 Electrical Contractor Software Pricing
Whether you're an independent contractor or the owner of an electrical contracting business, you need affordable software. While some electricians settle for general construction software, others will use separate products to cover each task, such as time tracking or estimating software. However, it's beneficial to use an all-in-one, industry-specific solution for all your business processes, as integrating separate solutions can slow down the total system and quickly add up the costs. Fortunately, there are a wide range of affordable electrician products available.
Subscription rates for electrical contractor software solutions start at $7 per month on a per user basis for single-application solutions. More expensive plans with ERP-suite functionality reach $169 per month per user. Setup fees, training, and implementation will add to the initial costs. In contrast, perpetual license fees begin at $3,000. Free demos and trials are often available for contractors wanting to test out solutions.
By implementing software, all the time you once wasted manually going over paperwork can now be spent working.