It doesn't really matter what kind of business software you're considering buying. Accounting, ERP, HR, CRM, supply chain management, project management… you name it.
There are certain things you always need to know. Fundamentals. Ease of use, cost, security and so forth.
If you actually put a count on these software dimensions, you'll find no less than ten key characteristics to consider: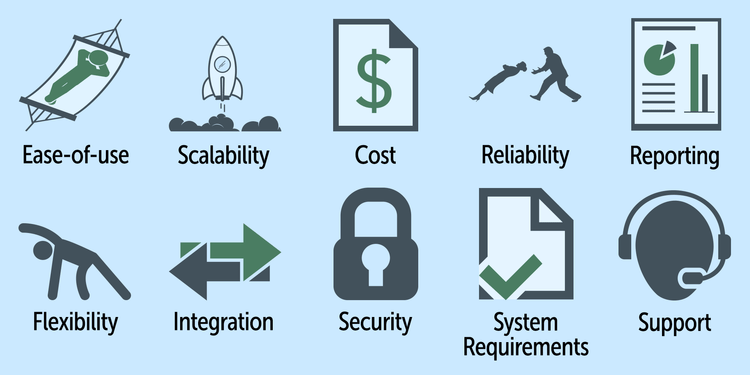 But asking a software provider if their software is easy-to-use, for example, isn't likely to yield a tremendously useful response. In fact, there's only one answer that can be realistically expected: "But, of course!"
The problem with the question, "Is it easy to use?" isn't the intention behind it. And, it's not the subject matter. It's simply that the question is too broad, open-ended, and interpretive to ensure a useful answer from someone whose interest is to sell you their software.
There's a better way.
Check out the following list of 30 replacement questions. It provides concrete recommendations to turn vague questions about ten critical software characteristics into 30 objective inquiries that will get you the info you need:
How Easy-to-Use Is Your Software?
How many clicks does it take to <insert critical task here >?
What training resources do you make available and is there an active online user community?
What type of interactive help features are included in the software?
How Scalable Is Your Software?
Are there are any significant quantifiable limitations to be aware of in terms of supported user counts, data records, or bandwidth usage?
Do you offer a product for customers who have outgrown this program?
What changes would we need to make if we doubled our expected usage of the software?
What Does Your Software Cost?
What are the start-up costs for your software and how much of that is for licensing versus implementation services?
What ongoing costs should we expect?
How many hours do we need to budget internally for software implementation and training? (necessary to calculate internal soft costs)
How Reliable Is Your Software?
How often do you publish patch updates and what version code is this software at now?
What sort of feature and load testing has the software been subjected to?
What functionality does the software include for detecting and reporting data errors?
What Kind of Reporting Does Your Software Include?
Can I see a list of the standard reports that are included within the software?
Does the software offer integrated functionality to customize and create reports or are direct database queries required for this?
Does the software include graphical reporting features?
How Flexible Is the Software?
What kind of configuration changes can be made to change the look, feel, and performance of the software?
Is there access to source code to allow for customization?
Can different users have their own configuration settings?
How Difficult Is It to Integrate Your Software With Other Systems?
Does your software include an API (application programming interface)?
How extensive is your API and what kind of interface protocol does your API utilize?
Can you name some of the programs with which your software has been successfully integrated?
What Are the System Requirements?
What OS, database, or other software requirements do I need to meet in order to run the program?
What are the processor, hard disk, and RAM requirements?
(For web-based applications) What are the minimum recommended requirements for Internet bandwidth?
How Secure Is Your Software?
Does your software support 2 factor authentication, encryption settings, and audit trails or logs of all user activity?
Can the software be configured to allow different users access to different functionality based on role–and how granular are these controls?
(For web-based applications) What does your service level agreement cover in terms of data loss or theft?
How Good Is the Support You Provide for the Software?
What percentage of your employees fulfill a primarily support-based role and will I have a dedicated lead support contact?
Is 24/7 email and phone support available?
Which of the following support resources are available: technical manuals, video tutorials, online chat, and user support communities?