Successful implementations of the best ERP software take between 4 and 6 months on average. Projects can take significantly longer depending on factors like scope, company size, and required customizations.
If implementation estimates are more than six months, our software experts recommend limiting your project scope and/or releasing in phases to expedite the go-live process. Projects that go-live beyond the six month mark have a significantly higher chance of failure.
How to Estimate Your Implementation Timeframe
Before starting an ERP implementation, it's best to determine your potential timeline. The main variables that correlate with go-lives dates are:
Size of business and/or number of users
Required customizations
Scope of project
Amount of data migration needed
Deployment method (hosted or on-premise)
Business size is the top factor to consider. A small business will, generally, have a significantly faster implementation than a global enterprise which can take years for large corporations to complete.
Sample Timelines
Small Business: 3-6 months
Medium Business: 4-12 months
Large Business: 12-24 months
Of course, these are based only on business size. Add-on any degree of customization and the process only takes longer.
Your selected deployment method is another factor: adding an on-premise ERP system can take longer than connecting to a cloud-based platform due to the need for new hardware. Data migration to either model can also add time, especially if you have a lot of secure data to bring over.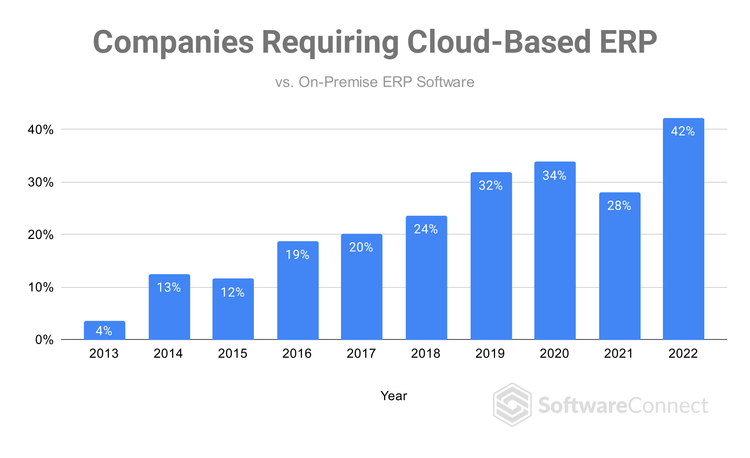 While this won't necessarily impact the timeframe, budget is another important consideration for your ERP project. A drawn-out process can lead to delays as funds are reallocated to the implementation. Knowing the likely timeframe can help you stay on track and on budget.
How to Shorten the Timeline
While you might want your ERP up and running in a few weeks, you'll need to set realistic expectations. Just finding the right ERP takes an average of 17 weeks from the initial search to final deal. If you're looking to avoid months or years of implementation, there are a few ways to streamline the process:
Detailed project management
This first step is critical. By setting up a detailed roadmap with clear benchmarks in advance, you can prepare for anything which might cause delays once the implementation process has started.
Limit project scope
Trying to get a single ERP to cover all your business processes can extend the timeline. Remember, there's nothing wrong with out-of-the-box software (to start).
Avoid or limit customizations Possibly the best advice we can give. Find an ERP that fits your business processes off-the-shelf, or adapt your processes to fit the ERP's model. Heavy customization can add a lot of friction to implementation.
Add modules in phases or as-needed If your company does need customization or a few select add-ons modules for best functionality, consider adding them at a later date. It's better to have an ERP and get comfortable with it before making changes.
Localize Find smaller vendors able to give more time and attention to your rollout than the big providers for a more hands on approach. If you have multiple offices, consider separate ERP implementation for each rather than trying to coordinate one big rollout simultaneously.
Get an ERP consultant to streamline the process Finally, a software consultant or implementation team can answer questions about ERP systems and provide guidance during the process so you and your team can stay focused on your own work.
Tips for Smooth Implementation
ERP implementation failure happens all the time, leading to lost revenue and unhappy stakeholders. Even those which are successful are not without issue. In fact, studies show only 49% of companies complete implementation on-time.
To increase your chances of success, consider these tips:
Embrace best practices of ERP Sometimes, adjusting your existing workflows to fit those offered by an ERP is the best way to ensure success. After all, ERP functionality was designed around the proven business operations of some of the best companies in the world.
Ensure buy-in from major stakeholders and users Successful ERP implementation takes support from everyone at your company to work. Set up a project team, made up from members of each department, to streamline the transition and address concerns during user training.
Be aware of upgrades Is the ERP vendor about to introduce a new version of their software to the market? Is it better to wait to install your new ERP system until it's ready?
Consider industry-specific ERPs Your industry-specific business needs might make a specialized ERP solution a better choice for your company.
Look for good reviews Make sure the ERP vendor themselves is a good partner - you'll be with them for a while!
Spring clean before data migration Have a lot of digital clutter in your legacy system? Organize and secure your existing data before implementation to minimize the time-consuming transfer process.
By utilizing these tips, you can increase the chances of a successful ERP implementation at your business.
How Often are Major Software Changes Made to ERP?
Major software changes are made to ERP every 3 to 5 years. These changes occur after implementing. The exact timeline will depend on the specific platform and developer. The current average reflects how long it takes to hear feedback from users, develop new features, test them out, and finally release them.
Small changes tend to happen more regularly. For instance, SaaS vendors of ERP solutions might release security updates on a monthly or even weekly basis to remain compliant with industry standards. And critical bug fixes occur on an as-needed basis. Version or edition updates, which tend to occur annually, might contain a few bigger changes but may be cosmetic as well.
Custom updates can occur at almost any time, such as opting for a new add-on. These sort of major changes will only occur at the user's behest, so the completion timeline is not as straightforward. Some changes, like adding a new user, can be done in an instant while others, like implementing new modules, can take months.
ERP Implementation Stats
20% expect implementation within 3 months, yet it typically takes a minimum of 3 months and can take over 2 years from start to finish
Cloud ERP platforms are steadily on the rise, and even vendors of on-premise ERP solutions now offer hybrid deployment options
Talk to one of our expert software advisors today to find an ERP for your business!
Further reading