What Is Manufacturing Project Management Software?
Manufacturing project management software helps manage your projects, provides resource management, and monitors project team members in order to reduce lead times without sacrificing quality on your production orders. The key capabilities of a manufacturing project management software include planning production, scheduling your staff, and showing real-time equipment and staff availability visual methods such as Gantt charts and Kanban boards.
This special type of manufacturing ERP software helps managers control costs and hit deadlines across entire projects by helping plan, organize, and manage all resources needed to create estimates, provide quotes, schedule jobs, and track their production status from beginning to end. This is important for manufacturers that have goals to increase margins and profitability.
Businesses with complex supply chains may realize they are lost without the proper project status tracking, scheduling, and planning capabilities that an integrated project management tool provides. This is because many manufacturers may do business across multiple locations.
For example, a design team may create plans in one location, but send it to a warehouse to be manufactured. They may also contract out their distribution process, meaning the finished goods need to be sent to a different location. This interconnected web of employees, equipment, and facilities requires a strong manufacturing project portfolio management solution to ensure all departments are kept on the same page.
Project management solutions for manufacturers can be locally-installed, web-based, or accessed via mobile devices such as Apple iPhones (iOS) or Android devices. User permissions can allow all staff members to access only the appropriate part of the software.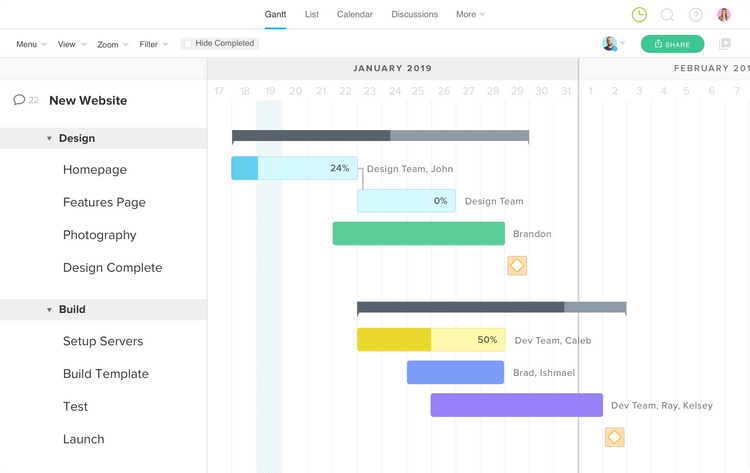 Features of Manufacturing Project Management Software
Project planning: Plan and subsequently report project progress. Establish the steps and tasks required to define your objectives. Create new tasks, set due dates, assign people to tasks, and get plan updates.
Project calendar: View the availability of your team or of specific employees. Manage customer orders based on market conditions, other project's production schedules, and staff availability.
Gantt charts: A type of bar chart that illustrates a project schedule. Helps visualize and plan tasks to stay on schedule. Drag and drop interfaces can let you shuffle tasks and subtasks, allowing you to organize your manufacturing project in the most efficient manner possible for your employees. Can highlight dependencies to ensure work is completed in the correct order.
Kanban boards: Visually depict work at various stages of a process using cards to represent work items and columns to represent each stage of the process. Divides your manufacturing process into stages, from ideation through manufacturing, packaging, and delivery.
Time tracking: Track time and analyze time worked on manufacturing projects to help decrease project timelines and deliver more stable, profitable projects. Add timesheets, set time estimates, and create time reports. Information gathered can be used for payroll, client billing, estimation, tracking, and time management.
Task lists: View, manage & prioritize work in personal and team task lists. Identify and avoid capacity bottlenecks with task dependencies. Create lists based on how much capacity your employees, machines, and resources have throughout your project. See what tasks are due today company-wide or view a personal task list for each employee. Filter by the due date, owner, and project.
Team collaboration: Includes tools such as team chat, discussion boards, and task comments. Manage the workload of your team and shorten the communication chain by connecting all members of your organization together. Includes integrations with programs such as Slack and Salesforce.
Document management: Store, manage and track electronic documents and images captured with a scanner. Upload documents to a specific project or task. Design documents, proposals, and signed contracts are examples of documents used. Access files and documents uploaded on third-party apps such as Google Drive, OneDrive, and DropBox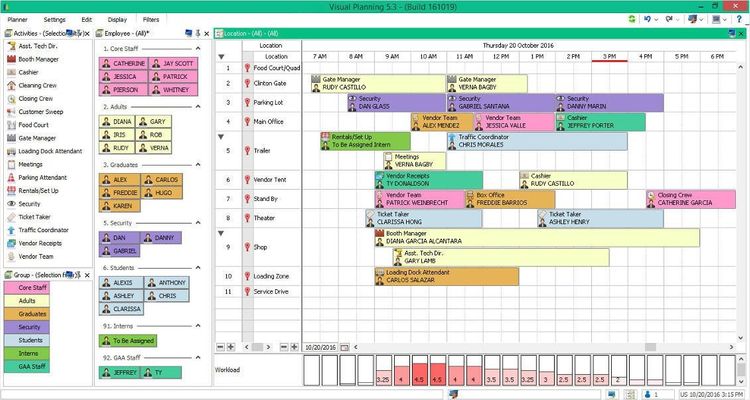 Benefits of Manufacturing Project Management Software
The top benefits of manufacturing project management software include:
Visualize Timelines and Map Out Complex Projects
One goal you can accomplish with a manufacturing project management software is decreasing project timelines while delivering a more stable, profitable project. A manufacturing project management software will help visualize all products your business is assembling, shows resource allocation (such as machinery or raw materials from inventory), and all staff members involved in the process.
Each software may include a different set of information, depending on if you are creating a work plan, a timeline, or a Gantt chart. Sometimes, these terms can be used interchangeably.
Work plan: Shows start and end date of the project, responsibilities involved, and the budget.
Timeline: Shows start and end date of the project, and milestones.
Gantt chart: Shows start and end date of the project, responsibilities, and dependencies of tasks.
All three of these maps can be combined to show the data you need with the right manufacturing project management software. Because most manufacturing projects use different people and resources, it can be hard for them to keep tabs on one another. Gantt charts will help illustrate your project schedules company-wide, providing a single unified view to see how one project will impact the raw materials and staff availability of another.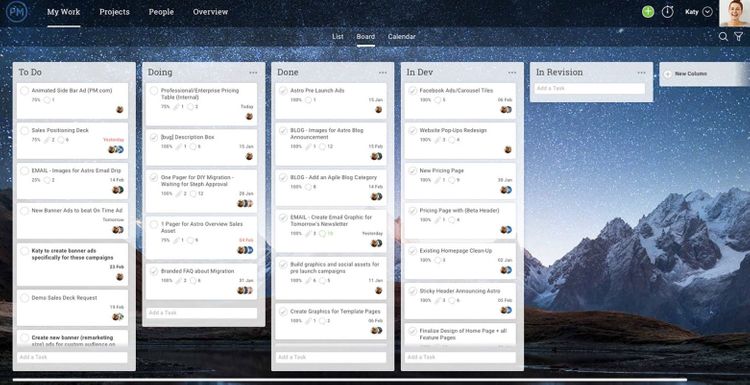 Know The Exact Production Status Of Every Manufacturing Project
Now that you have a visual project planning tool, you can load production schedules and put those Gantt charts to use. In the event of unexpected delays, a manufacturing project scheduling software will be able to send management the appropriate alerts to make adjustments. If you want to test out "what-if" scenarios involved with postponing or delaying certain manufacturing jobs, or rescheduling them to different times of the day, you'll be able to see the proposed impact on other jobs, if any, depending on the personnel and equipment that would be affected.
Having complete insight into the product status of your manufacturing projects will help you avoid bottlenecks, leading to improved cycle times and increased employee productivity. Long term, this should also help reduce waste and get a better grasp of your production costs.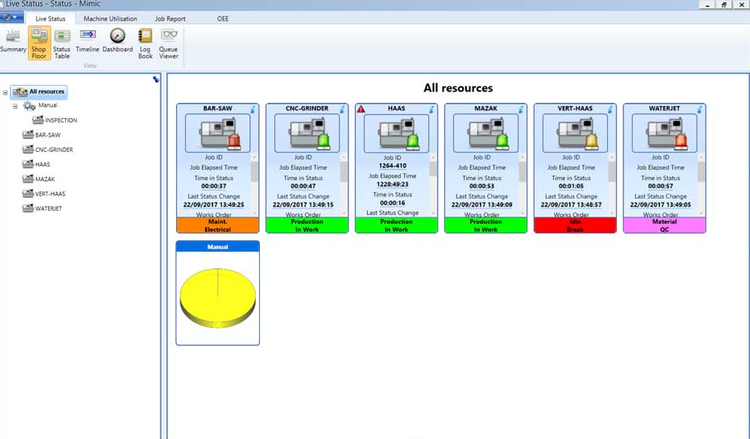 Better Communicate and Collaborate With Your Manufacturing Team
Like any industry that may be using a project management system, manufacturers have their own deadlines to worry about, in addition to any natural fluctuation of customer orders and market conditions. Manufacturing project management calendars can let staff view what tasks they need to complete today. Project managers can view their own schedule and monitor the productivity of their team, to ensure everyone is completing the work that was assigned to them that day.
A solution that is intuitive and visual will encourage all employees to use it as frequently as possible. This leads to better communication and lets people manage their work more proactively. For example, a manufacturing project management system will let the design team chat directly with the production team to ensure there are no surprises. Document management features will let each team upload appropriate paperwork and ensure everyone is aware of any project expectations.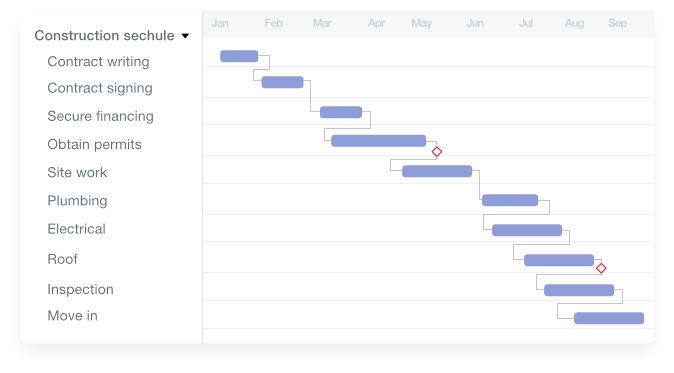 Manufacturing Project Management Software Pricing Guide
The cost of manufacturing project management software will depend the most on:
For web-based systems on a subscription-based pricing model, the cost of systems will start between $8/user/month to $55/month. Some systems will have a minimum number of users required to subscribe, making their advertised price appear much lower than the real monthly price.
Some software developers may offer free manufacturing project management software, but they are usually slimmed-down versions of their paid versions. These options let you manage one project with a limited amount of users, and are best used as free trials of the programs.