Here's a rundown of the 8 best nonprofit case management software that stands out in efficiency and functionality.
1

Community CareLink - Best Overall

Why We Chose It: Community CareLink is our top pick for its comprehensive feature set, allowing case managers to efficiently track client progress, manage tasks, and enhance communication. Tailored for diverse care delivery models, its customization meets each organization's unique needs. Community CareLink helps improve care quality for vulnerable populations, while reducing costs and streamlining operations.

This web-based application, accessible from any internet-enabled device, ensures timely updates and data accessibility, making it the top choice for care coordination and communication.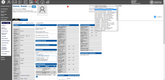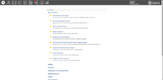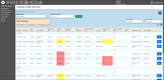 What We Like
Customizable workflows
Data-driven decisions
Accessibility across devices
Overview
Price Range: $$$
Starting Price: $8,000/year
Client OS: Web
Deployment: Cloud Hosted
2

NewOrg Management System - Best for Versatility

Why We Chose It: NewOrg is our most versatile pick due to its array of features, from client and program management to fundraising and volunteer coordination. Its fundraising module assists nonprofits in tracking donations and campaigns effectively. The volunteer management module enhances volunteer coordination, making it simpler and more streamlined.

The software ensures that every detail, from client data to fundraising campaigns, is effectively managed, tracked, and reported, catering to a nonprofit's every need.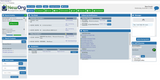 What We Like
Recent activity and reminders
Share files and secure messaging
Document center with signatures
What We Don't Like
High cost of implementation
Minimum user limitations
Overview
Price Range: $$$
Starting Price: $350/month
Client OS: Web
Deployment: Cloud Hosted
3

CaseWorthy - Best for Integration

Why We Chose It: CaseWorthy's modern technology stack provides a comprehensive suite for managing clients, programs, and services. Its high customization caters to each organization's distinct needs, and its seamless integration with other applications, like EHRs and financial systems, streamlines operations across departments.

The software's robust modules, from intake to referral management, ensure that human services organizations can operate at their peak, achieving their set goals with ease and precision.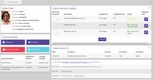 What We Like
Flexibility and high customization
Advanced system integrations
Superior user experience
Overview
Client OS: Web
Deployment: Cloud Hosted
4

PlanStreet - Highly Customizable

Why We Chose It: PlanStreet is our most customizable pick due to its dynamic forms and advanced form builder. Its customizable form functionality allows users to upload their own forms and adapt templates to their specific organizational requirements.

It also features a user-friendly dashboard and drag-and-drop capabilities for creating client intake forms. This feature allows organizations to tailor their client engagement process, ensuring that they capture the exact data they need in the format they prefer.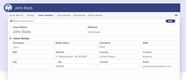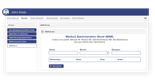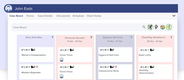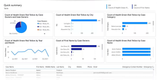 What We Like
Customizable and flexible forms and templates
Ease of use and user-friendly features
Responsive customer support
What We Don't Like
Occasional performance issues and delays
High learning curve
Overview
Price Range: $$
Starting Price: $60/user/month
Client OS: iOS, Android, Web
Deployment: Cloud Hosted
5

Sumac - Great Customer Service

Why We Chose It: We found Sumac noteworthy due to its reliable customer support infrastructure. Silent Partner Software ensures a multifaceted support system for Sumac users, from a dedicated portal to specialized email contacts for technical issues, account management, and billing inquiries. Clients can conveniently reach out via multiple channels, whether it's a quick email to their account representative or a direct call to their technical support line.

Moreover, the value of customer feedback is deeply ingrained in their approach, with the team actively incorporating client suggestions to refine Sumac's user experience. On top of that, Silent Partner Software offers a Partner Academy, available every day, providing high-quality, on-demand training sessions.

Great Customer Service:

Sumac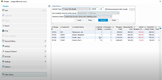 What We Like
Can create numerous tax receipts simultaneously
User-centric and intuitive design
Customizable forms for different programs
What We Don't Like
Tracking membership expirations is difficult
Inability to export to Excel
No auto-save or spellcheck function
Overview
Price Range: $$
Starting Price: $35/month
Client OS: iOS, Web
Deployment: Cloud Hosted
6

Bonterra ETO - Comprehensive Report Library

Why We Chose It: ETO's report library sets it apart from other nonprofit case management software. This library offers a suite of best practice reports that organizations can leverage immediately, providing a strong starting point for data-driven decision making.

ETO's advanced report building feature allows organizations to consolidate and visualize their data, catering to their specific reporting needs.

Comprehensive Report Library:

ETO




What We Like
Advanced reporting engine
Built-in Business Object Web Intelligence platform
Maintains operational consistency across its features
What We Don't Like
Complexity in user management
Challenges with modifications
Issues with clinical documentation retrieval
Overview
Client OS: Web
Deployment: Cloud Hosted
7

NewOrg Management System - Great for Multi-Program Organizations

Why We Chose It: NewOrg Management System is our top pick for multi-program organizations because of its adaptability. NewOrg caters to a vast array of focus areas, from housing and therapy to emergency assistance and home visit tracking. This breadth means that organizations with multiple programs and diverse service offerings can manage all their operations from a single platform, ensuring cohesion and streamlined management.

NewOrg is compliant with multiple international and national data protection standards, such as HIPAA, FERPA, PIPEDA, FOIP, and GDPR. This compliance ensures that sensitive client data is protected, addressing a critical concern for many nonprofits.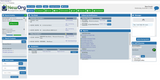 What We Like
Comprehensive compliance
Integrated client communication tools
User-friendly interface
What We Don't Like
High cost of implementation
Minimum user limitations
Overview
Price Range: $$$
Starting Price: $350/month
Client OS: Web
Deployment: Cloud Hosted
8

Casebook - Best for Human and Social Service Providers

Why We Chose It: We found Casebook great for social service providers because it's designed to help them manage caseloads, service referrals, and external relationships. It allows them to create holistic person-centric profiles that display formal and informal relationships, track the continuum of care for clients, and manage both internal and external communications.

With features like "cb Intake" and "cb Track", Casebook offers specialized applications for handling inquiries, referrals, critical incidents, reports in a social service context, and managing a person's support network to provide a comprehensive view of care.
Methodology to Choose the Best Nonprofit Case Management Software
We've devised a clear methodology to recommend top nonprofit case management software:
Key Features:
The first aspect we consider includes the core features of nonprofit case management software. Here are the key functionalities we think every product should have:
Case Tracking: Ability to follow a case from initiation to completion, logging every interaction.
Intake & Assessment Tools: Streamlined tools for entering new clients and assessing their needs.
Reporting & Analytics: Ability to generate detailed reports on case status, outcomes, demographics, and more.
Document Management: Efficient document storage, retrieval, and sharing capabilities.
Task Management: Assign, track, and complete tasks related to each case.
Secure Communication: Safe communication tools for discussing case details.
Client Portal: A dedicated space for clients to access information, resources, or communicate securely.
Pricing:
Pricing factors influencing our ranking include:
Cost-Effectiveness: Affordability of the software for nonprofits of varying sizes.
Flexibility: Whether the pricing model accommodates fluctuating needs, e.g., number of cases or users.
Hidden Costs: Any additional fees or costs not included in the upfront pricing.
Integrations and Customization
To round off our methodology, we prioritize nonprofit case management software with a high degree of configurability:
Integration with Other Nonprofit Tools: Ability to integrate with donor management systems, volunteer management platforms, and other nonprofit-specific tools.
API Access: Open APIs to allow for custom integrations.
Compatibility with Popular Platforms: Integration with platforms like Salesforce, Microsoft Suite, Google Workspace, etc.
Configuration: Ability to modify the software to match the nonprofit's processes.
Scalability: How well the software can accommodate growth in terms of cases, users, and data.
What is Nonprofit Case Management Software?
Nonprofit case management software, often described interchangeably as human services or social work case management software, streamlines case management processes, such as creating programs, recording case notes, and organizing documentation.
Designed for nonprofit organizations, case management solutions help social workers perform human services in an effective manner while remaining compliant with local or federal regulations.
Who Uses Nonprofit Case Management Software?
There are many types of NPOs and human services organizations which can utilize case management software:
Healthcare clinics (physical, mental, and behavioral health)
Child, family, and senior services
Housing (long-term, temporary, emergency)
Community programs and education
Employment services and vocational training
Animal shelters and wellness centers
Whatever organization you operate, nonprofit case management and human services software can help you stay focused on the mission without falling behind on administrative tasks by manually performing data entry in spreadsheets. Some nonprofit customer relationship management (CRM) software includes case management functionality, though depending on your organization a standalone social services software may better suit your workflow needs.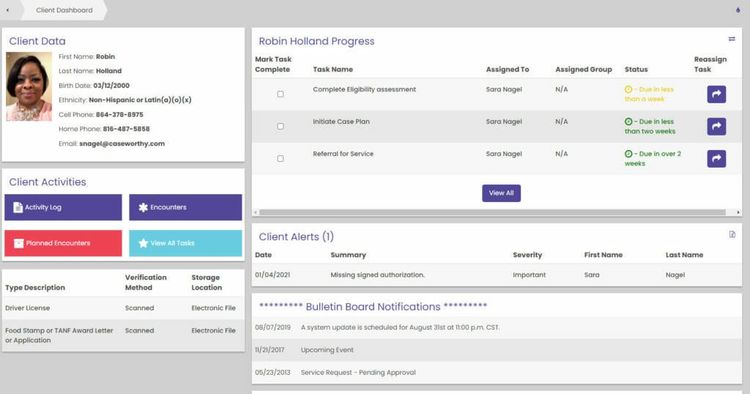 Features of Nonprofit Case Management Software
Client Intake: Automate client intake processes to expedite the entry process into programs; use intake forms to ensure all relevant information is collected as early as possible
Client Management: Assign new clients to different case workers based on their demographics or preferences
Task Management: Use a real-time dashboard to prioritize your workload using customizable task attributes based on your specific day-to-day processes
Scheduling: Carefully coordinate tasks for case workers and their clients to avoid incompatible schedules
Automated Notifications: Email or text reminders or notifications to workers when tasks are approaching
Case Notes: Take meticulous notes on every client interaction to build an accurate record of progress; share case notes between workers to keep track of potential changes
Client Portal: Allow clients to access useful information about NPO programs or their specific cases from the convenience of their own home computers or mobile devices
Goal Tracking: Set specific goals for clients and measure progress as they move towards those goals
Referral Management: Use guidelines to indicate when clients should be referred to other programs or services; standardize referral notices
Form Templates: Build custom templates for different program documents, such as intake forms, to ensure all necessary information is included on each document
Volunteer Management: Recruit, track, and monitor potential volunteers for NPO programs
Reporting and Analytics: Retain client information for future use or potential audits; analyze historical data from past programs to identify successes and areas for improvement
Benefits of Nonprofit Case Management Software
Nonprofit organizations and human service agencies can gain a lot of benefits from implementing a case management system into their operations.
Prioritize People
Many social service organizations are intended to help people, improve lives, and build better communities. Yet in order to receive funding, they need to prove progress by showing the growth of various metrics to government agencies or grant foundations. Reporting tools can show detailed historical data about your NPO, showing exactly how much progress has been made by each client through the program. These information systems can then be used for future grant applications to increase potential funding or shared with government agencies during audits.
One major benefit of case management software is the ability to easily share case notes with others within your organization. This can make it easier to arrange referrals or enroll clients in new programs based on eligibility requirements. And client portals allow for assessments to be performed in advance of first meetings, keeping you more informed of client data. By focusing your program management on the human element and spending less time on administrative tasks, your organization can learn how to best serve client and community needs.

Remain Compliant
A variety of social services can often interfere with a client's right to privacy, particularly when it comes to physical or mental health concerns. For example, someone required to receive physical therapy will need to tell a boss or supervisor why they need time off to attend sessions, which could influence how they are perceived at their workplace. As such, many governments have set regulations to ensure those receiving assistance can remain as private as possible. Help your NPO meet privacy standards, such as HIPAA-compliant in the United States, by utilizing case management software.
Donation management modules are also available through these solutions, helping you to correctly raise funds for additional services. And if your NPO is funded through grants, public funding, or government assistance, the case notes you have can be used for official purposes in audits of past programs or to streamline new funding applications. No more scrambling around making last-minute proposals to funders when all the relevant data you need is kept in one user-friendly platform.
Reduce Schedule Conflicts
Time conflicts are one of the top reasons for clients to fall behind on helpful programs. For instance, someone who is working two jobs in order to afford housing likely doesn't have a lot of scheduling flexibility between two sets of bosses. Text and email alerts can keep clients in contact with your team to clear up potential conflicts and keep progress moving forward.
Nonprofits only have so many employees or volunteers at any given time. And it's no secret many are unfortunately understaffed and underfunded. As a result, getting clients in for their appointments and programs can be incredibly challenging. Scheduling modules can create shared calendars so workers and employees can avoid overlapping appointments and ensure everyone is seen in a timely manner, even when understaffed with limited availability.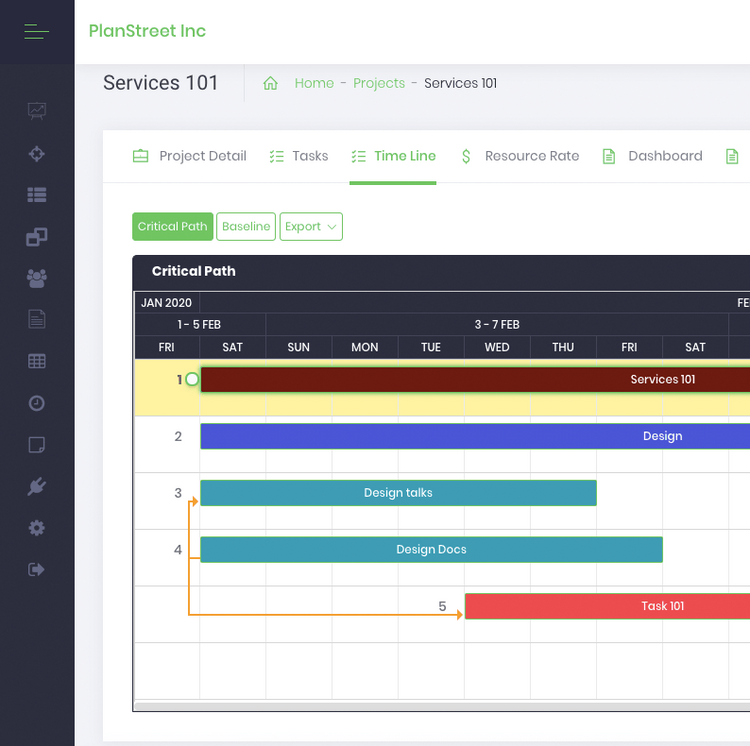 What Does Nonprofit Case Management Software Cost?
The cost of nonprofit case management software starts from $9 per month to $99 per month. While some free options are available, others charge a monthly or annual subscription rate for services.
The free options are generally limited to new or small NPOs, though many service providers have free demo trials in order to experience the software before making a long-term commitment.
Pricing may also depend on how many records your organization has. The more you have, the higher you'll pay. Scalable solutions can grow with your organization. In other cases, the cost comes down to add-on modules like SMS text messaging tools. As mentioned above, nonprofit CRM software can include human service and case management tools, though these solutions cost significantly more and may not be affordable to smaller nonprofits.