What is Pre-Employment Testing Software?
Pre-employment testing software provides the assessment tools necessary to gain better insight into the applicants seeking a job with your company. Interviews and resumes can only tell you so much about a potential new hire. Pre-employment tests are the most popular method for ensuring better hiring decisions.
Often integrated with applicant tracking systems (ATS), this specific human resource (HR) software streamlines the hiring process by making it easier for HR teams, recruiters, and hiring managers to find qualified candidates. Customizable tests on these assessment platforms measure everything from job-related skills to soft skills like cognitive ability and emotional intelligence. And creating consistent testing methods can help your hiring process remain compliant with the US Equal Employment Opportunity Commission (EEOC) guidelines regarding fair hiring practices.
Features of Pre-Employment Testing Software
Aptitude and personality testing platform: Perform psychometric tests to reveal the best qualities of the right candidates at a personal level
Skills assessment: Test candidates on their job-related skills and abilities related to the specific field, industry, or workload
Customizable test templates: Develop specific test formats based on what your company is looking for in new hires
Question library: Use pre-existing questions to test and assess applicants during the hiring process to determine who is the best candidate for the position
Simulators: Simulate real on-the-job situations for candidates to demonstrate their skills and measure the effectiveness of their responses to common work-related scenarios
Applicant tracking and candidate management: Keep records on all active applicants and candidates to schedule additional tests or interviews
Background screening: Check employment records, criminal history, certification status, and other relevant background factors of each candidate
Applicant scoring: Rank top talent in order to prioritize interviews and additional testing; save test results of current employees for future reference or retention
Video interviews: Interview candidates over video in order to better screen and assess remote applicants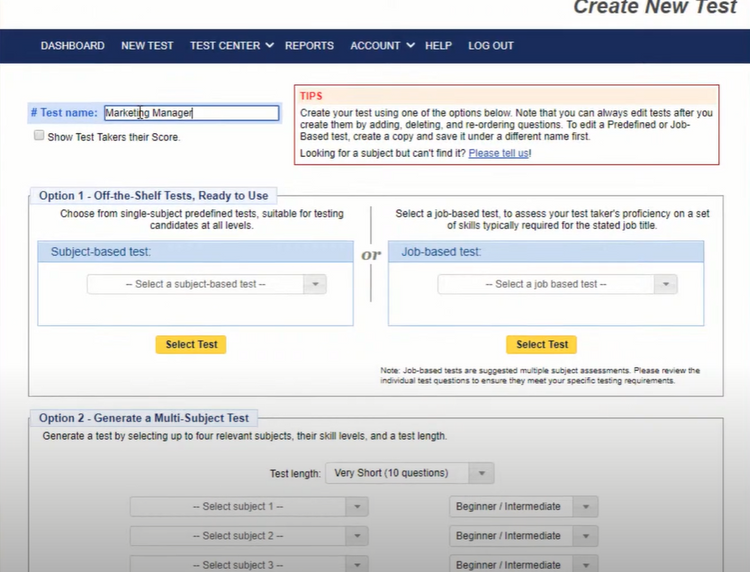 Best Pre-Employment Testing Software Benefits
Opting to adopt online pre-employment testing software into your recruiting and hiring process can provide many advantages, such as:
Find Better Candidates
The main goal of pre-employment testing is to find the best candidates for the job, whatever it may be. This software goes beyond reading cover letters, reviewing resumes, and interviewing. Tests and assessments are the best way to uncover who is really the best fit for both the job and your company. Afterall, plenty of applicants can ace an interview even when they're not fully qualified for a job solely because they're charismatic. And plenty of qualified workers may not fit in with your company culture. Job-specific skills assessments rule out the former while aptitude tests and reveal the latter.
Pre-employment testing does more than just display job knowledge, it can reveal who is best suited for your company culture. Some additional assessments can test:
Situational judgment: How likely is someone to make the right choices under pressure or deadline? Do they have competent problem solving abilities?
Emotional intelligence: How much self-awareness does the candidate have? Can they adjust and adapt on the fly to changing conditions?
Temperament: Can the potential new hire work well with others on an established team or department?
All of these highly specific tests give your company more insight into who the applicants really are. General pre-employment screening during the recruitment process only goes so far, such as a background check which might reveal some basic information about a candidate's past. Yet aptitude and personality tests are necessary to show who they are today and if they are a compatible culture fit for your company. Using an assessment software organizes all these pre-employment tests into one place.
For instance, a skills assessment may reveal a candidate who is technically qualified for the job while a personality test may show they do not work well with others. If the job involves a lot of teamwork or interaction with clients, they might not be the right fit despite their undeniable skills. And applicant scoring systems can allow you to move on to the next most qualified individual for the next round of skills tests and interviews.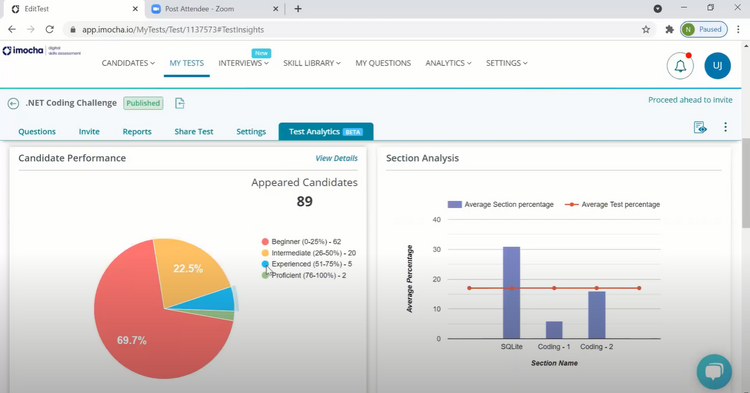 Faster Assessment Results
Skill testing used to take a long time to complete, particularly if there were a lot of positions to fill and applicants to assess. And thanks to advancing software, your HR department and hiring manager can get the results from these assessments faster than ever before. In fact, as soon as a prospective employee submits their test, your company can receive an automated report detailing their rank and score against other applicants.
Online pre-employment testing can even be performed remotely, saving more time and money. Start with video interviews, then move on with the best candidates to the assessment process. Remote proctoring is possible to prevent cheating and ensure fair candidate assessment. All of these tools allow your company to recruit candidates from anywhere in the world without spending countless time and money on traveling for interviews and testing.
Customize Your Hiring and Onboarding Process
No two companies are exactly alike, just as no two employees are exactly the same. For employees to succeed, they need to perform well under your specific company culture. Pre-employment testing software lets you develop your own questions based on what you know is needed for a good culture fit.
Pre-employment skills testing may be more hands-on, such as bringing in a candidate in-person or online to assess their abilities in a realistic job simulation. For example, a garage owner may test a new mechanic by having them attempt to repair a vehicle engine which was intentionally disabled. Or a tech company may use coding tests during online assessments to measure candidate experience and potential job performance, all before they ever step foot in the office.
Once a new hire has been onboarded, there are many employee assessment tools to measure their growth. Soft skills assessments can show non-technical areas where an individual or team has room for improvement which can lead to better performance overall. These areas cover concepts such as:
Time management
Communication skills
Creative thinking
Networking
Conflict resolution
Soft skills can be assessed along with more company or job-specific abilities based on your evolving needs.
Pre-Employment Assessment Tool Trends
Employee assessments have long been part of the pre-employment process. Sometimes they were formal exams, other times they were hands-on projects. The rise in technology and Internet-based careers has led to a lot of changes in the testing and hiring process. Two of the main trends, particularly in the wake of COVID-19, are video interviewing and remote skills assessment through online tests.
First, video interviews help form a more personal connection between job candidates and hiring managers. Interviews over the phone could cause miscommunication without the ability to see faces and expressions. Now, the dramatic rise in video teleconferencing has made it more possible than ever for companies to really see their prospective employees. And third-party recruiters can record these video interviews to share with their clients so they can better understand who might be a good job fit.
Remote skills assessment is another big trend. Anti-cheating tools have reduced the need for proctors to travel and administer skills assessments in person or for applicants to travel to you. This saves both sides of the hiring process travel time and money. And as described above, anti-cheating technology prevents anyone from faking their qualifications during unproctored internet testing (UIT).