Is QuickBooks good as a rental property management software? Simply put, yes, QuickBooks does have the capacity to be used for managing rental property accounting transactions. The software lets you set up properties as customers, tenants as sub-customers, and classes to track various transaction types.
Whatever software you decide on, you'll need something to track rent payments, expenses, payments, and profits. Should your business use manual methods such as spreadsheets? Or go with popular accounting software such as QuickBooks? While QuickBooks is a great accounting system for general purposes, it does lack the necessary features that will allow you to better manage your properties and become a better landlord.
QuickBooks is a massively popular accounting product with both desktop and online versions–the latter having more than 3.9 million subscribers alone. The software is used by a variety of industries, meaning it's possible to use a product such as QuickBooks Online for your property management needs. Specifically, it is best used by a property manager handling small to midsize properties.
How Do Landlords Use QuickBooks?
Desktop versions of Quickbooks will allow you to set up company and customer files as various properties. This will allow you to handle tasks such as collecting rent from tenants and paying property owners and management companies, on top of any fees involved in property maintenance.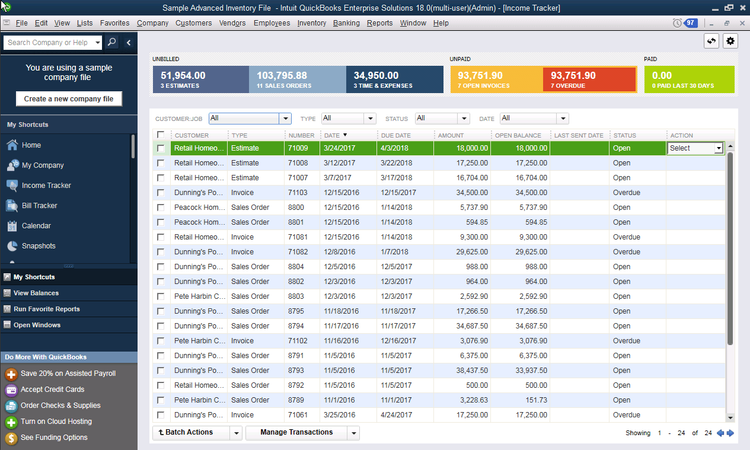 It's important to note that there is no specific version of QuickBooks tailored to the real estate or property management industry. Because of this, you'll need to be fluid with the program and perhaps make a few tweaks and adjustments in order to have it work the way a property owner would like.
For example, in QuickBooks you'll be able to create and manage two company files:
Rental property company: For collecting rent, paying bills, and managing the property for the owner
Property management company: A file for receiving income for managing properties
This will help keep the companies' transactions separate from each other, allowing you to set up tenants and vendors, accounts and items, record security deposits, track the rent income, record expenses for each property, and pay the property owners. From the property management side, you'll be able to set up property owners as customers, set up accounts and items, and record property management income.
If the property management business is comprised of several large properties or multiple complexes, it is advised you look into a more advanced system. A professional property manager could be better off finding a trust accounting system. Whatever accounting software is chosen to handle property management accounting, these facts remain certain:
Once rent is received from the tenants, it needs to be disbursed to the property owners. This money should be kept in its own account and separate from any account that is used to pay expenses.
Any money also received from the owners for the work you've done (your management fee) should be put into your own account.
How Do I Record Transactions For A Property Management Company In QuickBooks?
QuickBooks lacks this type of straightforward account management and is why it can be difficult to manage multiple properties using QuickBooks. However, QuickBooks does post instructions on their own website about how to record transactions for a property management company:
Create A Company File For A Rental Property Company
This is where you track transactions for each property being managed and record rent income and expenses.
Set up tenants and vendors: Set up properties as customers, tenants as customers or jobs of properties, and owners as vendors.
Set up accounts and items: Set up checking accounts as assets, security deposits as liabilities, rent income and common area maintenance expenses (CAM) as income, and property management expenses and property owner payments as expenses.
Record security deposits: Use a liability account for a security deposit.
Track rent income: Record rent income as invoices if you receive payments at a later date or as sales receipts if you receive payments right away.
Record expenses for each property: Record property expenses such as property maintenance, utilities, and repairs. Record them as bills if paid at a later date or checks if vendors are paid right away.
Pay property owners: Use profit and loss reports to calculate how much to transfer to property owner's accounts. Write checks for the payment and mark it as a vendor payment.
Create A Company File For A Property Management Company
A rental property business will also want to track their own business transactions, such as the income and expenses incurred from managing the properties on behalf of the owners.
Set up property owners as customers
Set up accounts and items: Set up checking accounts, furniture, and equipment costs as assets, payroll liabilities as a liability, income as income, and insurance and utilities as expenses
Record income: Record management income from property owners as invoices if paid at a later date or as sales receipts if you receive payments right away.
Limitations of Using QuickBooks for Property Management
QuickBooks may offer some of the most widely used accounting solutions for small businesses, but this comes at the expense of not offering industry-specific capabilities when it comes to managing rentals.
As described in the previous section, while it's possible to set up QuickBooks in a manner capable of handling rental property accounting, it's not as straightforward as it could be with industry-specific software. A business will need to have an above-average understanding of the ins and outs of the software in order to set it up correctly, and this will also create a bigger learning curve for your employees.
When you create invoice payments for rent collection, tenants do not have a client portal they can log into to view their monthly rent statement and make a payment. This also means they do not have the ability to set up autopay. Furthermore, tenants won't have the ability to do non-financial-related tasks, such as view their lease terms or submit a maintenance request (work order).
For the property managers, they'll be without abilities such as sending mass emails to tenants (such as announcements), tenant screening, eSigning lease documents, or viewing tenant work orders. It may be hard to go away from an accounting program that you've used for years, but many find it much more reasonable to have all of those functionalities in one place.
QuickBooks may handle its best traits incredible well (such as tracking transactions and monitoring cash flow), but QuickBooks may fall short for a property manager who isn't patient enough to deal with these limitations, for someone who desires more than just financial features, or for someone desiring a software built exclusively for them.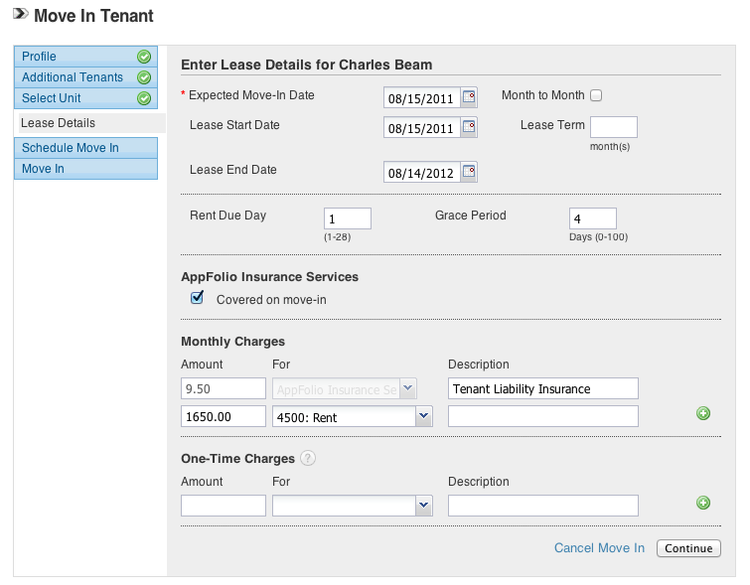 Best QuickBooks Alternatives For Property Management Software
If your business feels that you've outgrown QuickBooks or would prefer something that is more geared towards the industry, there are a number of options available. One way to decide is to decide what is the most important to you.
Do you want the best overall software?
Do you want one catered towards small rental property management companies?
Do you want an online software?
Are you looking for something less expensive than QuickBooks?
The following software options all include financial management on top of additional capabilities that can help you run and even expand your rental property management operations.
AppFolio is a great fit for both residential and commercial property management, making it one of the best overall options no matter what type of properties you're working with. The tool has one of the most modern looking interfaces around and provides sleek marketing tools that help post vacancies to your website and sync with 3rd party hosting sites. You can also easily establish rent increases based on the terms of the lease, quickly resolve maintenance issues, and more.
For residential properties, the software gives you everything you need so you don't have to rely on an outside application and screening tool or a third-party accounting system such as Quickbooks. The commercial capabilities were built to deal with more complicated leases, specialized reporting, CAM reconciliations, and more.
DoorLoop is a completely web-based system providing flexible pricing and fully-integrated accounting, marketing, and maintenance features. DoorLoop is a fantastic choice for a fast-growing company that is looking to expand to more properties and units.
DoorLoop provides room for unlimited properties, users, training, support, and much more. Unlike other property management tools that might charge on a per unit basis, DoorLoop has more of a tiered pricing structure–allowing you to pay only $49/month for up to 20 units when you're just getting started with their Starter plan. Currently, DoorLoop is 50% off until 2022–making it a top online property management software and a great time to test drive the solution to see if it's right for you.
Want more options? Check out our list of best online property management software.
Condo Control helps condo and homeowner associations tackle meetings, record-keeping for boards, incident tracking, and package deliveries for security and concierge. Online payments and violations tracking for property managers and service requests allow residents to feel more in control of their surroundings.
Hemlane is an all-in-one rental property management solution for owners, real estate agents, and property managers. Hemlane lets you manage properties easier than ever with their leasing tools, local support, maintenance coordination, and management tools.
Small businesses will find the Basic package from Hemlane to be as robust as they will need, while still having the option to upgrade to a more premium package if they ever grow. The core functionalities include leasing with marketing and tenant placement tools, local agent tools to help owners connect with managers and agents, management tools to handle finances and lease management, and maintenance tools to handle repair requests with your repair team.
TenantCloud is a free cloud property management software that can be used by both landlords and tenants. Landlords have the ability to receive online payments, screen applicants, manage finances, and get a free listing website. Meanwhile, tenants can submit rental applications, pay rent online and keep a detailed record of payments, and submit maintenance requests.
The free version of TenantCloud is best used by landlords who have under 75 units. This version allows for 1 user and up to 10 custom templates for rental agreements and notices. The paid version starts at $9/month.
Buildium is a complete property management solution designed by property managers. The software handles property accounting, company financials, reporting, as well as handling online payments with both a tenant portal and an owner portal. Buildium is best used by residential rental management companies given it's scalability in how many units can be managed.
Buildium starts at $47/month, but has a unique a la carte fee structure that really only makes the software worth it if you manage at least 50 properties. For example, while managing 1 unit costs $47/month, managing 50 units is only $31 more at $78/month. They do have a "Pro" version which includes free EFT payments, free bank account setup, and free electronic leases.
Want more options? Check out our list of best rental property management software options.