Accounting Software for Shopify Audit
What is Accounting Software for Shopify?
Accounting software for Shopify store owners helps businesses manage the financial side of their eCommerce business. Linking an accounting solution with the Shopify platform allows you to manage cash flow, track sales taxes, invoice customers and manage your online inventory.
The most common ways small business owners manage their Shopify businesses are through standalone accounting systems or dedicated financial apps from the Shopify app store. Keeping financial data in Excel won't cut it if you're processing many orders every month. Whether you're a brand new startup or a small business expanding to online sales, you need accounting tools capable of breaking down sales tax by state and tracking cost of goods sold (COGS) so you can focus on growing.
Shopify Basics
First, Shopify is an eCommerce platform which helps you:
Find and buy a domain name
Organize marketing campaigns
Promote products and services on social media (Facebook, Google)
Before you select an accounting software, you first need to look into whether Shopify is right for your business. The platform's Basic Plan is available to retailers for $29 per month, though additional pricing plans with extra functionality are available for $79 and $299 per month. Shopify is accessible via desktop or through mobile apps for iOS and Android. Customer support is available 24/7 to provide assistance when necessary.
Want more options? Compare the Shopify platform to WooCommerce, Etsy, Wix, or Squarespace in our 2021 comparison guide for more information on eCommerce accounting software options.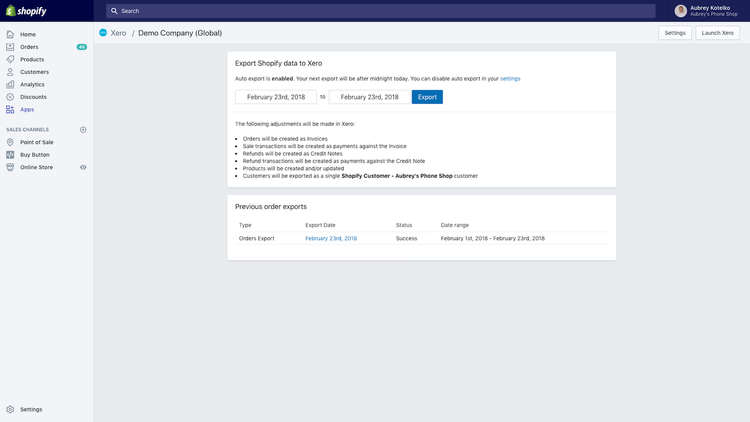 Features of Accounting Software for Shopify
| Feature | Description |
| --- | --- |
| Core Accounting | Includes general ledger with accounts payable and receivable; expense tracking and revenue forecasting. View balance sheets detailing sales and profitability by item, customer, and date. Handle advanced features like bank reconciliation when necessary. |
| Payment Processing | Accept payments directly from the Shopify eCommerce storefront. Payments can be made through Shopify or from a third-party payment provider like PayPal. Depending on the exact platform plan, credit cards, gift cards, and bank account transfers can be used. |
| Inventory Management | Inventory levels are updated in real-time when a sale is made in your online store. Automatically send purchase orders to vendors when inventory levels are running low. |
| Sales Tax | Manage sales tax rates by state for each sale to ensure compliance with local and federal rules. |
| Invoicing | Create and send invoices for customizable products on your Shopify store. |
Benefits of Accounting Software for Shopify
Accounting software for Shopify allows you to keep better track of your company's finances and reduce time doing manual data entry by syncing eCommerce sales into one system and automating the reporting process. Some benefits of using accounting software for Shopify stores include:
Tracking Cost of Goods Sold (COGS)
Accounting software allows Shopify sellers to track the cost of goods sold or COGS. An accounting system automates the calculation of the gross profit of each item sold through a Shopify store. Expenses from materials, labor, fees, and other business overhead costs are all taken into consideration when calculating COGS. All of your sales data from Shopify will be exported to your accounting solution, so you can easily compare sales and costs without manual data entry. Being able to clearly see your gross profit will allow you to get better insights into profitability and business productivity.
Tracking COGS also helps with inventory management and forecasting sales. To start, unsold products in the inventory are counted as an asset. When an item is sold, the cost of the item is taken from the asset value and applied against the revenue from that particular sale. Manually inputting each sale can keep you from focusing on other elements of fulfillment. Fortunately, accounting software helps you determine the profit from the sale automatically by providing this inventory management.
Improved Reporting Capabilities
Integrated accounting software for Shopify lets you run more detailed reports on financials, customers, inventory, vendors, employees, taxes, and more. These reports will give you a more detailed view of overall business performance than only using Shopify. Detailed templates allow you to customize the categorization of data you collect and how it is presented to you.
Shopify alone has limited reporting capabilities depending on the plan you purchased. For example, Shopify Lite only has an overview dashboard and finance reports for payments and taxes. Shopify Plus can create more detailed reports for finances, customer behavior, and marketing.
Additionally, automated business accounting software reduces the likelihood of human error when compiling reports on sales. If your small business can't afford to have a dedicated employee or third-party auditor double-check all financial data, accounting software can provide peace of mind by preventing mistakes and offering tools for internal audits.
Best Accounting Software for Shopify Store Owners
Basic accounting software helps businesses manage financials to ensure profitability and long-term growth. More specific programs make it possible to expand to online sales with ease. While Shopify itself helps with order processing on the eCommerce side of your business, you need a dependable accounting system to manage cash flow. Third-party accounting software built for integration with a Shopify store also helps manage sales tax by location to ensure you're paying the right amount of taxes wherever your sales occur.
Keep in mind these accounting solutions may require the use of additional software in order to import your Shopify sales data. Connector apps are available through Shopify directly or a third-party that allows you to sync data from Shopify to your accounting solution with the proper permissions.
Some popular accounting solutions for Shopify include:
QuickBooks Online integration with Shopify allows order and refund data to be automatically imported into QuickBooks. Order data will also include sales tax data, allowing you to see how much sales tax was paid and still owed. QuickBooks will also record expenses including Shopify fees. When a sale is made in Shopify, item quantities are automatically updated in QuickBooks. This allows you to keep real-time records of on-hand inventory.
Price: QuickBooks Online starts at $15 per month for the Simple Start Plan. This plan includes income and expense management, receipt organization, invoicing, basic reporting, and sales and sales tax tracking. Other plans are available for time tracking, inventory management, and adding multiple users or freelancers.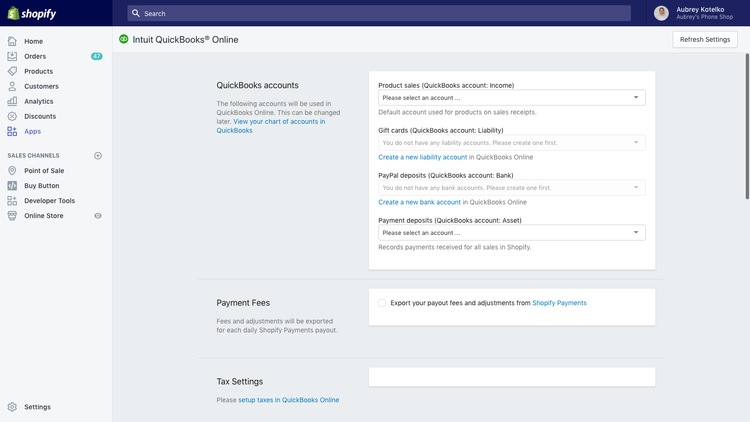 Xero is an online accounting software that is popular among small and growing businesses. Using a connector app, the sales orders from Shopify are automatically exported to Xero daily. You can also automate invoicing, record payments, and update customer contact information when a sale is made.
Price: Xero's Early Plan starts at $9 per month and is marketed towards very small businesses. This plan allows you to send 5 invoices, enter 5 bills, and reconcile 20 bank transactions. Other plans are available for growing startups and established businesses.
Integrating Zoho Books and Shopify allows you to pull order and customer information from Shopify into Zoho Books. eCommerce businesses can see order dates, order numbers, amount due, payment status, and shipping status.
Price: The Basic plan for Zoho Books starts at $9 per month for each organization and includes an initial 50 contacts (customers and vendors), one user and one bookkeeper, and five automated workflows. If you need to store more contacts or have more users, other plans are available.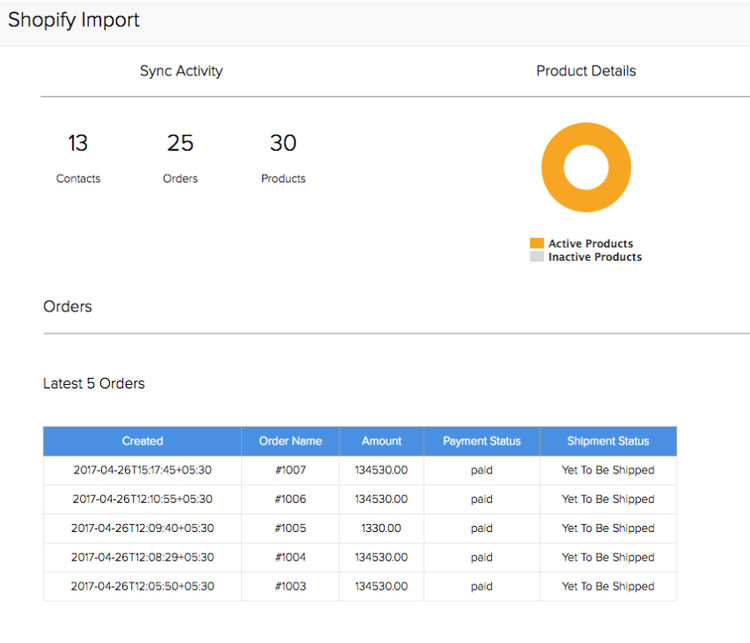 Third-Party Connector Apps for Shopify Accounting Software
Connector apps are available that automate data transfer between two or more different systems. These applications are useful for accounting systems that don't already integrate with Shopify. The system allows you to automatically pull data including products, payments, and taxes, so you don't have to rely on manual data entry.
Some popular connector apps include:
1

Zapier

Zapier assists with connecting web apps and software with each other to improve workflows. Through Zapier, Shopify can be integrated with a variety of other solutions for accounting, time tracking, and more.

Price: A free version of Zapier is available for individuals and professionals just starting out. This version only allows integration between accounting systems like Wave, FreshBooks, and Zoho Books. Paid plans give you access to Premium apps including QuickBooks Online, Amazon Seller Central, Xero, and more. The paid plans start at $20 per month (when billed annually).

A video demonstration of how to use Zapier to sync data with Shopify

OpenSaas allows you to connect different solutions to manage basic accounting, billing and invoicing, eCommerce, CRM, inventory management, and more. With OneSaas, you can connect Shopify to accounting software like QuickBooks Online, Xero, Sage Accounting, FreshBooks, and Zoho.

Price: The basic, Business Starter Plan, starts at $19 per month (billed annually). This plan allows you to connect 2 apps and is marketed towards low volume and new businesses. More plans are available if you need to integrate more apps.
Shopify Apps for Accounting Services
Shopify has a number of accounting apps available on the Shopify App Store. Depending on the solution, these apps can track revenue and expenses, generate financial reports, and automate sales tax rate calculating. These apps are developed by third-parties specifically for use with Shopify.
Popular Shopify apps for financial management include:
Profiteer is a Shopify App developed by Resistor Software for managing COGS. Cost prices for each variant of your products can be stored within the system. You will then be able to see profit margins for every product in each order. Reports will show total eCommerce sales, total POS sales, and profit margins. The reports can also break down sales by the best selling products.
Price: Profiteer starts at $15 per month for the Basic Plan. Other plans are available for Shopify stores with a large inventory exceeding 25,000 SKUs. The large inventory plans start at $30 per month.
According to user reviews on the Shopify App store, Profiteer is great for measuring profitability. A common pain point among users of Profiteer is that set up can be time-consuming if you have many products and variants.
SimplyCost is a Shopify accounting app from Zapfor Apps that allows business owners to add cost prices and track profits. SimplyCost automatically calculates sales profits and takes taxes, refunds, shipping, and other discounts into consideration. Performance reports can be run with SimplyCost. These reports show you the performance of each store as well as each product. The reports can be broken down by day, product type, vendor, sales channel, and more.
Price: SimplyCost is $4.99 per month. A 14-day free trial is available.
Users on the Shopify App store like SimplyCost for the profit and costs tracking functionality, as well as user-friendly reports. Some users noted that you can't easily switch between different Shopify store sites, making it a hassle to manage multiple stores.