Key Takeaways: SMB organizations must embrace cloud accounting or miss out on the competitive advantages of anytime, anywhere application availability. SMBs must also choose the right private versus public cloud accounting strategy to maximize benefits. Product maturity and a low financial barrier to entry make now the time to act for SMBs ready to secure a business advantage by embracing the cloud.
The rise of cloud-ready accounting applications is the single most significant change in the accounting software market over the last decade or so.
Cloud accounting technologies have brought new providers to the market and forced established leaders to adapt their offerings in innovative ways. But most significantly, cloud accounting software has provided an indispensable competitive resource to small and medium-sized organizations looking to increase revenues and operate more profitably.
What is cloud accounting software? The answer to that question depends on who you ask. But what all the experts agree on is that cloud software provides a means of using the Internet to deliver anytime, anywhere access to data and application resources on an on-demand basis.
The ramifications of anytime, anywhere cloud access are substantial. Among many benefits, cloud enables:
Agility. Anytime, anywhere access is a business necessity in order to support distributed workforces, requirements for device independence, and on-the-go realities of modern business.
Cost control. Cloud has disrupted the traditional software investment model. As a result of the widespread availability of subscription pricing, buyers are finding it easier to balance capital/operating expenses, create more predictable expenses, reduce technology support costs, and access economies of scale.
Productivity. Cloud empowers internal labor forces to focus on core competencies by allowing organizations to determine the specific amount of control they would like to exert on direct technology resource management.
Growth. Cloud enables new opportunities for growth by accelerating access to enterprise-class functionality and offering easier collaboration with supply chain and other business partners.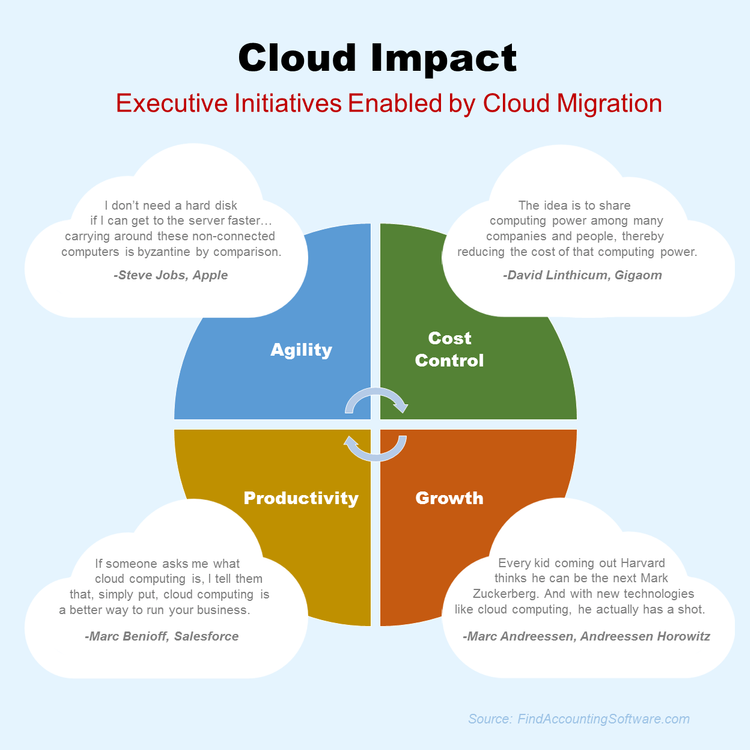 Why Accounting Cloud Migration Is a Strategic Imperative
The cloud revolution has not been limited to accounting software. The emergence of the cloud paradigm has impacted all classes of business applications to varying degrees. But it is critical that SMB leaders place special prioritization on migrating accounting applications to the cloud.
Accounting software occupies a unique position within the technology portfolio of small and medium sized businesses. Accounting packages are important not only to ensure the efficiency of an organization's most crucial and time-consuming administrative business processes, but to provide the analytical foundation to ensure strategic decision-making is grounded by clear financial justifications.
Additionally, a market-wide trend towards application convergence means that accounting capabilities are frequently embedded within ERP systems which support supply chain, sales, HR, service, and project team requirements. In many environments, cloud enablement of core financial functionality will have cascading benefits: as accounting functionality is updated, other departmental areas served by the same core business management system will simultaneously benefit from cloud advantages.
Accounting applications are ripe for cloud migration, not only because of their strategic importance and central position within the technology profile of most small businesses, though. The SMB accounting market itself has reached a state of maturity in terms of the availability of cloud-ready products. Leading accounting software providers in the small to mid-market accounting space (Microsoft, Sage, Intuit) offer cloud solutions with individual product install bases well into the tens of thousands for organizational users. Further, top contenders such as NetSuite and Intacct have become popular alternatives because of their commitment to a cloud-first, SaaS oriented software strategy.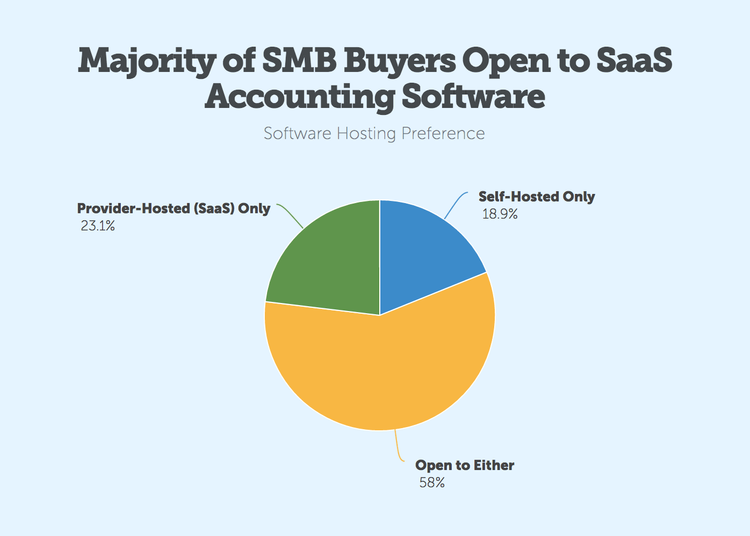 There is little doubt that the future of accounting software lies in the cloud. Based on the new products brought to market and updates to legacy systems, it's fair to say that the primary focus of development efforts in the accounting software market is now squarely on the cloud. With buyers increasingly demanding cloud capabilities and showing growing interest in subscription-based, SaaS options, it's a safe bet the cloud focus will continue.
How to Determine the Right Cloud Accounting Strategy
Because of the substantial benefits it enables, the decision for SMBs isn't whether to embrace cloud accounting software, but how to do so.
Small and mid-sized businesses face a strategic crossroads when it comes to cloud migration. The fact is that the cloud is not a singular thing. Approaches to enabling cloud functionality vary. For SMB decision-makers, the practical upshot is that while some business benefits are inherent to all forms of cloud access delivery, most depend on the selection of the appropriate cloud strategy for an organization's unique circumstances.
One of the challenges to selecting the correct cloud strategy is simply the amount of confusion surrounding the terminology and what "cloud" truly means. The confusion is unnecessary though. It can be cleared away through a simple business case consideration of two important factors when determining cloud strategy: who hosts the software and how user access is provided.
Cloud Hosting Options: Private Versus Public Cloud
In some usages, "cloud" has become synonymous with provider-delivered, software-as-as-service (SaaS) model. But it is not necessarily so. Small and medium businesses seeking cloud functionality have a choice: self-hosted (private cloud) applications or provider-hosted (public cloud) options.
While both offer access to network accounting application resources to end-users, private and public cloud approaches offer very different value propositions.
Self-hosted (private) cloud: Enables anywhere, anytime access to software capability while maximizing organizational control to meet definable standards for quality of service, security, and integration standards by preserving the hosting of applications on internal servers.
Provider-hosted (public) cloud: Provides cloud capability while outsourcing server hardware and application support responsibilities, in order to minimize capital expense and allow for increased focus on organizational core competencies.
The choice between private and public cloud is fundamentally about strategic organizational resource allocation. Consequently, it is a decision that should be made by top decision-makers with input from key IT personnel–rather than vice versa.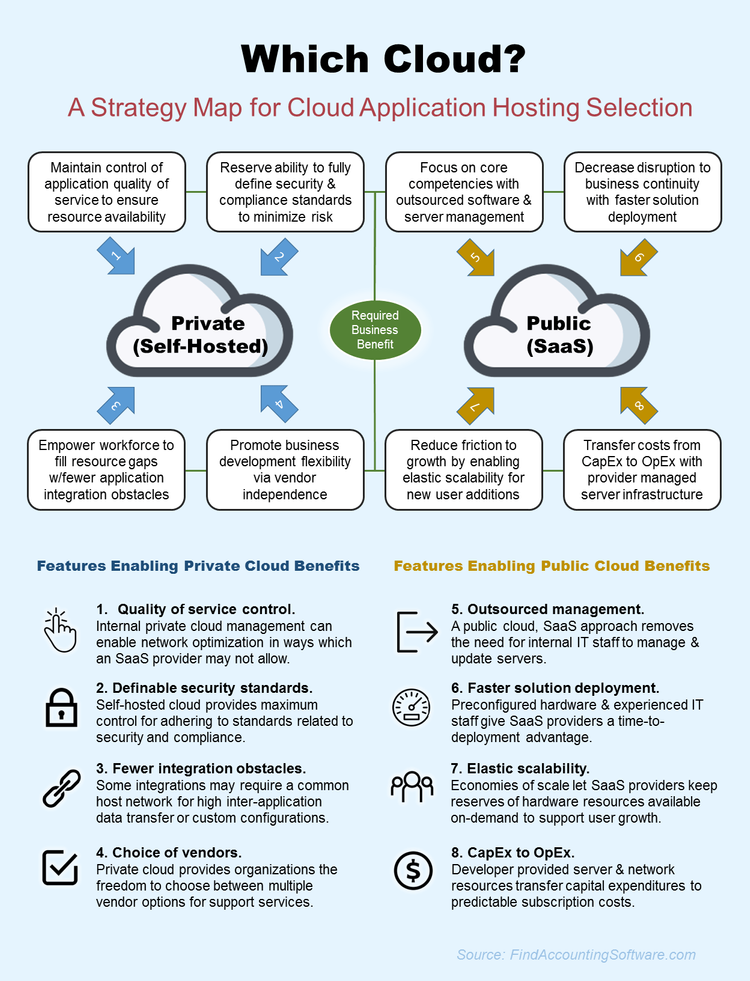 The debate between private and public cloud hosting of accounting software applications can be broken down to two main dimensions: control versus convenience and CapEx versus OpEx preference. SMBs who take on the task of hosting their own cloud-enabled accounting systems will gain control over determining security, quality of service, and compliance standards, but will have to support additional costs for hardware and IT support resources. Organizations who opt for public cloud, SaaS model hosting will make the opposite trade-off and find themselves able to transfer lump-sum capital expenditures into predictable, ongoing subscription costs.
Cloud User Access Options: Browser-Based Versus VPN or Virtualization
There is a strong association between the cloud and web-based applications that leverage web-browsers for client access. But businesses who wish to support cloud delivery of accounting capability to users are not limited to natively web-based products. Traditionally client/server based programs can be cloud-deployed via virtualization and VPN technology.
Benefits of supplying cloud access to end-users via web-based programs include:
Device independence. A web-based user client negates the need for additional client side software and provides the opportunity to access program functionality from any browser-enabled device connected to the Internet, regardless of device OS or form factor.
Reduced technical support and rapid user deployment. Without additional client-side software requirements (such as an OS-specific client, virtualization client, or VPN client), technical support requirements are minimized.
Ease of use. The elimination of other client-side software requirements and the presentation of program functionality through the familiar web-browser interface provides ease of use for end-users.
Desktop virtualization and VPN options provide alternate choices for organizations interested in providing cloud access to business applications which lack browser-based user clients.
Desktop virtualization. Desktop virtualization is a server computing model that allows applications to be stored on a central server instead of on a client's physical machine. Devices running desktop virtualization software (such as Microsoft's Remote Desktop Connection or Citrix XenApp/XenDesktop) can access business applications outside the corporate network. Desktop virtualization software is available for Windows, Linux, Mac, iOS, and Android operating systems. It does not require the installation of additional client side software as a prerequisite for supplying cloud access to business applications.
VPN. Virtual private network technology uses encryption and tunneling protocols to create a private connection across the public Internet in order to enable secure remote access to internal network resources. In order to gain cloud access to business applications via VPN, users must use devices which have both client side application software installed and a VPN client.
In terms of simplicity, user experience, and supportability, natively web-based accounting options represent the superior technology for delivering cloud user access. As important as it is, though, the ease of delivering cloud access is not the only consideration for software buyers. Desktop virtualization and VPN remain approaches whose viability greatly expands the number of product offerings an organization may consider. Especially in cases where industry-specific requirements may compel an organization to seek options unique to their vertical, the ability to consider traditionally cloud server products without forgoing cloud benefits can be advantageous to achieving larger organizational objectives and should not be dismissed without careful consideration
Market Trends and Options for SMB Accounting Buyers
Today's accounting software buyers in small to mid-market businesses have access to a wide range of products for both private cloud and public cloud software options. While the majority of buyers continue to demonstrate interest in evaluating both private and public cloud options, consumer interest in public cloud, SaaS options is mounting.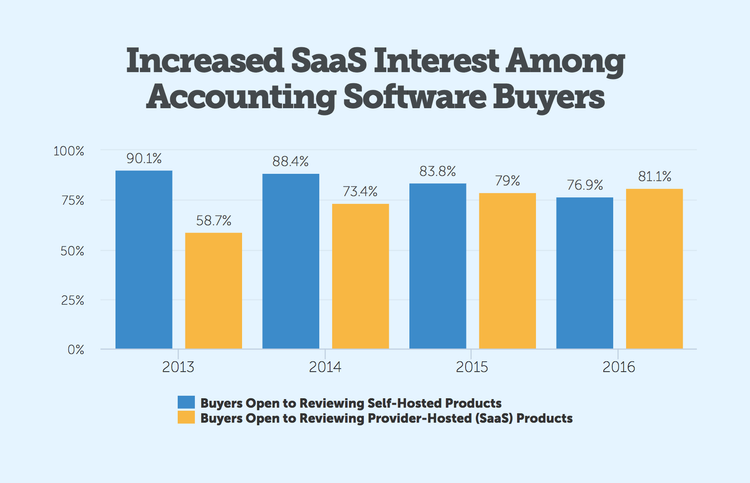 Accounting software buyers in the SMB market have hundreds of product options to choose between. Given the massive amount of available product choice, solutions delivered by the top developers serving the market are instructive examples to consider. They provide a microcosm of the changes that have affected the market as a whole and a valuable reference point for understanding the variety of public and private cloud options available to buyers.
The most pronounced trend in SMB accounting software has been that mid-market (eg, Intacct, NetSuite) and micro-enterprise (eg, Xero, Freshbooks) challengers alike have been exerting pressure on the traditional SMB accounting leaders with their SaaS only, public cloud solutions. SMB accounting leaders have each responded aggressively, but the specifics of their cloud strategies vary.
Microsoft
As an infrastructure-as-a-service (Iaas) provider, Microsoft has a unique advantage in terms of supplying the network resources for their cloud-enabled business accounting applications. But Microsoft has gone beyond simply providing VPN and virtualization-enabled hosting services for their Dynamics products and has significantly expanded its web-based cloud capabilities as well. In 2013, Dynamics NAV received a full web client update. The 2016 version of Dynamics GP also received full HTML5 web client capabilities. Microsoft also rebranded their Dynamics AX product as Dynamics 365 Enterprise Edition, making it available in both public and private cloud versions. Dynamics 365 Business Edition is a brand-new offering as of late 2016, which utilizes the Dynamics NAV platform and former Dynamics CRM product to provide web-based, SaaS only functionality.
Sage
While Microsoft has strongly pursued the public cloud, SaaS niche, Sage has thus far focused primarily on updating their product portfolio with cloud-ready private cloud offerings. Legacy products Sage 50, Sage 100 and Sage 300 have all spun off versions carrying a "c" suffix (Sage 50c, Sage 100c, Sage 300c). While Sage currently does not offer a developer-hosted public cloud deployment option for them, Sage 100c and Sage 300c do feature full web-clients and can be licensed on subscription basis.
Meanwhile, Sage 50c does not feature a web client as of yet, but does support subscription pricing, online back-ups, and integration with the Sage One program which provides web-based invoicing. Sage ERP X3 is another important product in the Sage line, which offers full web-client capability for turnkey private cloud capability. Sage has begun to show more interest in competing in the SaaS, public cloud market recently with its new Sage Live product–an accounting-centric solution that is expected to receive more robust cross-departmental functional updates to expand its feature set in the near future.
Intuit
Intuit has long been the market leading provider for small business accounting software, having famously claimed up to 80% market share for their QuickBooks offerings in years past. Intuit has embraced two main strategies for leveraging business cloud software interest. Intuit has partnered with a hosting provider called Right Networks to offer 3rd party cloud hosting of their traditional client/server programs QuickBooks Pro, QuickBooks Premier, and QuickBooks Enterprise. Intuit has also focused considerable marketing attention on promoting their QuickBooks Online program–which is their fully web-based, SaaS public cloud offering. Consumer interest in QuickBooks Online is growing fast. Between Q1 2015 and Q1 2016, the subscriber base for QuickBooks Online increased from 700,000 to over 1,100,000 subscribers.