What is Childcare Management Software?
Childcare management software, also called daycare management software, provides the tools childcare providers need to automate child check-in, student enrollment, and parent-teacher messaging. This all-in-one software is designed for all variety of childcare centers, such as:
Daycare facility
Preschool and Pre-K
Kindergarten
Nursery school
Early education centers
After school programs
Drop-in programs
Camp facilities
Overall, childcare management centers need to handle a lot of administrative tasks in addition to watching over the children in their care. Childcare or daycare management software makes it possible for staff to focus on kids rather than spending time performing these tasks themselves.
Features of Childcare Software
Enrollment: Set clear admissions standards for prospective students; manage who is and isn't approved for enrollment at your facility or specific classes
Check-in: Provide ways for parents to securely sign-in their kids for each day, class, or program; use contactless check-in to reduce bottlenecks during peak drop-off times
Attendance tracking: Record daily, weekly, monthly, and year-long attendance records
Daily reports: Compile reports for parents and guardians listing what their child did, such as lessons, activities, meals, and more
Parent portal: Provide parents and guardians with direct access to their child's records with an online portal accessible via desktop or mobile device; instantly share and communicate with parents through the portal
Messaging tools: Personalized parent communication; automated notifications can be sent to inform all parent/guardians in real-time of changing hours or sudden closures
Health and immunization records: Keep records of required immunizations of students based on your location and note any other relevant health information (allergens, dietary restrictions, etc)
Scheduling: Use a shared calendar to schedule staff and students, along with special events for your child care facility
Billing and invoicing: Send accurate invoices to parents and guardians; let them set up automatic or recurring payments to prevents missed deadlines
Best Daycare Management Software Benefits
Want to improve your childcare center? Consider childcare management software to optimize your business and improve services for the families in your care!
Focus on Students and Lesson Plans
There's far more to running a daycare than playing with toys, eating snacks, and enjoying nap time. Depending on the exact facility, there are legal requirements for educating children and providing them nutritious food. Planning out meals and day activities should not take more of your already packed schedule than necessary. Yet for many staff members, building lesson plans and menus can take hours of additional work each day. With childcare management software, childcare providers can better coordinate these short and long-term activities in advance.
By streamlining your daily activities and lesson plans, your staff can focus more on the actual day-to-day needs of the kids in their care. Based on the age of the child, records made with daycare software can be kept detailing their scheduled and unscheduled activities:
General mood and behavior
Meals and snacks
Naps and playtime
Bathroom trips and/or diaper changes
Medication administration
Educational lessons
Test and quiz results
Milestones (words, steps, new foods, etc)
Improve Parent Engagement
A happy childhood begins at home. No matter how involved your daycare staff, parent and guardian involvement at home is vital to the development and wellbeing of any child. Childcare software offers multiple ways to contact parents online, such as direct communication through emails or texts. More general updates related to center management, intended for all families at your facility, can be posted through a mobile app. Online registration tools allow families to start enrollment at their own pace based on their child's development and needs.
Messaging modules improve parent-teacher communication. Daily reports can be compiled then shared weekly by teachers through the parent portal. Parents and guardians can log-in for regular updates on a child's progress and behavior. With most daycare management systems, you can even share photos and videos of kids directly to their parents during the day! And in the event of an emergency, whether it's an unexpected closure due to inclement weather or a child needs medical care, parents can be contacted instantly through multiple means to ensure a fast response.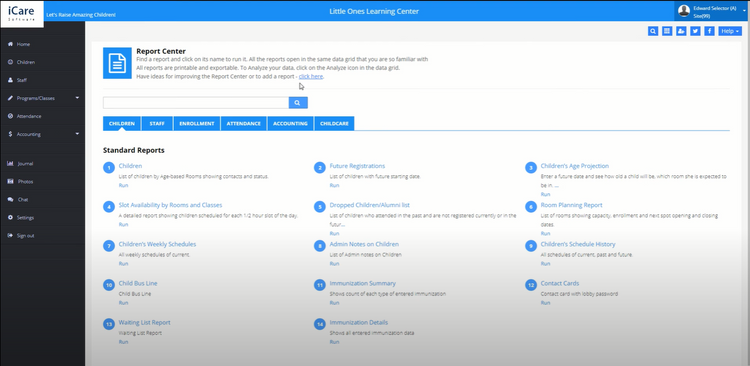 Increase Security and Safety
Improved child safety practices are another important benefit offered by childcare software. Any software for the childcare industry should include robust security features. Check-in tools are among the most popular features for protecting children and reassuring parents. All sorts of information can be stored using these features, such as when a child arrived, who dropped them off, and how long they are staying for the day.
While these safety features reassure parents, they also make life easier for the staff. Teachers and helpers can use contactless check-in to take attendance and know where all their students are at any given time. With mobile apps, staff can even check on kids during trips or special events.
Additionally, up-to-date and easily accessible student records can help in emergency situations. For instance, a list of student dietary restrictions and allergies can indicate which kids need to have modified snacks or meals during care. Using software to share this information can ensure all staff are aware of these safety measures even if they are a temporary carer or substitute teacher.
Streamline Payments
Teachers are not salespeople and shouldn't have to act like one in addition to all their childcare duties. Online payments facilitated by software allow parents and guardians to select the best option for their budget. For example, a parent can choose to automate recurring payments to your daycare so they don't have to worry whether they've made their latest payment on time. Others may choose to pay in advance based on their financial situation.
By using a single childcare management system, you can integrate your attendance with your billing processes. If a student is absent or late, the system will automatically calculate fees. Childcare billing software frees up your staff from collecting paper checks or reaching out to parents themselves to collect payments, instead automating the process as much as possible. You can even send missed or late payment notifications through email or text.
User-friendly payment processing also helps your childcare business keep track of incoming payments without having to manually calculate payments. If you offer subsidized child and daycare services, you can even track payments from agencies and programs:
Department of Human Services (DHS)
Division of Family and Children Services (DFACS/DFCS)
Head Start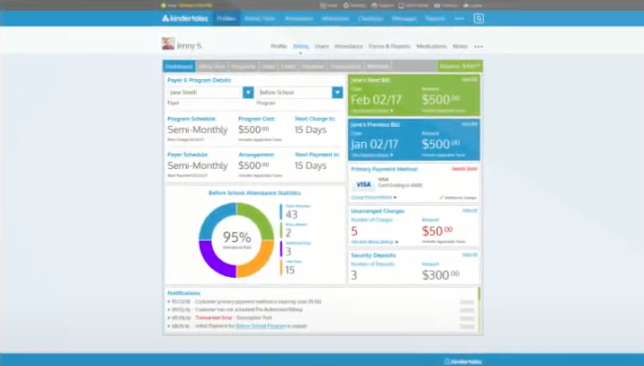 Childcare Software Pricing
If your daycare center runs on a tight budget, affordable childcare management software is a must. Many daycare management solutions are available for a monthly subscription of $15 to $1,000 per month. Some also charge based on the amount of users or families in the system, such as $0.75 to $2.00 per student per month. Depending on the plan, extras like training, customer support, and IT may be included for an initial fee or as part of ongoing payments.
Apps compatible with iOS and Android mobile devices are also becoming increasingly popular with childcare providers since they allow for real-time updates on the go. Teachers on field trips can use check-in features to ensure all students are accounted for throughout the trip, all from their smartphone or tablet. In turn, parents can use paired apps on their own mobile devices to access daily sheets on their child throughout the day. However, these childcare apps might charge the parents themselves to be used, which can increase the cost per family per device or account.