"A necessary evil." If we're being honest, that's probably most defense contractors' answer to the question, "What is the DCAA?" As the organization responsible for vetting defense contractor qualifications, the Defense Contract Audit Agency is also the recipient of its fair share of ire. While it's understandable that contractors need to be qualified and taxpayers dollars spent on fair and reasonable contract prices, it can also be confusing and cumbersome for contractors to establish DCAA compliance.

For defense contractors, the challenge of establishing DCAA compliance is particularly vexing because few business outcomes are as potentially disruptive as failing to meet DCAA audit standards. In order to reliably ensure compliance with standards–and to ease the process of demonstrating this compliance–adequate accounting and financial reporting software is a critical tool. Understanding which software is best-suited to the task can represent its own challenge, though. This article is designed to answers this question and get you on the way toward more effectively and easily demonstrating DCAA compliance via software.
Key Areas for DCAA Compliance
Before answering the question of how software can assist with establishing DCAA compliance, it's worth taking a step back to consider what "DCAA compliance" fundamentally entails. There are many elements to achieving DCAA compliance. In fact, the DCAA has provided four different checklists to help contractors with self-assessment. But to simplify things, the regulations can be observed to cover a few key areas. Contractors looking to prove compliance with DCAA standards will need to produce documentation detailing:
Financial capabilities. DCAA regulations provide standards to measure the financial viability of potential vendors.
Accounting capabilities. Contractors looking to win bids that require DCAA compliance will need to demonstrate that they have the financial management and accounting capabilities to track and segregate direct and indirect costs.
Operations, pricing, and employment payment. There are standards that govern rate estimating, charging methods, and employment payment issues such as prevailing wages.
Looking Closer at the Idea of "DCAA Compliant Software"
The natural question many individuals will formulate is something along the lines of, "So what's the best DCAA compliant software?" The idea of "DCAA software" is a bit trickier than it might appear on the surface. Software developers do not have to submit their solution to the DCAA for approval before they can sell it to the public. Software is not reviewed by the DCAA. In her article, "Pass, fail, or adapt: How to respond to changing DCAA audit rules," Marcelle Green, the Marketing and PR Director for VBP OutSourcing properly observed, "There is no such thing as 'DCAA approved' software."
No solutions will ever appear on a list of approved systems because such a list simply does not exist. When people talk about DCAA compliant software, it's really a misnomer–or at least a semantic shortcut. While the software may be optimized to provide the required reporting, technically the software isn't "DCAA compliant," itself.
In reality, the DCAA will occasionally review your accounting processes and documentation before contracts are awarded, and throughout the entire duration of your project. During this audit, the DCAA will determine the accuracy and suitability of your process for accumulating costs to ensure reliable cost documentations have been implemented.
What Software Features Are Required to Demonstrate Remaining DCAA Compliance?
While software isn't "DCAA compliant" itself, software can provide the core features you need to demonstrate DCAA compliance. It's worth considering some of the core features that will be needed to substantiate your companies compliance:
Time and expense tracking. The key to DCAA compliance is accurate and detailed record keeping of employees' time and expenses. Tracking employees' labor hours back to a particular project will be required. Some projects even require time tracking to a specific tasks within a project.
Example: Watch how Deltek Vision handles time and expense tracking.
Direct and indirect costing. A DCAA audit will focus on your company's ability to correctly track and segregate both direct and indirect costs for each project. Whether your indirect costs are fixed or variable, you will be responsible for identifying costs that are not directly accountable to your project. Software that sufficiently tracks cost, labor, billing mechanisms and internal controls will provide this agency's auditors with a sense of confidence in your contractor capabilities.
Example: Here's a screen grab of a "Project Cost Summary" report from Unanet Project Tracking detailing direct and indirect costs.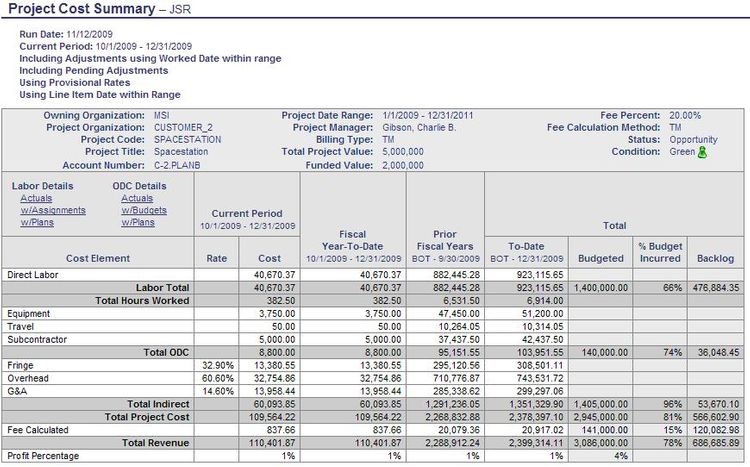 Basic financial management reporting. As previously mentioned, DCAA regulations lay out standards regarding financial viability. Your ability to demonstrate your assets and liabilities, as well as expenses and revenues will be required.
Example: Watch a demonstration in creating trial balance reports in Dynamics GP