Why Is ERP Important?
Enterprise resource planning (ERP) solutions, an integrated suite of business applications, allow organizations to streamline and optimize their business processes, such as financial, sales, and operations, which can lead to higher accuracy in your order taking and more efficiency in your overall operations. The importance of ERP comes from the complete visibility the system provides your business operations.
With an ever-shifting market, customer needs are always changing. ERP software makes your business functions more agile by implementing software on a modular basis to handle current needs immediately and plan for future needs later.
Read More: What is ERP and How Do ERP Systems Work?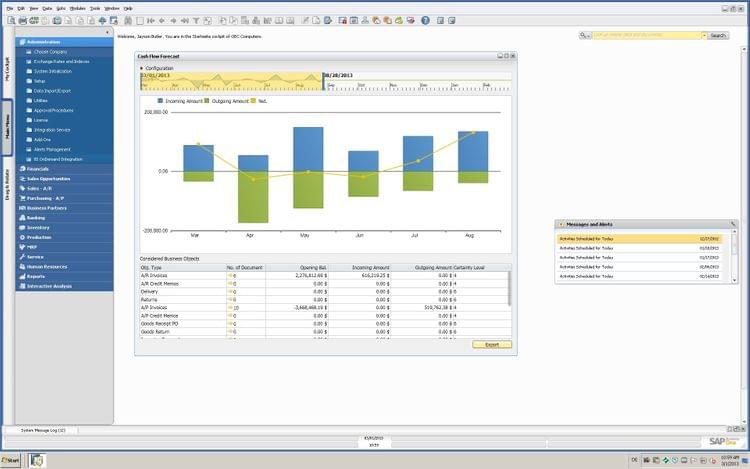 Main Business Uses of Enterprise Resource Planning Software
As of 2018, the ERP software market was valued at $35.81 billion. Statista reports this number may be closer to $40.5 billion by 2025–a growth of 13.6% annually. Today, companies can't afford to skip out on the automation, integration, and efficiencies offered by a fully integrated ERP system.
Whether you're a small business owner just starting out, or a capable enterprise looking to fine-tune your business processes, your business can benefit from an ERP software. You may notice business picking up or your customer base expanding, which leads to an increase in work volume, hiring more people, and developing a broader range of products. This complexity may overwhelm a business that is unprepared, meaning you'll need to be pragmatic at rolling out your ERP system.
ERP solutions can be customized based on the industry you're in or on the primary features necessary to improve your business performance Some software will be developed with a specific industry or set of functionalities in mind. Others will be more generic and require an ERP vendor who has experience inserting the solution into your environment.
Accounting
Financial management capabilities are at the forefront of an ERP implementation. Modules such as accounts payable, accounts receivable, and a general ledger will help track revenue and expenses. This may also include payroll for your organization.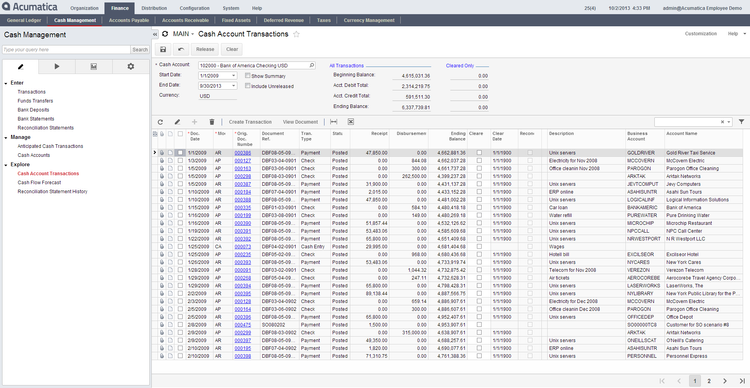 Customer Relationship Management
CRM software is often sold on its own, but ERP software can offer many capabilities to aid in customer relations. These key applications support the sales and marketing staff and address the needs for contact management, tracking conversation history, managing leads, reviewing order histories, and creating quotes.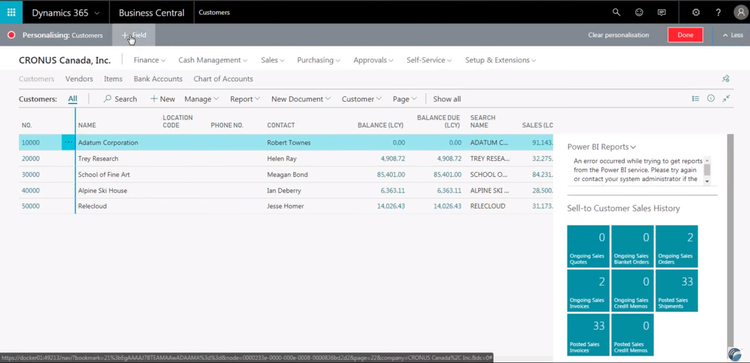 Human Resources
An enterprise resource planning system can monitor the workforce of your organization via human capital management features. HR modules aid in your hiring process and maintain positive relationships with your existing staff. These tools cover employee onboarding, time and attendance tracking, and benefits management.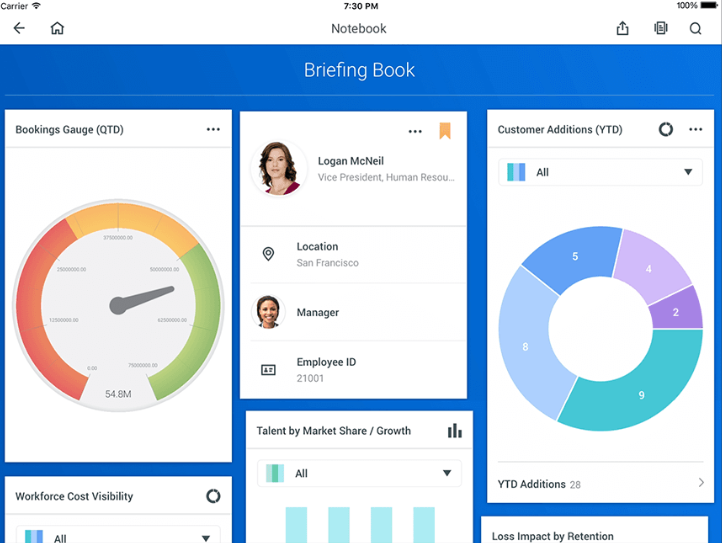 Inventory Management
An inventory management module within an ERP system will help track all information about the items that your company builds, buys, stores, or sells. Inventory management software simplifies pricing products and helps maintain the most effective stock levels. Having inventory integrated with other ERP applications will reduce stock level requirements and lower warehousing costs based on a better understanding of your stock movement.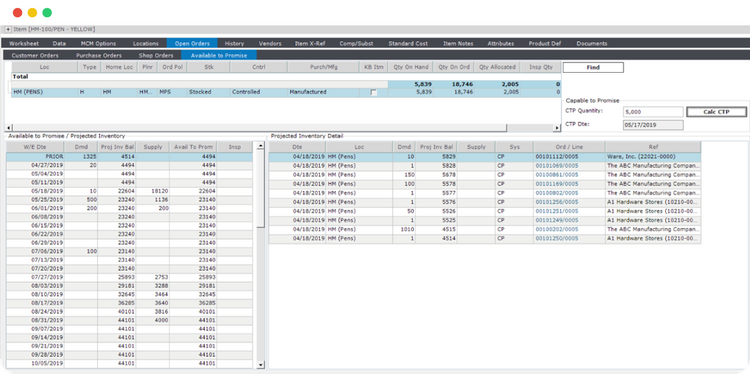 Supply Chain Management
Manufacturers and distributors are some of the most prominent businesses that use ERP software on a daily basis. This can be attributed to the need to improve the logistics involved with acquiring their raw materials and delivering a finished product to a customer. A supply chain management software suite will manage the flow of goods and services between locations as efficiently and cost-effectively as possible.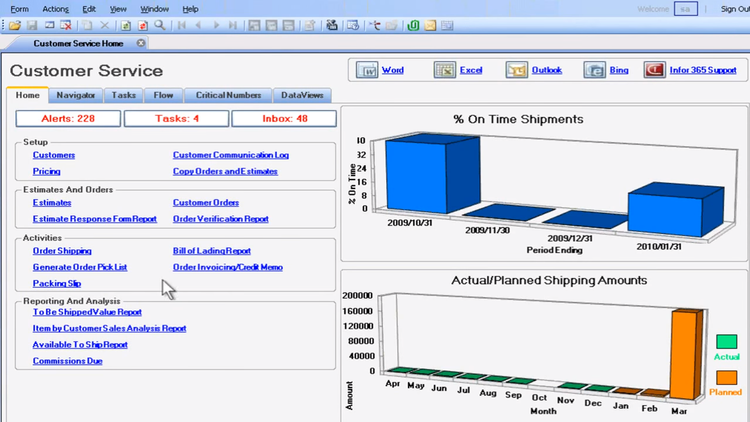 The Advantages of ERP
If you're looking to implement an ERP or even upgrade your existing system, it's important to understand the benefits of ERP first and foremost. This can provide you with real-time visibility into what your business needs, what you can afford, and what you can realistically implement into your environment.
Improve productivity: Eliminate redundant or repetitive tasks through automation.
Lower operational costs: By automating and optimizing processes, you can minimize labor costs.
Provide better customer service: Increase the speed at which you can access customer information and history with your company
Become a more mobile business: Access data remotely with a cloud ERP software that can work in a web browser or via a mobile device such as an iPad.
Streamline processes and get visibility into workflows: Monitor your internal mechanisms to make better business decisions. Provide transparency to your employees, vendors, customers, or even shareholders.
Improve data security: Set security permissions to ensure key company data is not compromised.
How Do These Software Systems Help a Company?
ERP streamlines workflows by bringing your business processes into one place. When all of your real-time data is available in a single platform, you'll eliminate the need to use separate unconnected programs, or document sharing with excel spreadsheets. Housing all of your data in one place also improves collaboration between various departments, leading to better communication during critical projects.
One example is the manufacturing industry, where unified manufacturing ERP can help define a custom bill of materials, generate invoices, and schedule production to speed up production time, reduce shipping costs and time, and lead to higher customer satisfaction.
Another example is a professional services business, such as a marketing agency, where workflows are heavily dependent on calendars and tasks, leading to a project management environment.
ERP software offers better financial reporting by allowing analytics to review both historical and real-time financial data. This will aid in informed decision making and help break down your business by region, location, profit center, or even by employee.
Rather than having your company financials and sales data split across multiple systems, a unified single system will also improve data security and accessibility. A centralized repository will let you monitor day-to-day processes for continuous improvement. This will overall lead to improved communication between multiple departments who may rely on each other to complete orders.
Looking for an ERP system for your organization? Check out our list of robust ERP software solutions. Or get free help from one of our software advisors.
Examples of Top ERP Software
While many ERP systems exist, not all may work the way you anticipated. Before you go forward with an ERP implementation, you'll want to find out what your business needs and what you care the most about, like if you want an on-premise or cloud-based ERP. The following is a brief collection of ERP solutions that we've helped visitors review over the years.