Gantt charts, named for its inventory Henry Gantt, are colorful bar charts which can illustrate a full project schedule from start to finish. These charts, initially hand-drawn on paper, were used to increase employee productivity and ensure projects were completed on an agreed upon timetable between all parties.
The average Gantt chart looks something like this:

What is Gantt Chart Software?
Gantt chart software automates the process of creating scheduling charts for improved project management and real-time business intelligence. As described above, the chart is a highly colorful way to visualize a project timeline. The software speeds up the creation of the chart through the use of custom templates while the chart itself can streamline the completion of tasks.
Gantt chart software allows businesses to plan out projects far in advance and make changes to tasks over time. These solutions can be used either by a single project manager or as part of a collaborative effort between all members of the team to better plan projects.
Features of Gantt Chart Software
Customizable chart templates: Generate custom templates to automate future Gantt charts
Project scheduling: Build a timeline for all project tasks, balancing dependencies and employee availability
Task description: Provide a detailed description of every individual task and subtask, from when it needs to be completed to who is assigned to it
Dependencies: Link related tasks together to show what needs to be done for each step of the project
Milestones: Indicate whenever certain key tasks or work phases are completed
Color coding: Use specific colors to keep tabs on different tasks, dependencies, or milestones
Drag and drop: Rearrange tasks and milestones with an intuitive drag-and-drop system
File sharing and collaboration: Allow for employees, partners, and clients to review or edit existing Gantt charts
Automated reminders: Set notifications for when tasks are due or milestones are met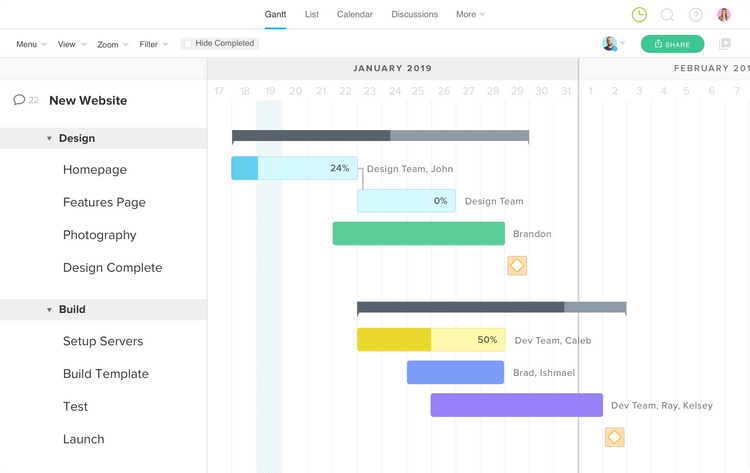 Best Gantt Chart Software Benefits
Gantt chart software provides many useful advantages to all sorts of businesses. Some of these benefits include:
More Customization than Excel
Many businesses, especially small to medium-sized ones, simply use Microsoft Excel spreadsheets to create "Gantt" charts. Others settle for traditional hand-drawn charts. While these rough drafts can provide useful jumping off points, they are incredibly difficult to maintain in real-time. Fortunately, Gantt chart software creates custom charts which can be edited at any time, allowing you to gain a greater understanding of the workflow.
For example, progress Gantt charts shade in tasks as they are completed, providing a clear visual of how close the project is to completion. Linked Gantt charts include additional lines to indicate which tasks are dependent on one another. With interactive Gantt chart software, progress and linked charts can be automatically combined to display which dependencies need to be fulfilled and if a project is fully on schedule. Previously, hand-made charts would need to be meticulously overlapped to determine this information.
Measure Employee Productivity
One of the original reasons behind Henry Gantt's chart design was to measure the effectiveness of individual employees on different tasks and projects. With Gantt chart software, you can receive automated updates on task progress, either through due date notifications or by using progress charts which color themselves in as tasks are completed.
When starting new projects, these previous charts can be used to gage which employees or teams can be entrusted with upcoming tasks. It can also show which workers responsibilities may need to be reevaluated. Overall, using Gantt chart software can lead to more beneficial assignments for all team members on future projects.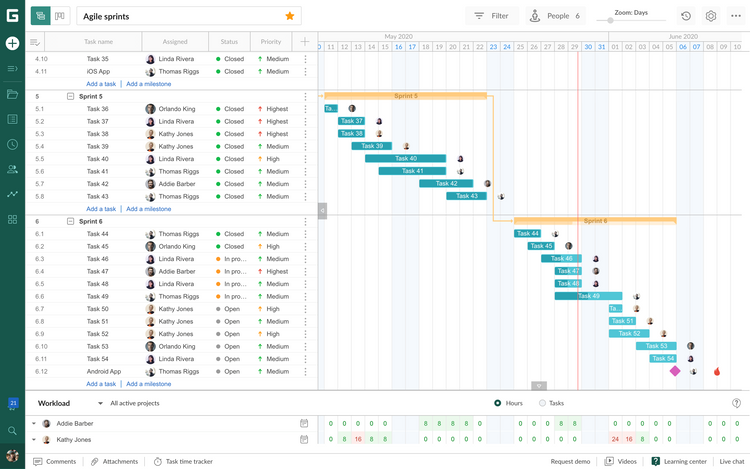 Identify Opportunities for Improvement
Finally, Gantt chart software can help you to identify opportunities for improving your process workflow. Perhaps a certain dependency is inaccurate, or some tasks could be combined into a single step. There are plenty of ways to use previous projects to find better business practices, such as increasing resource management or reducing labor costs.
Of course, the automation of your Gantt chart process is another huge improvement from this software. Instead of spending hours manually drawing in every detail on a project, just enter your parameters into a template and be done! The time you save creating each chart can be spent on streamlining the rest of your workflow.
Gantt charts are incredibly popular for organizing and planning out project tasks. Due to their simplistic effectiveness, they've regularly been in use across every industry since Henry Gantt created them in the 1910s. Yet there are several available alternatives for more specialized projects, such as Kanban boards and simple task lists.
Two other types of charts are RACI charts and PERT charts. A PERT chart refers to a program (or project) evaluation and review technique while "RACI" refers to the following attributes:
Responsible: Whoever will do the work to complete the task
Accountable: Whoever ensures the task is completed by the responsible
Consulted: Subject-matter experts who provide insight into the task
Informed: Anyone who is given updates on task progress
All three of these charts can help you to plan out projects better. Yet they each have their own specialties. For instance, PERT charts are a variant of the Critical Path Method (CPM) and are used for particularly large and complex projects which involve many overlapping variables. Gantt and RACI charts, in contrast, are more linear, built along the X- and Y-axis.
Gantt Software Pricing
The pricing for online Gantt chart software varies depending on whether you want just Gantt chart tools or a full project management software. There are several free software packages available for designing and developing Gantt chart templates. Other full scale solutions are available either for SaaS monthly subscriptions or one-time licensing payments. Monthly payments begin at $5 per month and continue upwards of $45 per month.