What is Online Project Management Software?
Online project management software provides a cloud-based platform for companies to keep track of everything necessary to complete and document their important projects. These comprehensive platforms coordinate the execution of tasks such as initial planning, resource allocation, quality management, scheduling and time tracking all in one shared space online.
By offering project management software-as-a-service (SaaS), these web-based solutions help project managers streamline their workflow by outlining tasks to be completed, the ideal order they should be done, along with the time and resources required for each task. Using these tools in a cloud-based platform means project managers can gain greater collaboration when coordinating on upcoming and in-progress projects.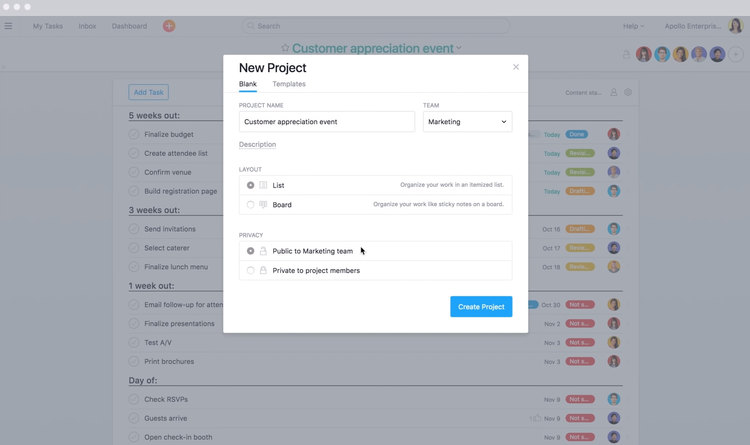 Features of Online Project Management
Project planning: Prepare detailed plans, policies, and methods to determine what is necessary to complete project objectives in to-do lists and Kanban boards
Budgeting: Estimate the total cost of a project by calculating labor and operating costs with pricing for resource and material procurement
Scheduling: Build a timeline for when each task needs to be completed for the project to be finished on-time; use shared calendars to keep all workers informed of schedule updates and changes
Task listing: Create a list of all tasks, when they need to be done, what resources are required, adn who has been assigned to do the work
Team collaboration: Provide real-time collaboration between two or more team members, employees, freelancers, and third-party partners working on the same project
Reporting: Generate comprehensive reports, such as status reports, risk reports, board reports, variance reports, using customized graphs, Gantt charts, and PERT charts to summarize important project developments
Time tracking: Track employee hours spent on project tasks in order to correctly budget billable labor; monitor the hours provided by remote workers
Billing and invoicing: Calculate final invoices and payroll for all clients and employees involved on a project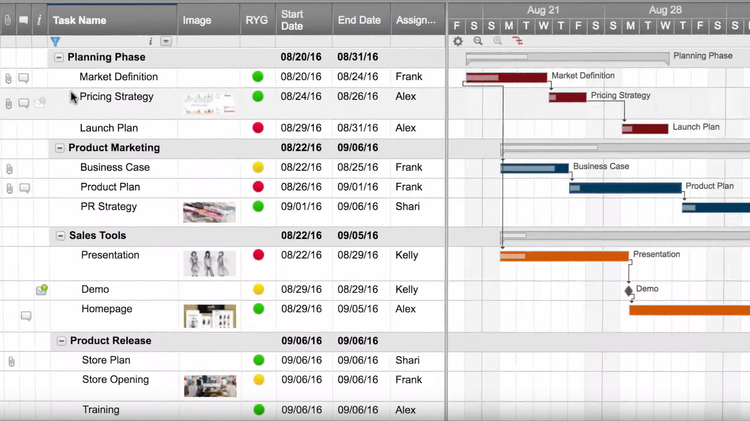 Best Online Project Management Software Benefits
There are many benefits to utilizing an online project management system over an on-premise solution:
Instant Access Anywhere
The biggest benefit of an online project management software is the ability to access the platform from anywhere. Thanks to cloud-based platforms, project managers and freelancers alike can log in from anywhere, see what tasks need to be done, and get to work.
Companies with international or out-of-state offices can particularly benefit from this arrangement. Workers can access project tools regardless of physical location or time zones. Increased team collaboration makes it easier to track important deadlines so your important projects stay on schedule.
Visualize Project Timelines
Keeping a project moving is one of the biggest challenges project managers face. Even small delays can add up when a strict deadline lies ahead. In order to stay on and ahead of schedule, online project management systems help visualize timelines for all workers to understand.
On a web-based platform, Kanban boards and to-do lists can show users what tasks are upcoming and need attention. Project managers can send out notifications to everyone on the team to ensure deadlines are met. And with cloud-based collaboration, workers can assign themselves tasks to stay busy without causing accidental overlap on tasks.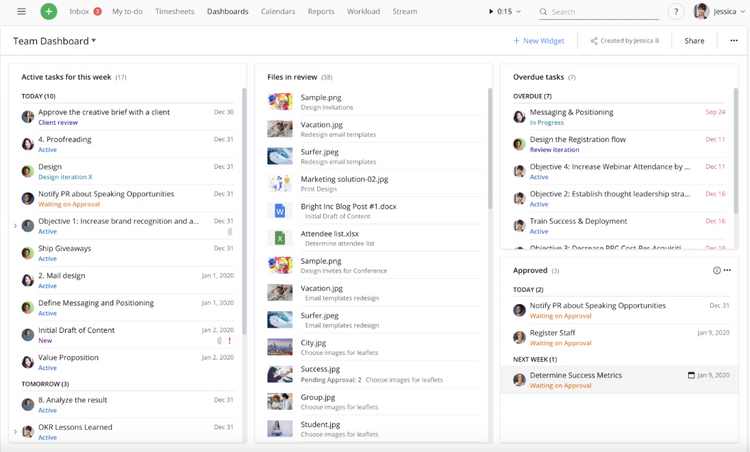 Monitor Remote Workers and Freelancers
More and more businesses are employing remote workers to assist with projects. Web-based project management platforms allow managers to review the work performed by these employees even when they are not in the office. With this time tracking software, your company can ensure everyone remains on task throughout the workday.
While keeping tabs on remote workers can increase productivity, project management tools also result in more accurate timesheets. Once the project is complete, it's easy to review labor and correct payroll. Everyone from in-office workers to freelancers can double-check their hours for any discrepancies. And project managers can then use invoicing tools to accurately bill clients for labor down to the minute.
Web-Based vs On-Premise Project Management Systems
On-premise project management software is perfectly acceptable for most businesses. However, web-based solutions offer several advantages for enterprise-level corporations, especially those which need to collaborate with partners in different states, territories, or countries.
Another difference comes from the price: online project management software is often deployed as SaaS while on-premise solutions can be purchased for a one-time implementation fee. As a result, on-premise software can cost more upfront while SaaS may be more over time. However, web-based platforms generally include regular software updates in the costs, so the applications continually improve.
Online Project Management Software Pricing
How much you'll pay for online project management software will depend on:
Applications needed
Number of users
Scale of your business
As mentioned above, web-based project management platforms are usually offered as a subscription service. SaaS deployment may be priced by month or year, depending on what payment structure works best for your budget. Support service is generally included in the subscription costs, though implementing new features may increase the price.