The plastics industry, a subset of chemical manufacturing, is always growing and trying to find new ways to utilize polymer materials in a variety of goods and services. From new construction to advanced electronics, this fast-growing and ever-changing field is important to almost every industry on Earth.
Plastics manufacturing as a whole has reached an all time high in production and adaptation. Old formulas are being improved upon every day to create new, higher quality products. As such, the plastics manufacturing industry has changed greatly in recent years and developed unique production issues on the shop floor and in the back-office. Fortunately, there is an easy way to optimize your plastic manufacturing business.
What is Plastics ERP Software?
Enterprise resource planning (ERP) software for the plastics industry consists of an integrated suite of popular business applications capable of automating and streamlining functions such as financials, sales, and operations. As a specific solution for plastics manufacturing, this software includes additional features to cover common processes of plastics engineering. For instance, along with basic accounting tools plastics ERP software can record specific polymer recipes and chemical blends vital to the continued development of new plastic commodities.
Since the plastics industry deals with so many facets of modern life, it is important to have a custom ERP package allowing you to stay focused on future developments. Plastics ERP software can be highly customized to integrate the tools you need to streamline operations.
Note: Plastics ERP software generally covers both plastics and rubber production. It may also be referred to as manufacturing resource planning (MRP) software.
Features of Plastics ERP Software
Accounting: Track all sources of revenue and expense through a gene ledger which records accounts payable (AP), accounts receivable (AR), and employee payroll
Budgeting and forecasting: Manage detailed financial plans in order to accurately predict future revenue and expenses; budget based on departments and workforce planning
Bills of Materials (BOM): Keep records of all interrelated materials necessary for production from raw materials to finished goods
Recipe and blend management: Store records of different plastic recipes, blends, and variations in one easily accessible location
Regulatory compliance tracking: Traceability measure ensure your operations are within compliance throughout production, storage, and distribution
Inventory management: Record information about the plastic commodities your company manufactures, assembles, or sells
Supply chain management: Control the movement of goods and services between locations as efficiently and as cost-effectively as possible
Human resources (HR): Manage current employees from hiring and onboarding process through to time and attendance tracking
Customer relationship management (CRM): Support customer outreach with contact management, lead tracking, order histories, and quote or invoice creation
Best Plastics ERP Software Benefits
Incorporating a plastics ERP software into your operations can provide many useful benefits, such as:
Streamline Back Office and Front End Operations
The first and main benefit of plastics ERP software is the ability to completely optimize your operations across every department. Using different solutions for every task can quickly become inefficient and lead to miscommunication. And in the field of plastics, there are even more processes necessary to operate.
Connecting once separate systems into a single plastics ERP solution adds overall efficiency. Share data between different departments without creating endless duplicates which can clog up operations and lead to confusion. Through a singular database, basic accounting, budgeting, and forecasting can provide insight into your finances across the board.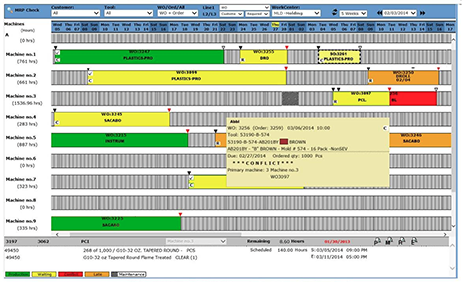 Greater Workflow Visibility
As described, ERP software can speed up internal processes while also providing the mechanisms necessary to monitor them for continuous improvement. This additional transparency allows your organization to consider current processes from a more holistic standpoint.
For example, there are a lot of differences between manufacturing plastic commodities using extrusion and injection molding methods. By using an ERP software, you can determine which method may provide the best ROI for your organization.
With Cloud-based plastics ERP solutions, you can gain real-time visibility into all your processes, even those occurring in different countries around the world. Since plastics is a global industry, this can provide a competitive advantage to your organization by keeping you up-to-date on the latest internal developments.
Increased Safety Compliance
Plastics and rubber production can be incredibly harmful for worker safety and the environment. Mixing new chemicals, moving finished products, and storing raw materials all requires strict compliance with local and international regulations. And these safety laws are regularly updated, meaning you need a way to stay on top of the latest requirements.
Since regulation varies based on locations, plastics ERP software helps you remain compliant no matter where you are. Recipe and blend management tools, along with a comprehensive Bill of Materials (BOM), can show exactly which chemical ingredients are in use and in what quantities. This can be used to prove compliance in the event of an audit or if a batch is not up to standard. Track and trace features can show where raw materials came from, what they were used to produce, and where the finished products are.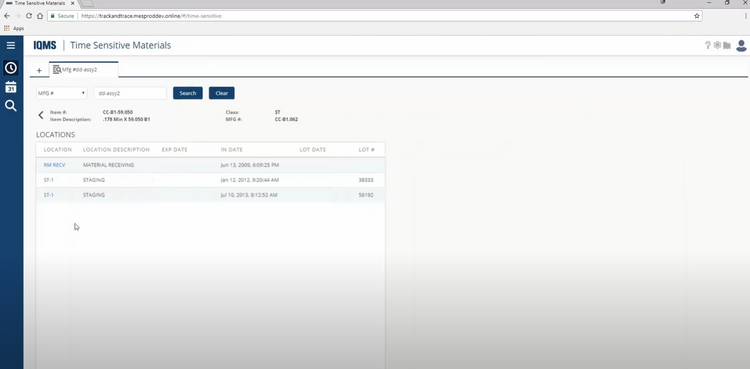 Easier Decision Making
All of the above benefits add up to one more advantage: an easier decision making process. ERP software for plastic industries makes identifying opportunities for improvement simple by combining all the data you need into one accessible platform. With this data, decision makers at every level of the company can gain greater insight into future decisions along every step of the supply chain.
Plastics Manufacturing Trends
In 2021, the plastics manufacturing industry has seen several changes. These range from changing production methods to COVID-19 safety adaptations. Here are just a few of the latest trends in the plastics industry:
Automation through 3D printing
Advances in polymer technology
Rise in biodegradable plastics recipes and formulations
Increase in production from recycled plastics
Increase in making plastics which are easily recyclable
A move towards lightweight plastics
More demand for reinforced plastics
By using a plastics manufacturing software with ERP functionality, your company can keep up with and adapt to these latest trends easier than ever before.