The right strategy can make or break a business. Strategic planning is how businesses determine and achieve their mission statement in weeks, months, or years. Using a long-term planning process to influence decision-making, companies can meet their business goals, whether it's to increase their revenue, promote better employee performance, or improve relationships with customers and vendors.
What is Strategic Planning Software?
Strategic planning software contains the tools necessary to create and execute large-scale business plans. These solutions are more large-scale than project management software, which is meant to control work on a daily basis. Instead, strategic planning systems are aimed at big picture tasks, everything necessary for your company to succeed in the long-term. Generally, these plans are aimed to go out at least 5 or more years into your business future.
Traditional planning practices usually meant tracking metrics with complicated Excel spreadsheets. This meant a lot of manpower had to be dedicated to manually measuring this data. With automated strategic planning processes, companies can create goals specifically designed to optimize workflow over the course of time. By building comprehensive roadmaps and analyzing historical data, companies can feel better about their way forward.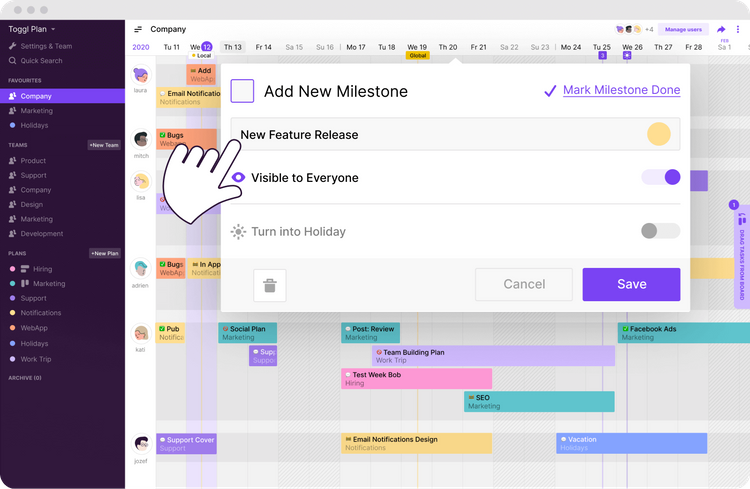 Features of Strategic Planning Software
Scenario planning and goal setting: Anticipate different business scenarios which may influence your business by creating plans to handle them; set specific goals for your company to meet based on custom criteria
Predictive models and simulations: Build out custom models in order to simulate different business strategies; add multiple variables to predict different outcomes to all sorts of situations
Diagram, graph, and chart templates: Generate custom visualization templates to share your internal company data in easy-to-read charts, diagrams, and graphs
Company roadmapping: Set out the exact path your business plan will follow based on your end goals, scenario planning, and predictive models
Historical data aggregation: Collect key performance indicator (KPI) data from the past in order to predict future patterns and better accommodate upcoming events
Performance management: Measure the performance of employees, agents, and salespeople to better understand their effectiveness; use KPI performance data to assign upcoming tasks to the best possible person
Monitoring processes: Retain real-time overviews of your business processes to ensure projects are completed on schedule; observe opportunities to improve your current processes for better performance and results
Milestone tracking: Set and track specific milestones for each project to ensure you are on the right timeline for work
Budgeting and forecasting: Track and report on your company's financial performance; predict financial demand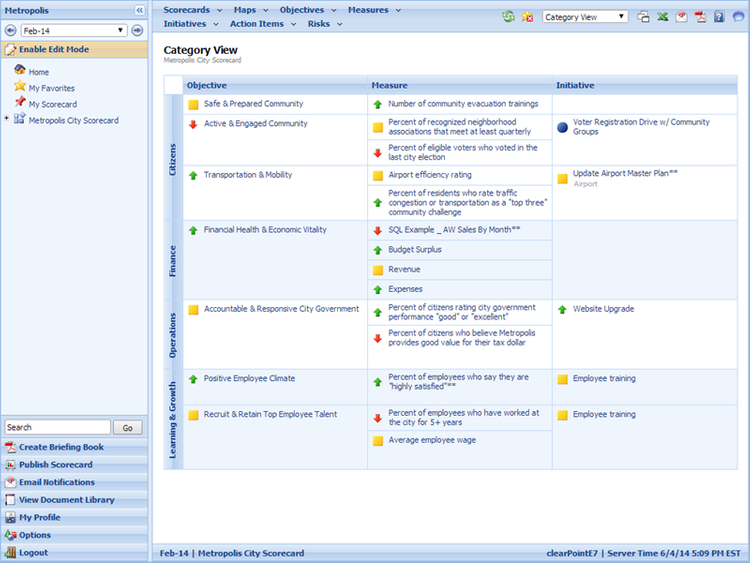 Best Strategic Planning Software Benefits
A strategic planning software can provide many benefits to your business in the following ways:
More Effective Long-Term Planning
Strategic planning software helps businesses prepare for the future, whether it's weeks, months, or years in advance. In fact, plans are often meant to cover a minimum of 5 years. In order to do this, strategic planning software includes applications for scenario planning, goal setting, and advanced simulations through predictive modeling. Custom templates let you easily design graphs, charts, and more to share this valuable information with your entire company and stakeholders.
Better planning doesn't just increase your likelihood of meeting company goals, it can protect your business as well. Plan ahead for all sorts of scenarios, whether it's natural disasters or industry growth. Similar to risk management, strategic planning software helps your company prepare for worst-case scenarios.
Build Better Business Strategies
With strategic planning tools, companies can begin to streamline their business processes in a variety of ways. Using all of these tools in conjunction with one another can lead to better decision-making across the company.
First, compile historical data about your business KPIs to reveal potential trends. For example, sales may increase during the holiday season and then drop off after the New Year. Taking this into account can help your company better plan when to increase production to meet customer demand without delay.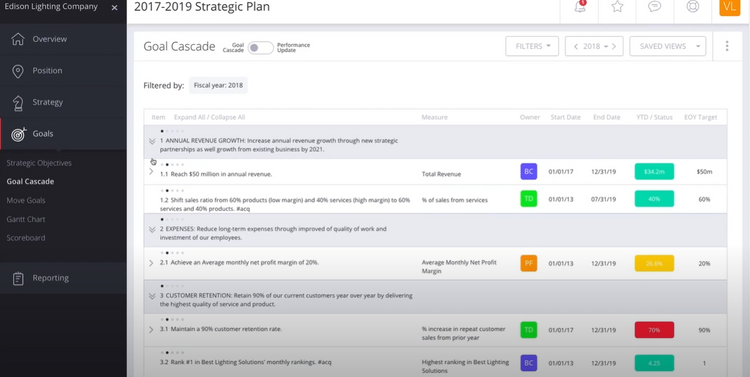 Accurately Allocate Resources
Unexpected production delays can throw your entire strategy out the window. A single shortage can be the difference between meeting your next milestone and being set back weeks, months, or years. By planning far in advance, your business can better allocate resources even in worst-case scenarios. And strategic plans can quickly adapt to new situations as they arise.
Strategic planning software is often used by larger corporations who need assistance planning out long-term goals to align with their mission statement and company vision. However, smaller companies can also benefit from this software, especially if they normally only plan a year out in advance. As the COVID-19 pandemic has shown, planning ahead can truly make or break your business.
Keep Your Budget Under Control
One of the hardest parts of planning for the future is knowing what your budget will be. Countless variables can cause drastic changes to production costs and material pricing. Fortunately, budgeting and forecasting tools provided by strategic planning software helps you control long-term spending. Developing a cost-based plan can help you avoid expensive surprises as your company strives closer to its mission.
For example, say you have a commission-based pay structure for your sales department. Does your budget take a cap into account? Or is there a possibility you could go over-budget if a salesperson performs particularly well one quarter? Budgeting and forecasting can help you prepare for that scenario.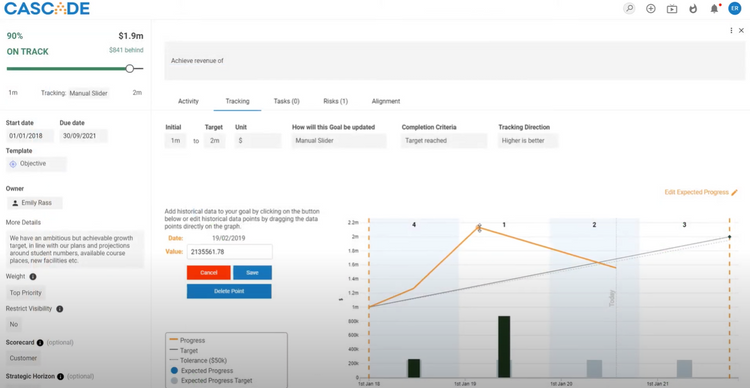 Strategic Planning Software Pricing
Since this software offers so many unique features, the price tends to be high. While there are free options available, there are often additional costs associated with extra applications or modules. Usually, strategic planning software as a service (SaaS) plans are billed monthly or annually. Some plans are available for $39 per month at $8 per seat, others are up to $750 per month. Pricing quotes are available for custom plans.