What is Textile Software?
Textile software, also known as textile ERP software or textile industry software, aids in the design and manufacturing of textiles made with animal, plant, mineral, and synthetic materials. This manufacturing is unique from other more commonly thought of production methods as it handles processes such as wave patterns, clothing material, structure, and more.
The collection of applications found in textile software range from pattern making, product lifecycle management, computer-aided design (CAD), and production scheduling and planning (manufacturing), and even point of sale (POS) for retail operations.
Primarily, when discussing what textile software is, you can break it down into software used for the production of textiles, and software used for the design process prior to production.
Textile manufacturing software aids in the production of textiles, garments, and home furnishings through inventory management, accounting, and real-time order entry and production tracking through shipping and billing.
Textile design software (or fabric design software) involves creating the designs that will be printed on your fabrics. Mostly includes the pattern-making and creative process before production occurs. Usually involves the use of graphic design programs or CAD software.
Most businesses will desire a textile ERP software that can do it all–meaning a business management software with functions and modules developed exclusively for textile, apparel, and fashion companies.
These sectors deal with a wide variety of variations in their product lines, such as different sizes, colors, and materials being used to create similar products. Base applications offered by most textile ERP software providers will help manage your sales, plan your production, manage logistics (such as inventory), purchase needed goods, and ensure you're costing your goods accurately.
Textile software can come in the form of application-specific options that focus on things such as spinning, knitting, weaving, printing, dyeing, nonwovens, carpet, etc. More importantly, the software will provide operational insights not offered by traditional manufacturing software. This means it takes into effect the considerable amount of adjustments and plans required in a textile production procedure.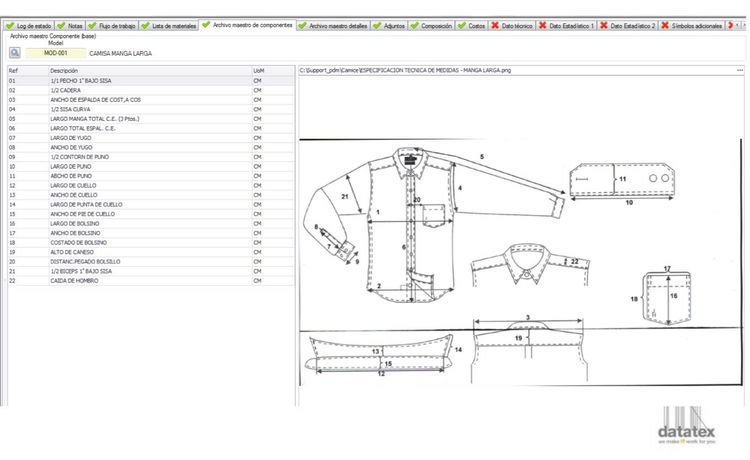 Features of Textiles Software
Design: Handles the image creation and editing involved in fabric designs. Includes repeats and separations, coloring, color-matching, presentation boards, engravings, tones, and more.
Sales Order Management: Streamlines order processing by helping capture, track, and fulfill orders across multiple sales channels. Connects inventory and sales orders, creates shipping schedules, tracks fulfillment, and creates reports.
Production Scheduling: Helps plan production on your shop floor by determining the need for materials and capacity to complete a production order. Creates a highly detailed production schedule that accounts for resource, staffing, and inventory needs.
Inventory Management: Keeps track of all information about the items that your company builds, buys, stores or sells. Simplifies pricing products and helps maintain the most effective stock levels.
Purchasing: Create financial documents issued to vendors when you are buying supplies or services. Includes information such as product type, quantity, and pricing.
Maintenance Management: Creates work orders for maintenance activities (such as preventive maintenance tasks and predictive maintenance scheduling) to help limit machine and equipment downtime and lengthen the lifecycle of assets.
Electronic Data Interchange (EDI): Helps exchange business documents in a standard electronic format. Examples include shipping statuses, invoices, purchase orders, inventory documents, and customs information.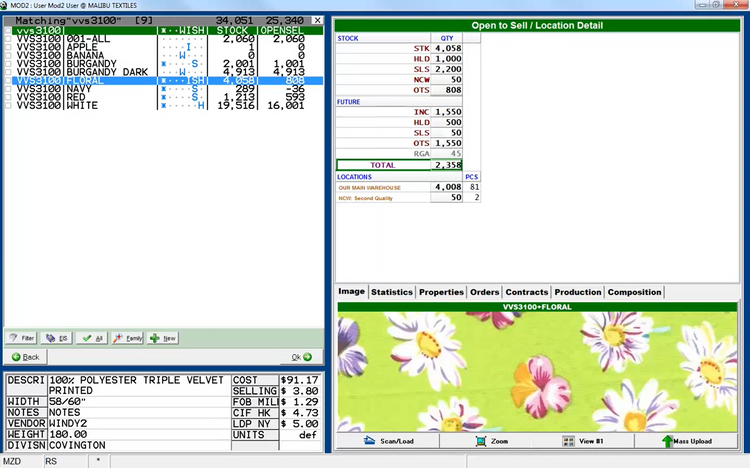 Benefits of Textiles Software
The top benefits of textile software include:
Improve Your Supply Chain Through Business Intelligence
Many textile companies choose to use advanced planning and scheduling (APS) software functionality in order to meet their production needs. This process helps designate raw materials and production capacity to balance demand and plant capacity to their most optimal fulfillment level.
In other words, it can plan and schedule production based on available materials, labor, and equipment–all while tracking the costs involved, the overall equipment effectiveness (OEE), and improve material requirements planning (MRP).
This is considered a high-level approach to making sustainable business decisions, as it utilizes business intelligence data in order to improve managerial control over your operations. Having analytics about your production process can help improve the process quality control and flow of products through your production.
One example may be when your business desires to minimize costs. Users of textile software have the ability to assign various weights to different parts of the cost function. This cost function is helpful when dealing with samples and providing detailed tracking of sampling costs. A textile business may want to schedule sampling on machines during set periods of downtime, to ensure your operations (whether fiber, spinning, or cut and sew) are not interrupted.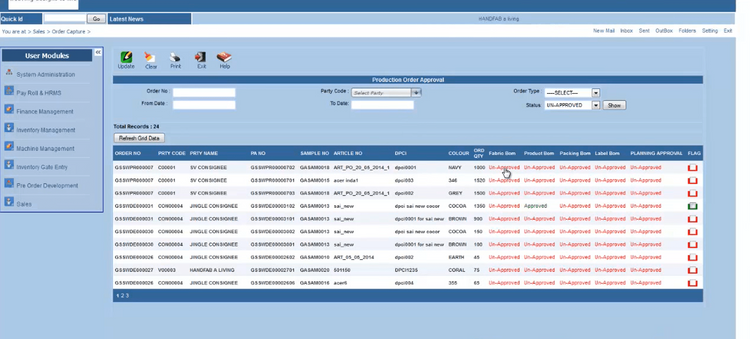 Manage Complex Merchandise Inventory
Something unique to inventory in the textile and apparel industry is a size and color matrix. A color/size matrix is an inventory database management feature that provides for more efficient database management by minimizing the number of records required to track different product combinations that vary by color or size.
This can sometimes be referred to as a "fashion matrix", where manufacturers and retailers manage their product variants across a grid format to try and capture their product variants and aligning colors against sizes. This is appropriate when you are selling the same products in different sizes and colors.
Inventory in the textile industry can also be complex due to excessive or confusing inventory. As market demand fluctuates, so will your fulfillment dates, and these will need to be paired with your sales algorithms to maintain overall profit calculations.
As your variable costs change (such as manufacturing costs, overhead costs, and more), you should be able to make easy changes to your matrix to help anticipate the risks and rewards that come with market fluctuations.
Finally, a solid inventory management functionality within textile software can help simplify purchasing and vendor management, You'll be able to record details on vendors such as contact info, price lists, etc., letting you grade your vendors based on their costs and performance.
Being able to quickly change a purchase request into a purchase order can help prevent procurement from exceeding any budget your business may be working with.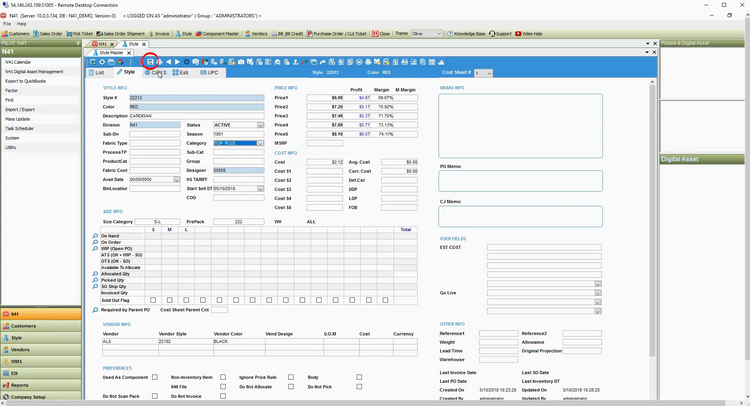 Provide Accessibility Through Mobile and Cloud Networks
Most ERP systems these days are online–eliminating the need to work at a single location. Employees can use web-based applications in order to access the system no matter where they are located–whether they are on a sales call, conducting quality checks at another location, etc.
Cloud solutions also help give you a leg up on your competition as it allows you to have instant access to the newest updates offered by your software provider. As new businesses enter the market, you'll want to have a solution that can help you outlast your competitors.
Cloud-based ERP software also lets your employees access the solution from a multitude of devices, such as laptops, tablets, and smartphones. Allowing users to have real-time data access will allow managers to ensure the business operations are up to par at all times, without any excuses for a delay in data entry.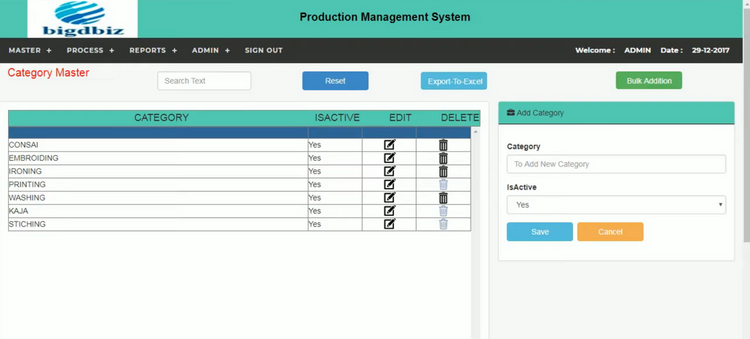 Textile Software vs Apparel Software
It may be easy to compare the similarities between textile software and apparel software, given the type of material that is common between them. After all, textiles are often used for the manufacturing of apparel products. Does that mean a business can be just as suited with apparel ERP software as they would with textile software?
The short answer is, maybe. Apparel ERP software is broad enough that it may be used to handle the needs of both apparel manufacturers and apparel retailers. This means the software can be used for clothing manufacturing, a fashion designer, or a high-end retailer.
Most importantly, it will offer a matrix inventory system that lets you set size, color, and style variations and track each of these products as separate stock keeping units (SKUs).
Meanwhile, the textile industry is generally involved in the designing and manufacturing of the clothes, as well as the distribution that follows after–but has less to do with a clothing retail operation looking to order more goods or manage their eCommerce store.
Given that the names of the software are often used interchangeably, most businesses will be fine using one or the other. However, it will be important to ask your software provider what the intended market is for the software. If you were a textile retailer, you wouldn't want a solution intended for manufacturers, and vice-versa.